Return to the Home Decorating & Design Forum
|
Post a Follow-Up
---
| | | |
| --- | --- | --- |
| Please help-How would you stage this room? | | |
Posted by
samgminov
(
My Page
) on
Tue, Aug 21, 12 at 17:07
We need to place a TV in this room. Our options seem to be to put a flat screen over the fireplace (not great because of the masonry stone) or in a armoire on the left wall (which creates two focal points with the TV and the fireplace). Where would you put the TV? And if you put it above the fireplace, would a couch facing the fireplace/TV horizontal to the long wall on the left be strange (given the corner angle of the fireplace)? I can't angle the couch horizontal to the fireplace because it would block the little hallway on the right that leads back to our bedroom. I've never had this much trouble with any room. Can you help?
---
Follow-Up Postings:
| | | |
| --- | --- | --- |
| RE: Please help-How would you stage this room? | | |
Could you possibly get us shots of the rest of the room? It is hard to talk about furniture placement without seeing the whole space, getting a sense of proportion, available wall space, etc.
---
| | | |
| --- | --- | --- |
| RE: Please help-How would you stage this room? | | |
| | | |
| --- | --- | --- |
| RE: Please help-How would you stage this room? | | |
And here is the view opposite the paneled windows...
(sorry, I don't know how to post multiple pictures)
---
| | | |
| --- | --- | --- |
| RE: Please help-How would you stage this room? | | |
| | | |
| --- | --- | --- |
| RE: Please help-How would you stage this room? | | |
Is there enough space to put a sofa facing the windows with its back to the front door, maybe with a sofa table behind it? Then you could put a TV to the left of the windows. A couple of arm chairs on swivel-rocker bases to the left and right of the sofa, so they can be turned to face the FP or watch TV.
I'll never understand why people put FPs in a corner.
---
| | | |
| --- | --- | --- |
| RE: Please help-How would you stage this room? | | |
Yes, there is room.....Maybe too much room. It's a really long space. I wasn't sure I could connect the two areas. And I totally agree with you on the corner fireplaces. (That, and toilets in the laundry room...WTH?)
---
| | | |
| --- | --- | --- |
| RE: Please help-How would you stage this room? | | |
Are you trying to stage this room to sell the house? If so, I'd forgo the TV.
---
| | | |
| --- | --- | --- |
| RE: Please help-How would you stage this room? | | |
What are the dimensions and how much will you use the fireplace? It appears you don't have much room around the fireplace so I would just place a separate seating area in front of it then place the sofa facing the large wall and perpendicular to the patio doors. That way you'll have a more direct view of the patio from the entry and you won't feel like you have to walk around a lot of furniture to reach the patio.
The fireplace mantle appears too high to place a TV on so I would forgo that altogether.

I'm waiting to see Les' suggestion!
---
| | | |
| --- | --- | --- |
| RE: Please help-How would you stage this room? | | |
How is the room to be used besides watching TV?

How many people will you need to seat on a daily basis, and then for special occasions/entertaining?

Are you planning drapery on either side of the doors?

Can we get the overall dimensions of the space?
---
| | | |
| --- | --- | --- |
| RE: Please help-How would you stage this room? | | |
I said "stage" and I know that is not the right terminology. This is our house and I'm trying to decide how to arrange the furniture. The room is approximately 15x26, though it's not all usable because of walkways (like to the bedroom).

On a daily basis, we need to seat four and on a periodic basis, maybe 8? Mostly, my younger children watch TV early in the morning while we are getting ready for work and in the evening, my husband and I would use it to read a book or occasionally watch TV. We are planning to do drapery over the door.

I hope I answered everyone's questions....I really appreciate any input you can give me. Like I said, I've never struggled with a space like I've struggled with this one. I also have to add that I agree with annz, in that we really don't have much space around the fireplace, especially since you walk right by it to get into the master.
---
| | | |
| --- | --- | --- |
| RE: Please help-How would you stage this room? | | |
I would put the TV to the left of the windows. There it's not a major focal point when you walk into the house and it looks like there is a cable hook-up there already. :)

It is a long room and I think it would work best to create a fireplace area and a TV area.

I mocked up a couple floorplans. Obviously, not to scale, but you get the idea of how furniture can be arranged. The chairs by the fireplace look like such a cozy spot to read or sit and chat. Especially if there's an ottoman between the two that they can both share. Ooh, forgot to put that in the floorplan!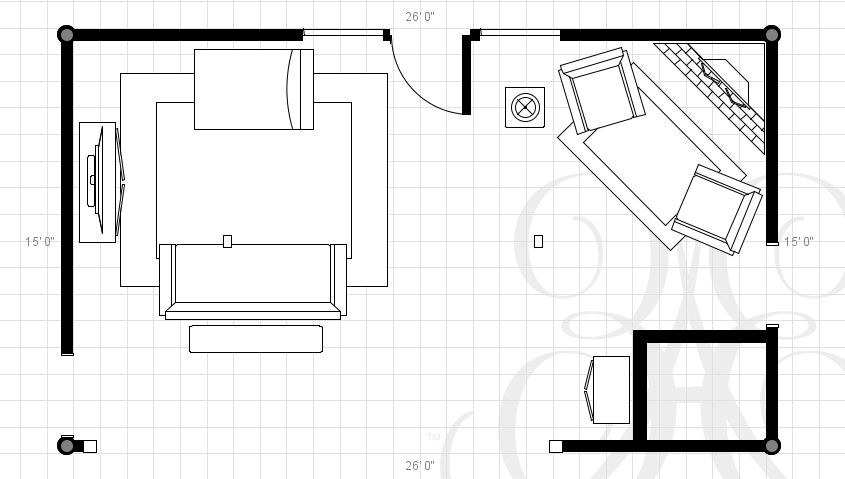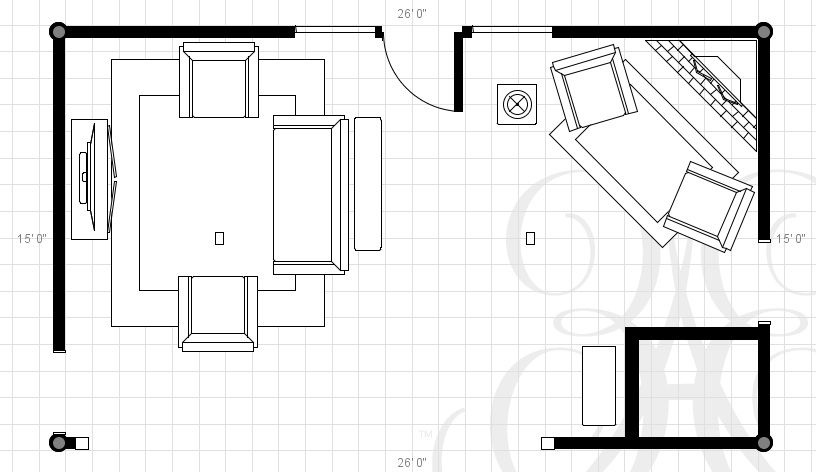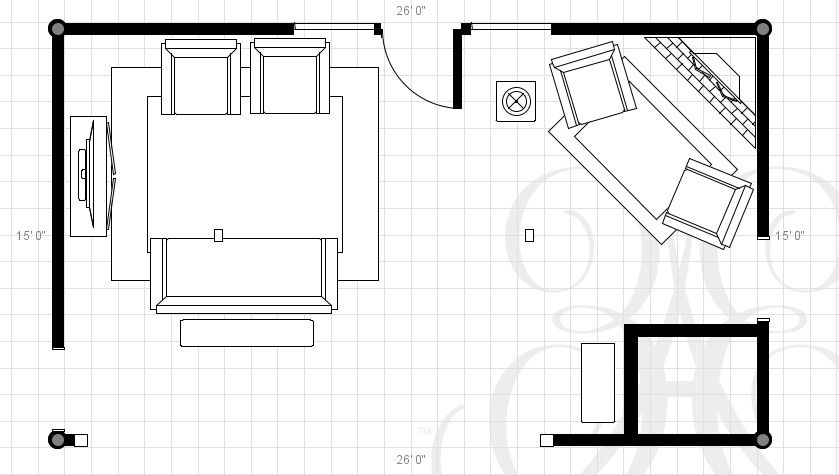 ---
| | | |
| --- | --- | --- |
| RE: Please help-How would you stage this room? | | |
Oh, wow! Thank you so much for the drawings! I spent a lot of time last night looking at the space (we just moved in 6 weeks ago and the painters are there today). I'm not sure we have enough room in front of the fireplace to accommodate that much furniture, but I like how you separated the spaces. It creates a nice path to the outside doors.
---
| | | |
| --- | --- | --- |
| RE: Please help-How would you stage this room? | | |
The second drawing is what I envisioned. Like you, I doubt you have the room in front of the fireplace for 2 chairs and I would use either one chair and ottoman, or one long ottoman/bench so people could sit in front of the fireplace.
---
| | | |
| --- | --- | --- |
| RE: Please help-How would you stage this room?ps | | |
Oops, hit the submit key too soon! Wanted to add, if you want more seating, consider a sectional in front of the TV.
---
| | | |
| --- | --- | --- |
| RE: Please help-How would you stage this room? | | |
The first plan shows a chaise by the windows. The thing I dislike about the second plan is that the backs of people sitting on the sofa face the fireplace. The other two plans include the fireplace.

You could have a few ottomans too for extra seating when you need it. You could even tuck two under the sofa table.

As for the seating by the fireplace, I was thinking more along the lines of small-scaled chairs. Or one larger chair on the window side and a small one on the doorway side. Small chairs like these.
---
| | | |
| --- | --- | --- |
| RE: Please help-How would you stage this room? | | |
Thank you guys for your help. Geokid, I'm with you on the back to the fireplace. I didn't have a fireplace in my old house and really wanted one. When I use that room, I'm likely to use the couch and not the chairs and I'd like to be able to see the fireplace. I think the fireplace area could handle some narrow chairs, though I also think I need some heighth. Maybe a smaller, modern wingback? Thanks, again....I've never seen a space so ill-configured. Couldn't the builder have at least placed the fireplace in the other corner so you could put the TV next to it?
---
| | | |
| --- | --- | --- |
| RE: Please help-How would you stage this room? | | |
I hear you! There a a few things in our home I would do differently too if I would have built our house. Things not just a matter of personal preference, but of overall function.

I agree taller chairs would be a good choice since your room is so tall. I'm sure there are small-scale wing-backs out there. In fact, a quick search of Home Decorators shows a lot of chair options in the 40" tall x 30" wide range, if that's the scale you need.

We have been struggling with whether to put our fireplace in the center of the room or in the corner (builder gave us an allowance for a fireplace but we haven't installed it yet). Your dilemma has given me a lot to think about. I'm sure I'll be asking the advice of gardenwebbers when the time comes!
Here is a link that might be useful: To Start- Grant Wing-Backed Chair
---
| | | |
| --- | --- | --- |
| RE: Please help-How would you stage this room? | | |
I do think you have room for two comfortable chairs at the fireplace, if you put their backs at a slight angle to the wall and aim them partly toward each other into the room. We did that in our old library with modest sized club chairs with fairly low backs, and it worked wonderfully.

I'd put a pair of wall mounted swing-arm lamps on either side of the fireplace, and hang related large prints over each chair, and put a long, low bench (but lower than normal bench height) parallel to the hearth to serve as a footrest for both chairs.

Then I'd put a couple of little short legged trays on the hearth on either side, so you have somewhere to put a drink down...like the ones you sometimes see under a bonsai.

If you keep the sihouette of the chairs compact and low enough, I think it could work just fine.

Here's our old library, to show you what I mean.
---
| | | |
| --- | --- | --- |
| RE: Please help-How would you stage this room? | | |
Bronwynsmom, that's exactly the look I was thinking of! Thanks for finding a picture.
---
Post a Follow-Up
Please Note: Only registered members are able to post messages to this forum.
If you are a member, please log in.
If you aren't yet a member, join now!
---
Return to the Home Decorating & Design Forum
Information about Posting
You must be logged in to post a message. Once you are logged in, a posting window will appear at the bottom of the messages. If you are not a member, please register for an account.
Please review our Rules of Play before posting.
Posting is a two-step process. Once you have composed your message, you will be taken to the preview page. You will then have a chance to review your post, make changes and upload photos.
After posting your message, you may need to refresh the forum page in order to see it.
Before posting copyrighted material, please read about Copyright and Fair Use.
We have a strict no-advertising policy!
If you would like to practice posting or uploading photos, please visit our Test forum.
If you need assistance, please Contact Us and we will be happy to help.

Learn more about in-text links on this page here