Return to the Home Decorating & Design Forum
|
Post a Follow-Up
---
| | | |
| --- | --- | --- |
| Need HELP decorating with purple couch! | | |
Posted by
rruesga78
(
My Page
) on
Wed, Aug 8, 12 at 16:41
I rent a cute 2 bedroom apartment. My kitchen and livingroom spaces run into each other. My kitchen is decorating in Hacienda Style colors. Orange, Red and Yellows. I bought an Eggplant purple couch and the throw pillows are eggplant purple on one side and have some green, lavendar and eggplant on the other side. The walls in my livingroom are tan, which go well with the couch. My dilemma is finding the right curtains for the livingroom and finding the right rug. I'm in the process of buying a couple other pieces of furniture but those pieces are all dark wood finish. Any suggestions would be greatly appreciated. Thank you
---
Follow-Up Postings:
| | | |
| --- | --- | --- |
| RE: Need HELP decorating with purple couch! | | |
If it were me, I'd probably go with a similar drape color as the sofa or find some draperies that match the wall color. Then I'd bring in accessories and a rug with colors from the pillows to tie the colors into the room. I also might consider a chair in this color. I know it's bright, but I think it would be a lot of fun.
---
| | | |
| --- | --- | --- |
| RE: Need HELP decorating with purple couch! | | |
Eggplant could easily mix with hacienda brights, but I think we need more photos. (Always better results with photos of your actual space.) Would help to see the flooring (tile or wood?)and windows. Also any photos of your new dark wood furniture choices.
---
| | | |
| --- | --- | --- |
| RE: Need HELP decorating with purple couch! | | |
I know the pillows are new, but remember you're not wed to them and if you want to bring in other colors, you could always change out the pillows or add more in another color. These fabric samples show you how well your sofa color will go with your kitchen colors?
Do you want to tie the 2 rooms together? As mjlb said, seeing more photos would help us come up with suggestions.
Here is a link that might be useful: eggplant, red, orange, gold, olive
---
| | | |
| --- | --- | --- |
| RE: Need HELP decorating with purple couch! | | |
Do some simple envelope style pillow covers for the sofa pillows with a print in orange, yellow and purple like this vintage dot print on Etsy or this stripe from Fourthcornerquilts.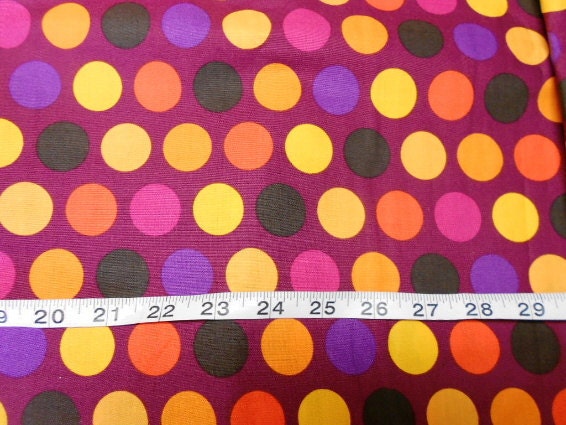 Do some solid pillows in fun shapes as well.
And see if you can't find a way to bring a little eggplant into the kitchen area. Maybe some new kitchen towels and a tea kettle?

---
| | | |
| --- | --- | --- |
| RE: Need HELP decorating with purple couch! | | |
I forgot about the colors in the kitchen but eggplant can work really well with the hacienda color palette, look at the way a lot of people mix and match the Fiesta ware and all it's beautiful colors. I would just add some of the eggplant to the mix to help tie the two rooms together. I personally like those pillows and the colors that are in them. The vibe I get from the sofa style and darker wood you've chosen is that you are drawn to more modern design and your certainly not afraid of color, which is great. If it were me, I still use the pillows as my inspiration piece and pull 3 of the colors from it to use in the room, one already being the eggplant.
---
| | | |
| --- | --- | --- |
| RE: Need HELP decorating with purple couch! | | |
Hey Hollysprings,
Mind sharing the source for the kettle and the textiles?

Thanks!

Sea
---
| | | |
| --- | --- | --- |
| RE: Need HELP decorating with purple couch! | | |
I love that couch! Where did you find it?
---
| | | |
| --- | --- | --- |
| RE: Need HELP decorating with purple couch! | | |
Thank you everyone for your advice and suggestions. I'll post more pictures soon once I get my new furniture moved in. aggierose...I bought the couch at Ashley furniture. Now I'm just trying to decide on whether to purchase the loveseat that would match the couch or mix it up with different colors or textiles. Decisions...Decisions. :)
---
Post a Follow-Up
Please Note: Only registered members are able to post messages to this forum.
If you are a member, please log in.
If you aren't yet a member, join now!
---
Return to the Home Decorating & Design Forum
Information about Posting
You must be logged in to post a message. Once you are logged in, a posting window will appear at the bottom of the messages. If you are not a member, please register for an account.
Posting is a two-step process. Once you have composed your message, you will be taken to the preview page. You will then have a chance to review your post, make changes and upload photos.
After posting your message, you may need to refresh the forum page in order to see it.
Before posting copyrighted material, please read about Copyright and Fair Use.
We have a strict no-advertising policy!
If you would like to practice posting or uploading photos, please visit our Test forum.
If you need assistance, please Contact Us and we will be happy to help.

Learn more about in-text links on this page here