Return to the Home Decorating & Design Forum
|
Post a Follow-Up
---
| | | |
| --- | --- | --- |
| Paint colors for large, divided room? | | |
Posted by
MushCreek
(
My Page
) on
Sun, Aug 31, 14 at 16:07
The back of our new house is essentially one large room, divided with large cased openings to divide it into living room, dining room, and kitchen. The first pic is a view from the LR, through the DR to the kitchen. The good news is that we have found two paint colors we think we like. The question is, what to do in the DR?

For the LR, we like BM Waterbury green, a nice deep teal sort of color. We will have a tall wainscoting, probably in a warm white. In the kitchen, the cabinets will be the same warm white, with Valspar Travertine, a pale green, for the walls. It fairly closely matches a tile we want to use behind the range. The rest of the backsplash will be a warm white to match the cabinets.

Given the open lay-out, what would be a good way to go for the DR in between? I'd sort of like to get away from green/green/green, if possible. All three rooms will be separated by cased openings. There is no wall on the right between the DR and kitchen, but there will be a bit of casement to match the rest of the walls and divide the space.

Any advice would be appreciated, even if it means scrapping any of the above choices!
Waterbury Green:
Valspar Travertine:
---
Follow-Up Postings:
| | | |
| --- | --- | --- |
| RE: Paint colors for large, divided room? | | |
oh, I love that teal color! That is so beautiful.

For the DR, try BM Dinner Party or SW Crimson Red.
---
| | | |
| --- | --- | --- |
| RE: Paint colors for large, divided room? | | |
I like the Waterbury Green.
---
| | | |
| --- | --- | --- |
| RE: Paint colors for large, divided room? | | |
I really like the color choices for the rooms so far, if it were me, I would either go with very pale understated gray for just a hint of color or I would just continue with the warm white from the wainscoting into the dining room.
---
| | | |
| --- | --- | --- |
| RE: Paint colors for large, divided room? | | |
I like the idea of a red to break up the greens. We had considered a dark brick red for the LR, but couldn't figure out how to transition from that to the kitchen color. The DR has very little wall area, with french doors on one side, a doorway on the other, and there will also be a built-in cupboard on the right side.

We are in the middle of the woods, so we may not have any window treatments to speak of. There is a lot of natural light during the day. Floors will be southern yellow pine. We've noticed a big difference in the way colors 'read' at different times of the day and different times of the year.
---
| | | |
| --- | --- | --- |
| RE: Paint colors for large, divided room? | | |
I like the waterbury green,
but the travertine looks a little pea soup to me.
And I worry about the intensities of the two seem very different.
I think you need an inspiration piece to help you choose colors that work together well...or look to BM's affinity colors that are designed to all play nicely together.
Maybe a design seed will help.

If none of these strike your fancy, look to fabrics you might want to use in the space, art work, or look at houzz.com at some rooms for inspiration....once you have an inspiration, color choices will be so much easier.
Had to throw in this one, me being in my purple phase...

---
| | | |
| --- | --- | --- |
| RE: Paint colors for large, divided room? | | |
That pic of travertine doesn't seem to render well on my computer. The tile we like is called Green Tea. I might just have them scan it, and try a sample to see if we like it on the walls. The backsplash tile we have selected is called vanilla, and it is a warm white. The Green Tea tile would be used in a pattern behind the range to break it up a little, as well as a few black accent tiles. We want beveled subway tiles for a backsplash, and the color options are very limited. We want the kitchen to stay light and airy (old eyes, and all that). I'm going to get some samples, and paint a section of each room divider so I can see how the three colors stack up.

The kitchen is a long way from the LR, and we might add columns and a low knee wall between the LR and DR to further delineate the spaces. The cased openings will all be in the warm white, so there will be a break between colors.
---
| | | |
| --- | --- | --- |
| RE: Paint colors for large, divided room? | | |
I love, love the teal. Not a fan of the kitchen color, but that may just be personal preference. I would do the dining room white- same color as the wainscoting. But I am just noticing there there is no separation between the kitchen and dining room next to the patio doors. Will you be able to change colors?

We have an almost identical layout and I highly recommend against doing 3 different colors. It will be quite challenging creating a cohesive look- there will be upholstered pieces, rugs art etc. I have at least 2-3 old posts on the challenges of decorating an open floor plan. You can always change the paint color in the dining room later. We did white in the living room and dining room and a blue-green-gray in the kitchen. We also have pine floors.

View from family room into dining room and kitchen:
Family room: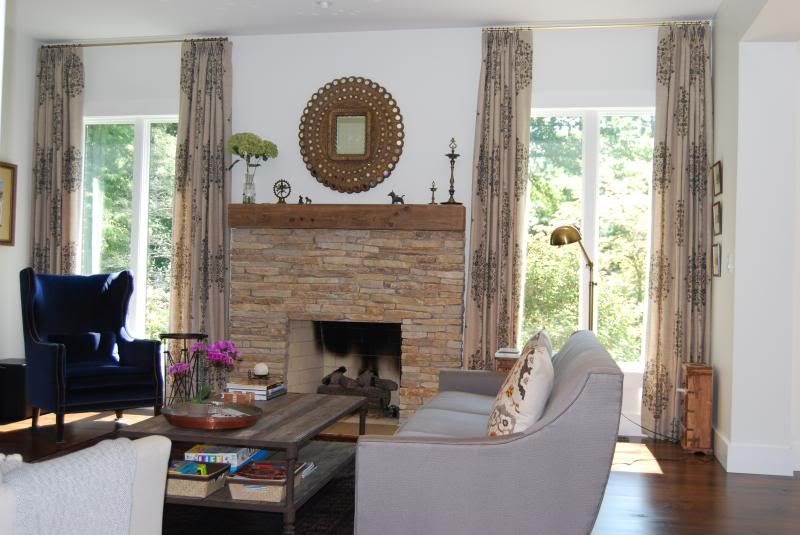 This post was edited by pps7 on Mon, Sep 1, 14 at 10:40
---
| | | |
| --- | --- | --- |
| RE: Paint colors for large, divided room? | | |
If you are sticking with the 2 shades of green, there is a pretty soft pale bluish gray tone (see 2nd design seed) that ties those shades of green together nicely. I had fabric in my old DR that had shades of green with the soft blue...very much the color of the "berries" that cedar trees get. It's really pretty and soothing. You might do the DR in that color.
---
| | | |
| --- | --- | --- |
| RE: Paint colors for large, divided room? | | |
pps7- There will be a divider where the DR meets the kitchen. There is going to be a peninsula there, and about a 6" wide casement on the wall, ending at the peninsula top. We haven't installed any trim yet, which is why it is just one wall for now.

The kitchen color doesn't seem to work. We just got back from the store, and picked out a rose/red for the DR with a similar intensity to the Waterbury Green. I suppose we could just do the kitchen in white/white/white. The counters are going to be soapstone, so nearly black. There won't be any upper cabinets; just the range hood on the wall.
---
| | | |
| --- | --- | --- |
| RE: Paint colors for large, divided room? | | |
Annie- Is that waterbury green you are showing on the first big chip? It looks much different on my monitor than the one the OP posted.

Also how do you pull up the color names of the design seeds?

Mush Creek- can you post a pix of the backsplash tile,etc.?
---
| | | |
| --- | --- | --- |
| RE: Paint colors for large, divided room? | | |
Lizbeth, yes that is waterbury green and it does look very much softer and grayer than the pic the OP posted.

You can't get a paint color name directly from a design seed. I'm linking to a prior thread that explains all the details...
Here is a link that might be useful: Using design seeds
---
| | | |
| --- | --- | --- |
| RE: Paint colors for large, divided room? | | |
Thanks for the link, Annie. I love the design seeds-think it could be a really useful tool for pulling colors/rooms together.
---
| | | |
| --- | --- | --- |
| RE: Paint colors for large, divided room? | | |
We're 2/3's of the way there, I think. I got samples of the Waterbury Green, and a Behr red called Haitian Flower, a deep rose red. I painted a swatch of the green in The LR, and a swatch of the red in the DR, and we like the way it looks. We've decided that for the time being, we're OK with changing colors from room to room. A Behr brochure shows rooms that change color within the room!

That just leaves the kitchen (sigh). We tried a pale yellow with a soft green trim- Um, no. Maybe white walls with a soft gray trim? We can't go with the kind of saturation the other two paints have, as it would be too dark. I'm more concerned with kitchen colors because it is a LOT harder to re-paint a kitchen, especially the cabinets. I can re-paint the LR or DR in a few hours, by comparison. Whatever we do in the kitchen will probably stay that way for a while.
---
| | | |
| --- | --- | --- |
| RE: Paint colors for large, divided room? | | |
Hey Mush, I think I found the perfect color for your kitchen. Your Waterbury Green and Haitian Rose are so gorgeous, wonderful jewel tones. I know you said you didn't plan to stay with that theme, but how cool would BM Tropical Orange be in your kitchen? It's gorgeous.
---
Post a Follow-Up
Please Note: Only registered members are able to post messages to this forum.
If you are a member, please log in.
If you aren't yet a member, join now!
---
Return to the Home Decorating & Design Forum
Information about Posting
You must be logged in to post a message. Once you are logged in, a posting window will appear at the bottom of the messages. If you are not a member, please register for an account.
Please review our Rules of Play before posting.
Posting is a two-step process. Once you have composed your message, you will be taken to the preview page. You will then have a chance to review your post, make changes and upload photos.
After posting your message, you may need to refresh the forum page in order to see it.
Before posting copyrighted material, please read about Copyright and Fair Use.
We have a strict no-advertising policy!
If you would like to practice posting or uploading photos, please visit our Test forum.
If you need assistance, please Contact Us and we will be happy to help.

Learn more about in-text links on this page here