Return to the Home Decorating & Design Forum
|
Post a Follow-Up
---
| | | |
| --- | --- | --- |
| Would you buy this? | | |
Posted by
sonicmom
(
My Page
) on
Fri, Aug 10, 12 at 15:21
I was at a thrift today and they had a tiger oak chair for $25.00. The style is a little bit larger and heavier than a dining room chair. The wood was beautiful, the fabric on the seat had obviously been replaced and would be a cinch to replace again. The only problem was that it was very wobbly in all the joints. I think someone must have taken it apart to refinish it and then not glued it properly. Would gluing it all be a huge job?

PS- I found (and bought) a Crate and Barrel slipcovered Bayside sofa- great condition- for $100.00.
---
Follow-Up Postings:
| | | |
| --- | --- | --- |
| RE: Would you buy this? | | |
Yes, if you have the ideal place for it. Does in look like a dining room chair?

I bought this solid walnut chair on CL for $25. It was very wobbly. A friend and I took it apart and it was all glued and doweled together, but sometime in the past 150 years, the glue had failed. All of the dowels are there, but they'd be easy to replace if they weren't, so we'll just use Elmer's wood glue and glue it back together and it'll go another 150 years! (and look a lot better, too!)

Currently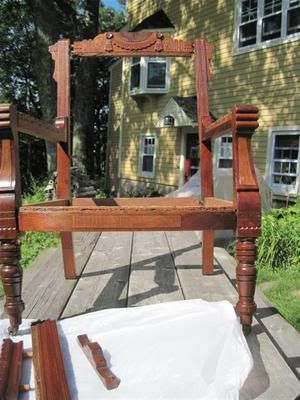 As bought

---
| | | |
| --- | --- | --- |
| RE: Would you buy this? | | |
That chair is beautiful. I've been keeping an eye on all your projects and wish I had your ability and talent. The chair I'm considering is about the same scale as yours. The style is "sturdy oak", pretty simple. There is a fabric seat, but no fabric on the back, so I think I could just pop the seat out and staple on a new cover. I've never taken a chair completely apart.

This is the sofa I bought, btw, slipcover color is "muslin"- I'm really excited!
Here is a link that might be useful: Bayside sofa
---
| | | |
| --- | --- | --- |
| RE: Would you buy this? | | |
I LIKE that sofa! I had one custom upholstered years ago, and it was just that style. I loved the 3 seat cushions. I WISH you had a picture of the chair you describe!

A friend that I brought along for the ride when I picked up that chair told me it was gross, and I'll admit it WAS, but I knew it could be beautiful.

If you buy the tiger oak one, and the finish is at all icky, I use Formby's Furniture Refinisher and then a light coat of tung oil. It really brings out the grain on those that I have done.
---
| | | |
| --- | --- | --- |
| RE: Would you buy this? | | |
This is interesting to me b/c I took apart an old desk to reuse the parts for a bathroom washstand. The mortises have dried up old glue in them, and from what I've been reading, I'd have to remove it all and get down to the bare wood in order to use glue on them again, at least yellow wood glue. That needs porous surfaces to work. I'd like to know if there's another kind of glue that could be used, because it's going to be hard to get it out of the deep, narrow mortises.

3dogs, have you done this before? Did you get all the old glue out or, if not, get a strong bond with the carpenters yellow glue?
---
| | | |
| --- | --- | --- |
| RE: Would you buy this? | | |
I haven't had to do this before, egganddart, but I lucked out with this chair, as it came apart easily and is doweled together. It will be easy to just sand the original dowels to get any glue residue off, or replace them with a 3/8" oak dowel I bought at Lowes for next to nothing. I'm sure it was originally assembled with hide glue.

I think some of the joints on mine failed in past as I discovered old ticking fabric wrapped around a couple of the dowels to increase their diameter a bit.

I have repaired old furniture in the past that needed a crack joined together and the Elmer's has always worked great.

I've linked an interesting article below on gluing.
Here is a link that might be useful: Re-gluing
---
| | | |
| --- | --- | --- |
| RE: Would you buy this? | | |
egganddart ... Use a skinny chisel and a craft knife to get the glue out.

If you use some other glue without cleaning the mortises, the old glue will be a weak point.
---
| | | |
| --- | --- | --- |
| RE: Would you buy this? | | |
Yes, I guess you're right. I was hoping there'd be a miracle glue that could do the trick. I guess I'll have to chisel it out, or else fill it in with putty, and not use those M&T joints. I could use a pocket screw instead....

So sonicmom, did you decide what to do about the chair? Did this old glue/loose joint talk scare you out of it?
---
| | | |
| --- | --- | --- |
| RE: Would you buy this? | | |
The suspense is building for seeing your handiwork!
---
| | | |
| --- | --- | --- |
| RE: Would you buy this? | | |
Yes, if you think you can handle it and I know you can if glue is the issue.

I like the size of the seat - wiiide. And the possibilities are unlimited as to how you would finish it. I wish you lived nearby - VA? I would be your best friend. Smiling....I'll be back. Have fun - and post along the way.
---
| | | |
| --- | --- | --- |
| RE: Would you buy this? | | |
I went back yesterday to pick up the sofa, and of course bought the chair as well. Here are the pictures. It's probably a dining chair, but large enough to work as an occasional chair as well. The seat is the kind you can easily remove, then staple on a new cover. While I was thrifting last winter, I bought a JCrew lambskin suede coat that had glue on one front panel. It's a deep rich brown color, and the suede is so soft. Since the seat won't require sewing, I'm a-thinkin of putting that yummy suede to use and cutting a panel for the new cover. What do you think of that idea?




While I'm at it, here's the new (to us) Crate and Barrel sofa. I posted previously on the pets thread that our lr sofa was completely shot, but I was leery of replacing it with anything nice, because of our upholstery shredding cat.
Please allow me to crow or just a minute about this sofa. It's in perfect condition, tags on the slipcover identify it as Danish, C+B's linen blend upholstery, delivery date on tags is '09. Sold for $100.00. Whoot!

---
| | | |
| --- | --- | --- |
| RE: Would you buy this? | | |
That sofa was at a Thrift store? Amazing! And I think the suede is a great idea -- I love repurposing things. The chair is very nice -- I hope you can tighten it up without too much trouble.
---
| | | |
| --- | --- | --- |
| RE: Would you buy this? | | |
GREAT sofa and chair! I also like the idea of re-purposing the suede coat. I have a beautiful piece of soft tanned deerskin that I used to use in crafts to make leather sacks for Santas to hold. I wanted to use it on the throne chair, but didn't have enough.

Before you cut into the coat, hold it up to the chair and see if you like the color of the suede with the wood stain.
---
| | | |
| --- | --- | --- |
| RE: Would you buy this? | | |
Sorry for the big pictures. I bought Sticky Paws to try on the "new" couch- you can see one on the left side in the picture. They are a double sided adhesive strip that you apply in areas the cat may scratch. Cats are supposed to hate the feeling. My cat found one, tore it off with his teeth, and chewed it up. Must have been delicious, he was really excited. I had to remove the others to prevent him from getting an intestinal blockage.
---
Post a Follow-Up
Please Note: Only registered members are able to post messages to this forum.
If you are a member, please log in.
If you aren't yet a member, join now!
---
Return to the Home Decorating & Design Forum
Information about Posting
You must be logged in to post a message. Once you are logged in, a posting window will appear at the bottom of the messages. If you are not a member, please register for an account.
Please review our Rules of Play before posting.
Posting is a two-step process. Once you have composed your message, you will be taken to the preview page. You will then have a chance to review your post, make changes and upload photos.
After posting your message, you may need to refresh the forum page in order to see it.
Before posting copyrighted material, please read about Copyright and Fair Use.
We have a strict no-advertising policy!
If you would like to practice posting or uploading photos, please visit our Test forum.
If you need assistance, please Contact Us and we will be happy to help.

Learn more about in-text links on this page here