Return to the Home Decorating Forum
|
Post a Follow-Up
---
| | | |
| --- | --- | --- |
| Front door color help | | |
Posted by
avesmor
(
My Page
) on
Wed, Aug 3, 11 at 15:08
I posted this months & months ago, but the house wasn't done then and I wanted to "live with it" and make sure I wasn't happy with the front door as-is. I'm definitely not. The only thing coming to me is black, but on a covered porch... I don't want it to read black hole.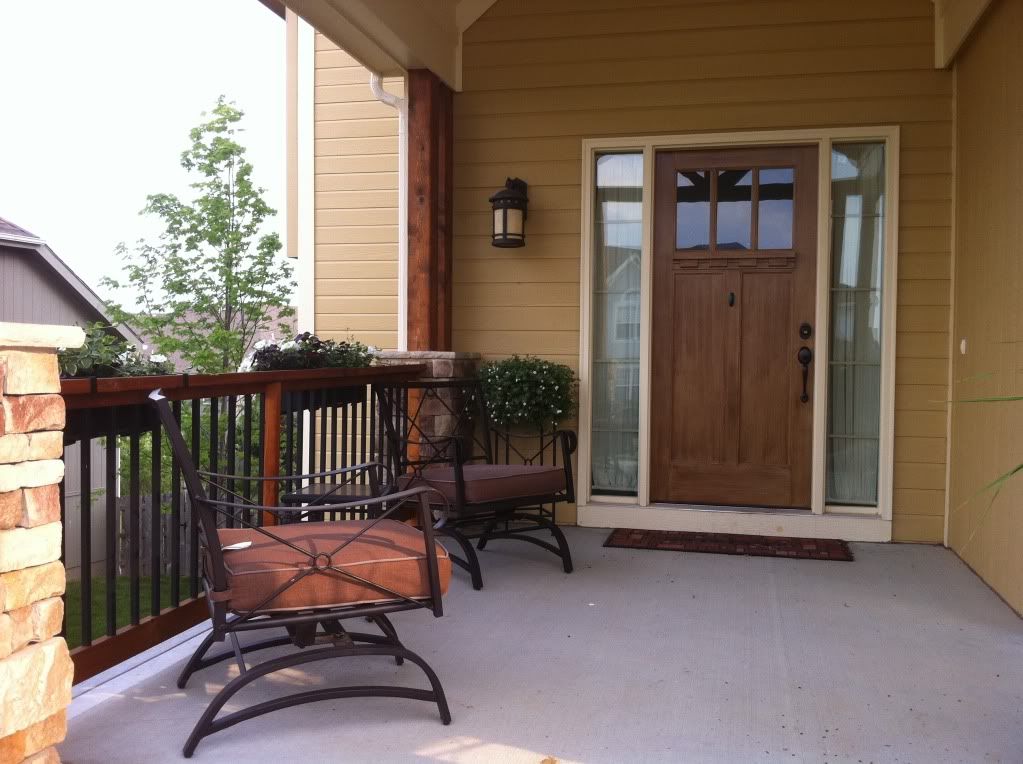 Here's the overall house. The colors are off - they are not nearly that saturated. These are the chips: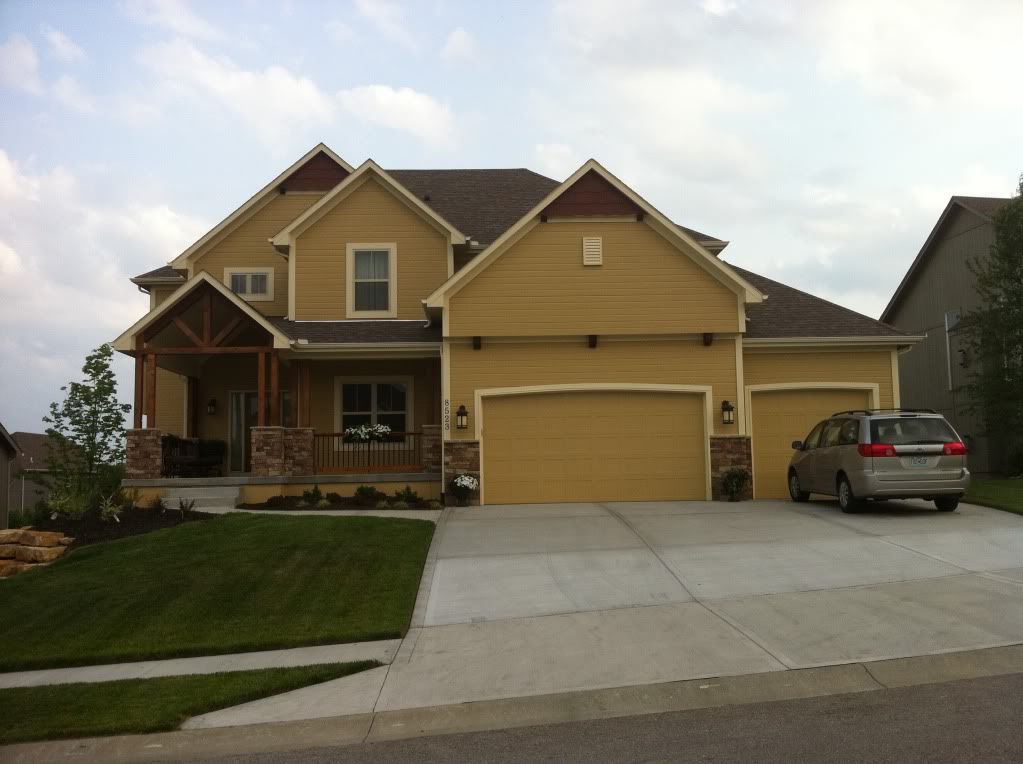 THe house faces north. The door never receives light. The outer edge of the doormat receives indirect light, everything behind it stays shaded.
It is a fiberglass door that can be stained or painted. Our builder, without asking, stained it. I'd prefer to have it painted. It doesn't look like stained wood, it looks like a blotchy stained plastic door.
---
Follow-Up Postings:
| | | |
| --- | --- | --- |
| RE: Front door color help | | |
I like the color of your cushion-- how would that work as a door color?

I like your door, but I would bring in some color with a big pot of live plants/flowers you could change with the seasons.
---
| | | |
| --- | --- | --- |
| RE: Front door color help | | |
We've added an iron stand to the wall on the left with some color. This pic was taken in April when I had first planted. :) Those chairs were borrowed from the deck, so we bought another pair of the same style, but this year's models had more orangey cushions.

The cushions are pretty close to the accent color (reddish brown). Would you go with that color, or something not in the primary scheme?
---
| | | |
| --- | --- | --- |
| RE: Front door color help | | |
I don't think your door has to match your primary color scheme. In fact, I would do something unexpected.

This is a cool color from Benjamin Moore called Mountain Ridge:

Another neat color: BM Morrocan Red:

BM Evening Sky:

BM Gold Rush:

I just googled "exterior door paint" and found these colors on House Beautiful. I would do a bold color instead of having everything matchy-matchy.
---
| | | |
| --- | --- | --- |
| RE: Front door color help | | |
I'd do the door in cream because it is in the shadows. Any darker color will read as black anyway.
If you don't want cream, a pale sage might work as well since it would coordinate with the other colors.
---
| | | |
| --- | --- | --- |
| RE: Front door color help | | |
Oh . . .on my monitor the cushion does not look so much brown but more in the salmon/terracotta family. That is what I was thinking-- something with some orange/red in it. You'd have to find a shade that would work well with the brown but also with the sort of greenish (on my monitor) undertones of the main house color.

Like dianalo says, in the shadows most choices will look very dark, so I would go with something lighter than you think you want.
---
| | | |
| --- | --- | --- |
| RE: Front door color help | | |
Avesmor,

On my monitor, the color of your house looks nothing like the chips, so won't attempt to help with the color. Very nice house! Would you mind sharing where you found the light fixture by the front door.It looks like what I've been hunting.
---
| | | |
| --- | --- | --- |
| RE: Front door color help | | |
I don't think so, the color scheme of your house was not too bad!
---
| | | |
| --- | --- | --- |
| RE: Front door color help | | |
I ditto the soft, sagey green suggestion!
---
| | | |
| --- | --- | --- |
| RE: Front door color help | | |
I really like the color scheme of your house, and would also suggest something totally unexpected for the door. It does not need to and IMO should not "match" anything else. Pick something that is color specific to your geographic location, i.e., desert, coastal, mountain. Even before I saw a previous post, I was thinking red, such as the Morrocan Red. From the street, a contrasting color would be warm and welcoming and unexpected.
---
| | | |
| --- | --- | --- |
| RE: Front door color help | | |
Lovely house! I live in austin and am so jealous of your ultra lush green green grass!! Nice door. I would consider leaving it as is.
---
| | | |
| --- | --- | --- |
| RE: Front door color help | | |
Sorry, I haven't had time to stop back by since posting this. Thank you all for the great responeses.

Chocolate Bunny - Pretty colors! The first one definitely has my eye. I'll have to try and get a better (not cell phone) pic and photoshop those in, then put it up for a vote. :)

dianalo - I considered doing the main house cream (i'm in a neighborhood FILLED with drab taupe, grey, and brown. My house already sticks out like a sore thumb. Imagine if I had gone with the cream, since white (and white-ish) houses seem to be a thing of the past in the 'burbs...). I originally wanted to light on the door b/c I like the Craftsman detailing and didn't want it to get lost in a dark color. I will *definitely* have to mock that up.

lizbeth-gardener - the house pic is horrible in terms of color accuracy. The chips are from SW (it's SW paint) - much better representations. :) The light fixtures are made by Designer's Fountain and the collection is Sedona.

Link. The garage lights are ES2301 and the front door light is ES2381.

In general no, I don't want to door to be matchey matchey with the house. I wondered about a blue (but I kinda hate blue unless it's a really earthy/slatey blue), or green. Will photoshop those as well.

aktillery - I'm jealous of that grass too! That was late April grass. We're considerably more brown now, but still greenish thanks to a sprinkler system. I'll try and get a close up of the door and I'd like to know if you still think leave it (I don't disagree, but I would love your opinion on it "in person")
---
| | | |
| --- | --- | --- |
| RE: Front door color help | | |
If there is any chance you could add a skylight or solatube to your front overhang, then the door would be truly "presented" and a fun color would get noticed. As it looks in your pic, it will not make much difference in color because of the shadows unless it is light or even bright.

If you want to go unexpected, then an aqua or pale turquoise could stand out.
The burgundy peaks limit your choices in the red family, IMHO. Yellow, purple, gray and white are out.

Light greens and or blues are what is left if you don't want a neutral tone (like the cream) or a matchy one.
You could try a bright light apple/kiwi/olive green if you want some flash. A mango/pumpkin orange could also work, but you'd have to be careful coordinating the right shade.
---
| | | |
| --- | --- | --- |
| RE: Front door color help | | |
I agree with sage-green... it would offer a contrast and stay in the neutral, natural range. And the yellow in both colors would pull them together.

Don't forget the grey floor. What is it made of?
---
| | | |
| --- | --- | --- |
| RE: Front door color help | | |
I'd go for a burnt pumpkin color. It would appear muted but show some color from a distance. The other color that would look fabulous is a Monet or French blue. Love those two.
---
Post a Follow-Up
Please Note: Only registered members are able to post messages to this forum.
If you are a member, please log in.
If you aren't yet a member, join now!
---
Return to the Home Decorating Forum
Information about Posting
You must be logged in to post a message. Once you are logged in, a posting window will appear at the bottom of the messages. If you are not a member, please register for an account.
Please review our Rules of Play before posting.
Posting is a two-step process. Once you have composed your message, you will be taken to the preview page. You will then have a chance to review your post, make changes and upload photos.
After posting your message, you may need to refresh the forum page in order to see it.
Before posting copyrighted material, please read about Copyright and Fair Use.
We have a strict no-advertising policy!
If you would like to practice posting or uploading photos, please visit our Test forum.
If you need assistance, please Contact Us and we will be happy to help.

Learn more about in-text links on this page here