Return to the Home Decorating Forum
|
Post a Follow-Up
---
| | | |
| --- | --- | --- |
| hardwood in your hallway - can i see?? | | |
Posted by
roorezzi
(
My Page
) on
Thu, Aug 21, 08 at 15:04
We are planning on doing DIY 3" 3/4 solid hand-scraped maple in the entry hall, bedroom hall and the LR. Bacardi of the way the joists run - we have to have the hardwood across shortways as you enter and look towards the LR. It will be fine in the LR and the bedrooms hall - since it will be the length of the hall - the problem I have is it cutting across the entry.

DH wants to see if we can put supports for the joists and then run the length of the entry hall - but then the direction will change to go down the other hall and change again in the LR - I think thats too many direction changes. What do you all think?

Does anyone have this...??

Here is a pic as you enter to house and look towards the LR.

Here is the floorplan - not to scale

Anyone DIY hardwood and have tips - please share!!
---
Follow-Up Postings:
| | | |
| --- | --- | --- |
| RE: hardwood in your hallway - can i see?? | | |
I don't think it will look strange at all. I'm on hubby's computer so I don't have pix of the upstairs hallway that turns at a right angle, but I do have one looking from our Ladies Parlor into the Library. You can see how we finished the corners the parlor like a log cabin quilt and how the change at the doorway to the angled library floor.
---
| | | |
| --- | --- | --- |
| RE: hardwood in your hallway - can i see?? | | |
We did a DIY-installation of engineered wood on our entire second floor (approx 800 sqft). All our flooring is running in a single direction, which turns out to be "longways" down the hallway and into one bedroom, and then "sideways" when you're looking into the two other bedrooms.

While the ideal is to run perpendicular to the floor joists, you aren't restricted to that. You can put down a subfloor (like OSB/plywood) that is strong enough to be floor on its own (I think this is what your husband means about "support for the joists"). After that, you could run the hardwood any way you want. The downside to that plan is that you'd end up with steps up/down at thresholds to rooms where you aren't laying new floor.

My personal preference is for floorboards to run "away" when I'm looking down a hall, but it's one of those things that the average person would never notice. (Funny story: my DH went to his boss's just-built, worth-six-times-the-cost-of-ours house. First thing he said to me when he got home? "Their hardwood installers sucked. Every floorboard in that house is stairstepped." Ahhh, the things you notice once you've done it.) But I digress.

Two changes of direction wouldn't be unreasonable. But just for an alternative... What about running the floor "lengthwise" down both hallways, and running it "widthwise" across the living room (so it's oriented the same way as the entry hall). That might help give the illusion that the living room is closer to "square" - running it the length of the living room might make the living room look even longer than it already is.

(Also: I love your very Freudian type-o. "Bacardi" - hee hee! Definitely the best tip for getting through these types of projects!)
---
| | | |
| --- | --- | --- |
| RE: hardwood in your hallway - can i see?? | | |
We have a similar layout and had a similar situation. Our entry hall isn't as long as yours - it's basically just a short foyer, but we have a similar hall off the LR at 90 degrees. This 90 degree hall goes to the bedrooms.

Our house has the entry on the north side and the living room on the south, so basically flip your layout upside down. We have a huge wall of windows on the south side (at the back of the house) in the living room and master bedroom. When you walk in the front door, you see through the living room into the back windows. The choices were to:
A) run it north-south and take advantage of the sunlight coming in the windows, and to make the planks run "away" from your view as you walk in the entry; this would mean the bedroom hall would have planks run the short way.

B) run it east-west so the bedroom hall looks better - again, this would mean that the entry foyer would have the planks running the short way, plus the wood is running perpendicular to the way you're looking when you come in the front door.

or C) keep most of the house running north-south, but change direction in the bedroom hall.

We have hand-scraped wood (kind've a walnut color). We were doing this DIY, so we were nervous about changing direction. We have a runner in the hall that covers 90% of the floor anyway, so we decided to go with option A because the living room and its view is the focal point of the house anyway, not the hall to the bedrooms.

I'll see if I can get pictures.
---
| | | |
| --- | --- | --- |
| RE: hardwood in your hallway - can i see?? | | |
does anyone else have pics of their hallways in hardwood - we are still at a loss as to which way to do it.

Thanks
---
| | | |
| --- | --- | --- |
| RE: hardwood in your hallway - can i see?? | | |
| | | |
| --- | --- | --- |
| RE: hardwood in your hallway - can i see?? | | |
Thanks demifloyd -

Your floor is beautiful. Thanks so much for posting pics.

DH and I are still disputing whether to change directions or have all in one direction - which would mean the entry is shortways. I think it will look cleaner and more put together with it all in one direction.

Anyone else have pics?
---
| | | |
| --- | --- | --- |
| RE: hardwood in your hallway - can i see?? | | |
Roorezzi, hopefully this is enough to see the hallway. If not let me know and I'll check to see what other pictures I have on my other computer.

---
| | | |
| --- | --- | --- |
| RE: hardwood in your hallway - can i see?? | | |
Having just run hardwood myself, I can tell you....it will be much easier to install that wood running across the hall instead of running the length of the hall. Reason? The hammer swing required to install it means you will have to manually jack the last two or three boards into place with wedges and a crow bar, and then hand nail them. If you run the boards cross ways, you can use the floor nailer for the entire hall. Believe me....that is a HUGE time and labor saver.
---
| | | |
| --- | --- | --- |
| RE: hardwood in your hallway - can i see?? | | |
We ran ours all in one direction, which ended up being lengthwise down the hall and one of the bedrooms, but "crossways" in two of the bedrooms.

Looking down the length of the hall: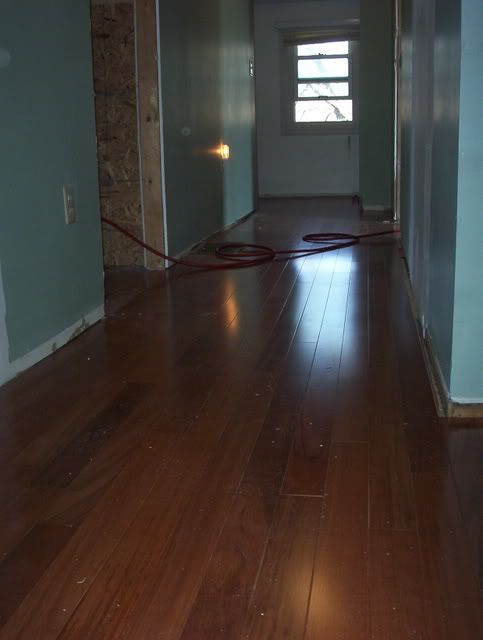 When you come up the stairs, there is a landing on your left (that leads to the master bedroom). We opted to not change flooring directions, but this could have been a place for that.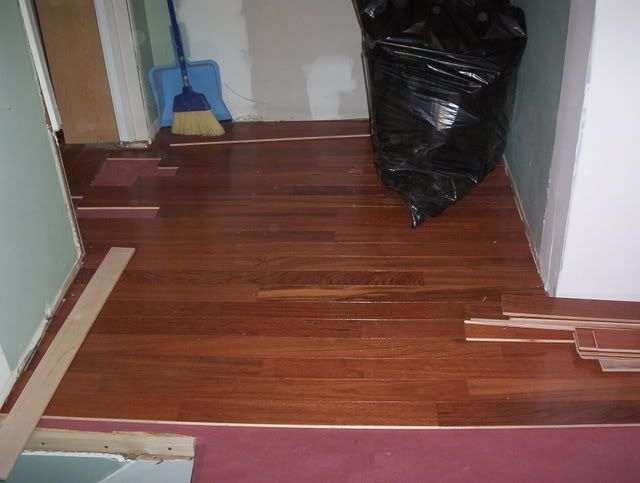 And here it is looking out into the hall from one of the bedrooms (sorry, picture was taken for the molding, but you can see the flooring):
And a doorway, where the flooring effectively ends up running "across" the room, instead of lengthwise:

---
| | | |
| --- | --- | --- |
| RE: hardwood in your hallway - can i see?? | | |
We got the floor delivered - DH and I tested out the 2 options and I took some pics. Its still hard to tell with only one box laid out over this area - but I would like to get some opinions.

I think we have made up our minds - but lets see what you guys think.

This is with the hallways going longways and the 3 different directions in the small space

This is all the rooms and hallways in one direction - this would mean the entry hallway would be going across the hallway shortways.

Let me know what you think...
Ruth
---
| | | |
| --- | --- | --- |
| RE: hardwood in your hallway - can i see?? | | |
I don't see what the problem is having the entry with a short lay, especially when you are concerned with too many directions.

Your second example looks great.
---
| | | |
| --- | --- | --- |
| RE: hardwood in your hallway - can i see?? | | |
I definitely like the second set of photos better with the lengths in the same direction.
---
| | | |
| --- | --- | --- |
| RE: hardwood in your hallway - can i see?? | | |
I agree. I like the second set. I was so happy to see Demi's pictures. I was worried about laying the wood short ways in the entry, but it looks fabulous and I am sure flows in to the other rooms better that way. I know it will flow better in to my rooms if I do short ways in the entry.

I am so jealous! Our floors have not arrived yet. Yours look lovely! Did you go with somerset floors? Are you happy with the product?
---
| | | |
| --- | --- | --- |
| RE: hardwood in your hallway - can i see?? | | |
I'd run it one direction.......across the entry and continue the same direction thruout the other rooms.
I have a similar entry with the hardwood going across vs lengthwise. IMO I think you'll find the boards going across will make the entry feel larger and the visual flow will be much better. Otherwise it's too busy.
---
| | | |
| --- | --- | --- |
| RE: hardwood in your hallway - can i see?? | | |
| | | |
| --- | --- | --- |
| RE: hardwood in your hallway - can i see?? | | |
I like the last two pics going the same way. I think with some homes it looks to choppy changing directions.
---
| | | |
| --- | --- | --- |
| RE: hardwood in your hallway - can i see?? | | |
Thanks so much everyone!!

I agree - it looks so much better in one direction. DH had wanted to switch it up and I just think that its too much going on in a small area. I think we will end up doing it that way!

boopadaboo - We did go with the Somerset. We ended up doing the 3" planks b/c we didn't want to deal with a glue down installation. All the flooring places in our area say anything over 4 requires glue and staples for extra precaution from buckling. The directions on Somerset "suggest" as well. So we did the 3" and are going to install ourselves to say the money.

We did the Country Collection in the desert tan. The color isn;t showing up well on the camera - they are so pretty. I love the colors and the color variations. DH thought the color looked a little darker than the sample - but the samples are SOOOOO small. I think it is perfect - I wanted something a little darker.

I can't believe how quick they came. We ordered them on Friday late afternoon and they arrived on late Wednesday to the store and they were delivered to us on Friday SO one week total - now we have to look at all these boxes (24 in total) for the next 2 weeks to acclimate.

Thanks again to everyone for your pics and help!!! I can't wait to post pics of the new floor in a few weeks.

boopadaboo - post yours when its done as well.
---
| | | |
| --- | --- | --- |
| RE: hardwood in your hallway - can i see?? | | |
roorezzi, I'd run it in one direction also. What type of wood is your floor? I can't wait to see the final pictures! I know you will be happy.

DeborahNJ, what type of hardwood is your floors since they are beautiful?
---
| | | |
| --- | --- | --- |
| RE: hardwood in your hallway - can i see?? | | |
All of these floors are so beautiful, I've turn'd green from envy, WOW, they look so elegant and inviting. All same direction, all diagonal as I wanted but hubby said no, or one of my favorite installations, justgottobeme's hubby's beautiful artistic pattern, look closely at his detail, it's wonderful. Those wide planks are exquisite, interesting to compare the effect, makes me want to tear my home apart and start over!
---
| | | |
| --- | --- | --- |
| RE: hardwood in your hallway - can i see?? | | |
The remodeling still in progress so don't look at the walls and vent gaps!

Here's the hallway after we removed the 1960s shag carpeting, scrapped off the carpet pad that was glued to the original pre-1952 white oak quarter bead floor, sanded forever, and began staining the floors.

I have a very small camera; the photos do not do the floors justice. The colors aren't blotched and shaded as they appear, especially in the first two photos.

Looking north from the kitchen toward the red office.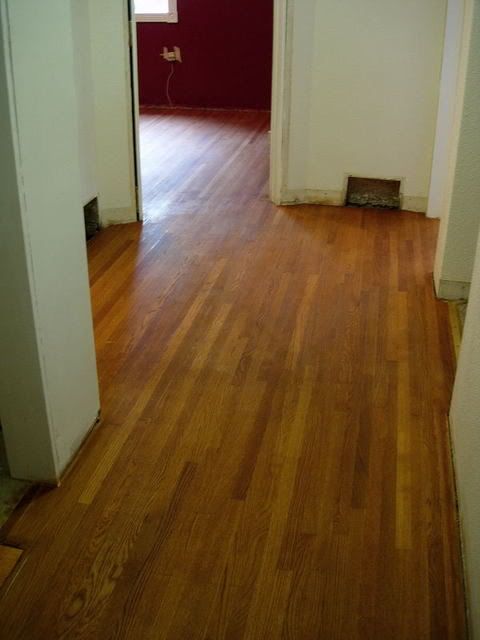 Looking south from the office toward the kitchen. The plastic lattice is up to keep my dog, Harry, from walking on the stain before its dry.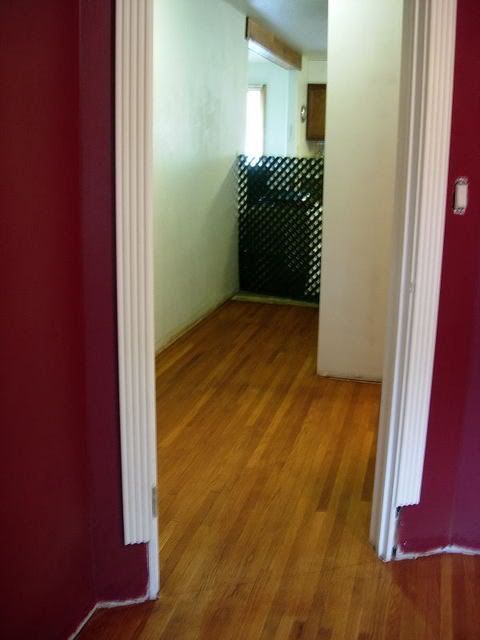 A better example of how the floors really turned out. This is in the office.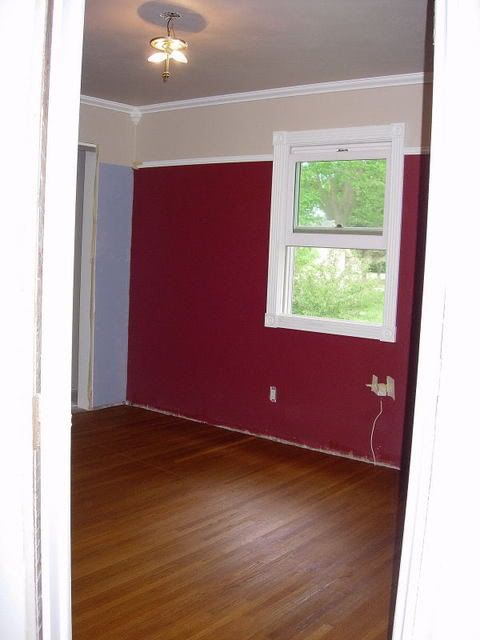 ---
| | | |
| --- | --- | --- |
| RE: hardwood in your hallway - can i see?? | | |
Do you live in a home with a basement of any kind? If you do than it's not a good idea to change directions. Rule of thumb is to go the direction opposite of the joice supporting the subfloor. That said, we too laid our own floors and we installed all of the boards in one direction throughout the first floor not only because we have a basement, but because to us, it looks more cohesive.

A couple more tips some people overlook:

1. Make sure your subfloor is straight and level
2. Allow the wood to sit with the boxes open for a couple of weeks before installing it. This allows the wood to acclimate it to the humidity levels in your home.
3. Always leave a 3/4 inch gap at each wall so the floor has room to breath. If you live in an area that has higher humidity levels, you may want to use thin spacers inbetween the boards as well. This will help offer some extra breathing space during those humid summer months.

Oh and one last thing, Get out the advil because it can be hard on the back. Kudo's to the installers, who we learned personally, actually earn every dime they charge.
---
| | | |
| --- | --- | --- |
| RE: hardwood in your hallway - can i see?? | | |

It all runs the same way.
---
| | | |
| --- | --- | --- |
| RE: hardwood in your hallway - can i see?? | | |
Thanks so much everyone. Thanks for the tips lukkirish!!

Our wood is by Somerset floors. It is 3" hand-scraped plank flooring in Maple. The color is desert tan. I think its beautiful. There is just enough hand scarping to look elegant and not too rustic - but also looks casual at the same time.

I can't wait to start putting it down.
---
| | | |
| --- | --- | --- |
| RE: hardwood in your hallway - can i see?? | | |
Lynn, I'm glad that I decided to pop back in here or I would have missed your question. I believe the floors are brazilian cherry. Let me try to find the builder specs to confirm. I do know that we were warned that the wood would get darker over time because of the type of wood it is. I'll hunt and let you know.
---
| | | |
| --- | --- | --- |
| RE: hardwood in your hallway - can i see?? | | |
Here is one from my old house. About a 14ft hallway + a more open area at the end of it. Picture is taken from the entrance to the hallway.
---
| | | |
| --- | --- | --- |
| RE: hardwood in your hallway - can i see?? | | |
Thank you DeborahNJ for letting me know. I will check out updates on this post for when you reply again. It seems I just love the way Brazilian Cherry floors look. Is this at its darkest? Your floors are just gorgeous to me.
---
| | | |
| --- | --- | --- |
| RE: hardwood in your hallway - can i see?? | | |
We endlessly discussed the same thing when we were doing our glue-down installation of engineered Mannington hardwood. We went over to a friend's home to look at his. He actually does hardwood installs for a living so he was happy to help with questions. We did from the entry (which is tile) into the LR, then, down the hall, which makes an "L" and on into the master bedroom. (DR got wood too, but it is it's own separate space off the entry, also running the wood North & South) We decided to run all of our wood No.& So., which is the long way as you view it from the entry. This of course, created some short boards down the LR end of the hallway. We also ran the wood following the same pattern, into the vanity areas of both the hall bath and the Mbath.
---
Post a Follow-Up
Please Note: Only registered members are able to post messages to this forum.
If you are a member, please log in.
If you aren't yet a member, join now!
---
Return to the Home Decorating Forum
Information about Posting
You must be logged in to post a message. Once you are logged in, a posting window will appear at the bottom of the messages. If you are not a member, please register for an account.
Please review our Rules of Play before posting.
Posting is a two-step process. Once you have composed your message, you will be taken to the preview page. You will then have a chance to review your post, make changes and upload photos.
After posting your message, you may need to refresh the forum page in order to see it.
Before posting copyrighted material, please read about Copyright and Fair Use.
We have a strict no-advertising policy!
If you would like to practice posting or uploading photos, please visit our Test forum.
If you need assistance, please Contact Us and we will be happy to help.

Learn more about in-text links on this page here