Return to the Home Decorating & Design Forum
|
Post a Follow-Up
---
| | | |
| --- | --- | --- |
| How to make a TV in a bedroom look nice? | | |
Posted by
newgardener_in_zone4
(
My Page
) on
Wed, Aug 7, 13 at 14:50
Currently my DH and I do not have a tv in our bedroom. DH is getting the urge though and I am trying to figure out how I could do it but still keep the vision I have for the room.

I am still in the process of decorating/furnishing. When we built the house the guy doing the wiring talked us into having the tv wiring up in the corner of the wall across from our bed. So if we are laying in bed we'd look up and to the left to watch tv.

Fast forward a few years. No TV yet. Decor still in progress. I was planning to do a long/low dresser across from the bed with a lamp and some decorative items, and then a piece of artwork or something above the dresser. There is a chair in the corner (to the left of where this dresser would be, and directly below where the tv would be if mounted in the corner).

If we decide to get a tv, does anyone have any ideas suggestions to incorporate it? Would it be okay to just do it above the dresser in place of the artwork? Or get it up on the wall like it is wired?

Or other ideas?

Other pros/cons of a tv in a bedroom? :)
---
Follow-Up Postings:
| | | |
| --- | --- | --- |
| RE: How to make a TV in a bedroom look nice? | | |
Other than having something to do when confined to long term bed rest, I see no "pro" to having a TV in the bedroom.
---
| | | |
| --- | --- | --- |
| RE: How to make a TV in a bedroom look nice? | | |
they say there are fewer babies made in households with tvs in the bedroom. :)

i disagree with LuAnn because we had a tv in our last bedroom and now in our temporary home (while we wait for our new house to be built) we don't have a tv in the bedroom and i really miss it. we have a baby and a toddler, so i miss catching a few minutes of the morning news before they get up in the morning. i also miss being able to shut my brain off gently at night... i often find myself in between the point of knowing i should go to bed, but my mind still being too active to fall asleep. the tv was great for that.

as for making it look nice -a tv will not look as nice as artwork or a mirror. i think wall mounting a flat screen properly with wires hidden looks a million times better than a hack job wall mount with the wires showing and better than a big projection style tv sitting on a piece of furniture. if you're open to an armoire, you can hide it when not in use, and an armoire looks perfectly normal in a bedroom.

i think our tv looked ok wall mounted in our last bedroom though. i flanked it on either side with small decorative mirrors. i had a long triple dresser below it and the cable box sat on top of the dresser with a picture frame on top of the cable box. :)

i enjoyed having the tv more than i resented the design challenge, so we'll have a tv in our next bedroom and we'll wall mount it again.
---
| | | |
| --- | --- | --- |
| RE: How to make a TV in a bedroom look nice? | | |
I guess if you like to cuddle and watch movies or something that would be a reason, but since you haven't ever, it seems that's not what you do.

Otherwise, I think Tv in the bedroom can cause some conflicts, not only what to watch, but one person wants to sleep or read in bed, the other watch tv. And apparently (if you don't want it in your bedroom and need some ammunition to convince your husband) it is not good for your quality of sleep to watch TV immediately before falling asleep.
Here is a link that might be useful: Power down, better sleep.
---
| | | |
| --- | --- | --- |
| RE: How to make a TV in a bedroom look nice? | | |
The downside to me is I feel I may watch more tv if we had one, and who needs that. Also, the design. Also, our bedroom is 17 feet long, I believe, so to be able to see it from bed it would have to be a pretty decent sized tv. Even less appealing. I have considered an armoire but they are quite large and I'd prefer not to have such a big piece of furniture.

Some more relevant info:
We only have one tv in the house which is in our main living room. There really is no other room to put one other than a mostly unused office (future child's bedroom). When we finish our lower level or possibly add on a sunroom those would be other rooms which could host a tv. But until then, we really only have the living room plus the bedroom.

So. That being said, I like keeping the tv out of the bedroom. DH doesn't mind too bad either. However, there are times it would be nice to watch in bed before going to sleep. Or if we want to watch different things.

We don't have cable. Just local channels and Apple tv so Netflix and Hulu. We have a toddler so the only people watching tv are the two of us at this point.

I appreciate the comments thus far!
---
| | | |
| --- | --- | --- |
| RE: How to make a TV in a bedroom look nice? | | |
I don't know what your husband likes to watch, but a tablet (iPad) makes a nice personal tv--just the right size! I often watch movies/TV shows in bed (through Netflix) on my iPad. He might not be able to watch current tv shows or sporting events on the iPad, but it could be a nice compromise.
---
| | | |
| --- | --- | --- |
| RE: How to make a TV in a bedroom look nice? | | |
Good point, we do have an ipad. I haven't really watched many things on it but I will try it out.

Thanks!

My husband is into Sons of Anarchy right now and I just can't watch it. So when he starts watching it at night I clear the room. :)
---
| | | |
| --- | --- | --- |
| RE: How to make a TV in a bedroom look nice? | | |
OP: I would opt to put the TV where it is most comfortable to view from the bed. I doubt that is in the corner, or is it? What feels right?

Our TV is on top of a wide dresser directly in front of the bed. I think it looks nice and clean. All of the equipment is hidden, otherwise. My other consideration was to mount it on the wall above the dresser, but I didn't want to mess with the wiring.

I can't say our TV in bedroom causes ANY marital strife. If someone needs to sleep without TV, that person gets priority and the TV is turned off politely. We also have wireless headphones for the TV if the other person wants quiet.... and... fighting about what to watch? If a couple is going to do that, won't they do it regardless of where the TV is? (Not to say we are perfect or don't argue about other stuff from time to time, but nothing regarding the tv. Maybe that is because I have that extra TV to run away to if hubby wants to watch something too manly for me.)

Anyway, I have a lot of reasons why I enjoy a TV in my master for our lifestyle and no negatives at all.... so, to each their own. :) Just one example: DH has to go to sleep earlier than me at times. He likes background noise while sleeping (and my company,) so I'll quietly watch TV in the bed while he falls asleep next to me.
---
| | | |
| --- | --- | --- |
| RE: How to make a TV in a bedroom look nice? | | |
I have a television in an armoire in our bedroom. We don't usually watch it from bed, but use comfortable chairs that are also in the room. Our routine is to turn the television off and close the armoire doors before getting into bed. It's a nice routine to mark the end of the day. If for some reason, one person wants to watch television when the other wants to sleep, there are other televisions available in the house.
---
| | | |
| --- | --- | --- |
| RE: How to make a TV in a bedroom look nice? | | |
As someone who has never had a tv in the bedroom, I say get it. It would be so nice and you don't have to watch it! But it's there if you want it. I want one but don't want to pay more for another receiver/dvr. (No smart tv w/netflix here yet...it's coming)
My tv preference is old style, I like them hidden in armories, closed when not watching, so no real help there.
---
| | | |
| --- | --- | --- |
| RE: How to make a TV in a bedroom look nice? | | |
TV in the bedroom doesn't have to be a problem anymore than anywhere else in the house. We don't watch alot of tv, but we do have one in the bedroom. On work days, we like having the early morning news on - in fact, that's usually the only news we see. It's nice if you are in bed sick, etc. or sometimes a movie together, etc.

Ours is in an antique armoire so we can simply close when not in use.

tina
---
| | | |
| --- | --- | --- |
| RE: How to make a TV in a bedroom look nice? | | |
I love falling asleep with the Science Channel. "How The Universe Works" knocks me right out!

I think above the dresser in place of artwork would be the least intrusive for your situation.
---
| | | |
| --- | --- | --- |
| RE: How to make a TV in a bedroom look nice? | | |
I have a TV on a long night stand right next to my bed...I'm nearsighted so I can see it and I can hear it if it's really low. It's an essential for me as it's just enough distraction to keep my mind from racing so I can go to sleep. I esp like shows that are narrated, like reading you a bedtime story. I don't like shows with sirens, and I esp hated one commercial that had an alarm clock going off in it...woke me up every time.

I like the idea of the ipad though with an earphone. Our cable provider allows us to view live tv on the ipad. If yours does, that may be your best solution.
This post was edited by AnnieDeighnaugh on Wed, Aug 7, 13 at 17:36
---
| | | |
| --- | --- | --- |
| RE: How to make a TV in a bedroom look nice? | | |
I never had a TV in my bedroom until a few years ago when I was bedridden for several weeks. I had a cedar chest at the end of the bed which I had moved against the wall opposite the foot of the bed and the chairs which were on that wall moved to the foot of the bed. The TV was put on top of the cedar chest and pictures put on the wall above the TV.

I am now glad the TV is in the bedroom because some days, I have to stay in bed because of my back. Ideas change as I get older.
This post was edited by walnutcreek on Wed, Aug 7, 13 at 17:38
---
| | | |
| --- | --- | --- |
| RE: How to make a TV in a bedroom look nice? | | |
We have a 32" on a low dresser directly in front of the bed. I always watch for a few minutes before I go to bed...usually lights out already then when I'm ready click the remote..I find it relaxing...even if I've been watching tv downstairs before going up. We also have a comfy chair in the corner across from the tv so we can watch separately. I don't mind how it looks...very few people really ever see our bedroom.
---
| | | |
| --- | --- | --- |
| RE: How to make a TV in a bedroom look nice? | | |
Like joanie I also have a 32" in the bedroom - I had bought it for a relative who then passed away shortly after - so replaced my smaller tv...this one seemed too large at first, but quickly became comfortable. I like watching the news and weather before getting up in the am and while getting ready for work, and at times appreciate watching favorite PBS shows at night in bed before retiring when really exhausted ....as far as making it look nice, mine is just on a dresser. Eventually will mount it on the wall. I accept it for what it is, and don't expect it to look attractive, but then I don't find it offensive, either. It is what it is.
---
| | | |
| --- | --- | --- |
| RE: How to make a TV in a bedroom look nice? | | |
We have a small (I think it is a 26") TV mounted on the wall between an armoir and a corner of the room, so it is kind of tucked in there and isn't very noticeable until you get to the bed in the room. It swivels out at different angles or can go flat when not use, but I guess we are lazy because we just leave it out ready for viewing. Both my husband and I like to watch a little TV before we go to sleep while we wait for the melatonin to kick in!! I really don't know how people just go to bed and fall asleep just like that.
---
| | | |
| --- | --- | --- |
| RE: How to make a TV in a bedroom look nice? | | |
The only reason I had a TV in my bedroom was because I went to bed early in the winters to be warm! The bedroom had no heat so when I opened that room's door to the rest of the house to let some warmth in, the livingroom was freezing. That was before I had the bedroom remodeled, new ceiling, new walls, new heat registers! and electric! (yes, I had used an extension cord for the tv and lights).

Now I don't have to get under covers to stay warm and I have a new storm door too so I can stay in the livingroom and watch the TV. Anyway, I think I have mentioned more than once when this subject comes up that I had a real problem with the lights on the TV and the cable box even when the tv was turned off. For some reason it interrupted my falling asleep.
---
| | | |
| --- | --- | --- |
| RE: How to make a TV in a bedroom look nice? | | |
Schoolhouse, there is evidence that even low lights can interfere with sleep. I had DH make me a tin shield which I use to block the light from the cable box clock and it really helps.
---
| | | |
| --- | --- | --- |
| RE: How to make a TV in a bedroom look nice? | | |
To add on to what Annie said, I just put black electrical tape over the TV/cable box lights (which looks ok since the equipment is all black.) :)
---
| | | |
| --- | --- | --- |
| RE: How to make a TV in a bedroom look nice? | | |
Good and simple solutions to the light problems thanks. So far it's been four years and I haven't put a TV back in the bedroom but I did leave the cable wire there just in case. My ideal would be to have a TV about the size of Annie's and place it on a small unobtrusive dresser or cabinet and be able to flip a switch or turn something or other and the TV would go down inside the cabinet and disappear, replaced with the top of the cabinet. Like the old sewing machine cabinets that you swung the sewing machine up when you wanted to use it and down and out of the way other times.

There are "lift" cabinets (not sure what you call them) for tvs, but those are really expensive and I'd need one customized. If I had a good handyman who could build what I want and add the necessary lift equipment, that would be ideal.
---
| | | |
| --- | --- | --- |
| RE: How to make a TV in a bedroom look nice? | | |
Whatever works to get the room more used and useful, to make it a truly special sanctuary and comfort for longer. It's horribly expensive real estate, especially the huge ones these days that most people leave in the early morning and return to only to go to bed. Studies show people aren't using all that space, while their living rooms are often cramped.

I was hardly surprised; my own observations suggest that lack of use. People do have "looks" they dream of for their bedrooms, but somehow most bedrooms on line come across as static and unused, or hotelish, pretty yet unappealing despite all that's gone into the look, and it's probably because they mostly are not enjoyed. A reality that's somehow "in the air." The bed is, of course, but it takes only about 35-45 square feet and it'll be made up each morning to look as pristine as the easy chair and loveseat that are never sat on.

So, the pad actually sounds good, but if not, how about a nice built-in bookcase that holds a not-too-big TV discretely among the books. I'm not sure how big ours is, but it's smallish, about 16' away, and I have a little trouble reading the info screen is about all, which is fine. The bookcases would also provide another bedtime comfort.

If books and favorite magazines, laptop, PTA folders, needlework project (it's coming back in :) would really ruin the decor, maybe just a nice TV set into the wall, with artwork of four-panel painted silk screens that also look pretty while they're open.
---
| | | |
| --- | --- | --- |
| RE: How to make a TV in a bedroom look nice? | | |
We have a tv in an armoire. The armoire is gorgeous, adds needed height in the room, and hides the television when not on. I store linens in the two large drawers underneath the tv.

Like others, I also like to watch/listen to the news in the morning as I'm getting ready. And if Mr. Bird and I want to watch something together without the kids, we simply shut the door. :)
---
| | | |
| --- | --- | --- |
| RE: How to make a TV in a bedroom look nice? | | |
Having a TV or not is a personal choice. I don't think any of us should be telling you whether or not to do it. I was anti-bedroom-TV for ages until DH had one installed in the bedroom of our summer cottage, and once I got used to having it there, of course I wanted one at home. There are 5 people in our family, all with varied interests, so an extra TV is great. Ours is mainly used by me, when other family members are watching sports on the downstairs TV. I also like turning it on when I'm sorting laundry or making beds or whatever.

As far as decorating around it, the best advice I can give is to try to make the TV be a subtle presence in the room in any way possible. Ours is sort of tucked into a corner, on top of a unique vintage painted cabinet, and I have books in an open shelf under the TV, a lush plant in a nice planter next to the TV, and finally, the TV itself is not large. (DH wanted it to be bigger but I said no way.)
---
| | | |
| --- | --- | --- |
| RE: How to make a TV in a bedroom look nice? | | |
| | | |
| --- | --- | --- |
| RE: How to make a TV in a bedroom look nice? | | |
I have mine in an armoire that's directly in front of my bed, probably 5 feet or so from the bottom of the bed. I could not fall asleep w/o my tv playing. I like being able to close the doors and then it's hidden.
Since I like to hear the news in the morning, I also had a tv installed in my master bath.
I like another's posters idea/picture of the slim wall cabinet, but where do you hide the cable box?
I have see those cabinets that also have the tv rise up from with, but I would think you would want it to match your current style/color of your furniture.
---
| | | |
| --- | --- | --- |
| RE: How to make a TV in a bedroom look nice? | | |
Good point! I didn't think of the cable box since we don't have one. Yes, that would be an issue with a wall cabinet.
---
| | | |
| --- | --- | --- |
| RE: How to make a TV in a bedroom look nice? | | |
This is the first house I've ever had a tv in, and it's the 4th house i've been in by myself. I don't like looking at a tv in any room, so the 3 I have, including the one in my bedroom, are all in an armoire. I especially don't particularly don't care for them hung on the wall, but that's just a personal choice. It seems to be the trend and usually the man of the house loves the idea.
---
| | | |
| --- | --- | --- |
| RE: How to make a TV in a bedroom look nice? | | |
We went back and forth on whether to put a TV in the bedroom when we added on our master suite (we have only had a bedroom TV once, and it was a smaller one perched on a dresser to fill some of the time while I was nursing DS). We have ended up procrasinating and not putting one in - in the meantime we have been using an oversized Mac airbook to watch shows on and it's been a great compromise. Since it's usually tucked away I don't just turn it on out of habit or for no reason. We have to purposefully decide to watch a show or movie and then we pull it out to watch on the bed together. Since it's not all the time it still seems like a treat. It was much less expensive than the TV and armoire combos we had been considering and has left our bedroom sleeker and less cluttered overall, so it has worked well for our situation.
---
| | | |
| --- | --- | --- |
| RE: How to make a TV in a bedroom look nice? | | |
Newgardener, if it were my room, I would just sit the TV on the dresser where it is visible. It is what it is.

Even though I personally don't watch a lot of TV, it is a fact of life in my home and I will not stress over trying to hide it or camouflage it. I don't hide my phones, I don't hide my computers, I don't hide my kitchen appliances that get used EVERY day (coffee pot, toaster, and micro-wave).

Again, that is just my personal feelings - I have seen some AWESOME ways to hide the TV's - they just wouldn't work or be convenient in my home.
---
| | | |
| --- | --- | --- |
| RE: How to make a TV in a bedroom look nice? | | |
Too funny, Tuesday, I DO hide my coffee pot, toaster oven and my next house will have a microwave drawer!
---
| | | |
| --- | --- | --- |
| RE: How to make a TV in a bedroom look nice? | | |
Didn't the poster called The Foxes Pad mount a tv on the wall with all sorts pictures and art work around it? Something like what you can see in the edges of the picture geokid posted at 21:00. Would that work for your bedroom decor and where you need to mount the tv for viewing? It probably has to be mostly black and white pieces so the black expanse, when the tv is off, blends in more.
---
| | | |
| --- | --- | --- |
| RE: How to make a TV in a bedroom look nice? | | |
Bumblebee - I will have to admit - I would love to have a microwave drawer - they sure take up a lot of counter space. And, I guess if I had a nice big walk in pantry, I would put my small appliances in there - but I don't.

I can just see DH and I now, stumbling to the kitchen, half asleep, dragging a coffee pot out of a cabinet to make coffee :). In fact, we won't give up our Bunn, because anything else is too slow.
---
| | | |
| --- | --- | --- |
| RE: How to make a TV in a bedroom look nice? | | |
Reading this, I see I'm not the only one who has trouble getting to sleep at night. Several years ago I took the tv out because I thought it was bothering dh (who is asleep the minute his head hits the pillow). It was agony for me trying to get to sleep after that. We finally got another tv for the living room when our tv started having lighting problems and put the old tv in the bedroom. Since the screen was mostly dark, it was like having a radio and I could close my eyes and let the evening news put me to sleep.
---
| | | |
| --- | --- | --- |
| RE: How to make a TV in a bedroom look nice? | | |
I agree with Tina, "Having a TV or not is a personal choice. I don't think any of us should be telling you whether or not to do it.".
As for how to make a bedroom tv look nice, I agree that it can just sit on top of a dresser or table, if you like.
Another idea is to tuck it into an armoire. Our bedroom tv is on one and I love it. I can close the doors when we're not watching it. We use ours every morning M-F, catching the morning news while DH gets ready for work. Sunday - Thurday evenings, I like to watch it for 30 minutes or so while ironing DH's shirt for work the next day. DH is usually in his study finishing up his paperwork then. We've made a conscious decision not to watch tv shows or movies in the bedroom together and it works for us, but this is definitely a personal thing for everyone and there are no right or wrong answers IMO. BTW, having a tv in our bedroom has not impacted our romantic life at all (LOL).

We have a tv cab with a lift system in our family room. I like it because when the tv is down (inside of it), you can see my artwork hanging on the wall above the console. The downside to many of these consoles, though, is that the tv comes up through the top of it, making the top of the console unusable to put anything on it, such as a lamp.

I love Geokid's suggestion of using mirrors or artwork to slide or close over a wall-mounted tv when you want it to disappear. I realize, though, that you have to also have room for the tv components someplace. When we get rid of the lift console, DH and I would like to downsize to a wall-mounted tv that we can hide behind a painting when not in use , with a narrow cab underneath it to hold any tv components.
Lynn
---
| | | |
| --- | --- | --- |
| RE: How to make a TV in a bedroom look nice? | | |
We used an old mirror. I had a local glass shop replace the mirror with two-way mirrored glass.
DH built up the frame of the mirror and hung the TV on the wall. I painted the sides to match the front of the frame.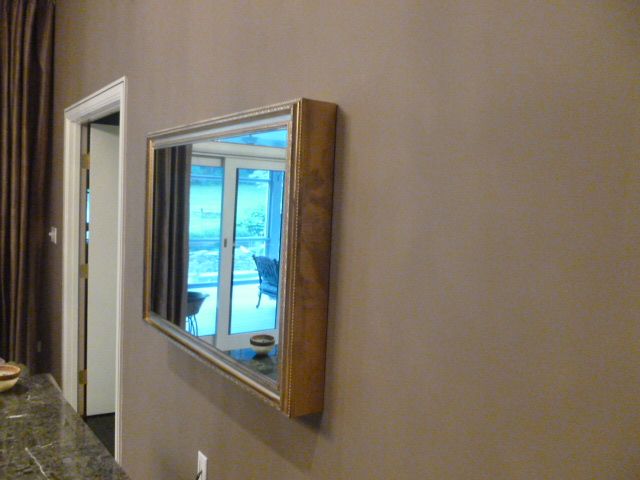 DH fished the cords behind the drywall so the cable box sits under the dresser… unseen.


If the TV is off, you'd never know a television is in the room!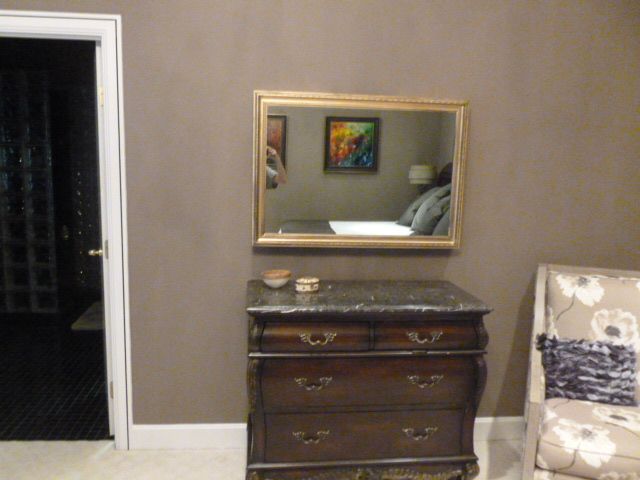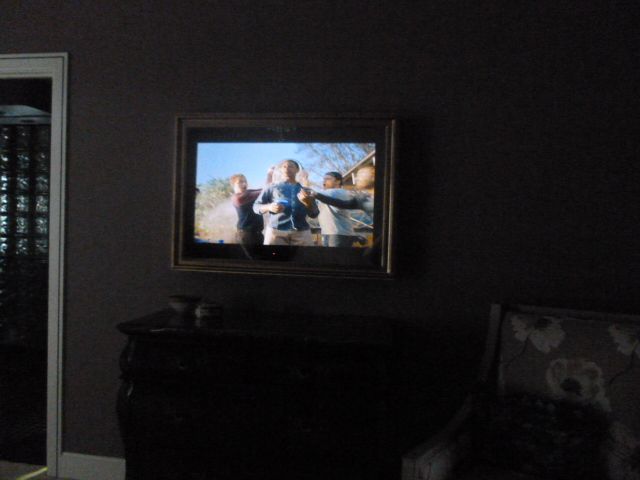 ---
| | | |
| --- | --- | --- |
| RE: How to make a TV in a bedroom look nice? | | |
| | | |
| --- | --- | --- |
| RE: How to make a TV in a bedroom look nice? | | |
Well, now, Gracefully, that is simply the best solution for a bedroom TV, EVER!

I suspect that it would work on living room TVs as well, so maybe it's the solution there, too. Many people have a mirror over their fireplace, now it can hide the TV in the same way.

We don't have cable (nor any hope of it in my rural area) so we'd need to find a way to store the little over-the-air antenna box, which needs line of sight for the clicker-thingy, but it doesn't neeed to be all that close to the TV, so it would easy to disguise somewhere else.

L.
---
| | | |
| --- | --- | --- |
| RE: How to make a TV in a bedroom look nice? | | |
I love that Gracefully. I read somewhere that lines inside the walls have to be a certain type wire to be legal. I think it had to do with fire hazard but I don't know why. I've never heard of a tv cord fraying or breaking or starting a fire when it wasn't cut by something. Did you put the regular tv cord in the wall, or that other wire?
---
| | | |
| --- | --- | --- |
| RE: How to make a TV in a bedroom look nice? | | |
Gah! To be honest, it's such a short run that code compliance never crossed my mind, but you are absolutely correct. It looks like there is something called a powerbridge that is made for just this application; I'm ordering one from Best Buy now. An added benefit is that it won't look nearly as "amateurish" as the current hole in the drywall. Thanks!
---
| | | |
| --- | --- | --- |
| RE: How to make a TV in a bedroom look nice? | | |
gracefully - That looks so nice! How does the 2-way mirror reduce the clarity of the screen while viewing in day time? (I imagine you could see reflections?)
---
| | | |
| --- | --- | --- |
| RE: How to make a TV in a bedroom look nice? | | |
I wondered that too lolauren. I'd also like to know how the frame is attached to the wall. If just hung on hooks like a regular frame, I guess it could be removed if there was a glare. But the side photo doesn't look like it's attached with hooks, at least not saw hooks. I really like it though and had thought of doing something similar, but I like this much better.

I thought of another question. Where are your speakers? Does the mirror muffle the sound?
This post was edited by marti8a on Mon, Aug 19, 13 at 15:39
---
| | | |
| --- | --- | --- |
| RE: How to make a TV in a bedroom look nice? | | |
@lolauren, I don't have a problem with viewing in the day time, but we have a covered porch outside our MB, so there is no direct sunlight. At nighttime, there are lamps that I have to turn off if watching TV because they do produce a glare (but I can leave the overhead on). I would say the picture is a little dimmer than if the mirror wasn't over it, but not enough to bother us. It is our secondary television, though... "serious" watching (Super Bowl, KY Derby, etc.) takes place in the FR.

@marti8a, DH attached the mirror with a French Cleat (he also uses these to attach cornice boards over windows). I added an image I found on Google below. I wanted to take down the mirror to take a picture, but it appears that French Cleats are a pretty solid method of hanging items -- you have to go up and then out and DH isn't here to help me! The mirror doesn't muffle the sound at all. DH put "vents" at the top and bottom of the frame that he added on for just that reason. I have attached a picture of the top; couldn't get a good one of the bottom, but it's along the same lines.

My best piece of advice if you choose to do this is to buy a mirror to fit your existing TV! I already had the mirror (it hung in the DR of our former home and was sitting in a closet here), and probably overpaid for the TV to get the size I needed. We're happy with the finished product though. I'm glad you like it!
---
| | | |
| --- | --- | --- |
| RE: How to make a TV in a bedroom look nice? | | |
Thank you gracefully! (and dh)
---
Post a Follow-Up
Please Note: Only registered members are able to post messages to this forum.
If you are a member, please log in.
If you aren't yet a member, join now!
---
Return to the Home Decorating & Design Forum
Information about Posting
You must be logged in to post a message. Once you are logged in, a posting window will appear at the bottom of the messages. If you are not a member, please register for an account.
Please review our Rules of Play before posting.
Posting is a two-step process. Once you have composed your message, you will be taken to the preview page. You will then have a chance to review your post, make changes and upload photos.
After posting your message, you may need to refresh the forum page in order to see it.
Before posting copyrighted material, please read about Copyright and Fair Use.
We have a strict no-advertising policy!
If you would like to practice posting or uploading photos, please visit our Test forum.
If you need assistance, please Contact Us and we will be happy to help.

Learn more about in-text links on this page here