Return to the Home Decorating & Design Forum
|
Post a Follow-Up
---
| | | |
| --- | --- | --- |
| Re-doing living Room | | |
Posted by
cooki1268
(
My Page
) on
Sun, Aug 18, 13 at 14:39
I would like to re-do my living room. It is a very long (21-1/2 feet) and narrow (12-1/2 feet) room. Furniture placement has always been an issue. It feels like all of the furniture is pushed up against the walls (probably because it is =) .

I am going to get rid of everything (except the plant), and will be starting fresh. I just need some ideas on placement.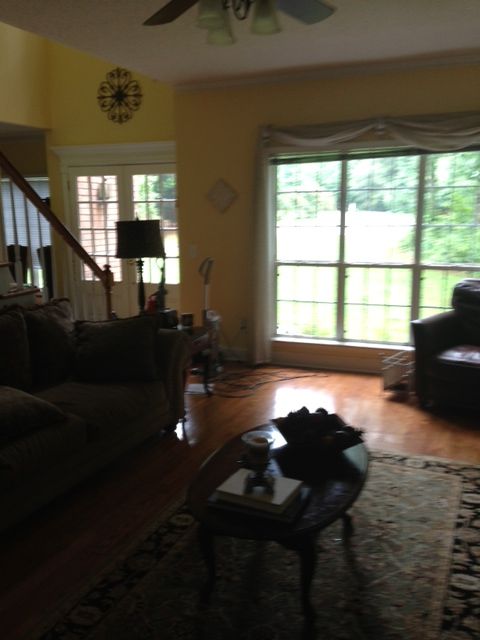 I really like these shelves to flank the fireplace, but nothing set in stone.
Any help would be greatly appreciated.
Thanks,
Sandi
---
Follow-Up Postings:
| | | |
| --- | --- | --- |
| RE: Re-doing living Room | | |
What is the purpose of the room? Will there be a TV? Is this where guest enter the home and walk through to the kitchen area?
---
| | | |
| --- | --- | --- |
| RE: Re-doing living Room | | |
This will be our formal living room; however, we are not that formal. There will not be a television. It is where quests enter the home and walk to the kitchen area, along with where we will entertain guests.

Thanks,

Sandi
---
| | | |
| --- | --- | --- |
| RE: Re-doing living Room | | |
Currently you appear to have a sofa, two chairs, coffee table, end table w/lamp, armoire, torchiere lamp, and maybe a bookcase. And it is a walk-through area for the kitchen.

Working with the furniture you have now:
I would first remove the coffee table from the room. Then I would pull the area rug towards the sofa, getting the sofa front feet on the rug. I would place the two chairs on either side of the fireplace, angled toward the sofa. I would try to get the front feet of the two chairs onto the area rug - might be possible, might not. You might need a larger rug. Place the torchiere behind one of the chairs.

Unless you need the armoire and bookcase (is it a bookcase?) in the room, I would lean towards getting them out of the room. I would rather see a long console table in that area.

If I were budgeting for this room, I would keep the current furniture and spend my money on (pricey) custom drapes - stationary panels to dress the three windows in the room. I would add a second side table for the sofa and a narrow side table for each chair.

If the current seating (sofa and two chairs) is not enough seating, I would look at maybe two ottomans that could sit in front of the large window and then be pulled into the main area of the room when entertaining a larger group.
---
| | | |
| --- | --- | --- |
| RE: Re-doing living Room | | |
If people usually walk through, you need a passage. If you sometimes entertain, you need a conversation area. So, could you place two loveseats, or 4 chairs, on either side of the fireplace, with perhaps 2 small tables pushed together (that you could separate as needed for a party)? Then, perhaps a console-type bookcase on the stairs wall. You need something in front of the front window, though. Plants? Or a table with lamps, and ottomans beneath you can pull out for more seating.

Pretty front doors, by the way, as well as the door to the, is it kitchen?
---
Post a Follow-Up
Please Note: Only registered members are able to post messages to this forum.
If you are a member, please log in.
If you aren't yet a member, join now!
---
Return to the Home Decorating & Design Forum
Information about Posting
You must be logged in to post a message. Once you are logged in, a posting window will appear at the bottom of the messages. If you are not a member, please register for an account.
Please review our Rules of Play before posting.
Posting is a two-step process. Once you have composed your message, you will be taken to the preview page. You will then have a chance to review your post, make changes and upload photos.
After posting your message, you may need to refresh the forum page in order to see it.
Before posting copyrighted material, please read about Copyright and Fair Use.
We have a strict no-advertising policy!
If you would like to practice posting or uploading photos, please visit our Test forum.
If you need assistance, please Contact Us and we will be happy to help.

Learn more about in-text links on this page here