Return to the Home Decorating & Design Forum
|
Post a Follow-Up
---
| | | |
| --- | --- | --- |
| Creative thinkers - what would you do with... | | |
Posted by
avesmor
(
My Page
) on
Mon, Aug 27, 12 at 14:34
I hate cliffhanger titles, but I couldn't fit it all in. Sorry. :)

In my MBR I have the Westbrook quilt from JCP's Linden Street line. It's actually oriented wrong in the picture, the blocks run horizontally to the bed. Just the quilt, not the shams & all:

Today I scored two more of the exact same quilt for about $10 combined (!!!). They're still going for $120 in the stores, so if nothing else I can put them on ebay. But I thought I might be able to use them somehow. I don't really want to use the same bedding in another room, so I was wondering what creative decorator types might come up with...? Here are some of my initial thoughts:
We have a LARGE pillowtop mattress. The existing quilt barely covers the mattress. To make it look like it should, I actually borrow some length from the far side that no one can see. Thought maybe a seamstress could deconstruct the new quilt, and somehow merge the two so that I had one that was plenty long/wide. But that may be way too much PITA for anyone to undertake...
We have a very large master bath, accessed via a double pocket door from the bedroom. I've struggled a bit to clearly tie the two rooms together, though I'm close... Thought maybe the quit could be repurposed into floor rugs for the sink area? We're dry by the time we get there, so they wouldn't really get wet. Maybe the occasional splash or drip from the sink.
Any other ideas? I'm a blank slate here...
Valances? Though I prefer things to be not so matchy-matchy.
---
Follow-Up Postings:
| | | |
| --- | --- | --- |
| RE: Creative thinkers - what would you do with... | | |
I'd put 2 together and find someone to make the one on your bed luxiorushly large...putting them together with the brown binding.
Then I would make a pillow top for your bed..or 2 and perhaps a top for a bath stool or a laundry hamper for the MB...
Perhaps a valance for over the tub or shower area..
---
| | | |
| --- | --- | --- |
| RE: Creative thinkers - what would you do with... | | |
I definitely like the idea of getting a properly sized quilt out of it. How hard do you think that would be? I don't sew, so I'd hire it out. Am I going to have a hard time finding someone who can do it?

What do you mean by a pillow top for the bed? Shams? Can you post a pic? (Our mattress has a pillow top built-in, and we have a memory foam topper, but they're all under the sheets).

I should've thought to share the bathroom layout. It's not your typical setup and I'll have limited places to incorporate the quilt fabric, if I go that route. No windows, so no valances, though I did add a skylight. :)

This is the floorplan, only we had ours mirrored. Replaced the standard tub with an oversized corner tub, and made some minor changes to the wall layout:

Some pics:

Larger Image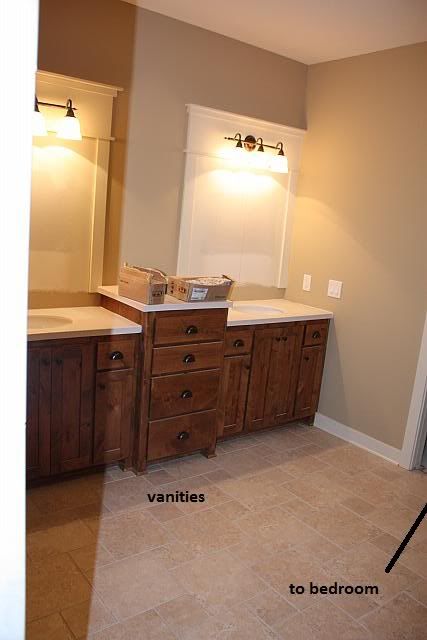 Larger Image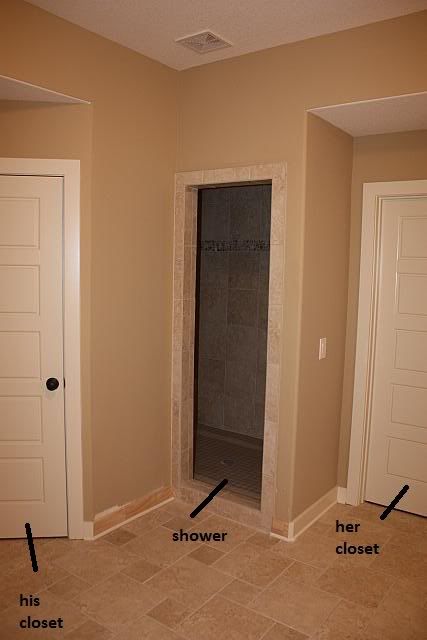 Larger Image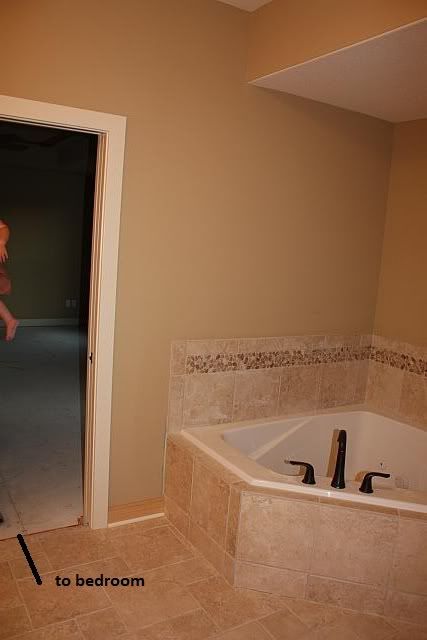 Larger Image
---
| | | |
| --- | --- | --- |
| RE: Creative thinkers - what would you do with... | | |
Lining the baskets? Padded hangers in your closet?
---
| | | |
| --- | --- | --- |
| RE: Creative thinkers - what would you do with... | | |
How about using one of them as a dust ruffle to go to the floor. Just put it over the entire box spring and let it hang. Then you won't need to make your bed with one side longer than the other. Is your shower room going to have a door? If not make a drape out of some of the fabric, hang it above the door and pull to one side.
---
Post a Follow-Up
Please Note: Only registered members are able to post messages to this forum.
If you are a member, please log in.
If you aren't yet a member, join now!
---
Return to the Home Decorating & Design Forum
Information about Posting
You must be logged in to post a message. Once you are logged in, a posting window will appear at the bottom of the messages. If you are not a member, please register for an account.
Please review our Rules of Play before posting.
Posting is a two-step process. Once you have composed your message, you will be taken to the preview page. You will then have a chance to review your post, make changes and upload photos.
After posting your message, you may need to refresh the forum page in order to see it.
Before posting copyrighted material, please read about Copyright and Fair Use.
We have a strict no-advertising policy!
If you would like to practice posting or uploading photos, please visit our Test forum.
If you need assistance, please Contact Us and we will be happy to help.

Learn more about in-text links on this page here