Return to the Home Decorating & Design Forum
|
Post a Follow-Up
---
| | | |
| --- | --- | --- |
| Help me save these chairs please! | | |
Posted by
Marisa99
(
My Page
) on
Thu, Aug 9, 12 at 14:18
I have two large couches in my LR.. hold overs from my former house with a huge LR. I want to sell one couch and just add a pair of chairs.
I saw a chair I fell in love with at HomeGoods. It was a white antiqued chair with a mid century vibe but modern at the same time. The cushions were a loose envelope kind of cushion and covered in a Renovation Hardware kind of linen. It was only $300. but of course they only have one and I need two matching so I don't buy it and proceed to visit every other Homegoods within 50 miles of my home. No luck! And of course when I go back, it's gone and I didn't take a picture of it!

So.. I see these chairs at a local second hand shop:
They have almost the same frame as my holy grail chair and need new cushions. The price was right so I bought them.
I've sewn chair cushions before but I don't want to tackle this job so I visit some local upholstery shops where I get prices ranging from $175 - $250. per cushion for the foam and a cover. So $700-$1000. for the set. Out of my price range. I looked on the internet and found a place where I could get cushions and the covers for $200. for the pair. I want them to be very comfortable so I order 5" foam cushions.
This is what the chairs look like:
I don't like the look of the cushions at all. They are blocky and outdoors looking.. but comfortable. :-)
Any suggestions? Do I bite the bullet and take them somewhere and have normal looking cushions made?
Thanks for reading through this!
---
Follow-Up Postings:
| | | |
| --- | --- | --- |
| RE: Help me save these chairs please! | | |
I know it's probably not likely that you can find your 'holy grail' chair on the web, so we can see what it looks like, but can you find one very close to it? That will help a lot so we can see what you are going for.

Then, is it the thickness and/or squareness of the cushions you don't like?

Did you choose the fabric, and do you like the fabric?

Did the 'HG' chair have both loose cushions as this one does?
---
| | | |
| --- | --- | --- |
| RE: Help me save these chairs please! | | |
First off, the cushions need dacron wrap on the foam to soften the hard edges. The foam should have been cut 1" larger all around (2" total), then wrapped, to get a good crown on the seats. I'm seeing puckering in the seams, too. Shouldn't be there.

That said, don't panic! You can probably fix them yourself. Open up the covers (I'm assuming there are no zippers) where you find the hand stitched closures. Take out the foam and wrap the heck out of it with dacron. You want the wrapped foam to look like it won't fit back in, but it will. Stuff it all in and sew them shut.

This should also take fill in the funny gap where the seat and back meet, and hopefully make the puckers less apparent.

One more thing. Never, ever order cushions from this person again!
---
| | | |
| --- | --- | --- |
| RE: Help me save these chairs please! | | |
Although the style of this chair is totally different, the seat cushion is exactly like my inspiration chair.
I called it an envelope cushion but it's actually its called a knife edge cushion. The back cushion on the inspiration chair was the same construction.
---
| | | |
| --- | --- | --- |
| RE: Help me save these chairs please! | | |
I sort of thought it would be like that. Notice how that doesn't just have the seat cushion, but an upholstered base that it sits on. I can't see what is below the cushion on your chair, but it's probably an option to upholster the base of the chair in a similar way to the one pictured above.

I agree with woodsy that yours would look less square if you wrapped them in Dacron, (think of something like polyester quilt batting from Joann Fabric) BUT, if you do it to a 5" cushion, you'll have a cushion so thick it'll resemble a mattress!

Can you return those for poor workmanship? I know I'd sure want to!

I'd want to round the the top of the back cushion somewhat at the top like your pic just above to give it more style.

If you can't return yours, I'd be wanting to re-work them, by taking the foam out and cutting it to half it's depth with an electric knife, so you can then wrap it and give it a softer look, Then you'd have to start fresh if you want a knife edge cushion like the one above, but that would be easy to make - just like an over-sized pillow.

I have linked some fabric below that is very inexpensive, but it's a great look. I just used it to re-do this chair, but mine is a slightly darker color that I think they're out of right now.

Mine before, shown in the Craigslist ad -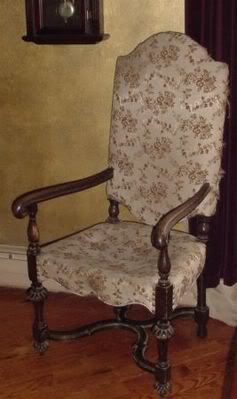 after -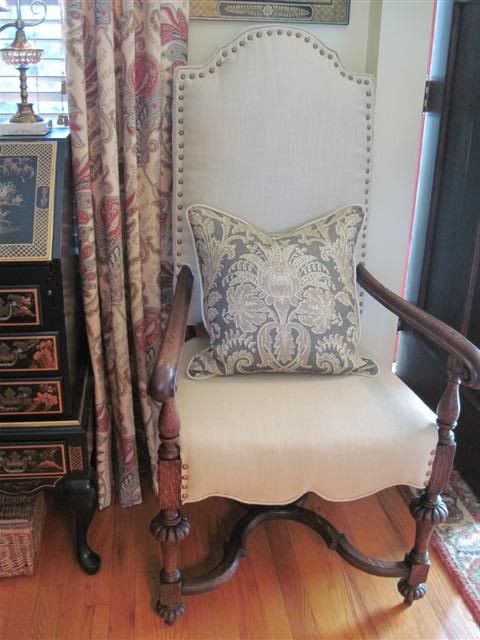 Here is a link that might be useful: Barn Fabric linen look $4.99 yard through 8/12
---
| | | |
| --- | --- | --- |
| RE: Help me save these chairs please! | | |
I've been making slipcovers out of dropcloths from the hardware store, and the fabric looks a lot like linen after washing and drying. Well, sort of like linen. Your fabric has a bit of sheen to it, while linen would be more matte.
I wonder if you could make up some knife edge pillows or get a friend who sews to do it, and salvage the foam somehow by trimming it to a shape more like your inspiration chair has and less boxy and wrapping it in batting as suggested by others.
The dropcloths are very cheap, they come out to something like 3.50 per yd. or so.
---
| | | |
| --- | --- | --- |
| RE: Help me save these chairs please! | | |
My folks have a couple of Danish chairs that are similar to yours. I seem to recall that the cushions are boxy, like the ones you had made, but they are only about 2' - 3". There is strapping under the seat cushion for support.
---
| | | |
| --- | --- | --- |
| RE: Help me save these chairs please! | | |
There are actually springs under the seat... they are very well made!
I'm thinking if I cut the foam to about 3.5", wrapped them, and made new covers, they would be fine. I do like the fabric.. they were made with zippers. I might be able to rework them.
---
Post a Follow-Up
Please Note: Only registered members are able to post messages to this forum.
If you are a member, please log in.
If you aren't yet a member, join now!
---
Return to the Home Decorating & Design Forum
Information about Posting
You must be logged in to post a message. Once you are logged in, a posting window will appear at the bottom of the messages. If you are not a member, please register for an account.
Please review our Rules of Play before posting.
Posting is a two-step process. Once you have composed your message, you will be taken to the preview page. You will then have a chance to review your post, make changes and upload photos.
After posting your message, you may need to refresh the forum page in order to see it.
Before posting copyrighted material, please read about Copyright and Fair Use.
We have a strict no-advertising policy!
If you would like to practice posting or uploading photos, please visit our Test forum.
If you need assistance, please Contact Us and we will be happy to help.

Learn more about in-text links on this page here