Return to the Home Decorating & Design Forum
|
Post a Follow-Up
---
| | | |
| --- | --- | --- |
| House number help | | |
Posted by
wigardenerwannabe
(
My Page
) on
Fri, Aug 3, 12 at 14:18
I want to replace the house numbers on my home. There are currently cheap 4" ones in the dark grey area to the right of the door. Clearly they don't show up on the photo...or from the street. My mailbox is on the curb, so perhaps numbers should go on that instead...or perhaps in addition to. I think I will need to maintain placement in the same place, but what color/size should they be? I think that a black wrought iron fits my house the best, but was wondering if they are too dark. I did find these light colored ones, but wonder if they aren't too modern. Would love input on size/color. The light fixtures also need to be replaced, and those will likely be black wrought iron. (The fixtures are the one to the left of the front door, and on either side of the garage door.) I haven't spent much time looking for those yet, but have wondered about what size those should be as well. I know I should be considering proportions, but when I tried to google it for guidelines came up empty handed. Any thoughts on size of light fixtures and/or references to where I can find information on how to figure that out would be much appreciated.
Thanks.
wig
Here is a link that might be useful: nickel numbers
---
Follow-Up Postings:
| | | |
| --- | --- | --- |
| RE: House number help | | |
| | | |
| --- | --- | --- |
| RE: House number help | | |
It looks to me as if you have brass on your doors. I'd keep all the "jewelry" the same in both general style and materials. But you have very little space to put them where they are now.

What if, instead, you used a plaque on a stake, on the same plane as the front of your porch step, with good big brass numbers on a background the same as your dark gray trim, and a small low-voltage landscape spot trained on it? They'd be visible from the street, probably better than where they are now.

Then you would have space for a pair of slender sconces on either side of your door to give you good balanced light there.

I think you also also need numbers on your mailbox. When the mailbox is at the street and fairly far from the house, unless the house number features prominently in the design, I usually put good sized metal numbers vertically on both sides of the post, so you can see them from a car in either direction.
---
| | | |
| --- | --- | --- |
| RE: House number help | | |
Those are my house numbers! We got them at HD, see link below. They're 5" tall and come in black as well. Much better price, too.

They are VERY visible from the street. Mine are mounted on the post which is about 7 feet from the door. I would have gotten a shot from further away, but it's not pretty right now. Half painted, roof being replaced, and plenty of dry weeds waiting for the landscaper to do his magic when the rest is done. HTH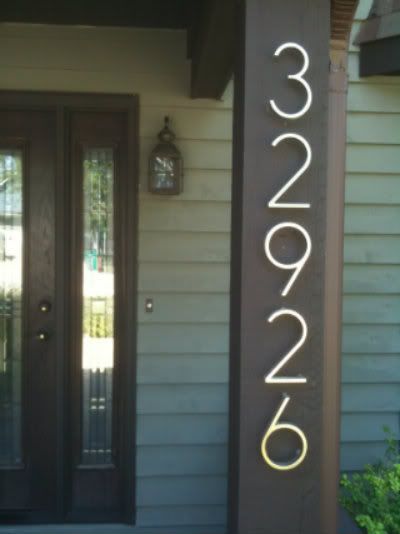 Here is a link that might be useful: Numbers
---
| | | |
| --- | --- | --- |
| RE: House number help | | |
Bron, I want to get away from the brass. It may take some time to get there, but that is the direction I'm heading. Although I like the idea of a plaque with spots on it, I'm in snow country, and snow mounds may obstruct the view in winter. But I'm intrigued with putting sconces on either side of the door so will have to give that more thought.

I have also thought about having beefier columns put in for other reasons (but it could provide a place for the numbers), but that thought goes along with replacement of the front window....so will have to wait. Funny how one thing leads to another. Thanks for the link woodsy. I'm assuming you did not have the same problem as the sole reviewer.
---
| | | |
| --- | --- | --- |
| RE: House number help | | |
When you get to adding beefier columns, I think that would be the perfect place for your numbers.

Until then, when I see your delightful house sitting there in its lovely landscaping, I have an urge to add contrasting black numbers just above the window right there on the siding (assuming you can keep your vine under control they would be visible from the street) centered in line with the peak of your roof.
---
| | | |
| --- | --- | --- |
| RE: House number help | | |
I like the ones you posted. When we sold our last house, the fire department made us add numbers ON the house - and they had to be digits, not words - before they'd sign off on the C of O. Just FYI you may want to check with your local FD before removing numbers from the building entirely.
---
| | | |
| --- | --- | --- |
| RE: House number help | | |
I would put the numbers up on the siding where the break in the trim occurs over the center.

And yes, they should also be on the mailbox, imo.
---
| | | |
| --- | --- | --- |
| RE: House number help | | |
I think black vertical large numbers will look great on the wood to the right of the door. You have a charming house there, it's very appealing. Maybe you should buy the light fixtures at the same time so that they work well with each other.
---
| | | |
| --- | --- | --- |
| RE: House number help | | |
May I suggest that you develop an overall plan before you do any of those things? It's easy to start doing things one by one as they occur to you, and then to end up with a facade that looks a bit like a collage rather than a coherent design.
---
| | | |
| --- | --- | --- |
| RE: House number help | | |
I agree with Les917 0 on the siding between the break in the trim AND on the mailbox.

Is that ivy growing on your house? As charming as it is, it is destructive to the facings it grows on and is a railroad for ants. I would think about removing it.
---
Post a Follow-Up
Please Note: Only registered members are able to post messages to this forum.
If you are a member, please log in.
If you aren't yet a member, join now!
---
Return to the Home Decorating & Design Forum
Information about Posting
You must be logged in to post a message. Once you are logged in, a posting window will appear at the bottom of the messages. If you are not a member, please register for an account.
Please review our Rules of Play before posting.
Posting is a two-step process. Once you have composed your message, you will be taken to the preview page. You will then have a chance to review your post, make changes and upload photos.
After posting your message, you may need to refresh the forum page in order to see it.
Before posting copyrighted material, please read about Copyright and Fair Use.
We have a strict no-advertising policy!
If you would like to practice posting or uploading photos, please visit our Test forum.
If you need assistance, please Contact Us and we will be happy to help.

Learn more about in-text links on this page here