FORUMS:
GardenWeb
>
Forums
>
Home Decorating Forum
> Another question re: mixing painted and stained trim >
Post a Follow-Up
Another question re: mixing painted and stained trim
Our home was built in the late-1970's complete with a (fake) paneled den. The trim in this room is stained wood. All other trim in the house is white. While the baseboards, door trim, and window casings aren't anything special, the crown molding and mantel have a nice dental detail. So far, we've balked at painting the crown and mantel. (This is also the reason we haven't ripped off the paneling and installed drywall. We're afraid that a construction crew would ruin the crown molding, but we don't have time to do this ourselves.) The previous owners installed a chair rail and painted the upper paneled walls. They tried to stain the chair rail to match the rest of the trim, but needless to say, it isn't an exact match. Now we have:

Wood Tone 1 – crown molding, mantel, baseboards, door frames, window casings
Wood Tone 2 – chair rail
Wood Tone 3 – remaining paneling
Wood Tone 4 – faux-painted doors in a matte finish (very ugly)
Wood Tone 5 – hardwood floors
Plus various pieces of wood furniture.

This room feels like a jumble of wood grains and dark colors. After seeing several posts here showing dark, painted trim, I might have a solution to my conflicting wood tones.

What if I painted the paneling and doors in a glossy black or dark brown? Should I also paint the chair rail since it doesn't match any of the other trim?

The baseboards and door trim are starting to look shabby with lots of scratches and scuffs. Would it look weird to paint the door, window, and base trim leaving only the mantel and crown in the original stain?

I picked up some paint chips yesterday, but I realized that I can't select a paint color until I decide how much to paint. If I only paint the doors and paneling (and possibly the chair rail), I will use a shade with some contrast to the other trim. Something that looks much richer and darker on purpose. If I decide to paint all the trim except the crown and mantel, I should probably try to stay close to the color of the crown.

Here are a few photos: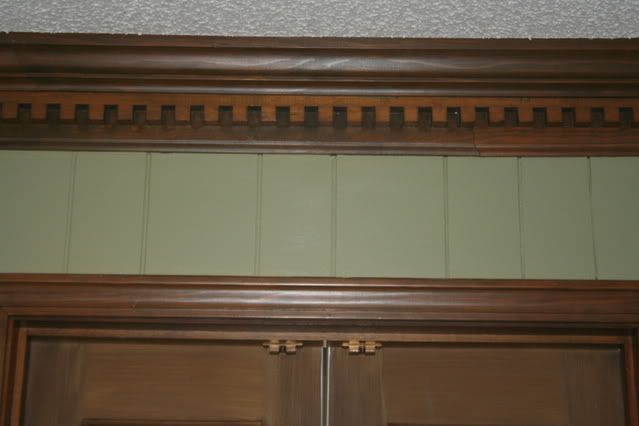 If we did paint the lower portion of the walls, I might talk DH into painting the top portion the same color as our foyer or one shade darker.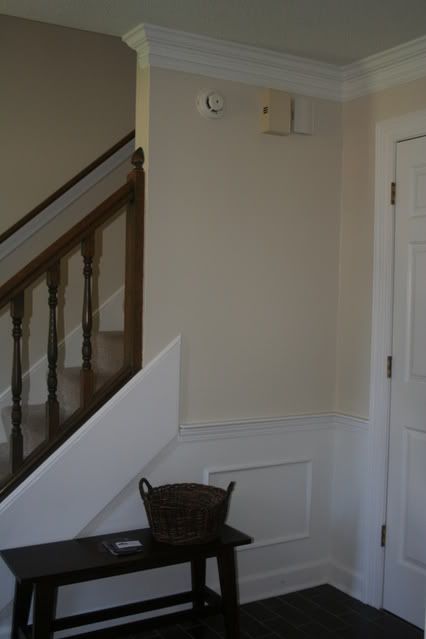 Any thoughts? Advice? Am I trying to put lipstick on a pig?
Thanks
Nin
| | |
| --- | --- |
| RE: Another question re: mixing painted and stained trim | |
I would paint everything in the room you pictured the same color as the bottom part of the paneling including the chair rail that was installed and leave the dentil work and crown as it is. I would also paint the doors white. Black is just going to give you one more color. In rooms where there is a chair rail, it breaks up the space if separated by color or pattern and makes it look smaller, choppier. If you unite all those elements with one color, then your space will seem less choppy and more united. No, not shiny black.
---
| | |
| --- | --- |
| RE: Another question re: mixing painted and stained trim | |
Patricia, I assume you meant to paint the paneling and the chair rail the same color as the TOP half of the wall.

Hmmm ... this is just the feedback that I needed. Originally I wanted DH to remove the chair rail and paint the entire wall. DH vetoed that idea. (I didn't realize that you can't spackle and patch paneling like you can drywall. I also think he didn't want to prep the paneling for paint.) However, if he is willing to prep and paint the paneling a darker color, he can't complain about painting it the same color. Right??? I may have to go back to my original idea (but paint the chair rail instead of removing it).

I never even considered white doors. There isn't any other white in the room except for the ceiling. I guess if I used the foyer paint color, it would look similar to the stained banister, white trim, and beige paint. Maybe that wouldn't be so odd after all. (The faux painted doors are the part that I absolutely hate. They look 10-times worse in person. Even my sweet mother finally tactfully agreed that the doors are hideous!)

If this works, I might get up the nerve to show you the (gulp) fireplace at the other end of the room!

Nin
---
| | |
| --- | --- |
| RE: Another question re: mixing painted and stained trim | |
Yes, if you paint the wall (the paneling) the same colors, top and bottom and paint the chair rail that color also, it will make it all joint together and disappear sotaspeak. Then paint the doors the white color as your other white in-house. You can paint the kick molding (shoe molding) or you can leave it the same color as your (dentil work, etc) molding at the top. In fact, I think I would paint the room the same color, yellow, green, gold, whatever, and then paint the doors like the other white trim in your house. Leave the shoe and quarter-round molding in the stain color and leave the stain at the top. I have seen this done before and it looks good. Then you have the white colors which connect to your foyer, your main color and only the color of the molding as a third color. Your room will look united and larger, more open.

Another trick is to line paneling with cheap wallpaper and paint over it. They used to sell what is called wallpaper lining for that specific purpose, to hide the "creases/dents" in your paneling but most people do not mind them (I don't). But, if you do, you can spackle or grout them, whatever it is called, or you can just buy cheap-as-dirt wallpaper to put over the paneling and paint that.
---
Post a Follow-Up
Please Note: Only registered members are able to post messages to this forum.
If you are a member, please log in.
If you aren't yet a member, join now!
---
Return to the Home Decorating Forum
Information about Posting
You must be logged in to post a message. Once you are logged in, a posting window will appear at the bottom of the messages. If you are not a member, please register for an account.
Posting is a two-step process. Once you have composed your message, you will be taken to the preview page. You will then have a chance to review your post, make changes and upload photos.
After posting your message, you may need to refresh the forum page in order to see it.
Before posting copyrighted material, please read about Copyright and Fair Use.
We have a strict no-advertising policy!
If you would like to practice posting or uploading photos, please visit our Test forum.
If you need assistance, please Contact Us and we will be happy to help.

Learn more about in-text links on this page here