Return to the Home Decorating Forum
|
Post a Follow-Up
---
| | | |
| --- | --- | --- |
| 'Velcro' bedskirt - Do you have or like? | | |
Posted by
bird_lover6
(
My Page
) on
Sat, Aug 6, 11 at 13:47
I'm thinking about making a "velcro" bedskirt for my king bed and am wondering if any of you have one or would like one?

I think I would like to change swap out the bedskirt for fall and winter, and it would be so much easier if it "velcro-ed" on!

If you have an opinion, please share.

Thanks.
---
Follow-Up Postings:
| | | |
| --- | --- | --- |
| RE: 'Velcro' bedskirt - Do you have or like? | | |
I have done this two ways. I made a sew on velcro bedskirt for my guest bed, where the velcro is sewn on to a fitted sheet that covers the box springs. This bed has a headboard and a footboard, but no side boards. For the bed in my master bedroom, I attached the heavier decorator strength sticky back velcro to the wood on our side boards, and made a long bedskirt with sew-on velcro along the top, so the skirt is actually attached to the wood side boards. On this type of bed, you can't tell that it's not actually attached to the mattress itself.

What I found that did NOT work, was using the sticky-back velcro attached to the mattress itself, with a sew-on skirt. That method failed because the stick-on velcro kept falling off the mattress.

Both of these skirts are easy to de-tache and clean whenever needed. I can show you pictures if you wish.
---
| | | |
| --- | --- | --- |
| RE: 'Velcro' bedskirt - Do you have or like? | | |
Thanks, nan! I'd love to see photos, but please don't go through a lot of trouble. I can find photos on the web. I was just wondering about others' opinion. :)
---
| | | |
| --- | --- | --- |
| RE: 'Velcro' bedskirt - Do you have or like? | | |
I use straight pins instead of velco. For my queen bed I used decorator fabric (54" wide) and made two large panels for each side and one large panel for the end. I place smaller panels (about 12" wide) at the corners and under the midpoint on the sides where the 2 larger panels meet.

Lengthwise, the panels are about 4" longer than needed. The excess is tucked between the bed and the springs and is pinned to the springs with long straight pins. Easy on and easy off for cleaning, changing, etc. Also easy to adjust so the skirt is a "perfect" length on the bed.
---
| | | |
| --- | --- | --- |
| RE: 'Velcro' bedskirt - Do you have or like? | | |
Juneroses, what a great idea! Would you mind posting pics? I don't sew well at all, and was looking for an easy way to make bed skirt.

Thanks
---
| | | |
| --- | --- | --- |
| RE: 'Velcro' bedskirt - Do you have or like? | | |
I noticed in the Garnet Hill catalog that most of their bedskirts are also 3 pieces. Makes a lot of sense.
---
| | | |
| --- | --- | --- |
| RE: 'Velcro' bedskirt - Do you have or like? | | |
Marthabr: It was easier to get a good picture of my king bed. The only difference between this and the queen is that I also made two panels for the end of the bed. I've flipped up the bed cover so you can see more of the skirt: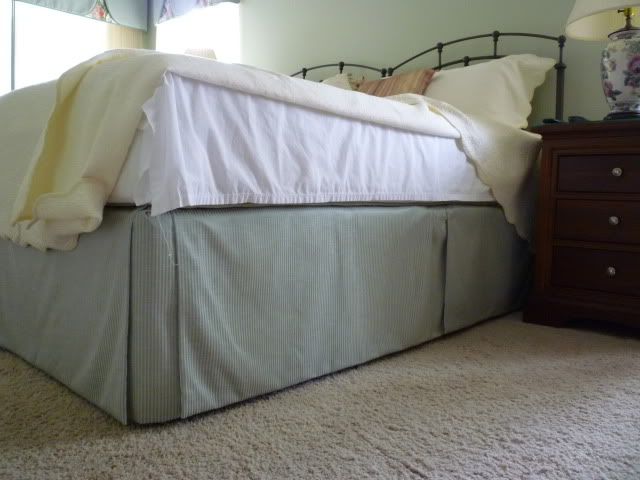 The panels below belong to another project (final ironing yet to be done) but will give you an idea of the pieces for the side of the bed:
Here are 3 side pieces: two larger ones and a smaller underlap piece: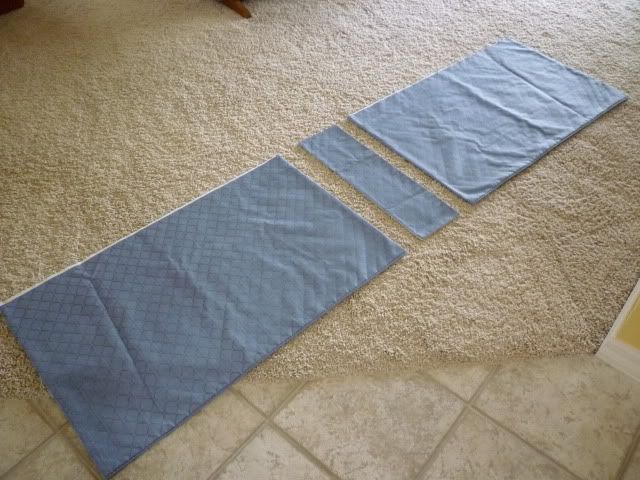 When you pin each piece to the bedspring, this is how they will overlap: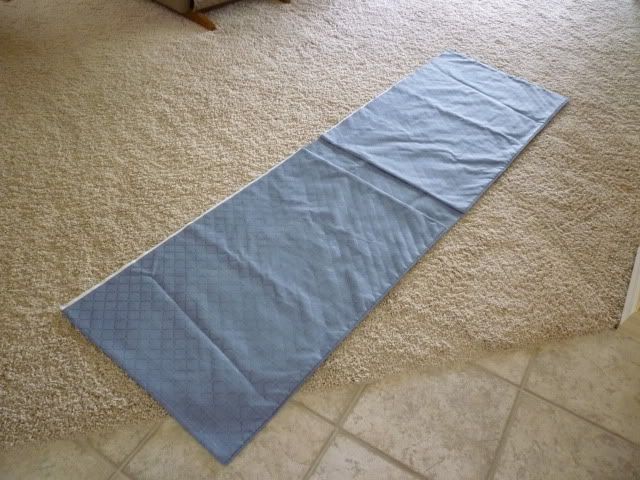 You can easily make the area of the underlap larger or smaller so that it all fits the length of your bed. Likewise you can tuck more or less between the mattress and springs so the depth is perfect.
I don't have a footboard on my bed so you can see that there is an underlap piece at the corner and then the larger end of the bed piece is attached.
---
| | | |
| --- | --- | --- |
| RE: 'Velcro' bedskirt - Do you have or like? | | |
I just bought a wraparound bedskirt that's 3 sides fabric and elastic, one side elastic band. Surprisingly, it works and looks great!
---
| | | |
| --- | --- | --- |
| RE: 'Velcro' bedskirt - Do you have or like? | | |
June, thanks so much for those pictures. I am positively inspired!
---
| | | |
| --- | --- | --- |
| RE: 'Velcro' bedskirt - Do you have or like? | | |
I have had one on my bed for about 5 yrs now and I just love it! I have a queen size bed that sits very high, with 4 posts, so this works perfectly. I am getting ready to try and make one because I am changing colors and I see the post from juneroses which I am going to try. The one I have is still in excellent condition but it just does not go w/my new scheme anymore. I think you will love it once you get it.
---
| | | |
| --- | --- | --- |
| RE: 'Velcro' bedskirt - Do you have or like? | | |
I should have mentioned when I said in my earlier post that I attached the velcro to the wood sideboards, that I attached the velcro to the INSIDE of the side boards, so the skirt would fall underneath the sideboards. This lets the wood framing show, as it's supposed to. Here's a picture that should help: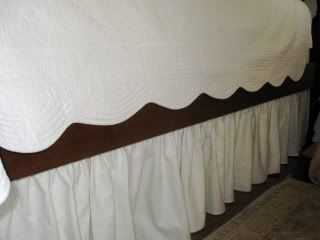 ---
| | | |
| --- | --- | --- |
| RE: 'Velcro' bedskirt - Do you have or like? | | |
What a fantastic thread! Thanks VERY much, Nanny and Juneroses. The explanations combined with pictures are especially empowering. I'm going to be able to have ones I really want made from GOOD fabric. I've been sadly bedskirtless lately because I just won't pay for the cruddy stuff in my price-comfort range. I also work at home on a production basis, so every prospective project gets balanced against the money I'll "lose" doing it instead of working some more. But I can do those. One of the beds in need even has sideboards. :)
---
| | | |
| --- | --- | --- |
| RE: 'Velcro' bedskirt - Do you have or like? | | |
I googled and found this thread. So happy it's still here. I saw a bed skirt online the other day that a tension rod was used and made it sort of like a curtain. Thought that was a GOOD idea BUT I don't have anything at the foot of the bed for the tension rod to go up against. :(
---
| | | |
| --- | --- | --- |
| RE: 'Velcro' bedskirt - Do you have or like? | | |
Rats....this reminds me, I've got a couple of bed skirts to shorten....just another project to add to the list....
---
| | | |
| --- | --- | --- |
| RE: 'Velcro' bedskirt - Do you have or like? | | |
I tried the tension rod thing about 15 years. It sounded like a good idea, but didn't work for me. My bedskirt was quite full (2.5:1). Although it was a linen toile, it was very heavy. The rods kept falling down, or bowing under the weight of the fabric, even though I used the heaviest tension rods I could find to fit a king size bed. I finally gave up and used the fabric as valences to help a friend stage her house for sale.

Juneroses, I'm glad to get the details on your style of bedskirt. I'm making skirts for DD's guest bed in her new apartment. So that she has lots of underbed storage, she has the bed on tall risers. The drop on that bed is 24". Because like me, she is a klutz, and likely to scratch herself on straight pins, I'm going to use the large quilting safety pins to attach the skirt to the box springs. Do you line your panels?
---
| | | |
| --- | --- | --- |
| RE: 'Velcro' bedskirt - Do you have or like? | | |
Like Nan, I had to velcro mine to the wood bedframe~~I did try stapleing, but the wood was too hard for the staple to go thru(or I was too weak!).

For a daybead, I found a valance I liked w/matching drapery panels. I couldn't velcro because when the trundle was pulled out, it would come undone. Instead, I hand stitched it to the cording of the top mattress and haven't had a problem.
---
Post a Follow-Up
Please Note: Only registered members are able to post messages to this forum.
If you are a member, please log in.
If you aren't yet a member, join now!
---
Return to the Home Decorating Forum
Information about Posting
You must be logged in to post a message. Once you are logged in, a posting window will appear at the bottom of the messages. If you are not a member, please register for an account.
Please review our Rules of Play before posting.
Posting is a two-step process. Once you have composed your message, you will be taken to the preview page. You will then have a chance to review your post, make changes and upload photos.
After posting your message, you may need to refresh the forum page in order to see it.
Before posting copyrighted material, please read about Copyright and Fair Use.
We have a strict no-advertising policy!
If you would like to practice posting or uploading photos, please visit our Test forum.
If you need assistance, please Contact Us and we will be happy to help.

Learn more about in-text links on this page here