Return to the Home Decorating & Design Forum
|
Post a Follow-Up
---
| | | |
| --- | --- | --- |
| Vintage sofa frame quality | | |
Posted by
melle_sacto
(
My Page
) on
Thu, Aug 14, 14 at 13:33
Earlier I asked about the vintage sofa/loveseat from my grandmother's place, and the consensus was that it might be worth reupholstering if the frame is good quality.

I can't take the sofa and loveseat to be evaluated by an upholstery shop right now, but I have been researching online what makes a sofa frame high quality, and it appears that the sofa/loveseat are not.

I took some pictures of the springs and frame base...through a hole that is ripped at the underside of the loveseat. The zig-zag springs, not coils, are not hand tied, and it looks like I can see stapled frame...which is supposed to be another sign of lower quality. The corner blocks are nailed, not screwed. The pillows are stuffed with either batting, or batting and foam, and I can't find a manufacturer name anywhere.

I'm thinking about just taking the foam/batting and using it to firm up our currently super squishy/uncomfortable sofa ;-)

Here are a couple pics, can anyone tell what kind of frame quality I'm looking at?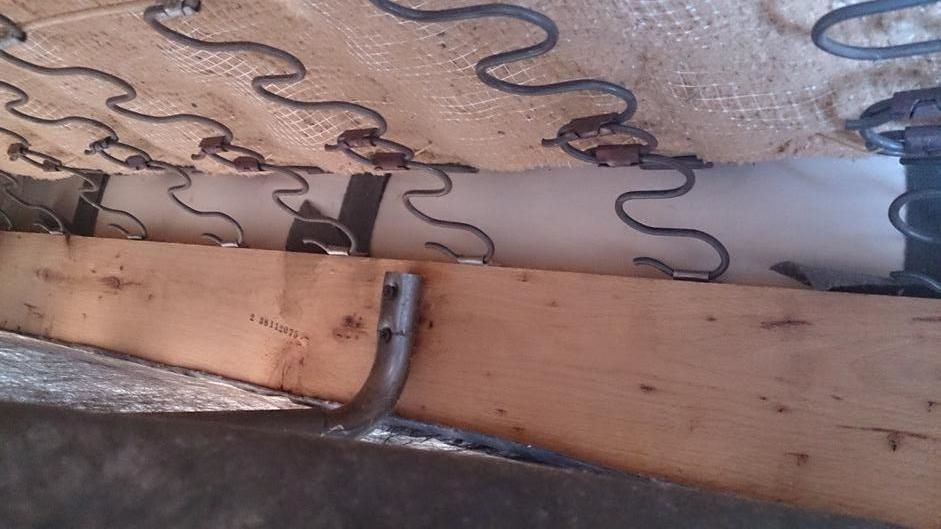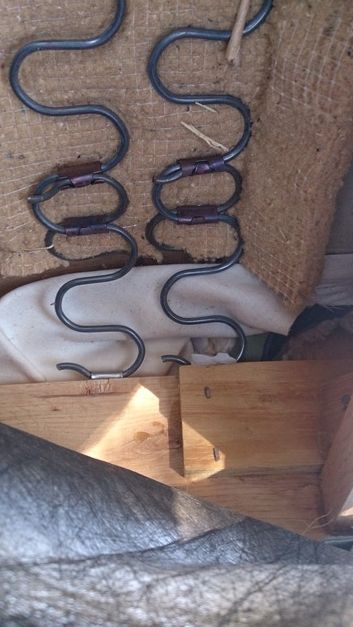 ---
Follow-Up Postings:
| | | |
| --- | --- | --- |
| RE: Vintage sofa frame quality | | |
Sinuous coils aren't bad in and of themselves. Very few sofas are actually of the quality that they have the seven way hand tied springs.

The frame on this sofa doesn't look to be great quality but if it's sturdy it still may be cheaper to recover with a decent but not expensive fabric than buying a new sofa of similar quality. It depends on what kind of upholstery it needs and how much it costs in your area.

I saw a sofa put out for trash the other day that had been heavily mutilated on one arm by a cat. Underneath the upholstery on the arm of that sofa was a thin layer of foam and batting and Cardboard stapled over a stapled frame.
---
| | | |
| --- | --- | --- |
| RE: Vintage sofa frame quality | | |
An upholsterer once told me this "S " ? Type is next best to 7 way hand tied.
---
| | | |
| --- | --- | --- |
| RE: Vintage sofa frame quality | | |
Cardboard, seriously?!!??

Thanks for your thoughts. The plan is to unload them from the truck once we finish painting the patio; put them on the patio and decide if they are comfortable/more comfortable than our current sofa.

I really don't think we have space in our living room for both the sofa and loveseat, which is a bummer. Well, there COULD be space but then you'd have to climb over them to get into the living room LOL! :-)

Not sure upholstery costs, but I'm guessing it will be more money than we'd like to pay ;-) My DH doesn't like them any more or any less than what we already have, but our current is easier to keep clean because it has the microsuede fabric. He'd like leather, ideally, so I will look into the price of that!
---
Post a Follow-Up
Please Note: Only registered members are able to post messages to this forum.
If you are a member, please log in.
If you aren't yet a member, join now!
---
Return to the Home Decorating & Design Forum
Information about Posting
You must be logged in to post a message. Once you are logged in, a posting window will appear at the bottom of the messages. If you are not a member, please register for an account.
Please review our Rules of Play before posting.
Posting is a two-step process. Once you have composed your message, you will be taken to the preview page. You will then have a chance to review your post, make changes and upload photos.
After posting your message, you may need to refresh the forum page in order to see it.
Before posting copyrighted material, please read about Copyright and Fair Use.
We have a strict no-advertising policy!
If you would like to practice posting or uploading photos, please visit our Test forum.
If you need assistance, please Contact Us and we will be happy to help.

Learn more about in-text links on this page here