Return to the Home Decorating & Design Forum
|
Post a Follow-Up
---
| | | |
| --- | --- | --- |
| How long have you lived in your home and do you plan to stay? | | |
Posted by
natesgram
(
My Page
) on
Mon, Aug 19, 13 at 13:18
I'm about to move into our 8th home and I'm always curious about people who have picked a home and stayed in it for many years. We picked our current area because of family being close by. My mother has been in her home 58 years and many of her neighbors were original owners.

I've been in what I thought was my forever home but circumstances forced us to sell and move on. I know some people are waiting for the market to improve so they can sell and move to what they hope will be their forever home.

Like jobs, more people seem to change more than they used to. So, I'm just curious, how long have you lived in your home?
---
Follow-Up Postings:
| | | |
| --- | --- | --- |
| RE: How long have you lived in your home and do you plan to stay? | | |
This is my first house, bought in 1986. It was VERY different when I bought it and I am glad I was 'young' back then to do all the work that I have on it.

I HOPE it will be my only house, as it's just perfect for me, and 'my 3 dogs'!

This is an older pic, prior to me putting in the garden, in front of the now brick patio and walkway, but the house looks the same.


Found one with some gardens showing.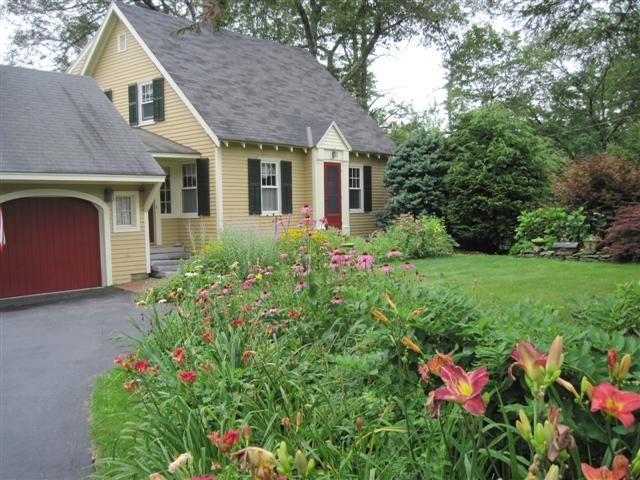 ---
| | | |
| --- | --- | --- |
| RE: How long have you lived in your home and do you plan to stay? | | |
I have been in my current home for just over 9 years it is the home I have lived in for the longest period of time in my entire life 5 years is the second longest. I am learning to develop roots. However I still desire to move south but this does not look like my future jobs are scarce in the towns I would like to live in. I think this is my until we retire house maybe another 15 years.
---
| | | |
| --- | --- | --- |
| RE: How long have you lived in your home and do you plan to stay? | | |
I have lived in this house for 26 years and I personally would like to stay for as long as possible (til I can't make it up the stairs anymore). DH would like to move closer to work and to a quieter area. Nothing will happen for several years as the kids are either in HS or college both close to our house. Another issue is my elderly mom who lives only 2 miles away. If we do move it would be at least 20 or more miles away.
---
| | | |
| --- | --- | --- |
| RE: How long have you lived in your home and do you plan to stay? | | |
I love my house and yard, and my little rural town, too. DH and I married in the backyard and have spent many happy and laborious hours together fixing it up over the last 12 + years. I will be sad to leave if/when it does happen. Still, it is big for us now that his kids are grown, and someday a single story home in a less rural community would be a good change. As long as I can still have a veggie garden and a few hens.
---
| | | |
| --- | --- | --- |
| RE: How long have you lived in your home and do you plan to stay? | | |
for 30 years and until they pry it from my cold, dead hands. =)
---
| | | |
| --- | --- | --- |
| RE: How long have you lived in your home and do you plan to stay? | | |
Thirty nine years. It is my first and only house. When we bought it, it was supposed to be our starter house for maybe five or six years. I never thought I would be the kind of person to stay in ine place for so long. However since it is a small house in a nice neighborhood, it is fine for me now. I still get the itch to move on.

My mother has been in her house for 53 years. It is enormous and I wish she would get out. The longer you stay in a house the harder it is to leave. Too many memories and too much junk.
---
| | | |
| --- | --- | --- |
| RE: How long have you lived in your home and do you plan to stay? | | |
I have only been in my house for just under five years but my plan is to be buried in the back yard alongside Mrs. Jones (figuratively speaking, of course!)

I bought the house when I was forty and hope to enjoy at least forty years in it!
---
| | | |
| --- | --- | --- |
| RE: How long have you lived in your home and do you plan to stay? | | |
Fun question.

We've been here for a little over 9 years and, honestly, this house has raked us over the coals. It's been way more work to restore and maintain than I ever would have guessed. While I love this house and I truly love living here, I'm counting down the months till DH retires and we can move to the next place (49 months to go!). The funny thing is that we'll likely move back to a house very similar to what we moved out of -- a sweet 1920s bungalow on a small, manageable lot. The only difference is we're looking to possibly move to the west coast for a much improved climate.
---
| | | |
| --- | --- | --- |
| RE: How long have you lived in your home and do you plan to stay? | | |
We bought our small house 13 years ago when my husband and I got married and we are still there, 2 kids later. I did think that it would be a "starter" house and we would move to a bigger house after 7 years. A few years ago, I went to an open house on my street and talked to the realtor who was hosting it. Not only did she not try to get my house as a listing, she advised me to save my money for my kids' college tuitions! We have a lot of equity in the house, but we're staying small due to the very high property taxes (among the highest in the country, boo!) I think many people would choose to go bigger so we're probably in the minority of people who aren't doing that.
---
| | | |
| --- | --- | --- |
| RE: How long have you lived in your home and do you plan to stay? | | |
Been in this one for almost 9 years. Previous home was for 10 years. I think I`ll stick with this one for at least another 5 years, but dont intend to retire in this one. My needs and tastes have changed. Id envisioned my home as the one for entertaining family & friends, but that isnt the case very often, and since my family is so spread out, it`s just noy living up to my expectations. So im lusting now for a small bungalow or even a travel trailer!
---
| | | |
| --- | --- | --- |
| RE: How long have you lived in your home and do you plan to stay? | | |
Yes it is possible to live in a home for a long time if it is not just a house. I mean if house environment and setting is adequate to live in, it will become a home and i will prefer to live in one home even for a long time due to many reasons.
---
| | | |
| --- | --- | --- |
| RE: How long have you lived in your home and do you plan to stay? | | |
Oh my - I cannot imagine moving so many times - I HATE MOVING.

We also have roots in our area. We are in our third house of our married life. First one was 12 years, second one 3 years and this one will be 16 years come October. Our first house was in area where we both had childhood homes. We wanted to move a bit further out - more rural so went to a different city - but still only 30 minutes or so from family. The second house we moved to the area we wanted but later decided too many houses around us, and we were on the wrong side (wrong county) of our little rural area. The county we are in now has more rural property (farms, etc.), fewer multiple housing areas, etc. We are in a "subdivision" so to speak, but all homes have larger lots. We have just over an acre. We built this home - it is one story, two steps into front of house, no steps from garage entry and one step from sunroom to patio/backyard. We definitely have deep roots in the area. Family and friends that most of the time I cannot imagine leaving. Our church, etc. I feel very fortunate to have friends of many years and generations of relatives. We will probably stay in this home unless something truly wonderful comes up!

tina
---
| | | |
| --- | --- | --- |
| RE: How long have you lived in your home and do you plan to stay? | | |
A month.

I have owned it for two years.

The plan is to remain in it for at least 20 years or 'til I retire, but I never planned on selling the other places and moving either.

My mother lived in their house for 41+ years and my father is at 44, and honestly I don't know that I want to get that attached. They both said when they moved in that the next time would be "in a box up the street" (the cemetery).

I have a feeling that by the time I am almost 90, like my father (which is half a lifetime away for me), that this house will Not be that easy for me to live in and that's why I don't want to get so attached right from the start.
This post was edited by palimpsest on Mon, Aug 19, 13 at 14:41
---
| | | |
| --- | --- | --- |
| RE: How long have you lived in your home and do you plan to stay? | | |
This is an interesting thread - do you think age has anything to do with longevity in a house? Meaning, are people now 30ish - 40ish years old more likely to have moved around more than people who are currently 50ish - 60ish + ? Is one group more likely than the other to have moved with jobs?

So with that in mind, I'll add in my age along with years in house. I'm 59, DH is 55 and we have lived in our house 23 years. The prior house was 12 years for me and 8 for DH ( I owned the house before we met). We have had one foot out the door for a year or so and are doing our best to emotionally detach, pare down and get ready - we hope to move to NC in 2014. We have no family there, don't really *know* anyone although we have made some acquaintances through many visits and meeting my internet friends. We are both from the north Chicago suburbs and lived here all our lives. We still have family here so there are many mixed feelings. This would not be retirement but what I call lifestyle change. Our sons will never come back to this area to live (watch me eat those words someday!) and although we would love to live closer to them (CA & CO) we can't go where they are just because they are there - it has to be a place we love. And heaven knows, neither one of them is permanently rooted so as soon as we'd move there they'd pack up and leave for greener pastures!
---
| | | |
| --- | --- | --- |
| RE: How long have you lived in your home and do you plan to stay? | | |
We have lived in our current house for 1 month and it will be our forever house. Our children can sell it after DH and I die, but we will never sell it. Before that, we lived in our previous house for 12 years.
---
| | | |
| --- | --- | --- |
| RE: How long have you lived in your home and do you plan to stay? | | |
We bought our house 3 years ago. Before that, we moved about 8 times in 20 years and never owned because we never knew if we'd be moving again. We plan to stay here until we are too old to maintain the house.
---
| | | |
| --- | --- | --- |
| RE: How long have you lived in your home and do you plan to stay? | | |
Early in our marriage we moved 10 times. Then we raised our sons in 1 house for almost 30 years. When we retired we decided to move across the country to the PNW to be near our sons, building a house on the Sound where the upstairs is used for visitors, while we live downstairs. We've been in it 5 years and love it but also know that at some point it will be "too much" house and hilly land for us. At that time I think the city with it's public transportation and amenities within walking distance is the place to be.
---
| | | |
| --- | --- | --- |
| RE: How long have you lived in your home and do you plan to stay? | | |
Been in this one for almost 9 years. Previous home was for 10 years. I think I`ll stick with this one for at least another 5 years, but dont intend to retire in this one. My needs and tastes have changed. Id envisioned my home as the one for entertaining family & friends, but that isnt the case very often, and since my family is so spread out, it`s just noy living up to my expectations. So im lusting now for a small bungalow or even a travel trailer!
---
| | | |
| --- | --- | --- |
| RE: How long have you lived in your home and do you plan to stay? | | |
We moved quite a bit when we just married - DH was in the Navy - altogether 5 times in 6 years. But that last move was to our current home 15 years ago. I would love to stay here much longer as we love the neighborhood, location, commutes to work, schools, etc. And we have put quite a lot of work into the home over the years. We are both in our mid-40s now, as much as I love the house I can imagine a day when we move for jobs or family or even to downsize.
---
| | | |
| --- | --- | --- |
| RE: How long have you lived in your home and do you plan to stay? | | |
We have been in our home for over 21 years. It is the second house for our family and we always thought we would live here a little while, build some more equity and then move on to a bigger house. Well the kids developed friendships and all of our immediate family still lived relatively close by so when housing prices went sky high we figured we would stay put. A few years ago were able to buy a small second home in a rural area near a beautiful lake a few hours from home and maybe someday we will be able to retire there or somewhere like that. I would love to live somewhere where it doesn't take you 45 minutes to drive 5 miles during rush hour!
---
| | | |
| --- | --- | --- |
| RE: How long have you lived in your home and do you plan to stay? | | |
29 years. We moved in when my oldest was 6 months old...followed by 2 more. I never thought I would still be in this house. It is a tract colonial, no bells or whistles, cheaply done but it was what we could afford at the time. For 29 years I feel that I have been trying to make the proverbial silk purse...hated the small galley kitchen, small bathrooms, etc...but just recently I have come to appreciate this house more and more because it IS old style--formal LR/DR, separate FR, etc...go figure.

We don't plan to stay forever though. I live in metro DC...so very expensive to retire here. We plan to retire within the next 5 years and relocate...just not sure where yet. And I am ready for one-level living.
---
| | | |
| --- | --- | --- |
| RE: How long have you lived in your home and do you plan to stay? | | |
Almost 3 years!

We moved 4 times during the first 6 years of our marriage-all rentals. We bought our first home when our son was born and lived there for 6 years. I love that house! but certain spaces were a little too small so we decided to build our dream home.

DH plans to be in our dream home forever. That seems like a long time to me:), but I think we will stay at least another 15 years or so. At first it didn't really feel like home, but after 3 years it's definitely us!

The generation comment is an interesting one. My parents still live in their first home as do alot of their friends, whereas most people my age are on their 2nd or thrid home.
---
| | | |
| --- | --- | --- |
| RE: How long have you lived in your home and do you plan to stay? | | |
This is the 6th house we have owned and we have been here 18 years. We will probably sell next spring and move to town. We both love this location, and neither of us really want to live in town. But dh's mother is slowing down and we need to be nearer. Just as we are finally getting the house the way we like it, we have to move. Doesn't seem fair, but that's life I guess.
---
| | | |
| --- | --- | --- |
| RE: How long have you lived in your home and do you plan to stay? | | |
We moved many times for DH's graduate school starting when we married in 1971 , I had just turned 20 DH was 24. We bought our 1st house in 1979 with my parent's help and had 2 babies when we moved in and one more came along. It was exactly like what joanie describes as far as the type of house.

In 2002 DH got a wild hair and bought this 1890 Victorian. We have done HUGE amounts to it ,first right after we moved in ,and then 7 years ago. It is 4000 sq ft and we have a pool and very little yard. We have the most ideal neighborhood and have neighbors that are from early 30's to 90's. We have 2 groceries within a mile. We can walk to the park. We have free senior citizen transit if/when we need it. We bike everywhere and more paths are being added every year. We have friends and church and our meditation group. We just don't see that we would ever want to move.

Our philosophy, for what it is worth, is that it is way less expensive to travel and rent wherever and whenever you want. You can always come home that way. No long term responsibility for more property elsewhere and you can go somewhere different whenever the spirit moves you. We like the "home base" attitude. Within reason , no matter what it costs to rent/travel it is $$$$ less than buying and maintaining another property.

We still do everything outdoors/indoors and only hire repairs that we don't know how to do. I imagine there could come a day that we won't be able to do all the "handyman" stuff but several of our neighbors are still doing their yards and they are in their 80's. I think it keeps you young.

It is way cheaper to hire help if needed than to move to a new place. This house was a great bargain and even though we have spent a lot of $$$ it is just perfect in all ways for us. Our oldest son just moved back here and is 10 min away. We love having them over with the baby and are making all new memories in this old house with a new generation. Our DD is 1 1/2 hr away and our DS2 is 10 hrs away.

Great thread ! Nice to read other's perspective. c
---
| | | |
| --- | --- | --- |
| RE: How long have you lived in your home and do you plan to stay? | | |
I am in my 40s and we're on our second house. Lived in the first one for only 5 years but re-did the whole thing, mostly ourselves, and sold it at a nice profit. Moved to our current house 17 years ago to be closer to DH's job. Went from an hour commute to a 15 minute commute, then a year later the office moved! Now it's about 1/2 hour commute which isn't bad for our area.

I hate the thought of moving in many ways -- in addition to the 10 rooms of STUFF (plus attic and basement), I think when the time comes, it will be emotionally difficult because we will have raised three kids in this house and we love our neighborhood and town. However, DH wants to retire early, when our youngest graduates high school, which will be in 6 years, and our plan is to move somewhere a bit more urban. Probably Boston (which isn't far from where we now live). Even though aspects of the move will be hard, I do get excited when I think about decorating a new place without having to worry about where the toys will go...

---
| | | |
| --- | --- | --- |
| RE: How long have you lived in your home and do you plan to stay? | | |
We lived in our first house, bought a month before we married, for 5 years and I LOVED it. A cute 1940s Cape, 1500 sq ft, that needed some work. Loads of charm, near everything, but in a bit of a depressed area. I didn't care, though, because we had good neighbors.

We've lived in this house for almost 7 years. A job opportunity had us moving to Tx, where DH found a ranch in a nice, established neighborhood. I thought it was too big for the 2 of us, with 4 bedrooms and almost 2000 sq ft. Zero charm but I liked the idea of one level. I've come to really like it. Circumstances filled our extra bedrooms with children, it has a nice lay-out, love our neighbors.
I think we'll stay here until the children go to college, so another 12 yrs.

Not sure about retirement. City living is so convenient when older, but I also really like being in the country. Our mobility will drive the decision. I'd like a 2 bed/2 bath home with pretty views and a nice sized living area. Where is a big question!
---
| | | |
| --- | --- | --- |
| RE: How long have you lived in your home and do you plan to stay? | | |
I come from a long line of people that stay in their homes for decades. Both sets of my grandparents were in their houses well before I was born until they passed away - so 40+ years. My parents lived in only 2 houses while I was growing up, and moved after we married (I got married in the house I grew up in). They've been in their current (and will be their last) home for 29 years. We were in our last home just over 20 years - moved in with 2 small children, had a third and didn't move until they all graduated HS... but we did add on at one point. We've only been in our new home 7 or 8 years (geez, I never can remember) and while I plan on being here 20+ years, DH keeps talking about buying a larger acreage and building again... maybe even a family compound, if any of our three want to build on the outskirts, they can. Just so it can be divided and sold later.

I don't like to move. I get attached to my houses and still remember crying when we moved from a 2K sf house to a 6K one on a lake. You'd think I would have been excited! In a few months I was and cried when they sold down the road, a few years after we married there.

We've had many 2nd and 3rd homes over the years, but I don't have plans to own out of state again. We can rent somewhere for a month or more, and go different places each time. Which would be less than building/buying and the upkeep.

I don't know if you're into astrology, but I'm a Cancer = homemaker, homebody, family, etc through and through.
---
| | | |
| --- | --- | --- |
| RE: How long have you lived in your home and do you plan to stay? | | |
We've been in this home 7 years and plan to stay until our youngest (11) is on her way out the door. Loved it when we bought it but it is really too much house for us. It is 4 bedrooms, 4 bathrooms, an upstairs and a full basement. I REALLY look forward to downsizing to a charming little bungalow with a small yard with lots of mature trees. I DREAM about it. Husbands job has moved us a couple of times so we could move out of the area and we are open to that. I grew up my whole life in the same house and couldn't imagine any other life, but times are different for our generation. We've moved enough that I just have the perspective as "home is where you hang your hat". Anywhere is home to us when we have our friends and family in our lives. I look forward to moving one day but don't want to be terribly far from my grown children so we will just have to see how it all plays out.
---
| | | |
| --- | --- | --- |
| RE: How long have you lived in your home and do you plan to stay? | | |
I am 50, DH is 52 and we have lived in our current home for almost 15 years. It is our fifth home, and the second one in our current city (lived in prior one for five years). We raised our three children in this home, but now are all grown/in college and the house (2-story) and corner lot are very large (at least to us). I do love my neighbors and neighborhood, but I have had great neighbors everywhere I have ever lived.

So, we are starting to have this conversation. Lots to consider-climate (even though I am a native Texan, I abhor the summer heat), four aging parents in their 80's and 90's who live in Texas, a city that is becoming more and more expensive to live in where everyone wants to live so salaries are relatively low, traffic, health care, etc.

My ideal place would be a small single-story house with very little yard that I could easily leave for about 3-4 months out of the year to escape the heat, travel, etc. Where it will be, I don't know. I wish it was time, because the market here is HOT!
---
| | | |
| --- | --- | --- |
| RE: How long have you lived in your home and do you plan to stay? | | |
We have lived in our current home since 1987.
It has everything we want and like, so why move!?!

We DO anticipate a move into the city at some point in our lives. That will be our downsizing (and it will get us closer to theaters and arenas!)
---
| | | |
| --- | --- | --- |
| RE: How long have you lived in your home and do you plan to stay? | | |
We have been in our current house almost 7 years. We hope to stay as long as possible. Both Dh and I are military brats and loathe moving. The house accomodates our 4 children well but at 2200 sqft will not be too cumbersome when they leave. It is on acreage so if we need to build a casita for either of our parents to live in, there is space for that. On the flip side, the house is not the main thing for me, as I could build a new house easily enough somewhere else and apply the things I learned in building this one. For us moving would be a great loss of knowledge and work. I know the micro-climates and the weather patterns around this house. I have also spent quite a bit of time building the soil in the gardens and would hate to lose that.
---
| | | |
| --- | --- | --- |
| RE: How long have you lived in your home and do you plan to stay? | | |
We have been in our house for 24 years. It took us 18 months to find what we wanted because i was never going to move again. i hate moving. Three years ago we gutted our house down to studs and plywood. Because we were moving out of the house for the 6 months of reno we purged as we packed up and with our renos we did a lot of researching for aging-in-place ideas.

Our kids will not have to go through a lot of junk because it's already been done. My Dh is helping his mom sort through her house of 55 years and it really is a bit of a nightmare.

Our goal is to stay here until I'm ready for the pine box. If we do move it will be to something smaller but in the same neighbourhood.
---
| | | |
| --- | --- | --- |
| RE: How long have you lived in your home and do you plan to stay? | | |
we've been here for about 10 yrs and would stay, but probably won't... always have moved d/t job changes.

i don't love moving, but i don't hate it either (except i hate leaving good friends)... it is kindof fun learning new areas and meeting new people...
---
| | | |
| --- | --- | --- |
| RE: How long have you lived in your home and do you plan to stay? | | |
bought my very first house this January, in my mid-50s. I hope to stay there as long as I can afford to.
---
| | | |
| --- | --- | --- |
| RE: How long have you lived in your home and do you plan to stay? | | |
We are here 33 years and will only leave when taken out in that pine box. We love the house, the location, the town, the neighbors and we're close to family. Our grandkids love coming here, kind of a big house with lots of land and woods out back to play. Only 15 minutes to Boston, and 2 hrs. to the mountains of NH. Besides moving would probably but DH and I into that pine box.
---
| | | |
| --- | --- | --- |
| RE: How long have you lived in your home and do you plan to stay? | | |
We've been in this house 8 years which is the longest we've ever stayed in one house. I think there will come a time when we want to move to a house with less upkeep, especially in the yard, and one that has walking access to shops and amenities.
---
| | | |
| --- | --- | --- |
| RE: How long have you lived in your home and do you plan to stay? | | |
10 years here, 11 years in our previous home (which was one street over).
---
| | | |
| --- | --- | --- |
| RE: How long have you lived in your home and do you plan to stay? | | |
30 years. On a street where all the neighbors have been here at least 15 years, many longer then us.

We'll stay here as long as we both stay healthy.

ML
---
| | | |
| --- | --- | --- |
| RE: How long have you lived in your home and do you plan to stay? | | |
20 years this past Memorial Day weekend. We were in our first one for 9 years. Then one year in a rented townhome while this place was being built. We planned this as our "dream home in the mountains". Back then we had one grade school son and I was told to give up; that I'd never be able to have another child. We designed a large room for DS and a small guest room filled with wonderful Western art and antiques. The day after Labor Day ~ SURPRISE!~ I found out that I was pregnant with DD! There went our guest room . . . although very happily.

Now with DS grown up and working in Tucson and DD a college sophomore out of state, this place is feeling almost too big for DH & myself. We may sell it in the next few years for something smaller with a small lot instead of all this land. But, I do love my home!
Lynn
---
| | | |
| --- | --- | --- |
| RE: How long have you lived in your home and do you plan to stay? | | |
Like Allison, I come from a long line of stay-putters, except that my great-grandparents put everything in a box on a ship and came here from Germany.

We have lived in this house for 1 1/2 years, but previously, 10 years, and 14 years in the house before that.

We plan to die here in Kentucky.

Nancy
---
| | | |
| --- | --- | --- |
| RE: How long have you lived in your home and do you plan to stay? | | |
I love moving! It is the purging and fresh start I like I think.

DH and I are approaching our mid-40s. Been in this house 4.5 years, it is our fourth house (that we've owned) as a couple. I do love this house, it has a perfect layout for us and a fantastic (but insanely expensive) neighbourhood. I would move again, but we will likely stay put until our youngest child, now 6, heads off to university. Then we will downsize and (hopefully anyway) spend winters somewhere nice and warm.
---
| | | |
| --- | --- | --- |
| RE: How long have you lived in your home and do you plan to stay? | | |
DH and I married in our thirties and bought our first house before we had kids, but with kids and live in help in mind, and so it was very large. We thought it would be our first and last house. We were there about 10 years.

As I've bored many of you with before, we somewhat randomly came across our current house and took the leap, having fallen in love with the setting. I imagine too, that we will be here forever (we are on year 3). It has the MBR on the 1st floor, lovely grounds, and indoor pool for staying fit, and kept the previous occupant (of some slight renown) happy and healthy till 95. I imagined DH and I rambling around the place in our dotage.

That said, I profess, and many of you have witnessed, a bit of an addiction to reno and decorating. Perhaps when our kids are out of high school or maybe college, a pied a terre in NYC combined with a summer home (who knows where?) would tempt me more!
---
| | | |
| --- | --- | --- |
| RE: How long have you lived in your home and do you plan to stay? | | |
We have lived in our current house for 28 years. It's a center hall colonial and really is a big space for just the 2 of us. But, I love it and enjoy it. The only problem I forsee is the stairs. Now I see why my parents bought a 1 floor plan when they were in thir60"s. Our children are all grown and live in 3 different parts of the country and won't move back here because it is so expensive. I like trails idea of not owning a second or third property and just renting. DH is retired but I am still working so we'll see what happens when I retire.
---
| | | |
| --- | --- | --- |
| RE: How long have you lived in your home and do you plan to stay? | | |
Been here just over a year, plan to stay forever and ever and ever.

We are selling our second home this winter though. We bought it two years ago and I've decided I cannot take the proximity to neighbors (it's on the water so we have people on all sides). We'll buy another house in FL but this time further out and I'll give up the water view to have at least three acres, preferably five.

We also just put my childhood home on the market today, after 28 years. It is bitter sweet. I am excited to sell it b/c my dad will be staying in our FL and PA homes now (mom died 4 years ago) so will be w/ us more (although not living in the same house w/ us full time). But even though my DH and I have our own beautiful house now, I still call the house that I grew up in home.
---
| | | |
| --- | --- | --- |
| RE: How long have you lived in your home and do you plan to stay? | | |
Hey Beagles, I was just thinking of you. Sorry to hear the bittersweet in re your childhood home. And I agree with you about neighbors; that''s one thing I've learned, ie the value of privacy.

Did you enjoy Maine? Thanks for the tip in re NOTL vs Niagara Falls. very charming.
---
| | | |
| --- | --- | --- |
| RE: How long have you lived in your home and do you plan to stay? | | |
2 years and we plan to keep it til we die. LOVE this house, at about 700 sq ft it will never be too big to take care of, and with one story on a slab there's no stairs to worry about. This is house #2. We still own house #1 that we now rent out after living there for 15 years. Our tenants love it and have no plans to move. We had never planned to move from there but had to get a single story and that was a 1 3/4 story with no option for 1st floor bedroom or adding on. Still love it, but love the Cottage and the location here WAY MORE.
---
| | | |
| --- | --- | --- |
| RE: How long have you lived in your home and do you plan to stay? | | |
24 years this month - it was our first house. Instead of a "starter home", we decided to find a house in which we could raise a family - after years of annual moves as college students, we were ready to not move again for a while.

I expect we'll stay here until we retire and move away. We love our neighborhood; the location is very convenient, and we are just finishing a kitchen remodel (that I've dreamed of for 15 years).
---
| | | |
| --- | --- | --- |
| RE: How long have you lived in your home and do you plan to stay? | | |
We've been in our home 2 years, and were in the house prior to this 14 years. We would be happy to live in this house until time for the pine box! We custom built it on a lot in our dream neighborhood. We are actually less than a mile from our previous home...but we wanted a bigger lot and home, and to basically tailor a house to us. We love having roots in our wonderful small town, and hope we are creating special memories for our children.
---
| | | |
| --- | --- | --- |
| RE: How long have you lived in your home and do you plan to stay? | | |
We built our home 16 years ago, and built it to stay as long as we can. We wanted the country, rural life but we aren't too far from the convenience of city life either. I am still working but DH has been retired for 3 years now so he has time to do almost all the outside maintenance, we both garden (me avidly), and we love travel, and spending time with our kids, grandkids, and friends. So we are on the go a lot. Our house is one level, wide hallways and doorways, easy care. When it's too much to take care of outside, we'll obviously give it up and move into town, and downsize a little.
---
| | | |
| --- | --- | --- |
| RE: How long have you lived in your home and do you plan to stay? | | |
I've been lurking a while and really like this forum. In fact, I intend to ask for your help on a fun little project in the next few weeks. For now, though, this is a great thread to get my feet wet. Love hearing your stories and it seems that many of us are in the same boat. My mom has been in the same house for 61 years, although it grew from the 1800 square foot house she moved in to as a bride to about 4500 in two renovations in the 60s. My dad died in 1976, so she has been alone in that house for many years and if she has her way (and she probably will), that's where she will stay. It is too big and too much upkeep for her, but she has some help and seems to be managing fine so far even though she is legally blind.

DH and I have lived in the same house about an hour from mom for almost 30 years. I love this house, but it really is too big for us now. It's a fabulous entertaining house, but other than an occasional wedding party for a friend's child, our entertaining these days is scaled down and more casual. We don't need a formal living room and a formal dining room anymore. We also have a great room and another company den/keeping room open to the kitchen and fairly formal breakfast room. These work great for the type of entertaining we do now. We really never have had holidays here. My mom likes to have thanksgiving at her house (though we do most of the cooking now) and our daughter lives in Colorado where we have a second home and we spend Christmas there.

We plan to retire in about 4 to 6 years, and plan to sell our second home in co. to and build our dream retirement home in the mountains at the base of the ski area. Land is expensive in the base area and the kids (DD&DSIL) are doing well but probably can't afford to live there without our help, so we will probably buy land zoned for a two family home/ duplex with the separation we need and still be nearby when we want or need to be. Our part will probably be about 2300 sq ft all on one level with a basement, while their side will be about the same but two levels. The lots in the prime locations for us tend to be fairy small, but in a wonderfully convenient location. Our basement would be accessible from either unit, and will technically be the only shared space. Long story, but all four of us are pretty much on the same page and the kids actually have the skills and contacts to be a huge asset in overseeing the build. We are also having lots of fun together planning. Even the guys are getting inti the act especially when we told them they had veto power if they really don't like a property or idea and both are reasonable in their wants so far DH wants a walk in closet of his very own and SIL!s only request is that he be able to see the gondola on the mountain from his bedroom window. We can manage that,. Of course, we don't even have the lot yet, but lots like that are not moving fast right now and there are several that would work for us, so we don't feel pressured to jump unless it is just right or the available lots start flying off the market. We have put ourselves in position to act fast with all cash when the time comes.

I expect that we will eventually sell our house here, but not until the new house is complete, if for no other reason, as not to have to keep up two houses 1000 miles apart. By the time that happens we will probably have been here 35 years and its going to be hard to leave, but luckily we have put in a lot of roots in Colorado over the past 20+ years and that will help and I won't be leaving the state full time as long as my mom needs me.
---
| | | |
| --- | --- | --- |
| RE: How long have you lived in your home and do you plan to stay? | | |
We've been here for 6 yrs. DH and I are in our early 40's and lived in over a dozen houses between us before starting high school. I have never been able to really attach to a place, even a city or state really. We both moved to our current city in high school and considered it home even though we both left again right after high school. We married a few years later and spend the first decade moving as opportunities arose, kids in tow. Five moves in 4 states in 12 yrs. all that time, we referred to this city as "home" though neither of us had family here anymore. Our kids hit middle school and we had all had enough moving. What luck, DH's company had an opening back "home". We made our final move here. Now as the kids are only a couple of years from college, DH and I talk about moving again, but I hope to keep a home in this neighborhood forever. I get the itch to try a new house or city, maybe a new continent entirely, and hopefully we'll be able to live a few of those dreams, but I want to have a place here that our kids, grand kids, etc consider home that always has a bed waiting for them!
---
| | | |
| --- | --- | --- |
| RE: How long have you lived in your home and do you plan to stay? | | |
DH bought this house when we first met 10 years ago, so he has lived here 10, me 7. I had a small townhome for 6 years which I sold soon after I moved here.

Our neighbors have recently sold their homes for really good asking prices, but what/where we like is way out of price range, or what is in price range is either out in rural areas making at least one of commutes an hour or longer, or else even smaller homes than what we have now. Really frustrating. We do want single family vs. condo.

Sigh. So, right now, we plan to stay and pay it off. One advantage of our house is it is a single floor plan, so perhaps we will eventually do an addition that would add a patio room , separate laundry, and expand the bathrooms. We only have 1.5 baths. That may be better than moving.
---
| | | |
| --- | --- | --- |
| RE: How long have you lived in your home and do you plan to stay? | | |
We've been in our current home since 2006 -- the longest we have lived in one place during our 20 year marriage. Our plan is to be here another 5 years or so and want to downsize to a warmer climate once DD #2 is in college. This is house #5.
---
| | | |
| --- | --- | --- |
| RE: How long have you lived in your home and do you plan to stay? | | |
We bought this house when we got married thinking we would only be in it for a few years, but here we are 12 years later! I'm in my mid 40s, DH is in his early 50s, and we have two elementary school aged boys. Our house works well for us, and we love our neighbors and schools. Housing is fairly expensive here, and there's not much out there under $1,000,000 that would make me want to move, so I imagine we'll be here for a while!
---
| | | |
| --- | --- | --- |
| RE: How long have you lived in your home and do you plan to stay? | | |
Been here for 3 years but remodeling for most of it. Never want to leave. We planned the home to be our forever home. As my elderly mom lives with us, we have made a lot of aging in place accommodations. The single level suits us. I love the garden and everything is quite closeby.
Growing up, we moved every 2-3 years as my Dad's job posted him in different cities. By the time I was in 5th grade, I knew how to pack, label boxes, manage movers etc. Don't want to ever do that again.
---
| | | |
| --- | --- | --- |
| RE: How long have you lived in your home and do you plan to stay? | | |
DH and I have been in this house 6 years. When we married ten years ago, he was divorced with no house, so he moved into my 1,100 square-foot 2/1 tudor bungalow. It seemed cramped right away and we moved to a more desirable historic neighborhood and got 2,100 square feet. A surprise job loss meant we needed to sell that house and downsize in house cost and in lifestyle. We found an amazing house (even bigger - 2,600 square feet!) in another historic area that was a bit depressed. After two years, we saw that neighborhood was never going to "come back" and made a big change and moved to our current home. The nice part about all of these moves is that they took place between 2002 and 2007, so we made good money on these houses.

The current house is very different from the others. MCM rather than 1920s revival. Three rural acres rather than a city lot. We fell for the house itself, but we also went into it thinking that it could be our forever home if needed. Aside from four steps into the front door (which could be changed to an architecturally-correct ramp), the house has no level changes. No basement, no attic -- it's very easy to get around and use.

But we're now drawing closer to DH's possible retirement, and my work prospects have changed with the economy (my former field, at my level, pretty much doesn't exist in my city anymore; my subsequent/current self-employment pays the bills, but I'm not seeing much growth potential). So we're thinking very hard about a big relocation: from the SE to the SW.

I spent the spring/summer helping my mom move and doing all the downsizing/donating/tossing/selling that is involved with that. It helped me realize that we hold onto so many things not out of nostalgia or need, but mainly just due to inertia: bodies at rest tend to stay at rest. The trick is to get them moving. So now I've just taken my momentum and moved it to our own house. I'm taking on one area at a time. It might be a room, or it might be simply a closet. But I'm going through and purging in anticipation of a move within a few years. And if we don't move? Heck, at least I've simplified things.
---
| | | |
| --- | --- | --- |
| RE: How long have you lived in your home and do you plan to stay? | | |
We have been in this house for 6 years, which is the fifth house we've owned as a couple. We knew our previous moves were temporary, so we always purchased and reno'd with resale in mind. It was rarely to our personal taste.

When we moved here, we had a "turnover" house to wait until exactly what we wanted came up. We did not want to compromise on location, lot, and possibilities of the home.

The right house came up soon after infant twins, and unless our jobs necessitate a move, we are here for many years to come. And, I'll be honest, the stress and drama of buying and selling has worn thin on me. Now, to find the time to do everything we want to do.....
---
| | | |
| --- | --- | --- |
| RE: How long have you lived in your home and do you plan to stay? | | |
A bit over 4 years. I hope to not have to move as I hate moving, plus we bought as a fixer-upper and have put a lot of work into this house. Due to the amount of work we had to do (read: mess we had to live in) and the fact that it takes me a long time to settle in, it is just finally starting to feel like home this past year.

However, we are young still so we may have to move for work or because we find it too small after we start a family (1600 sq foot, although we can always finish the 800 sq foot basement..). ..
This post was edited by tracie.erin on Tue, Aug 20, 13 at 11:19
---
| | | |
| --- | --- | --- |
| RE: How long have you lived in your home and do you plan to stay? | | |
DH and I have been in this house for 5 years. Before that, he owned a home a few towns over for 4 years before we married and I moved in. We stayed for 2 years after we married.

I think this will be our home for the next 15 years or so until the girls graduate high school. We keep discussing just fixing what's left to fix here and moving to something with more property, but trying to find something bigger with more land, and a pole barn would be a huge expense, and honestly, I like living without a mortgage enough to stay in this house, as is, for the rest of my life.

We are planning an addition this spring to make this house more suitable for our family size and to make it easier to sell down the road. We're hoping it will leave our options open in the odd event some amazing deal comes up again.
---
| | | |
| --- | --- | --- |
| RE: How long have you lived in your home and do you plan to stay? | | |
We have lived in this house for 29 years and have no plans on selling. We first moved to this town as newlyweds, stayed in our first house for 7 years, then moved to this house with a 3-year old and a new baby, and subsequently had a third child here. House is paid off, kids are through college and have flown the nest, but we still love our house, neighborhood and town.

Recently we bought a second home on Cape Cod. The realtor asked if we plan on retiring there. We both are in agreement that we do not want to be more than a 30 minute drive from the city and the airport. We like to travel and take advantage of all the city has to offer.

We feel fortunate that (so far) our 3 grown children are all living and working in/around Boston. Now if we could only get them to clean out their rooms here.........

I'm 59 and work full-time. DH is 62 and works PT from home. He's outside staining the deck while dinner marinates.
---
| | | |
| --- | --- | --- |
| RE: How long have you lived in your home and do you plan to stay? | | |
We've lived in our house 20 years. I think we've moved about 10 times but this is only the third house we've owned. We have no plans to move - love our location, large private wooded lot and unique community amenities including 30 miles of wooded trails.

When we first moved in I considered it a "temporary" situation as the house didn't have all the features I wanted - but the location was fabulous. About fourteen years ago we decided we really didn't need any more features in this house after all and bought a weekend lake place instead of a bigger, better house. A great decision for us - love both places.
---
| | | |
| --- | --- | --- |
| RE: How long have you lived in your home and do you plan to stay? | | |
I'm like Pal.

Been here a month.

We were in the previous home 16 years.

We moved to a "no mow, no snow" neighborhood where the HOA takes care of these chores. Gave away the lawn mower to DH's brother.

We chose this house,built in the late 1980's, to have something newer, more energy efficient, and with an attached garage. Previous house was built in 1931.

It has a less formal layout, and will be great as we age. Also a better layout for adult children to visit. It is a reverse story and a half. Street level with master br, second bed and bath. Third br and bath in the lower level walkout by the family room.

We plan to live here several decades. It has lock and leave convenience for travel once we retire.
---
| | | |
| --- | --- | --- |
| RE: How long have you lived in your home and do you plan to stay? | | |
We've been here 30 years and can stay as long as we desire. We like everything about our home which we've extensively enlarged and remodeled. It's comfortable, roomy, and located on a nice tree lined street in a great suburb (Money magazine named it the # 1 town some years ago ) and best of all it's paid for! We bought when mortgage rates were 16% and our property values have survived the housing downturn.

We do have a second home on 100+ acres in the mountains and originally DH thought we'd sell this home and move there when he retires. We designed it with the MBR on the first floor and it would be perfect for us. It has a whole house generator and several wood burning stoves so the occasional power outage wouldn't be a problem. Another plus is that our taxes would be significantly lower there.

But our adult children now live 8 miles away in the city and I love how easy it is for them to just pop over and swim in the pool or join us for dinner. Last month I treated DD to dinner and a performance of Wicked and this weekend they'll join us for a BBQ - bringing an assortment of spouses, significant others and dogs. I vividly remember having to drive well over an hour to visit my parents and at times it was difficult. I don't want to repeat that for my kids if I can avoid it.

Our current plan is to stay put for the time being and at some time -probably within 5 years- we'll downsize. Where we're going at that point we don't know, but we're fortunate that we don't have to make a decision now and perhaps some thing or some place will call to us.

Maire
---
| | | |
| --- | --- | --- |
| RE: How long have you lived in your home and do you plan to stay? | | |
We've been here exactly one month and we are still unpacking! Plus, we are waiting for our overflow shipment with the lawnmower. It was a long distance move after we retired, to move closer to where both our children had settled. We are really enjoying getting together with the kids and the new climate has been wonderful- dry and really cool at night. No more snow to deal with, but I will miss seeing snow on the trees and ground.

We lived in our last home 14 years and the layout was ideal for us as was the wooded lot. We had it built and it was just the right size in every room.

The new house is about the same size, but I can't fit about a third of what we had due to window and door locations. This house has nice built ins, but I would have preferred none and used my furniture instead. We bought this home for the garden and windows.
We are in our 60's and plan to stay here as long as we can.
---
| | | |
| --- | --- | --- |
| RE: How long have you lived in your home and do you plan to stay? | | |
Our house is 40 years old, we have lived here 30. The house is nothing fancy, (I assure you but, it is now and has always been MY HOUSE).
DH, just agreed to having the kitchen updated! YEAH! It will be refaced and and I hope everything suits me, I am the original glass half empty girl.
But, hopefully, here is where we will stay, till we are no longer on this earth!

Red
---
| | | |
| --- | --- | --- |
| RE: How long have you lived in your home and do you plan to stay? | | |
Our 3rd home we have owned.
First house - no kids (5 years)
Second house - needed more room for kids (9 years)
Third house - relocation from NJ to Northshore of Chicago (7years to date)

I yearn to get back to NJ, but husband's job is here and our kids are entrenched in the community and school. So, when the youngest approaches graduation from H.S., our plan is to downsize here and then purchase a summer home at the Jersey Shore. At least that's the plan....but anything can happen! (I never thought we'd live anywhere but NJ)

All that being said - I'd love to design and build our own home someday... so that's in the mix as well.
---
| | | |
| --- | --- | --- |
| RE: How long have you lived in your home and do you plan to stay? | | |
Violet_West, congratulations! Hope you are enjoying your house, wishing you many happy years in it.

pal, I didn't realize you were finally in your new home. May we see some pictures? Best wishes to the palimpsest household for many happy years in your new home too.

We are 17 years in My Little Tract House. The retirement light at the end of the tunnel is looking brighter now, and for the first time DH & I are thinking maybe the house and its 1 1/4 acres are getting beyond our physical capacity for DIY maintenance (not that we're, like, getting old or anything...lol).

We've poured so much of ourselves (not to mention $$$) into this property, I don't think DH will ever leave. He stlll enjoys working in the big yard and likes what the house has become. A smaller home & property to maintain is sounding better & better to me, and I don't have strong emotional ties here, in all honesty. But we're a ways from having to make any hard decisions yet.

Funny, but just this morning I was sitting in a comfy FR chair, laptop in lap, coffee mug in hand, enjoying GW, when I looked up and thought, "Gee, this family room could be really beautiful..." After 17 years, it hits me.
This post was edited by awm03 on Wed, Aug 21, 13 at 10:26
---
| | | |
| --- | --- | --- |
| RE: How long have you lived in your home and do you plan to stay? | | |
We got married and moved into this house. We've been here 20 years and we don't have a formal exit strategy in place. My husband plans to continue working for another 10+ years. I like the house, the neighbors, and the location.

The house is 40+ years old. We've renovated the kitchen and 2 full baths. I wish I could do the kitchen over since I know so much more now than I did then. Maybe someday I'll tweek it again but it's fine and much better than before.

If I had to downsize or go to one floor living, I like my sister's condo floor plan and low maintenance but don't like the issues and expenses that can develop with an POA. I'd rather have a stand alone house and pay for outside maintenance.

We have a 2nd place but it's our vacation place. We don't have plans to ever live there full time.
---
| | | |
| --- | --- | --- |
| RE: How long have you lived in your home and do you plan to stay? | | |
Such interesting stories!

We've lived here 24 years (this month) and don't plan to ever move anywhere. Actually, the only other home in which we have lived as a couple was around the corner :). A small but well built place that my husband bought before we met, and into which I moved when we married. 3 years and one child later we needed more space but wanted to stay in the neighborhod so found a bigger house and lot a block away. Moved in, had second child and have never even considered leaving.

Living here has benefitted us in ways large and small, including some that really can't even be measured, in large part due to my system analyst husband's foresight. He works at a university and wanted to be within walking distance of the office. Our home is 3 blocks away. Since I also work there this has meant that we literally have a 1-minute 'commute' to work. And since both my kids attended or attend the same university, they too benefit from never having to sit in traffic, ever. In fact all of us ride our bikes back and forth. Of all the positives of living here, this is one that I think may yield the best benefit in terms of quality of life. Never having to sit in traffic to get to or from the job, being able to come and go so easily from work to home or vice versa...priceless.

I haven't always loved the house itself but over time and a series of major updates it has come ever closer to being just right. It's a well built 1950 ranch (meaning in SoFla real estate it is solid as a rock, no shoddy construction techniques back then). The yard is very large for the area; you can't buy this much property any more for reasonable prices. My husband planted oaks when we moved in and after 20+ years of growth we now have an incredibly lush and shady yard, both back and front.

And as we move into the empty nest stage having 'only' three bedrooms and two bathrooms and small closets (my major aggravations about the house) will be just fine for us. It's all on one level so no worries about mobility. Paid it off years ago so the carrying costs are minimal-we couldnt rent a studio apartment for the amount we pay in property taxes. And aside from being close to our jobs, even once we retire the location is still ideal. Because of sprawl our neighborhood is now considered close-in and extremely desirable so even though we don't plan to sell, if we ever wanted to we would net major profit. It's also much cheaper to improve what we have than to move so if I want a pool, more remodeling etc. that is well within reach. It's close to transportation, recreation (a mile from the ocean) and shopping.

So that's our story. 2 decades and goin' nowhere till that haul-us-out-feet-first moment!
---
| | | |
| --- | --- | --- |
| RE: How long have you lived in your home and do you plan to stay? | | |
28 years in this house. I didn't expect that we would stay here so long when we moved in. We had two houses before this one, each for less than 5 years.

We considered moving to Southern California because of a job offer around 7 years ago, but our children are all in driving distance from us and when we looked at houses we would get so much less house for more money there. When I called to turn down the offer, they said I could stay where I was and work from home.

The house is bigger than we need some of the time, but our out of town son's family is often here two weekends or more a month and with the 4 of them it feels pretty small.

The house is all on one level and I don't expect to ever downsize or move at this point.
---
| | | |
| --- | --- | --- |
| RE: How long have you lived in your home and do you plan to stay? | | |
We built this house ten years ago and don't plan on moving. I am 47, my husband is 59. It's just us two. We don't have children, and the house is the perfect size for us at three bedrooms, two and a half baths. We have overnight guests a few times a year, and have a nice guest suite always ready. It was a custom build, so I was mostly able to make it the way I wanted. We are doing a small bit of remodeling and redecorating upstairs, and plan to do a little work on the exterior next year. Mostly doing things that will make it less maintenance as we get older, wood flooring upstairs instead of carpet, better windows and shutters, etc.
---
| | | |
| --- | --- | --- |
| RE: How long have you lived in your home and do you plan to stay? | | |
I'm 70 and built this house when I was 65. While I thought it would be my last home, I'm now not so sure. I absolutely love this house, but since I live alone feel I might eventually want something smaller, even possibly a condo or garden home. With 5 kids and grands visiting several times a year, I definitely need at least 2 extra br's, but don't need some of the 'extra' rooms this house has.

I plan on designing my next home to give me things I've never had in
any of my other homes, a kitchen fireplace, and a huge walk in shower for starters.
---
| | | |
| --- | --- | --- |
| RE: How long have you lived in your home and do you plan to stay? | | |
DH and I are in our 40s and this is the third home we've owned - first a Manhattan apartment for three years, then a Brooklyn apartment for eight years, now a Brooklyn rowhouse for seven years. This is probably our home until retirement, as it's DH's dream house. It's not mine, I'd prefer smaller and more funky, but it's a nice space and we've invested quite a bit of money and time to make it ours. Only thing that might sway us is if we got an offer we couldn't refuse. Our area is in the midst of a crazy boom right now, and once we finish our kitchen remodel the house would fetch a lot. If someone is stupid enough to pay boom prices, we're stupid enough to accept their money!
---
| | | |
| --- | --- | --- |
| RE: How long have you lived in your home and do you plan to stay? | | |
We've lived in our first and only house for 8 years. I sometimes dream of moving to one of the mountainside neighborhoods and/or completely out of state someday. But for now, I have no specific plans to move. We're young enough that things could change, but we really like our house, our neighborhood, and our proximity to the mountains.
---
| | | |
| --- | --- | --- |
| RE: How long have you lived in your home and do you plan to stay? | | |
Interesting thread. I have owned 5 homes. We've been here for a little over a year. I will not be retiring in this home. Every home I have lived in was longer than the previous one...2 years, 2.5 years, 10 years, 12 years, and now 1 year.

I could sell this house tomorrow. I know some will be shocked to hear me say that, but it's true. This is a house we built, I made every decision as far as the construction went, so it is a house I love to be in. BUT this is not a house where we raised our kids. They have never lived here full time. There are no real family memories here. If my dh came home and said, "I've got a job offer in _______", I'd move. Of course there would have to be a relo package again because I am not packing this house. In fact, I'm never packing again. I've never had a corporate relo until we moved here, and let me tell those of you have not had one--it's the best thing ever!

I look forward to building again someday (yeah, really). I have a list in my iPhone actually that is called "next time" for all the things we missed on this one.

I wouldn't move locally, that I know for sure. I feel we took a long time analyzing our options and this one is on an acre, on the water, partially wooded, in a great school district, amenities, in a neighborhood that is highly desirable. So, why would I move locally?
---
| | | |
| --- | --- | --- |
| RE: How long have you lived in your home and do you plan to stay? | | |
Bee...so interesting to hear you say you would build again. You hear so many people go through it and say never again. I would love to design and build my own house, well not literally build it! Not sure that will ever happen as I have no clue where it should be. We know we will sell our house of 29 years now in the next 5 years when we retire but We have yet to zero in on where to go.
---
| | | |
| --- | --- | --- |
| RE: How long have you lived in your home and do you plan to stay? | | |
Such interesting stories and a look into each other's lives. Enjoy seeing house pictures, my3dogs.
---
| | | |
| --- | --- | --- |
| RE: How long have you lived in your home and do you plan to stay? | | |
We've owned the farm for a quarter century.

I am pretty confident I will be here forever.

I mean that quite literally since there is a family cemetery here that's been in use since the 1700s.

L.
---
| | | |
| --- | --- | --- |
| RE: How long have you lived in your home and do you plan to stay? | | |
11 years, and NOPE don't plan to stay!!! ;-) I am really hoping to go back to work next year when my youngest starts kindergarten; then we will maybe be able to afford to move. We are comfortable now, financially, but I have never loved this home, I don't think I ever could, and we are outgrowing it.
---
| | | |
| --- | --- | --- |
| RE: How long have you lived in your home and do you plan to stay? | | |
34yrs. this month. Wow, can't believe it's been that long. I bought the house when I was 26yrs.old for less than what a brand new car cost today. Dad said "better to buy than rent". I think my house payment was something like $185 a month. lol But as a secretary/clerk I wasn't earning a whole lot in those days.

Yes, I intend to stay as long as I can take care of it and myself.
This post was edited by schoolhouse on Thu, Aug 22, 13 at 21:07
---
| | | |
| --- | --- | --- |
| RE: How long have you lived in your home and do you plan to stay? | | |
My husband and I married when we were both 30 and are now 64. We rented for a few years then bought our first home in the Delta region of the San Francisco Bay Area. Lived there for almost 20 years. Due to a mandatory transfer for my husband, we had to move to the Sacramento, CA, area, where we lived for almost 10 years to the day. If we didn't have that transfer we would probably still be in our first home....maybe. It was small, a hair over 1300 SF and we loved it. Our second home was a little over 2500 SF. That house was never a home to us, just a house. We couldn't wait to move out of not only the house but the town we lived in.

My husband retired three years early last September and we closed on our third, and probably our last, home in Arizona shortly after. We absolutely love it here and don't plan to ever leave. Our current home is a little under 1700 SF and is perfect for the two of us. Our last home had formal living and dining rooms, along with a large kitchen eating area that you could hold a dance in, with band, which I really didn't like. The laundry room was so large that we often joked that a family of four could live in it comfortabley....seriously. Four bedrooms, 2 1/2 baths, a corner lot with no one behind us or next to us.

When getting ready to put our not-so-loved house on the market we downsized to the max. The hardest being my husband, his garage and a lot of his stuff that he had inherited from his dad. For myself it was hard to part with some stuff but I knew it was time, but the rest I almost couldn't get rid of/donate/sell/toss fast enough. The formal LR and DR furniture was the first to go. Just knowing we were moving to AZ and out of California was incentive enough. When we both were really tired, cranky and picking on each other we had a saying, "this is the beginning of the rest of our lives so suck it up and either go pack or throw something out". Surprisingly that actually worked.....most of the time.

This home, with it's open plan, is the perfect set-up for us. Three BR's, two full baths, a pool and virtually no maintenance landscaping, and a lake for our boat. I think, being an avid gardener, the hardest part for me to transition over to is not being able to grow anything I want, and that I don't care for cactus. :) We looked for this kind of floor plan because we knew we're getting older, my husband has had several massive back surgeries and I have really bad arthritis and fibro. This home would be so easy to convert to handicapped accessible if need be, which is something we were also considering during our house hunting. The one and only thing I don't like about this home is the laundry room, which is really no more than a pass-through from the house to the garage. Guess I got used to that huge laundry room in the last house.

Despite the book I just wrote above, we've been here nine months. Although our moving company arrived a week and a half before (we came down and met them, but we wanted all the furniture here and in place so that we could bring our 4-legged furry kiddos down and have familiar smells here already), we formally arrived and moved in at 8:23 pm (yes, I actually did write the time down for some reason), the night before Thanksgiving. Turkey Day last year consisted of hot dogs and mac & cheese. Easiest Thanksgiving meal I've ever made.

Jenna
---
| | | |
| --- | --- | --- |
| RE: How long have you lived in your home and do you plan to stay? | | |
This is a neat thread. It is interesting see how personalities and circumstances have led everyone to where they are.

This is our 2nd house, and we have lived here for a year. I was ready to move out of our first one before we ever moved in. We lived there 7 years, and it was starting to improve a little, but we went from having 2 children to 5, so we were either going to have to put money into increasing our sq ft in the house, or moving. I never felt right about putting money into that one, so we moved. I am always a little disturbed that the PO lived in that one for over 30 yrs-- I didn't want to be them!

I could probably live in this house for a long time. It is bigger than I ever thought we could get, and I just like that it is old (well, maybe I don't like that the plumbing and electrical are old!!). The neighbors are great, street is pretty. But, the overall suburb is depressed. However, the longer I live here, the more I find that the people "in charge" really work with us and there are many opportunities to get involved. Overall, the schools are good, too, which is surprising to people in neighboring towns, which have a higher income rate. Also, while we are in the poorest of the local suburbs, our crime rate is low and we get the benefits of being near the wealthy ones. I just wish it had more walkability.

One of the reasons I will not likely leave this area is because of family. While I have a small one, we are extremely tight-knit. We are still about 40 minutes apart, but it's the best compromise we could come up with, and it works well overall.

I used to want to move all the time . . .I would have loved to have been a host on Globe Trekkers, had I not had children. Now that I am getting older (just turned 40), I see how $ it is to keep changing, and since I feel like it takes FOREVER for me to finish anything re: decorating, I really don't feel like starting over again anytime soon.

But, if the kids all move away, I will likely follow them. I don't think any will want to stay in this area. Won't happen for sometime, however!
---
| | | |
| --- | --- | --- |
| RE: How long have you lived in your home and do you plan to stay? | | |
We moved here when DS2 started kindergarten, and today he started high school. We'll be here at least until he leaves for college. I love this house, it had almost everything on our "wish list". We could never do the all the things we really wanted to once the recession hit and college loomed for DS1, but it's still good.

How long to stay? Our town is wonderful; I would happily buy a one-story here after the boys are on their way. But our state is a corrupt mess (we're #1!). But where would we go? Have to think about that a few years.
---
| | | |
| --- | --- | --- |
| RE: How long have you lived in your home and do you plan to stay? | | |
Dh and I have lived in our current house for our entire marriage, 17 years. Truthfully, it was being built when we got married, so we lived in an apt for 2 months, then my parents for a month then it was ready. We live on the outskirts of a waterfront tourist town.

We were supposed to be here for 3 years. Dh was in the Navy and this was not supposed to be our forever home as we anticipated being transferred by the Navy. However, dh realized the Navy was not meant to be his career as he didn't want to constantly move once we had kids. We wanted to live close to one of our families, but unfortunately, they live on opposite coasts. He is from the San Francisco Bay Area, and I am from the Wash DC area. Since it was the height of the tech boom at the time dh was getting out of the Navy, and we simply could not afford a home in the Silicon Valley, he got a job here, which fortunately is only 25 minutes from my parents. And here we've stayed.

It is NOT my dream home. I don't even really like it. It was small when we moved in, and even smaller after having four kids! We looked around at moving to a different home, but absolutely love our neighbors and our community so finding a home that fit our needs was very difficult. We live in a high COL so home prices made it hard to find something that fit our desires while still being affordable. 10 years ago, we added on and while the space has helped, it hasn't changed the fact that our floorplan isn't desirable to us. We live in a waterfront community with very strict building codes, so we worked within that and have maxed out what we can do w/o completely gutting the house and starting over.

With four kids in private school and one off to college in four years, I've pretty much resigned myself that we won't be moving anytime soon, nor can we really afford at this point to do any major changes that would help. I am constantly looking at houses for sale in the area, but the only affordable ones are in tract home subdivisions and that's not type of community we desire. So we make do with what we have. And it's not that my house is bad, but it's not set up well for entertaining, something I'd love to do more often, we had to give up our fabulous screened porch when we added on and cannot add another due to space constraints. I miss that terribly. On the bright side, we have wonderful neighbors, live in a waterfront neighborhood so the kids can fish, swim, kayak, ride their bikes freely (community is a peninsula w/no through traffic), etc.

My dream is to move into the historic district in our tourist town where we can walk and bike everywhere. We live 5 miles from there now, but not on bike-friendly roads (though dh is an avid biker and rides them, no way my kids can). There are some really fabulous Arts & Crafts cottages, as well as many other architecturally interesting homes that date back to the 1700s. My hope is to move into one of them some day and have that be our forever home, with a second home in another climate.

I wish I could love this home and think of it as my forever home, but it is not ideal for aging. We have three floors, with bedrooms all on the third floor as the garage/rec room are "under" the main living level.

My parents still live in the house I grew up - they are going on 50 years there. They will stay until it's too much for them as it's perfect for aging, a rancher.

All that said, as much as I want to move, the idea of moving is dreadful to me, which is probably one of the reasons I haven't really pushed for it. The thought of trying to keep my home in "show" condition with four kids, a huge dog that sheds, well, not fun. So perhaps a small part of me continues to find something undesirable about any of the houses I'm always looking at. I figure if I'm going to go through the hassle, the house has to be pretty close to what I want!

Love all the interesting stories!
---
| | | |
| --- | --- | --- |
| RE: How long have you lived in your home and do you plan to stay? | | |
We have been in our home for 4 months. This is our first home and hopefully our last! We were transferred here for my husband's job. In the previous 9 years of marriage, we rented 2 apartments. We only moved out of the 1st apartment after 6 1/2 years (which I LOVED) for more space once DS was born. We were in the last apartment for 2 years.

We chose this home because we love the style, it has plenty of space but not too much, and not too much yard. There is also a den/could be bedroom with a full bath on the first floor so we can move into that when we are no longer able to navigate the stairs. Hopefully that is a long way off!!
---
| | | |
| --- | --- | --- |
| RE: How long have you lived in your home and do you plan to stay? | | |
I have moved so many times in the last 20 something years since I graduated college. I can't even count. This is my third house. the last one was very big and expensive to upkeep and father from work and Gorgeous IMHO. :) But real life set in and DH and I purchased our current house. We have been here about 5 years. When we moved in it was mostly just us and 4 cats. Two D SS's every other weekend and for as much of the summer as we could get. It was close to them and closer to my work so seemed like a good move. This house is also about half of the size of the last house and nothing special.

Fast forward and (just like DH said would happen) I (we) decided we wanted to try for a baby. We were very blessed with 2 in 3 years.

Somehow this house has fit all our needs. 4 boys often in the house and a live in au pair and we never feel squished, it is close to all we could need, the schools have been great for DS1 who is in special preschool and doing really well, we love the land (more then the house) and my commute is probably the best I have ever had!

I do look periodically, but I can't imagine moving anymore. I used to love the adventure and looking at houses etc. now I just want to decorate what i have, spend as much time as I can with my family and plan vacations to disney. Boy have times changed!

I have enjoyed reading about all the journeys. Thank you all for sharing.
---
| | | |
| --- | --- | --- |
| RE: How long have you lived in your home and do you plan to stay? | | |
I've owned my home for 23 years, but only lived here full-time for the last nine years. This is the third home I've owned. What I love most about my home is that it is a lake house and it is in a beautiful natural area and I have lots of friends here. I'm within a couple hours drive to the kids and several large cities when I need my urban fix. My house is small, but to me that is an advantage, because there is less maintenance; and it's cheaper to heat and cool and to make improvements. I have a small kitchen, three small bedrooms and two full baths - a bath on each level, but no master bath. I also have a walkout lower level which gets plenty natural light, so it doesn't feel like a basement. My eating area and living room are a good size for entertaining family, but not over-sized. I love the outdoors, so ample windows are the most important decorating element in my home. I never want to move. It's just perfect and I want to stay here forever.
---
Post a Follow-Up
Please Note: Only registered members are able to post messages to this forum.
If you are a member, please log in.
If you aren't yet a member, join now!
---
Return to the Home Decorating & Design Forum
Information about Posting
You must be logged in to post a message. Once you are logged in, a posting window will appear at the bottom of the messages. If you are not a member, please register for an account.
Please review our Rules of Play before posting.
Posting is a two-step process. Once you have composed your message, you will be taken to the preview page. You will then have a chance to review your post, make changes and upload photos.
After posting your message, you may need to refresh the forum page in order to see it.
Before posting copyrighted material, please read about Copyright and Fair Use.
We have a strict no-advertising policy!
If you would like to practice posting or uploading photos, please visit our Test forum.
If you need assistance, please Contact Us and we will be happy to help.

Learn more about in-text links on this page here