Return to the Home Decorating & Design Forum
|
Post a Follow-Up
---
| | | |
| --- | --- | --- |
| Most expensive thing in the bedroom - a rug? | | |
Posted by
EngineerChic
(
My Page
) on
Sun, Aug 26, 12 at 10:54
I'm still hunting nightstands, and have also started to hunt rugs for our bedroom. Here is a moodboard with the bed (Crate n Barrell, Linea bed, king) and paint color (Ben Moore, Pale Oak) and hardwoods (white oak, oil based poly). I pasted in a possible night stand ... It isn't the contemporary / industrial vibe I want, but it's reasonably pleasing to DH (likes traditional stuff) while still having clean lines.
So, the rug is from Crate and Barrel, too, and it's about $2500 for the size we need. That's more than the bed! It's a wool rug, hand knotted, and will probably shed like holy hell the first 6 months we own it. (I love how wool rugs feel, but hate the shedding in the short term).
DH prefers a traditional style rug, like an oriental. Here's a moodboard with more traditional rugs:
Questions I need help with:
1- is it odd/unusual to spend the most money on a rug? Am I oddly skewing the room so it will look like a room with a high end armchair was paired with one of the ugly Craigslist sofas?
2- is the striped rug too boring with the bed and walls? It seems almost too calm, but I think that could give me leeway to go with really bold bedding - which is cheaper to change out when I want to change the feeling of the room.
3-is the white nightstand a reasonable compromise, or does it look silly with the bed?
Thanks! (other advice is appreciated as well, the only things that are locked are the wall color and the bed)
---
Follow-Up Postings:
| | | |
| --- | --- | --- |
| RE: Most expensive thing in the bedroom - a rug? | | |
Here's what I'm seeing from the picture, but I know it could look totally different in the room.

I think the nightstand starts to take the room into a country rustic farmhouse direction so that the bed starts to look like it's made from recycled barn board instead of contemporary teak. I'd rather see you use a plain teak cube as a compromise between your husband's desire for traditional and your desire for industrial chic.

I like a mix of geometrics and more organic shapes in a room, so I would like a rug with some curving shapes. However, I think you still need to stay with a more graphic, clean-lined pattern because your bed has such a strong lines. You may want to have a rug with no pattern if you think you want patterned bedding. If you think you want bedding with no pattern, then I would go bold on the rug's pattern. As for paying as much for a rug as for a bed, I'd say that's not unusual when you are getting a quality rug.
---
| | | |
| --- | --- | --- |
| RE: Most expensive thing in the bedroom - a rug? | | |
I love your bed! And I really like the rug you selected. That first moodboard feels very calm and contemporary. Well, except for that nightstand. I agree with Fun the nightstand doesn't work for me either. I'd go more "matchy" on the nightstand. And I'm just not an oriental rug person so that wouldn't work for me - I'm way too contemporary for that.

And, no, I don't think you are pairing an armchair with a CL couch from the recent list here on GW! :)
---
| | | |
| --- | --- | --- |
| RE: Most expensive thing in the bedroom - a rug? | | |
I put all the best nightstands on one moodboard with the bed below.
So ... I think I like the white one best. I haven't shown it to DH yet, but I bet it won't be an issue. The white one is labelled L (left side) and on the right we have a teak cube (R). At the bottom of the board are a lot of other options and they really span a range ;). I put the black one in the mix because I liked the idea of having some black over there in the room, but I can easily use black lamps on the nightstands. Oh, whoops, I have two labelled E. maybe call one "E1" since it has 1 drawer and the other can be "E4" since it has 4 drawers?
Thoughts, votes, concerns? Thanks again for the help on this, it's a struggle to decorate a room from scratch!
---
| | | |
| --- | --- | --- |
| RE: Most expensive thing in the bedroom - a rug? | | |
To narrow it down - I like C (the one that matches), E4 (looks to have the same wood tone? Or is it too close but a miss. Or, maybe the lines don't work - a tad too small for me to tell), L and R.

Just a thought I like to have a drawer or two to put things in to keep the clutter out of sight. That alone would rule out D for me. And, it puts C on the endangered list. :) C also doesn't have a shelf or anything - not really a lot of useable space.

L may be my fav too - even though it isn't "matchy." Nice square lines to go with the bed, and a drawer plus a shelf so functional also.
---
| | | |
| --- | --- | --- |
| RE: Most expensive thing in the bedroom - a rug? | | |
I like an eclectic look normally and love the look of two different side tables for a bed, but your bed is such a strong statement, I'm finding it difficult to like most of the choices you offered except for R. If you want to use white, how about something like I've linked below?
Here is a link that might be useful: dwr cube
---
| | | |
| --- | --- | --- |
| RE: Most expensive thing in the bedroom - a rug? | | |
I am not a fan except for R...

As for what ends up most expensive, that all depends, and I don't think it matters, because their needn't be a hierarchy unless the expense takes away from something important. I am currently doing a room where, excluding the mattress (which is preexisting) the window treatments are the most expensive.
---
| | | |
| --- | --- | --- |
| RE: Most expensive thing in the bedroom - a rug? | | |
Great bed.
The first thought I had when I looked at the choices posted is that none of them worked and that you needed something in a cube shape similar to what Fun2Behere posted. I would also use a different wood tone then the bed to keep the interest going.
---
| | | |
| --- | --- | --- |
| RE: Most expensive thing in the bedroom - a rug? | | |
This is good feedback. I prefer to not go too matchy in the room, I like things that work together but don't match. The R nightstand seems like it might match too much, but it's made from teak and white oak so it would work with the bed and floors (white oak). The white one would be a match for the trim in the room.

The DWR option isn't what I want for a couple reasons. First, it sort of reminds me of a filing cabinet. And second, it's a lot is money for something I don't love ($850 each) while the other options are $250 - $500.

L is still my favorite but I need to look at R in person, there is a C&B near me and they have the bed on display. If they have the R nightstand as well, I can see them together.

From a quality standpoint I prefer R because its made from real wood, and I think L is particleboard with a laminate covering. And functionally I like the shallow cubby + drawer + bigger cubby. I just hope it doesn't look like a matched set, but more like items that happily coordinate.

The only other downside of R is that there's no way I could tell DH that it was the one he initially liked (I could pass off the more modern white one as the same as the one he liked before).
---
| | | |
| --- | --- | --- |
| RE: Most expensive thing in the bedroom - a rug? | | |
LOL, I love that you can pass off the modern white one as the more traditional one to your DH. Classic.

I'm searching for a bed too, and have considered this bed. If you get it, let me know how comfortable it is for reading. I'm thinking I should get upholstered b/c it would be more comfy.

I like R, but I see what you mean about it being too matchy. I like B best I think - is it teak as well? I like the teak or brown wood with the black metal legs with that bed. I don't mind the white (L), it could work. I wouldn't go with the oriental rugs, I prefer the first one.
---
| | | |
| --- | --- | --- |
| RE: Most expensive thing in the bedroom - a rug? | | |
Love the bed, and think your rug works very well with it . . .and I normally prefer traditional over contemporary.

Anyway-- not sure where to find this, but what I do not like about any of the current nightstand choices is that I feel there will be too many straight lines in the room with the lines on the rug, bed, and then ns. I would suggest a demilune table-- streamlined-- just to bring in some sleek curves. Will try to find what I am envisioning.
---
| | | |
| --- | --- | --- |
| RE: Most expensive thing in the bedroom - a rug? | | |
Not what I was envisioning, but how about this guy?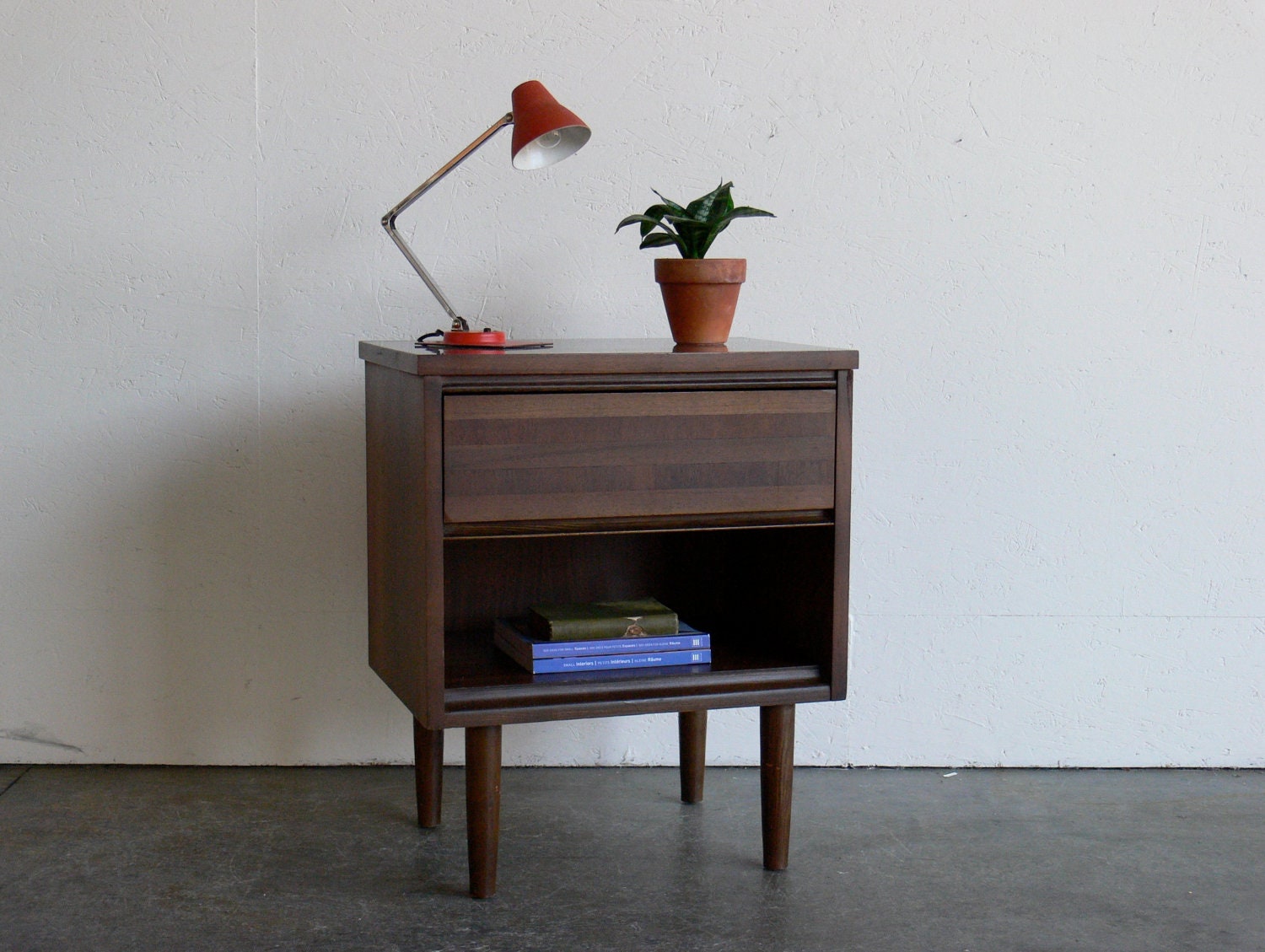 Only $89 + shipping.
---
| | | |
| --- | --- | --- |
| RE: Most expensive thing in the bedroom - a rug? | | |
i think the white table looks ok with your 1st (striped) rug selection, but i don't like it at all with the other rug choices.
i also like c (it's the same wood/finish as the bed, right?) and r...
---
| | | |
| --- | --- | --- |
| RE: Most expensive thing in the bedroom - a rug? | | |
| | | |
| --- | --- | --- |
| RE: Most expensive thing in the bedroom - a rug? | | |
Pal - where, oh where, are those gorgeous things? I love the cube shape with the curved lines, it is awesome!

Anele - $89? That's a steal, where are those babies found?

This exercise is really good for me because the more I scroll through the thread & revisit the moodboard with all the options, the more I really like R. L (the white, square one) is starting to feel like a "too safe" choice, like I'm not really committed to the style of the bed and am trying to dilute it in the room.

I do love the true vintage teak furniture I've seen, but a lot of it has aged to be more orangey-toned than what will look good with the bed & the cool greige of the walls. The 2 Pal just posted look like they haven't developed as deep of an orange tone, so they might really work with the bed.
---
| | | |
| --- | --- | --- |
| RE: Most expensive thing in the bedroom - a rug? | | |
What if you painted R? Although I would leave as is, and I usually don't like matchy matchy. But R looks best with your bed. I also like the rug.
---
| | | |
| --- | --- | --- |
| RE: Most expensive thing in the bedroom - a rug? | | |
The are from eBay, just type in Brasilia, I think this vendor is lenconmod, but I am not sure.
---
| | | |
| --- | --- | --- |
| RE: Most expensive thing in the bedroom - a rug? | | |
Found on Etsy, but only one . . .
Here is a link that might be useful: MCM Guy
---
| | | |
| --- | --- | --- |
| RE: Most expensive thing in the bedroom - a rug? | | |
I have no opinion on choice of nightstands, however do have a comment on wool rugs shedding. The link below tells how to test.

I bought a wool rug many years ago and it didn't shed much at all. I think it's a greater problem now when quality seems to keep going down while prices keep going up for many products.

IMO it's not unusual to pay more for a rug than almost anything else in the room. Good rugs do cost but make sure you get good quality for what you are paying.
Here is a link that might be useful: scroll down about half way
---
Post a Follow-Up
Please Note: Only registered members are able to post messages to this forum.
If you are a member, please log in.
If you aren't yet a member, join now!
---
Return to the Home Decorating & Design Forum
Information about Posting
You must be logged in to post a message. Once you are logged in, a posting window will appear at the bottom of the messages. If you are not a member, please register for an account.
Please review our Rules of Play before posting.
Posting is a two-step process. Once you have composed your message, you will be taken to the preview page. You will then have a chance to review your post, make changes and upload photos.
After posting your message, you may need to refresh the forum page in order to see it.
Before posting copyrighted material, please read about Copyright and Fair Use.
We have a strict no-advertising policy!
If you would like to practice posting or uploading photos, please visit our Test forum.
If you need assistance, please Contact Us and we will be happy to help.

Learn more about in-text links on this page here