Return to the Home Decorating & Design Forum
|
Post a Follow-Up
---
| | | |
| --- | --- | --- |
| How to "copy" a room | | |
Posted by
mtnrdredux
(
My Page
) on
Mon, Aug 13, 12 at 10:45
We've all heard of "inspiration rooms" thanks to HGTV. I hate that goofy term, but you KWIM.

I have a room I've always liked but felt was too feminine for my living room. I now want to "copy" it for my stonehouse interior.

Here it is

I cannot copy all of the elements. I want to know which ones you think are key to the room.
1. Easy to copy the floor.
2. White sofa centered on a wall w window, check.
3. I can buy or have made the exact ottoman
4. I can buy or have made similar pattern size and color pillows
5. I don't have room for the chandy or the large mirrors. I would be mounting sconces on the wall to either side of the sofa -- I will look for a way to add mirrors, and sconces and in a style to echo the chandy
6. I have exposed stone walls, so we can't paint that very pale pink (too bad, love that element). I know that having stone walls will radically change the feel of course ... There is a "loft" above the sofa and I may use very pale pink up there.
My biggest problem is my sofa, which I want to be a MGBW sleeper.
This is the best fit -- it comes 79" wide in a queen:

Unfortunatley, this arm is a better match to the photo, but I either have to go 83" wide to get a queen sleeper (my room is only 102" wide, every bit counts!) or I can go 76" wide and get a double sleeper (too small i fear)

Do I absolutely have to go rolled arm do you think?
---
Follow-Up Postings:
| | | |
| --- | --- | --- |
| RE: How to "copy" a room | | |
The inspiration sofa has rounded top cushions and an English arm, plus the box pleated detail on the slip cover and show wood legs. I don't know how closely you want to copy the room, but both sofas you show are bulkier and boxier than the one in the picture.
---
| | | |
| --- | --- | --- |
| RE: How to "copy" a room | | |
IMO when copying a room it's the "feel" that's important and the rolled arm sofa give a more similar feel.
---
| | | |
| --- | --- | --- |
| RE: How to "copy" a room | | |
There is so much more about that room than the arm of the sofa...but that does set a lot of the style. You need some type of Chandy....and note the antique mirrors and the real plants and flowers. It's the mix that makes that room....and the colors!
---
| | | |
| --- | --- | --- |
| RE: How to "copy" a room | | |
Fun,
Yes, don't you love that sofa detailing? Unfortunately, that exact piece won't work. Funnily enough, it is a double sofa! (both sides) And sure as heck not a sleeper. I don't really want to go down the path of totally custom, and I like MGBW and I want something slipcovered. I guess rolled arm will have to do. And sadly squared probably wont work.

Lindac and Lucky, yes, and yes.
---
| | | |
| --- | --- | --- |
| RE: How to "copy" a room | | |
Can't wait to see the finished project as I love that stone building.
---
| | | |
| --- | --- | --- |
| RE: How to "copy" a room | | |
Paint the ceiling pink. Looks fabulous with stone walls.
Mirror the walls onto which you are putting the sconces, run frame molding around them, and mount the sconces right onto the mirror.
Choose sconces that look like that chandelier.

You don't need a rolled arm...but your inspiration sofa doesn't have one, either. The difference between the inspiration piece and the two you are looking at is that the inspiration arms are lower and shorter, and the cushions wrap to the front of them - a Lawson style.
---
| | | |
| --- | --- | --- |
| RE: How to "copy" a room | | |
Bronwyns, pink ceiling! Perfect. Thank you! The contractor wanted post and beam, but then he is a boy. : )

I want the ceiling to be painted shiplap, a very light pink will be great. And the stone will keep it from getting too saccharine. What do you like? FnB's pale pinks?

My other inspiration for the room is from a NY Times article. I saw it two years ago when we were building our girls' wing and I loved the books in the gable. I couldnt copy it for their rooms (though it did inspire me to have bookshelves built over their windows, which I really like). When I looked at it again, I decided we would add a little reading nook in the gable, like her "bed". Overall her cottage, though a different feel, helps me envision how a tiny space can still work.
When I was googling around for dimensions of the sleeping loft, I also came across this (I long ago bookmarked this resort for decor ideas anyway). I love the shelves and the old ladder for a railing, and plan to copy both. Of course their space is much bigger than what we will have ...
It is so nice to have the internet to find all these creative ideas and inspirations .... oh and for the GW'ers and their great ideas!
---
| | | |
| --- | --- | --- |
| RE: How to "copy" a room | | |
I've found that a rolled arm sofa is particularly comfortable if you want to lie down and read a book (or recuperate after surgery, though let's hope your little stone house can be put to better use than that!) With the curve of the arm, it's easy to adjust a pillow or two to get the right amount of support for your head while resting/reading/napping. So the rolled arm may be functionally preferable for your cozy house as well.
---
| | | |
| --- | --- | --- |
| RE: How to "copy" a room | | |
I personally like the rolled arms of the last sofa. As much as I like your inspiration pictures, do you really want to go white and use that type of flooring?

As a country girl like you, you know the dirt that will be dragged in from the outside. Oh the dust! I think what's throwing me off is you seem to be going modern on the inside instead of keeping with style of the building.

OTOH, I'm not a fan of white slipcovers/furniture. Not cozy enough for me, and if I were your guest, you can bet that I'll spill something. LOL

Seriously, you need a flooring that's easy to sweep with a broom. I say that because I have a large stone fireplace and I literally to sweep the walls of it twice a year & the dust goes flying.
---
| | | |
| --- | --- | --- |
| RE: How to "copy" a room | | |
If you go up to 82" you could either get a Carlyle or Avery Boardman sleeper that has the Charles of London arm and looks exactly like your picture.

The main thing your stone house will lack is the ability for symmetry around the sofa unless it is against the back wall and that only leaves 10-12" on each side.
---
| | | |
| --- | --- | --- |
| RE: How to "copy" a room | | |
Lazy, that's a good point that I have not thought of.

Oakley,
I, on the other hand, am a huge fan of white slipcovered furniture. : ) In fact, it's about all I have or buy anymore. I had a white slipped sofa in my DS's nursery when he was born, it is now used at our lakehouse. My DD1's nursery had a white slipped chair and ottoman, now in our MBR. Our family room sectional is white slipped. I never get tired of the look and feel, and to me, even using them in kids rooms, they are actually the most practical choice since you can wash them.

As for the floors, they will be tiled. A seagrass area rug is not too pricey and can easily be changed out. We will use a jotul propane stove that will fit in the firebox. We decided that is just more practical.

As for the style... I dont think any of the rooms I show is modern. The first I'd call bohemian/moroccan/french, the second shabby chic and the last lakehouse rustic. I think as long as I keep exposed stone walls , shiplap ceiling, and reclaimed tile floor, the mood will fit the house.

Pal,
Yes, the only way I can even try to mimic the symmetry is with the floorplan shown. Since I will use wall sconces and/or maybe small cans in the loft, I dont need room for furniture flanking the sofa. But neither should it touch the walls! Would you do 82" in a 102" space". The fireplace does not protrude at all, nor will it with the Jotul. As for clearance, I am assuming that when you open the sofa you push it slightly to the right, and because the mattress is narrower than the sofa, the clearance is actually okay. (did this all on room planner)

Those two brands are to the trade, yes? Or can I find answers myself (eg are they avail slipcovered and as sleepers). I was going w MGBW because their prices arent bad and their sleeper bed gets high marks ...
Thanks, Pal.
---
| | | |
| --- | --- | --- |
| RE: How to "copy" a room | | |
Oh, and, is Style 132 the arm you mean, Pal?
thanks
---
| | | |
| --- | --- | --- |
| RE: How to "copy" a room | | |
Mt -

I love your inspiration pic. I have an "inspiration" file on every computer we own! LOL

I also love white sofas and slipcovers. I couldn't decide if slipcovers would work for us in our great room, so I compromised and had them done in the sunroom (which is used like a den - a room used every single day). I LOVE them. In the great room, we bought some new upholstered pieces earlier in the year and I did go with light pieces, although more cream and taupe - textured fabrics. LOVE it. Crazy to think you can't make a room with white/light pieces cozy! You just add that factor in with pillows, throws, accessories, etc.

I agree that your pix are not at all modern. Bronnie - what a great idea to do the ceiling pink! Will look fabulous!

Is there any way at all you can get a mirror in there? I think you need that element somehow.

Google Lauren Ross (if you don't already know who she is), I adore some of her white slipcovered rooms. AND - she has three children who have grown up with them!

Can't wait to see what you do.

tina
---
| | | |
| --- | --- | --- |
| RE: How to "copy" a room | | |
Avery Boardman 132 or 132 TB Nova

Carlyle Charles of London or Charles of London Tight Back.

You will pay a premium for Avery Boardman, I don't know about Carlyle, --but you are basically specifying exactly what you want.
---
| | | |
| --- | --- | --- |
| RE: How to "copy" a room | | |
Part of what makes the inspiration room work is the contrasts. The rounded, cottagey style slip-covered sofa and the upholstered, velvet (?) structural ottoman. The pink wall and the gray ottoman. The casual sofa and window treatments and the more formal chandy and mirror and the big wood piece in the back. The seagrass rug and the formal-looking pillows on the sofa.

There's a careful balance between light and dark, formal and casual, fabric and wood/natural fibers, color and white in the room that needs to be preserved to capture the feel of the room.

So you *could* go with a straight-armed sofa, but then you'd need the ottoman (or something else) to be soft and squishy and informal.
---
| | | |
| --- | --- | --- |
| RE: How to "copy" a room | | |
To avoid the saccharine problem, a little peachiness in the pink is good. Look at Sherwin Williams Conch Shell 7115 and Melon Tint 7117.
Benjamin Moore Cream Puff, Mellow Pink, Gentle Butterfly, and Pink Cloud are worth a look.

Of the F&B pinks, I think Pink Ground is the best, but it may be a little more saturated than you want on a ceiling. Subtle is good for this, I think. I would consider mixing it with a little Wimborn White to lighten it without losing the sophistication, but I haven't tried that...it's a guess.
---
| | | |
| --- | --- | --- |
| RE: How to "copy" a room | | |
Oh, and Pratt & Lambert have a lovely pink called Pearly Gates.
---
| | | |
| --- | --- | --- |
| RE: How to "copy" a room | | |
Thanks, Bronwyn, we just brought home a whole pile of samples as a starting point. Of course it is way way to early, but we are having fun. I will look up those you suggest.

Camlan, well put. I think that will be a good approach to keep in mind. I particularly like the ottoman, so I think I will need a softer sofa.

Pal, thanks so much. I think I am going to nix the squarish sofa for sure, whether I go the next step and get a closer imitation will depend on cost and production time.

Tina, Thanks, I will look up Lauren Ross. Totally love white slipcovered anything. DH says id white slipcover the kids if I could. Totally agree i need mirror, preferably aged. I have two huge mirrors from my last house but i think they are all wrong ...
---
| | | |
| --- | --- | --- |
| RE: How to "copy" a room | | |
I think they're wonderful!
I love a whoop-de-doo mirror on a stone wall.
---
| | | |
| --- | --- | --- |
| RE: How to "copy" a room | | |
I know what you mean, the juxtaposition of fancy with rustic. But they are quite large. Of the two, I favor the top one, feels kind of French to me.
It might be too overpowering ---- but it's worth a try ---- they are in (another) shed right now!

I will try it!
---
| | | |
| --- | --- | --- |
| RE: How to "copy" a room | | |
The Triad Queen Sleeper from Ethan Allen has an arm that is similar in feel, although it isn't a Charles of London.

It is a Queen sleeper at 79" wide. Might be worth a look
Here is a link that might be useful: Ethan Allen Triad
---
| | | |
| --- | --- | --- |
| RE: How to "copy" a room | | |
Thanks, Pal. That's very kind of you to look!
---
| | | |
| --- | --- | --- |
| RE: How to "copy" a room | | |
Here're some sconces if you can't do an actual chandelier.
Here is a link that might be useful: The Federalist Online
---
| | | |
| --- | --- | --- |
| RE: How to "copy" a room | | |
Those are perfect, Pal.

You know what kills me? I had a pair of Neirman Weeks sconces in the foyer in my old house. I was kind of tired of them, and they certainly don't go in my new house. Too bad I left them, Id bet big money the new owners removed them ... and here I am buying them over pretty much. They were very similar. I'm going to get a BAER from DH on these!

My old sconces

---
| | | |
| --- | --- | --- |
| RE: How to "copy" a room | | |
Have you considered deconstructed? Maybe a little TOO rustic? It seems to 'fit' with the stone/wood rustic feel of the 'cottage' with it's time-worn look of the wood as well as burlap/antique cotton fabric. ;o)
Here is a link that might be useful: furniture
---
| | | |
| --- | --- | --- |
| RE: How to "copy" a room | | |
Maybe your buyers took sconces down, but still have them? Or, still have them up, but would be willing to sell to you for a fair price? Wouldn't hurt to ask them directly or through their reaaltor, assuming they
were reasonable people to deal with?
---
| | | |
| --- | --- | --- |
| RE: How to "copy" a room | | |
Patty, the deconstructed would be perfect. Kind of like it had been there all along, without the odor and critters, lol. DH would be very unhappy with that though, as he doesn't like distressing unless it's genuine. But a cool idea!

Neighbor - I would if i knew them. But I don't at all. Their lawyers met with our lawyers.
---
| | | |
| --- | --- | --- |
| RE: How to "copy" a room | | |
Here's a pair of sconces that are kind of in between palimpsest's and your old ones (although I much prefer palimpsest's):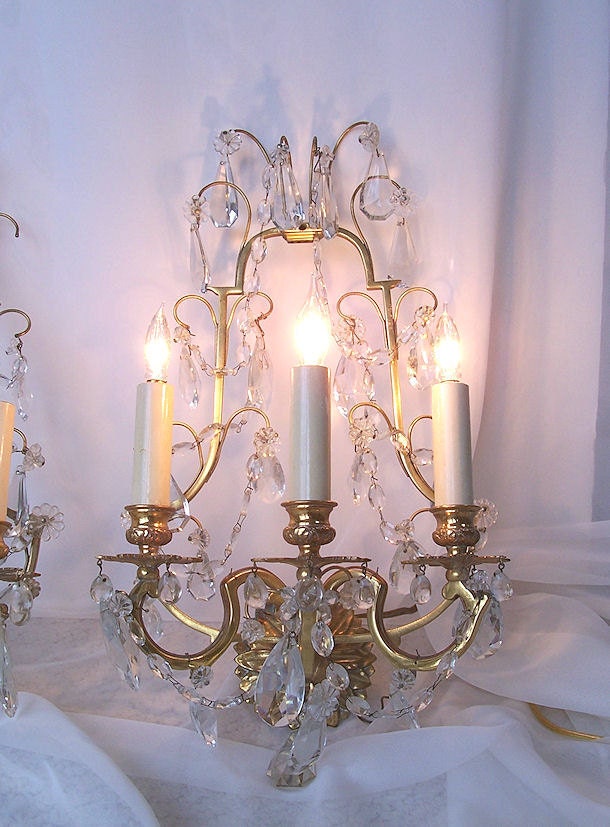 Here is a link that might be useful: sconces from Sheri's
---
| | | |
| --- | --- | --- |
| RE: How to "copy" a room | | |
Thank you, Writer. Those are such a pretty shape.

All of my lighting bookmarks are for lanterns and vintage and industrial stuff. I really have to think about where to get this look!

I see Pal has picked up the Empire shape and the crystals. I definitely need some cyrstal. I probably need a sort of rounded, bottom heavy empire shape. But I also want little lamp shades like in the original room photo. And in a perfect world it might all be mirrored.

I can't believe I am going to buy bling...
---
| | | |
| --- | --- | --- |
| RE: How to "copy" a room | | |
Just came across this on the furniture forum if you're needing custom work, many sofa styles w/slips. The prices seem very reasonable w/nationwide shipping. ;o)
Here is a link that might be useful: custom furniture
---
| | | |
| --- | --- | --- |
| RE: How to "copy" a room | | |
Thank you, Patty.

I am finding my quest not terribly easy. First of all, i dont have the time or inclination to go test all of these, so I am going on AT ratings (below).

Here is what I need:
1. Must be a Q sleeper with a good reputation for comfort
2. Cannot be longer than 79-94"
3. Must be slipcovered in white duck or linen
4. As close to the mood/feel/look of the original as possible
5. Willing to spend 2500-4500
6. Maximum lead time 6 weeks.

The second MGBW is still the best in light of 1-6, but I need to research some of the suggestions here.
Here is a link that might be useful: sleeper ratings
---
| | | |
| --- | --- | --- |
| RE: How to "copy" a room | | |
I have an idea for my sconces. I hate to re-buy the sconces I bought 10+ years ago and then derided to myself as hopelessly outre when I moved. : )

But I do need a gold/crystal/empire look.

So... I have these, which were mounted on a mirror in my old dressing room in the last house, before I redid it in a more pared down mode. They have a shade that is semicircular and covers both bulbs

I am thinking, vis a vis the chandy in the original room above --- easy enough to add two little shades. And I know a great lamp shop than can swag some crystals on the bottom for me.

Last question ---- and this is a little out there. To really nail the empire shape, and get in some mirror. What if I had a mirror cut in an empire sihouette, a little larger than the sconces, and mounted my tarted up sconce on that?

See what happens to me when I veer off my utilitarian/industrial/farmhouse mode? I'm lost
PS Techies: I rotated this in Iphoto and saved it. Then I imported it to Photobkt and it was turned back. So i edited it AGAIN in photobckt, hit apply, then save and replace. It looked fine. I past the html here, and the darn thing twisted back again!? why?
---
| | | |
| --- | --- | --- |
| RE: How to "copy" a room | | |
You have to save it as a copy. If you save and replace it stays like the old one unless you sign out and sign back in again or sometimes clear your history. At least on my computer.

I was going to suggest mounting them through the mirror, so I think it could work.
---
| | | |
| --- | --- | --- |
| RE: How to "copy" a room | | |
| | | |
| --- | --- | --- |
| RE: How to "copy" a room | | |
I hope people see this question buried in here ...

In re the sconces just above, which I am trying to retrofit to have the feel of the chandelier in the picture of the LR above.

I have a guy who can add bobeches and swag those with crystals. But, I cannot mount those sconces to a small mirror, as id wanted too. They are too heavy.

So, I did find the mirrored ones in the link. I could touch them up to make them a bit more gold. What do you think? Which ones?
Here is a link that might be useful: these, or my old ones with crystals added?
---
| | | |
| --- | --- | --- |
| RE: How to "copy" a room | | |
I really like the antiqued silver look of these new ones you found. They are stunning and make me wish I had a place for them.
---
| | | |
| --- | --- | --- |
| RE: How to "copy" a room | | |
The mirrored sconces you linked to definitely capture the feel of the inspiration room. They are lovely. The mirrored back gives them a lot of presence.

The ones you already have might work--it's hard to know without seeing the crystals on them.

But I really, really like the new ones for your room.
---
| | | |
| --- | --- | --- |
| RE: How to "copy" a room | | |
The Fleis ones are gorgeous! The ones you already have are a nice design and adding mirrors will definitely glam them up. I guess the big question is, do you want to spend the money or use what you already have? ;o)
---
| | | |
| --- | --- | --- |
| RE: How to "copy" a room | | |
Here's the thing.

We were walking around town the other day and my girls wanted to go into Klaff's, a big lighting etc store. The 9yo immediately spotted the MF ones and declared them perfect. The salesmen said their price was $203!

I had already asked my local lamp guy about adding bobeches and crystals, and that is $275 per sconce to do. So the new ones are less!

But .... the ones I have are, IMHO, much nicer quality

And ... the MF ones will need some gold paint (they come in only one finiish)

But ... the ones I have are too heavy to mount on a mirror

ANd the MF ones have a mirror already

But ... The MF ones I am not sure about. The bottom looks almost heart shaped to me, in a goofy way.

BTW, Pal, i did get a price on those you linked to, which are drop dead gorgeous. $4200 for the pair. I think that is too much for the spot, as well as the fact that these are not something I love in and of themselves, but I think will work in the room ....
---
| | | |
| --- | --- | --- |
| RE: How to "copy" a room | | |
Somehow I missed this discussion, mtnredux--- and now understand your tray quest, lol, and duh, smacking forehead. Love the pink ceiling idea as a stand in for the feel of pink walls, and even though I have been **told** it is passe, you can have any lampshades in the room lined with pink as well.

Those MF sconces would be fine, but would def do a little rub 'n buff old gold finish on them. Did you choose one of those two mirrors you already own for the stone house?
---
| | | |
| --- | --- | --- |
| RE: How to "copy" a room | | |
Hi KSWL,

Yes, the I have Bronwyn's mom to thank for the pink ceiling idea!

I am wavering about the MF sconces, because they just look kind of cheap to me. Gaudy is hard to pull off w/o looking cheap. Yes, they tick all the boxes.

As for the mirrors, I havent tried them yet, but I fear they will be too big .... I wont know until the project is further along if they work. Maybe I can paint them white and put them in a beachhouse!
---
Post a Follow-Up
Please Note: Only registered members are able to post messages to this forum.
If you are a member, please log in.
If you aren't yet a member, join now!
---
Return to the Home Decorating & Design Forum
Information about Posting
You must be logged in to post a message. Once you are logged in, a posting window will appear at the bottom of the messages. If you are not a member, please register for an account.
Please review our Rules of Play before posting.
Posting is a two-step process. Once you have composed your message, you will be taken to the preview page. You will then have a chance to review your post, make changes and upload photos.
After posting your message, you may need to refresh the forum page in order to see it.
Before posting copyrighted material, please read about Copyright and Fair Use.
We have a strict no-advertising policy!
If you would like to practice posting or uploading photos, please visit our Test forum.
If you need assistance, please Contact Us and we will be happy to help.

Learn more about in-text links on this page here