Return to the Home Decorating Forum
|
Post a Follow-Up
---
| | | |
| --- | --- | --- |
| Does ANYONE like builder grade oak cabinets? | | |
Posted by
lizzie_nh
(
My Page
) on
Fri, Aug 26, 11 at 10:27
Kind of a random question... I was looking at my kitchen cabinets and I thought I'd get a conversation going about this.

These days, it seems more and more common for people to want to paint their builder grade oak cabinets (kitchen and/or bathroom) and there are a lot of blog entries and message board posts which walk you through the process and make it seem very doable. For several years, I wanted to paint my kitchen cabinets white, but my husband has been opposed to the idea. I just finally convinced him to let me paint a bathroom vanity (an espresso brown color), and it looks great. However, it's making me wonder about the wisdom of doing all my kitchen cabinets - even with proper cleaning (TSP), thorough sanding, a good primer (Glidden Gripper), and a durable latex paint (Behr Ultra Paint and Primer in one), the cabinets don't seem all that durable. They still feel a little sticky on some days. My husband accidentally smashed the corner of something into a (fortunately less visible) part of the cabinet, and in my attempts to touch it up, I realized that everything - including the Glidden Gripper primer - peels right off. It seems like if you manage not to get a "hole" in the paint, you're good, but if something happens, it's difficult to touch up in such a way that it looks good as new.

(Home Depot paint guy claimed that they no longer carry any interior oil-based paint, and exterior paint should not be used inside, due to issues of off-gassing.)

Anyway... after a few years, I actually decided that I kind of like my kitchen cabinets. Everyone always refers to cabinets like these as "fake wood," but the doors, drawer fronts, and face framing of the cabinets are all real wood. It's the cabinet boxes themselves - sides, bottom, top - which have the fake wood laminate. So, in a group of cabinets, only a very small visible portion - ends - is fake wood. I found a creamy yellow wall color which really complements the wood tone, and added sort of wrought-iron tone (maybe slightly lighter) hardware to the cabinets. I've brought other colors into the room with hand-hooked rugs, artwork, and pottery. The room gets lots of natural light, and there is a patio door in the kitchen, which goes out to a natural-toned deck. The house is on a slope, so the kitchen and deck appear to be on the second-storey. The house is in the woods, so from every window and door, you see trees - green most of the year, autumn colors in autumn, or snow-covered in winter. Overall, I have decided that the wood color is actually perfectly acceptable.

Just to add - my cabinets are more of a "shaker style" - rectangular recessed panels, not arched at the top, and not with raised panels, as some builder grade cabinets have. (To me the less "ornate" panels look less dated.)

Is there anyone else who has gotten creative with hardware, wall color, and other accessories, who has found that the builder grade cabinets actually look GOOD? I'm interested in whether there is anyone who is really giving these a chance. (A lot of times I see that people didn't even bother to add hardware, which I think makes a huge difference.) I'm in a wooded setting, and I know these cabinets are decidedly NOT urban, and they're not "upscale" but they can actually seem cozy and homey for a more laid-back suburban or rural house. (Of course I wouldn't choose them in the future, but I don't know that I need to rip them out, or paint them, either.)
---
Follow-Up Postings:
| | | |
| --- | --- | --- |
| White cabinets | | |
The other thing is that styles come and go. Several years back, EVERYONE wanted cherry cabinets, black granite counters, and stainless steel appliances. Now, that has fallen out of favor, and already looks dated. As much as people say white kitchens are classic, I see no reason why in several years all-white kitchens won't date the kitchen to the 2008-2012 (or so) time period. So, I guess for now I am just sticking with a classic cozy kitchen. I DO LOVE the white kitchen look, but again I am not convinced it has any more staying power than any other style.
---
| | | |
| --- | --- | --- |
| RE: Does ANYONE like builder grade oak cabinets? | | |
I like them and unless they were in really awful shape, and couldnt be cleaned, touched up and looking good again, I would never paint them. I am so thankful that the previous owners of this house, never got to the kitchen cabinets, (birch, stained, not oak). We are older people, so not rough on things at all, and I have touched up the bathroom cabinets and trim in bedrooms, and living room, more times, than I even want to think about in the 2 yrs, we have lived here. I am also old enough, that I well remember when cabinets were most always painted a color, usually white, and one cabinet I ended up with that was my grandmothers, had so many coats of paint on it, that the doors would no longer even close. We had it stripped at a professional stripper, and it has now been stained for the last 30 yrs or so, and never had to be touched up or redone. Enjoy your cabs. :-))
---
| | | |
| --- | --- | --- |
| RE: Does ANYONE like builder grade oak cabinets? | | |
Yeah - my parents live in a house from the 1800s (not suggesting you're so old that you're from the 1800s, ha ha) and it has some built-in "hutch-style" cabinets, with original beadboard, etc.. The cabinets have always been painted and also used to have many MANY coats of paint on them. They don't seem to be stain-grade(I think they're pine), and so when we stripped them once, we just repainted. Even though their kitchen truly IS a classic farmhouse kitchen, at times it looks dated. The standard line these days about white kitchens is that since they're classic, they will never look dated. I disagree... it just happens that the white farmhouse look is in right now, and when it isn't, a number of people will want a new look. People went just as wild for the wood look in decades past. (In fact, I just happened upon a blog post in which the woman says how proud she was, in 1987, to have oak cabinets, but now she hates them.)

My other fear is resale... on the one hand, having white cabinets, which are popular right now, might draw in buyers. On the other hand, buyers could be put off by painted cabinets. And if you're not selling for several years, by the time you do sell, you may have had to touch up the cabinets a bunch of times - a look which is not desirable to buyers.

Not knocking the white look, just wondering how many people are thinking differently from the crowd on this matter. Until recently I was firmly in the "I want to paint my cabinets white!" crowd, but no more.
---
| | | |
| --- | --- | --- |
| RE: Does ANYONE like builder grade oak cabinets? | | |
lizzie, I think if your vanity still feels a bit sticky and the primer, etc. is easy to scrape off, there is a problem with your primer or paint. I've lived with painted cabinets in a few homes including the current home (I didn't paint them myself but some DIYer did) and there's no tackiness or peel-ability to them. The cupboards near my range hood hit the corners of it multiple times a day (my kids are not the dainty type) and there's not a ding on them--the paint job is at least six years old.

About the larger issue of the current trend toward painting the builder-grade oak, I think it's just like any trend and you can have a lovely room with or without following it.
---
| | | |
| --- | --- | --- |
| RE: Does ANYONE like builder grade oak cabinets? | | |
At least you have shaker-style doors and not the ubiquitous raised panel doors with the arch. I hate the heavy grain of oak, so I would paint mine if that's what I had.
---
| | | |
| --- | --- | --- |
| Latex Paint | | |
I don't think there's anything wrong with it... perhaps in a several months it will be as hard as a rock, and it is still curing. I shouldn't say it's "sticky" - it has dried, but it still has that typical latex paint softness. (I have furniture I painted with other latex paint at least 6 years ago, and while it won't actually peel since I painted bare wood, I can still dig my fingernail into it on humid days. I have heard other people say that they will never paint any furniture on which they might set things - dishes stick to painted hutches, etc..) Are you sure that your cabinets are latex? Latex paint WILL peel if it is painted onto a glossy surface (even if the gloss is brought down) if an opening is made. It's essentially a plastic coating and it doesn't penetrate the wood in any way, and if you're not painting bare wood, you don't get the same kind of adhesion, even with a primer made for hard-to-stick surfaces (like Glidden Gripper.) You have to rely on the outer shell being tough enough to withstand "trauma". I don't think that my paint will just rip open with the slightest banging - I have banged the bathroom door into an open cabinet door, with no problem. But if something truly sharp hits it, it gives an opening for peeling. I thought I should sand the ding before re-priming and painting, and that is when the paint started peeling.
---
| | | |
| --- | --- | --- |
| RE: Does ANYONE like builder grade oak cabinets? | | |
I live in ct where the somethings gotta give kitchen started in 2003. Peacock has a show room in my state and every other kitchen seems to be white with stainless steal, subway tile and black or marble counters. It is already tired to me. Not that it is not beautiful, it is, I am just really enjoying the wood kitchens I am now seeing again. Walnut and QS oak are my new favs. I do like oak and if the finish is in nice repair and you like it than keep it! I stained mine a dark color 7years ago and I loved them when they were first strip natural, Mine were quite orange in color, not clear and that was what I did not like. I stained them to match the color of my orginal doors and if the doors had not been dark I would have left them natural with a clear finish. So I quess I do like oak and I read some where that nationwide they still out sell all other types of cabs so others must like them IRL too.
I love natural oak with darker knobs ie oil rubbed bronz or cast iron. Embrace your kitchen it sounds like it is perfect for you and your setting!
---
| | | |
| --- | --- | --- |
| RE: Does ANYONE like builder grade oak cabinets? | | |
Hah, I thought I was the only one who liked them! Those cabinets appeal to me very strongly these days. If I ever get a chance to redo a kitchen, that's what I'd choose. I'd love soapstone counters and simple unpolished brash handles/fixtures to go with them too. I'm in New England too; maybe that style makes sense here in the land of rolling hills, woods & stone outcroppings.

We redid our kitchen 8 years ago and put in dark oak cabinets. The contractor was amused: he'd ripped out lots of dark oak kitchens and had never installed one before. We went with beadboard, which I still like. But my niece has those plain builder's cabinets in her home, and they just have a lovely rustic simplicity that strikes me. If I could do it all over again...

lizzie, your kitchen sounds fabulous. How good to have those views.
---
| | | |
| --- | --- | --- |
| RE: Does ANYONE like builder grade oak cabinets? | | |
Our oak cabs have been in about five years, and I do find myself looking at them from time to time and thinking they look "orange". However, I wouldn't think of painting them. My grandmother had a white kitchen (early 1900's) and white cabs are "classic", but surely white cabs will look just as dated in a few years as oak cabs are said to be now. Painted cabs are also subject, as some others have said, to a lot of problems that unpainted cabs are not. With your less ornate door style and small amount of laminate to be seen I would be happy with them. Here's an old photo of my kitchen with oak. I've updated some things, but the cabs, counters, and backsplash are the same. I say celebrate your oak! It's warm and cozy and beautiful.
---
| | | |
| --- | --- | --- |
| Heavy grain | | |
The oak does have a heavy grain, though fortunately the color is light enough. (My mother-in-law has very dark brown wood cabinets from the '70s, and I would paint those in an instant. They just make the whole kitchen look dark.) And I can't claim to love any wood cabinets, whether they're builder-grade or custom. It's not that I have a preference for the wood over white (or another paint color.) But I just found that when I decided to live with it, there were other ways to make it look better. It's true that the shaker style is better than raised panel with arched top - THAT to me does look very 1980s even if they were put in in the 2000s. I think if I had that it would actually be the shape which bothered me more than the wood tone.

The next step is to add wood floors (right now they are vinyl, alas) and a high-arc faucet. But I guess maybe it comes down to the setting, and maybe even what the neighbors are doing! Since I'm not in the suburbs, I don't have a lot of neighbors with similar houses who are all upgrading their kitchens. I've got 200-year-old farmhouses, new capes and colonials, even mobile homes... typical rural hodgepodge. I think maybe this fact also means that buyers in the area are not expecting a certain type of kitchen. That IS sort of freeing. I still try to make only changes which will have wide appeal, but I don't feel that the house needs to have the latest popular finishes - to add many of them would actually be out of keeping with the neighborhood and there would definitely be no return on my investment (talking expensive finishes here, not paint.)
---
| | | |
| --- | --- | --- |
| RE: Does ANYONE like builder grade oak cabinets? | | |
I am wondering if the cabs you painted had laquer on them, and they were not sanded well enough to remove it. Paint over laquer finish, will peel off easily. My cabs have no particle board, since they were originally custom built out of solid wood. I would have loved it, if no one had ever painted any of the cabs, trim, windows and doors.
---
| | | |
| --- | --- | --- |
| RE: Does ANYONE like builder grade oak cabinets? | | |
We have oak in the kitchen and doors,woodwork,etc. thru out our home. I love it-its beautiful, bright and has texture. If you were to paint it, it would require much sanding to smooth the grain out of it. Not me. I'm waiting it out and before you know it this lovely oak will be back in style. I remember years ago removing paint from cupboards, stripping woodwork and doors to get down to the grain and guess what -staining the wood a natural color! -oak or whatever wood grain is a treasure to keep but I understand not everybody's choice.
---
| | | |
| --- | --- | --- |
| RE: Does ANYONE like builder grade oak cabinets? | | |
We had oak cabs we put in our former home...they were an upgrade for us. It had it's original 1942 not-very-well-made-plywood cabinets until we bought the Merillat oak. A step above builder-grade---but certainly not custom. I loved mine.(Obviously--since I chose them!) They never looked dirty...and they suited the cottage-y feel of our house. I'm certain they are gone now.

They wouldn't work in this house, though. To much texture for the MCM vibe this house has going.
---
| | | |
| --- | --- | --- |
| Technique | | |
cat-ky - very possibly. If not lacquer, then polyurethane. I did use TSP which brings down the gloss, and then sanded, not to remove the finish completely, but to add some "tooth" to the surface. The Glidden Gripper primer is specifically designed for glossy surfaces, including lacquer and polyurethane, or even melamine. It DID "grip" very well, and the paint (2 coats) adhered well to it. I think the problem was that the gash my husband accidentally made went all the way through both coats and paint, and the primer coat, down to the original finish. I think you're right that there would be less peeling had the lacquer coating been completely removed, but no instructions I have ever seen for painting builder-grade cabinets say to fully sand off the finish... my technique should be sufficient for typical durability. I guess I should chalk the problem up to unusual wear and tear (corner of a small metal ladder gashing the cabinet.) But you're right - probably if you want cabinets which won't peel if a gash is made, you should get down to the bare wood. Another reason not to paint my kitchen cabinets! Too much labor. :-) No, seriously, I didn't skimp on the sanding to save time and effort - that level of sanding is just what everyone else says to do.

Susanka - I really like your kitchen. Your hardware is similar in color to mine. I said mine was "wrought iron," but that's not quite the right description. I'm not sure what it would be called. It's lighter than that, but not really oil-rubbed bronze, either, because it's not brown. Maybe like an antique pewter tone, or a little darker? I also want to add soapstone counters or a matte dark granite.
---
| | | |
| --- | --- | --- |
| RE: Does ANYONE like builder grade oak cabinets? | | |
Funny, I just found this old thread:

http://ths.gardenweb.com/forums/load/kitchbath/msg011850001200.html
Here is a link that might be useful: Oak Cabinet Thread
---
| | | |
| --- | --- | --- |
| RE: Does ANYONE like builder grade oak cabinets? | | |
Here's what we put in 8 years ago:

But I have an itch to work with cabinets like these:

Soapstone or black honed granite, a white farm sink, lots of unpolished brass & some kind of neutral on the walls -- yeah, I could love a kitchen like that!
---
| | | |
| --- | --- | --- |
| RE: Does ANYONE like builder grade oak cabinets? | | |
We painted our builder-grade oak cabinets. I used a wood filler product to eliminate the grain. And I painted with Ben Moore's Satin Impervo. The finish feels like a factory finish. Easy to keep clean, absolutely not sticky at all. I've seen cabinets painted with latex paint, and I have not been impressed. Not saying all latex paint products would not work, just the ones I have seen.

I feel that it was well worth the effort to do this in my kitchen. And as far as white kitchens being dated, I have to disagree. I thnk they are classic and have been around for a really long time. I think that the Somethings Gotta Give kitchen may have given them a push, but in reality, I think they are BIG on GW (and in certain regions), but certainly not in a lot of homes near me. Everybody still has those oak cabinets. I think I have seen 2 white kitchens while househunting.

My dh was totally against painting our oak cabinets too. Then we went on a kitchen tour. By the end, he really loved the look of the white kitchens. We decided "we can do it ourselves" by the end of that day....and the rest is history.

Here's my before & after: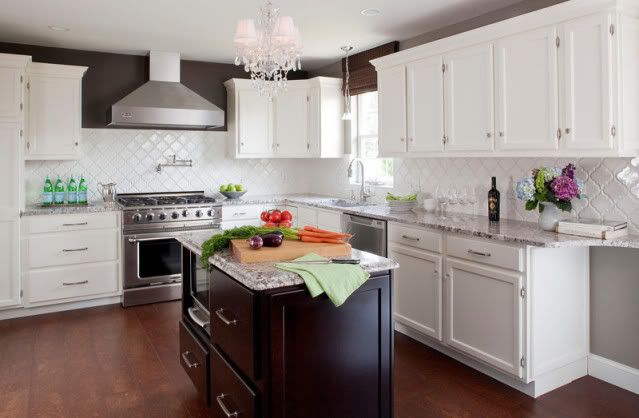 ---
| | | |
| --- | --- | --- |
| RE: Does ANYONE like builder grade oak cabinets? | | |
We painted our oak kitchen cabinets white when we remodeled. We wanted granite, and the oak was too busy (for us) with the granite we liked. But, we left the oak in the rest of the house (built in 1986) and I really like it! I didn't want it all painted, and it would have been a big expense to do it. I love the warm color of it. We're even going to build a window seat with oak to go with it.
---
| | | |
| --- | --- | --- |
| RE: Does ANYONE like builder grade oak cabinets? | | |
I like both Susanak and Awmo3's cabinets. Neither look dated to me. Now my old kitchen cabinets had a pronounced arch on both the top and bottom and after many years of sticky hands the finish wasn't good. I had them refaced with a darker toned maple and I like them a lot. I still have the original cabinets in both bathrooms (but darkened them slightly) the laundry room and the living room. I haven't decided what to do about those yet.

I also like white cabinets. My mom's house that was built in 1994 had white cabinets that still looked stylish when I sold the house in 2007.

Her house before that was built in 1969 and had solid cherry cabinets.
---
| | | |
| --- | --- | --- |
| RE: Does ANYONE like builder grade oak cabinets? | | |
beekeeperswife -

I think I saw your makeover on another thread, and was very impressed. White kitchens ARE classic, but so are wood kitchens. Either way, popularity comes and goes, so both will ultimately look dated and I think you'll be able to date the white look to a certain time period (even if it continues to be attractive.) That's not necessarily a bad thing, but I do think that some people will tire of it and wish they had whatever is the next popular look. I'm not that old - mid-30s - but I've finally been around long enough to see the fashion cycle.

I LOVE the white look right now - it does look clean and nice. But I'm giving a "shout" to the natural wood, too. ;-) I'm finding that once I let go of the idea of painting it, there are a lot of ways to accessorize and make it look really warm and homey. I'm beginning to think that in my particular setting, the white actually isn't quite right. Again - this thread is NOT to knock the white - I think it's gorgeous - but to find out who still likes wood or is managing to live with their wood and enjoy it.

Funny you (and some others) have mentioned the grain issue. With my bathroom cabinet I painted espresso, the grain does still show, but to my amusement, that is the only reason my husband likes them. Up close they look as if they were finished in an opaque stain or a dye rather than with paint. I was originally firmly in the camp of wanting to fill the grain (and quite frankly thought the primer would do it) but now it doesn't bother me. I can go either way.

awm03 - I like your current cabinets. They're a bit dark for me (purely a personal preference) but I like the beadboard panels. I think you could do a lot with those cabinets - accessorizing in the same way we've discussed with the lighter oak.
---
| | | |
| --- | --- | --- |
| Photo | | |
By the way, did you have that photo professionally done? The lighting is so different from the one above and it's so beautifully staged. It looks like a magazine photo.

Also just to add... and echo what I found in that other thread link I posted... it's difficult to anticipate what a future buyer might like, especially in a hodge-podge neighborhood like mine. I might paint everything white and then get some rural buyer who is dead-set on natural wood. So, that's another reason I've decided to keep what I have. It's not all about the future buyer, it's about what I want, too, but I do give thought to largely irreversible changes a buyer might not like. In my case I'd rather leave the "default" option and let a future buyer paint if they want to. Of course, this is speaking from the perspective of knowing we'll sell in the next 5 years. If we were going to be here for 20 or 30 years, things would be different.
---
| | | |
| --- | --- | --- |
| anyone like builder grade oak cabinets--yes. | | |
lizzie, I think you may have hit the nail on the head. The stained cabinets are "homey", I know what you mean. But in my mind that also means, darker, warmer, more country-ish. And I have had that look for oh so long that I really found myself leaning towards a "cleaner" brighter look, I needed a change. You might even notice in my photos, that I had all that stuff on top of the cabinets, and when I was done with the painting, I didn't want anything up there. Looking for a more minimalist look--but not the true minimalist, if you know what I mean.

And I totally understand about the grain. I have used java colored gel stain on my vanities, and I like the grain there. I just didn't want the grain on my white kitchen cabinets.

But back to your original question, yes, people still love their builder-grade oak cabinets. Do a search for houses that are for sale. You will see the description that reads "new gourmet kitchen", and you will look and see the familiar oak cabinets. People are either still installing them, or they are certainly embracing them and just updating around them.
---
| | | |
| --- | --- | --- |
| RE: Does ANYONE like builder grade oak cabinets? | | |
I think the "country-ish" aspect of wood is why it works better in my particular setting than white might. I do NOT generally go in for the country-kitschy look (I live in a rural area now but spent most of my adulthood in big cities, including abroad) but have finally realized that wood might work best here. Another issue, besides the number of windows which look out into the woods and onto a wood deck, is the fact that I have sort of a "semi-open concept" kitchen/living room. The kitchen is largely open to the living room and given the look of the living room (earthy tones and textures) the clean white probably wouldn't go. I've looked at a lot of makeovers, like yours, and practically drooled, but then I've had to sort of step back and realize that what is perfect in one house might look out of place in my house.

Now this raises an issue... if I were putting in a brand new kitchen, what would I put in? I wouldn't put in what I have (it was a spec house my husband bought before he knew me) and I don't think I'd go with the "gourmet kitchen" look of rich wood, black granite, and stainless steel... but white wouldn't look quite right... so what would I go with? Hmmm. Hard to say!
---
| | | |
| --- | --- | --- |
| RE: Does ANYONE like builder grade oak cabinets? | | |
Several yers ago, I "freshened" up my double, builders grade, oak BR vanity by cleaning well, lightly sanding the sheen and applied a good coat of semi-gloss polyurethane. It looked 100% better. On the cheaper doors and cabinets, sometimes the original finish is not sufficient. The finish was wearing around the drawers and door handles, hairspray stuck to it and didn't clean well, just looked "drab and lifeless. The new coat of poly enhanced the color and depth of the wood, provided a protectant from normal wear and tear, and was so much easier to clean. It still looks good, but I am going to be replacing in the near future in bath remodeling project.

I have seen many of these types of oak kitchen cabinets and if I didn't want to take on the huge job of painting or stripping and refinishing, I would definitly add a fresh coat of poly. But, I would use satin finish in the kitchen, to give a more natural look.

On the other hand, I painted a smaller oak vanity in DH's bathroom. Same scenario - showing wear and tear, drab looking, but I chose to go with white. I cleaned well with TSP, sanded, and used Zinzzer Bullseye 1-2-3 primer - anything will adhere to that stuff. I used SW Pro-Classic WHite Dove paint which has been compared to the BM Impervo for cabinets.
Honestly, the paint finish is very strong - feels tougher than the original poly that was on there. I did a little test the other day - tried to "dent" the paint with a fingernail - it didn't even make a mark.

To answer the original question, yes I would like oak cabinets if they worked in my decor, if they suited my lifestyle, etc and that the wood looked as good as it could
---
| | | |
| --- | --- | --- |
| RE: Does ANYONE like builder grade oak cabinets? | | |
Hmmm... interesting. I *think* that the cabinets we have (both in the kitchen, where they are more shaker style, with the squared recessed panels, and in the bathrooms, with squared raised panels) are just cheapy-cheapy. I don't really know since I wasn't around when the house was purchased, and my husband also had no say in what was chosen, since it was a spec house. But, they're all very square (not uneven) and solid, and the finish has held up for over 8 years. Maybe they're a little higher-quality than standard? Or we just aren't very hard on them? (No kids, just cats.) They seem fine, as far as wood goes (I just wash the fronts every now and then with a little Murphy Oil Soap.) Maybe if my poly were bad, I WOULD paint or add new poly. They don't seem lifeless, but I feel like I'm bombarded with messages that they are very dated and not desirable.

Maybe I haven't given the paint on my bathroom cabinets a chance - it hasn't been on very long, and the room (of course) gets very steamy. Maybe it would be different in the kitchen. The Behr Premium Plus Ultra was specifically mentioned in a couple blog posts, and is supposed to be ultra-durable, and mildew-resistant. The Glidden Gripper primer is supposed to be the top choice (among water-based) where adhesion, rather than stain blockage, is of utmost importance. It was recommended above Zinsser or Kilz. I did MONTHS of "research" before deciding on the particular products for that paint job, and I guess I'm pretty satisfied with it (save for having a husband swing around a ladder) but am still worried about doing it on a larger scale.

All that said, this thread is actually making me more pleased with my choice of keeping the oak in the kitchen... the wood seems to work for me but I had wondered if I was really just hopelessly backwards. :-) (I did really need to paint that bathroom vanity, since I had a whole vision and had gone with oil-rubbed bronze fixtures, even swapping out the outlets and switches to brown so that they would go with oil-rubbed bronze switch plates, and making changes to the wall in order to fit a new light fixture... alas, the natural wood did not go with all that stuff and I didn't want to have to have all that effort go to waste.) The espresso and new wall color goes MUCH better. That said, I believe the new bathroom look is also going to be dated soon, just as a white kitchen might be. (Even more so than a white kitchen, maybe.) But I started it, so I had to finish it.)
---
| | | |
| --- | --- | --- |
| RE: Does ANYONE like builder grade oak cabinets? | | |
I hate the builder grade oak cabinets and generally oak anything. I just don't like oak. It looks cheap to me. It has a tendency to look orange. Just my ever so humble opinion. I have always loved white kitchen cabinets and have never tired of them. We have had them in more than one home and I would do them again. I consider them classic. We have them w/ black granite and have the classic black and white kitchen that I believe is timeless. We have been married 30 years and I have not wavered thru the years w/ all the trends. I just change paint, window treatments, etc.
---
| | | |
| --- | --- | --- |
| RE: Does ANYONE like builder grade oak cabinets? | | |
We dont mention o*k on this forum (unless it is quarter sawn or on the floor).
---
| | | |
| --- | --- | --- |
| RE: Does ANYONE like builder grade oak cabinets? | | |
To Beekeeperswife: what kind of wood filler prodect did you use? Is it like spackle? Did you just trowel/scraper it on and then sand? Just curious.
---
| | | |
| --- | --- | --- |
| RE: Does ANYONE like builder grade oak cabinets? | | |
I don't like builder's grade anything. But, it's a quality issue, not a material issue. Crappy oak cabinets are crappy oak cabinets. Crappy cherry ones are crappy cherry ones. Crappy white thermofoil ones are crappy white thermofoil. Bad quality exists in every style.

Good quality oak cabinets can be beautiful, especially with green accents and brass hardware. It's classic, and it's coming back in style even now. Even if the style is somewhat dated, it can still be beautiful. You can work with good bones, even if it's a cathedral door partial overlay. Embrace it for what it is. Embrace the oak and the grain and it's whole orange palette. Or paint them. Or gel stain them.

Just don't try to put lipstick on that oinker. If they are crappy builder's grade veneer panel oak with gouges where the partical board is showing through everywhere, PLEASE PLEASE don't go and slap some granite on them and call your kitchen "updated". You'd be better off just changing to a different laminate counter than you would doing the new granite on the old oak. Have some respect for that granite and give it a suitable setting where it looks at home rather than making everything around it look even worse by the contrast.
---
| | | |
| --- | --- | --- |
| RE: Does ANYONE like builder grade oak cabinets? | | |
susanka and awm03 I really like your kitchens!!! They are great examples of why I think oak can be lovely!
---
| | | |
| --- | --- | --- |
| RE: Does ANYONE like builder grade oak cabinets? | | |
Funny...I had no clue as to what was "in" or "out" when I picked new cabinets 6 months ago to replace my damaged ones. I didn't know GW existed and just chose what I thought looked nice...maple with recessed doors and a subtle arch on top cabs. Figured it matched my art deco decor. Only after they were installed did I discover GW and hear over and over that "arches are outdated". But I see arch styles prominently displayed in kitchen showrooms and home improvement chains, right along w/shaker doors and other styles. So what gives? Some people must still be buying them, right? I also see quite a few pretty oak styles displayed too. Hopefully everything will be back "in" one day...so those with an "outdated" kitchen just have to wait it out...then they'll look trendy and brilliant! I agree it's the quality that matters...in any finish, any shape.
---
| | | |
| --- | --- | --- |
| RE: Does ANYONE like builder grade oak cabinets? | | |
Do I NOT have builder grade cabinets? Mine are real wood, not veneer, on all cabinet faces. Isn't that builder grade? There can't be gouges with particle board showing through, except on the ends, because it's solid wood. Mine, anyway, are in fine shape.
---
| | | |
| --- | --- | --- |
| RE: Does ANYONE like builder grade oak cabinets? | | |
We have the oak cabinets. They're in good condition and don't look bad. My husband loves the wood and I thought they were beautiful when we first moved in, but I think they limit you on the decor you can use with them. They also caused a problem when we installed our flooring because I worried that if we had oak cabinets as well as oak floors, the grains together would have been too busy. As a result, we ended up having to use a different wood in the kitchen & dining area when I would have preferred it to all be just the oak. The other problem is I'm also in love with white kitchens though the ones I'm drawn to are much more open then ours is. To turn this space into the kitchen I really want would be too expensive. In this economy, I'm quickly learning to embrace what I have and to just "make it work"!

In a couple of weeks we are having our kitchen window replaced and enlarged. We're also going to move some of the cabinets around, change the lighting, paint and add a backsplash. I'm hoping the changes we make will at least help to open the space up.
---
| | | |
| --- | --- | --- |
| RE: Does ANYONE like builder grade oak cabinets? | | |
That's true about it being limiting, but then again, any color, even a "non-color" like white, can be a bit limiting, in different ways. I don't think oak floors with oak cabinets would have been too busy - looking at your cabinets, they don't look busy at all. I think that when you look at one element up close, it can look busy because of the grain, but overall, when you step back, it just blends and looks fine.

I agree with the comment above about not slapping granite on the counters, combined with existing worn oak cabinets, and calling your kitchen updated. But, I don't think anyone here suggested doing that. My cabinets are in like-new condition. I also am not all that enamored of granite (even though I live in the "Granite State".) I think it is another kitchen material which is losing its popularity. I'd go with soapstone, not because I think it would create a "high-end" look, but because I personally like it and think the color and sheen would go well with my cabinets and color scheme. I agree that 1.) it doesn't make sense to upgrade beyond the general level of the rest of your house, or your neighborhood, and 2.) to have dramatically different levels of "luxury" in the materials seems odd and sometimes does only point out the "cheapness" of the cheaper material. Soapstone to me is an exception, because although it is actually more expensive than granite, it is subtle and more natural-looking than polished granite, and I think can go with almost anything. Honestly for me, it would make zero sense to put in a $50,000 gourmet kitchen when my current house is a modest cape on 9 wooded acres in a rural setting. It's not about the money or about begrudging others having that - we actually live well beneath our means - it's about what makes sense here. Nobody has kitchens like that, and no buyer expects a kitchen like that, and no one is going to pay a premium to buy a house with a kitchen like that, so it would be money down the drain. So, better to make do with what I have now, which in the past I thought might mean painting the existing cabs, but now I think means keeping them as is.

That said, your color scheme, lukkiirish, is very similar to mine. My wall color might be slightly more creamy than yours - hard to tell - and the room is more open, with more natural light. But, I think it actually brings in options for lots of colors - greens (mine are mostly in the form of trees outside which show through large windows, and plants inside), blues (mine are mostly in the form of blue glazed flower pots - one on the table, one in the window sill), oranges (mine is mostly from natural terra cotta pots with herbs on the window sill) and reds (mostly in a hooked rug which also has all those other colors.) All that wouldn't go in every setting, and I usually don't go in for that much color, but I think it works in my kitchen and actually WOULDN'T work in a white kitchen.

The one thing I notice about your kitchen, more than the fact that it is closed off, is the fridge. It seems to dominate. Maybe you could either get a counter-depth fridge, or reposition it? What's on the other side of the cabinets/counters we see in the foreground in this photo? Could you put the cabinets on the left against the wall, rather than perpendicular to it?
---
| | | |
| --- | --- | --- |
| RE: Does ANYONE like builder grade oak cabinets? | | |
Awm I really like your cabinets!

I have newer oak cabinets that are in good shape. I actually even picked them. I think mine are really starting to turn orange and I dislike that. I've discovered I don't have any problem with oak but it's the light color that I'm not wild about. I wouldn't like then anymore if they were light maple - acutally I think I'd like them less. I prefer dark wood and our kitchen is the odd ball of the house.

I've considered painting them white and think they'd look much nicer but I also believe I'd kick myself down the line. I get that cozy/homey feeling from wood too. I considered staining them and think, when the time comes, I'll try that first. DH is currently very against me touching them for some reason. He's left me do whatever to everything else so I'll leave it alone for now.

If money grew on trees in my backyard, I'd gut my kitchen, change the layout, and stick in dark glazed cabinets with lighter counters. I'd also repaint the walls gold.

I've found that I can stay much more content with my kitchen if I don't spent time looking/dreaming at ones that make me drool.
---
| | | |
| --- | --- | --- |
| White builder's grade | | |
Also I just want to second the comment about "builder's grade" being the biggest problem, rather than the oak itself being the whole problem. I was at Lowes the other day, and wandered through the kitchen displays. There were some cabinets I loved from a distance, but up close, I thought they looked much worse than my oak, in terms of quality. A large number of sets looked like molded plastic, or laminate. By "molded," I mean that the panel and rails and stiles were all one piece, rather than having a panel inserted in the door. One had the look of "glaze" on top of white, but it wasn't done well, and my husband commented about people intentionally buying cabinets which look like they got dirty from cooking and were never washed. The feel when you opened and closed the cabinets was also terrible - less substantial than mine. I was feeling less and less bad about my cabinets. Those particular white sets looked like they would have been great in photos, but not good in person.
---
| | | |
| --- | --- | --- |
| RE: Does ANYONE like builder grade oak cabinets? | | |
Lizzie, yes the fridge which is less than a year old is predominate in the room, but there really is no other place for it unfortunately. I agree with your comments about the greens, that's the direction we're headed into now.

In regards to the comment above about the granite

When we moved in, this house was a fixer foreclosure and desperately in need of work. Even though the cabinets have a low grain, a prettier not so in your face amber tone and were/are in mint condition, the laminate counters and vinyl floors were blue (to match the cobalt blue walls) and in very poor condition. I don't like laminate period and would never ever pay for something we don't like or want regardless of the circumstances. Since we could easily afford granite and we wanted granite, that's what we got. At almost 50, this was our first chance at home ownership and we feel we've waited long enough for the opportunity to turn a house into a home that we wanted to be in. I admit that I've been hoping that I'd eventually be able to change out the doors for a shaker style and paint, but DH is adamant, he does not want that. We've come up with a compromise where he'll agree to let me gel stain, but with gel stain you can only go darker so I may just leave the color as is, embrace it, and move on with the fixes I can do. I think list of changes we plan on doing will help the space a lot.
---
| | | |
| --- | --- | --- |
| RE: Does ANYONE like builder grade oak cabinets? | | |
>> any color, even a "non-color" like white, can be a bit limiting

This is definitely true... Our bathroom in the new house is mostly white -- white tile floor, white toilet, white pedestal sink, white tub, white tile walls. Problem is that we want to decorate in a "Moorish bath house" style, which is decidedly not white, LOL.

I do not like the oak cabinets, but I think it's mostly because they were so over-used, and maybe the orange color, too. We are lucky in that we have hickory cabinets which I don't think date to a specific time period, so it's not really out of date, because it never was the trend, LOL. But they do stick you squarely in the "rustic" look, there's no getting around that.

I like the look of the white kitchens when I see pictures, but I don't think they are classic, and they will look dated in 10 years when something else is the new trend. I am currently struggling with the "white walls, white trim, white furniture" trend because my house has dark wood trim and paneling, and I know that it could look better if I painted it all, but I also know that once that trend is over, I'm going to regret that I painted it all.
---
| | | |
| --- | --- | --- |
| RE: Does ANYONE like builder grade oak cabinets? | | |
Oh, lukkiirish - I didn't mean the comment about granite with cheap cabinets to be a commentary on your setup - I was just agreeing with what a general comment another poster made. I think that your granite looks good. Quite frankly, I think your kitchen looks very nice as is... even if the cabinets are builder-grade, it doesn't look cheap. You've got stainless steel (I actually like black or white appliances, too), the over the range microwave, wood floors, and an attractive wall color that ties it all together. I think it all blends and looks like a comfortable mid-grade kitchen, which is all most people want. I probably wouldn't change anything, in terms of finishes... I actually prefer paint as a "backsplash" when compared to many of the other options. I was thinking of people slapping polished granite on counters when the cabinets are worn and everything else is cheap. Then there can be an odd mismatch between materials. I don't think that's your case, at all.
---
| | | |
| --- | --- | --- |
| Painting wood trim | | |
P.S. sashasmommy - although I am partial to white trim (though not white walls unless you have just the perfect furniture to go with it... otherwise they look unfinished) I don't think anyone with good wood trim and panelling should paint it! You will regret it. If it's just cheap stuff that was slapped up and is no better than painted trim, then maybe go ahead and paint it. But if it's all real wood (and especially if it's historic) don't paint it! You will probably regret it down the line. At some point decorating magazines will show wood tone trim.

I try to keep from falling into the "tunnel vision" trap that decorating magazines can sometimes set up by looking at my collection of decorating books from the last decade or so. I've got some cottage style books, one about flea market decorating, and one which is not exactly a decorating book - it's called "At Home with Books," and shows the (amazing!) home libraries of collectors, writers, and others. These books all show an eclectic group of styles, not any one trend. And if "At Home with Books" doesn't make you love your dark wood and make you want to go even MORE in that direction, I don't know what will.
---
| | | |
| --- | --- | --- |
| RE: Does ANYONE like builder grade oak cabinets? | | |
re granite on builder's grade cabinets = lipstick on an oinker, well, that sounds good in theory.

IRL, who says this is a strict rule that must be obeyed, & why do you want to deny people something that would make them happy? It's like saying you can never have anything nice in your kitchen because YOU HAVE CRUMMY CABINETS. Don't even think of buying pretty, practical granite with THOSE cabinets. Don't dream of a pretty backsplash either. And you must always have sheet vinyl flooring because of those CRUMMY CABINETS! Bullsh*t. Low quality cabs aren't a life sentence, for goodness sake.

My niece bought a plain 50s two BR, one bath ranch that the PO upgraded in a flip. She has granite on builder's grade cabinets, plantation shutters on builder's grade windows, and a pretty vessel sink & fancy faucet in that one tiny bathroom. She is thrilled with her home and adores the granite, her favorite thing in the house. Are we supposed to sniff at her lack of taste or something?
---
| | | |
| --- | --- | --- |
| RE: Does ANYONE like builder grade oak cabinets? | | |
I agree with you Awm03 100%. I have seen kitchen reveals where the 50k-100k+ peacock like kitchen looks so out of place in there 300k modest home that I feel they would have had a nicer more cohesive look had they just upgraded with what they already had. I think for everyone who dislikes builder's oak or any oak, there is someone else who dislikes white kitchens. Neither side is right nor wrong it is only one's taste and as such only subjective to opinion and never fact.
Lukkirish your kitchen is also a wonderful example of why oak is still a valid cabiner choice imo.
---
| | | |
| --- | --- | --- |
| RE: Does ANYONE like builder grade oak cabinets? | | |
Lizzie, I didn't mean to sound like I was making a fuss with you, I'm sorry if it came across that way. I wasn't offended by anything said here and knew you weren't pointing your comments my way specifically. When I had originally responded, I hadn't read all the thread (bad habit) and didn't even see what had been written. I went back to read it after your response and was trying to say to that same poster that hey people on the board have their reasons for doing what they do and to explain one such reason

Each family has their own take of what's right for their space and there are lots of different reasons for the decisions we make, be it financial or preference. The "rules" are a guideline only and don't always fit every situation. Thanks to you and Roarah though for your kind words, I do appreciate them. And I don't think AMW could have said it better.

I don't know about anyone else but lately especially with this economy, I find myself yearning for things of yesteryear. I did a thread on the update of our dining area and the 20 year farm old table I tried to replace. Nothing felt as right and I ended up refinishing and supplementing it with new chairs and a used hutch instead. I'm really into the consignment thing also trying to find decor that I've ALWAYS loved even though it may not be the "it" thing of today. I'm not sure if what I'm doing will even fit in well with those oak cabinets (and that's another thread) but does it really matter if it makes us happy? Seems like the oak is staying and lately considering what a lot of others are experiencing, I'm just so thankful I have them, it could obviously be so much worse.

This thread reminds me of a house I showed to some clients a while back. It was a larger, well maintained but older tri level. To our surprise, the kitchen had it's original dark oak low grade cabinets but the homeowners had gel stained them and installed beautiful granite. At a glance you couldn't tell they were old and it looked nice, but then my client pulled out a drawer and the front fell off. They obviously weren't impressed and commented that the money to "upgrade" was sort of a waste. So I do understand there are some cabinets that should be replaced before going to the expense of stone, still if the buyer kept the same layout, it would not be hard to keep the stone and update the boxes. Just another way of looking at it.
---
| | | |
| --- | --- | --- |
| RE: Does ANYONE like builder grade oak cabinets? | | |
I've found this thread really interesting. I have oak cabinets, although they're not builder's grade, and I've gone back and forth about having them painted or refaced. But my current plan is to gel stain them a little darker.

To answer your question, I think some oak cabinets can look quite nice--some of the photos posted above are good examples. My parents redid their kitchen a few years ago (new cabinets, stainless appliances, granite, new backspash, etc.) and I was surprised that they chose oak custom cabinets. But I really like my parents' cabinets, and that made me rethink my prior 'i don't like oak' mindset. I think the color of the finish makes a big difference. My parents' oak cabinets have a slight reddish tone to them, and the grain is not as pronounced as mine, and I think that is what makes them look so nice.

The cabinets in my house are really good quality custom cabinets, in a mid-tone non yellowy oak, that the prior owner had installed about 11 or 12 years ago. They're in great shape, and probably higher quality than anything that would be in our budget for remodeling (we plan to move back into the city in 4-5 years so don't want to dump a huge amount into the kitchen). But I don't like the color of the finish at all. I'll be honest, I hated the cabinets at first; but before I moved into the house I replaced the royal blue faux marble(!) laminate countertops with a nicer laminate and changed the white & blue porcelain knobs, and that made the cabinets look a lot better. Recently, DH and I have decided that they're really not bad looking, but would look better darker. Of course, the fact that i've lived with the cabinets for almost 7 years may be influencing my opinion; dare I say that they've grown on me? Anyway, we'll darken the cabinets (I may replace the arched uppder doors too), and then in the spring we'll replace the countertops with granite. And I am keeping my fingers crossed that when all is said & done I'll have an oak kitchen that I really like.

I love espresso stained oak cabinets, but I don't think that look would go with my traditional dining room (which the kitchen partially opens into).
---
| | | |
| --- | --- | --- |
| RE: Does ANYONE like builder grade oak cabinets? | | |
Beekeeperswife, I did something similar to what you did. Your kitchen is gorgeous.
I think oak and white kitchens are both classic though I dont appreciate the look or grain of oak as my husband and many others do, its just a matter of taste. Both have a homey and comforting vibe so they will likely stand the test of time.
As to suggestions a poster made that they may become dated someday, anything is possible. However, country and manor style kitchens have been around and in vogue longer than any other style.
The glazed look over whites is thought to be passe already according to many on this board and many kitchen designers, but in higher end kitchens its still being used, as is a chateau or manor design in a style of homes, theyre still being built. Its rich and beautiful, like an antique chandelier, who is to say it will go out of style.
On the other extreme, a family member just did a fabulous super modern sleek kitchen, and I cant help but think that in some future years, it will be labeled dated as a look from 2010. Put in what appeals to you and you can afford, and dont worry about what others think.
---
| | | |
| --- | --- | --- |
| RE: Does ANYONE like builder grade oak cabinets? | | |
I can appreciate an enormous range of styles in the context of a staged, magazine photoshoot.

However, count me in as someone who prefers decent quality wood cabinets in real life. Sometimes, I'm not quite as vigilent in removing grimy fingerprints from cabinet doors as promptly as my speedy Aunt Gladys. I also live where there is snow on the ground half the year, and the thought
of a white kitchen in this climate leaves me cold (pun intended).
---
| | | |
| --- | --- | --- |
| RE: Does ANYONE like builder grade oak cabinets? | | |
I don't even think it's necessarily a question of whether the oak is dated. The fact is certain of these types of oak cabinets are just about the cheapest wood cabinets available, and rarely is bargain basement stuff that great. I should know--I have the holy trifecta of nasty kitchen cabinets--cheap oak, arched top, and PICKLED!!! YUCK!

Granted there are some fine oak cabinets, but most of them are builder grade junk, just like the ugly "cultured marble", whatever that misleading term means, that I have in my bathroom.
---
| | | |
| --- | --- | --- |
| RE: Does ANYONE like builder grade oak cabinets? | | |
If the cabinets are good quality, and in good shape (or can be gotten there with a bit of effort) then there is nothing wrong with choosing granite or anything else that pleases you if that is what you want.

The problem lies when your cabinets are not good quality and not in good shape. Builder's grade cabinetry is not synonymous with good quality. Some poor quality cabinets wouldn't even support the weight of granite. If your drawer glides are pulling out and can't be put back in place because it pulled a whole chunk of particle board with it when it collapsed, or your white thermofoil has browned and bubbled next to the range from too much heat, then putting money into anything expensive to update those cabinets is a waste of that money. It IS foolish to put lipstick on pigs. If you're only putting on some $6 Cover Girl until you can afford to butcher that pig, that's one thing. But to go out and try to color match the perfect Chanel shade to his pretty pink skin.....well, it's your money, but if money wasn't an issue, you'd already be grabbing the butcher knife, wouldn't you?

When you put in stone tops, you are locking those crappy quality cabinets in place. You're not going to be able to pull the tops and replace the cabinets later and then reuse the granite. No contractor would ever guarantee that the stone wouldn't break. So don't do it unless the bones of those cabinets are sound.

I don't think it's wise to put 10K worth of rims on a crapped out 89 Escort or pull cash out of a home refinance for a Bermuda vacation either, but that's a whole nother story.
---
| | | |
| --- | --- | --- |
| RE: Does ANYONE like builder grade oak cabinets? | | |
It is a matter of taste, not meaning liking or disliking oak is good or bad taste, just one's preference. I don't like anything oak- not cabinets, furniture, or floors (which I have and would love to replace). Give me maple, cherry, or mahogany. JMHO.
---
| | | |
| --- | --- | --- |
| RE: Does ANYONE like builder grade oak cabinets? | | |
Count me as odd man out. We love oak. We have oak floors and many antique oak pieces. Love the patina of the old oak pieces and of course, it's not the "orange look". I believe that may come from a clear coat (poly) used over the stain in some cases. Most of our oak is a mid to darker color. We built our house and chose custom oak cabinets. Our house is almost 15 years old and the cabinets are orange in any way. The stain, I believe, is provencial. No heavy poly coating. Beautiful grain, no orange.

I could never be happy with the white-white (stark or bright white) look. I've seen some gorgeous white kitchens (such as Bee's!!) but they are just not us. If we were building again I might go with painted and glazed cabinets (maybe a light gray?) and wood countertops. At least a wood countertop on the island.

tina
---
| | | |
| --- | --- | --- |
| RE: Does ANYONE like builder grade oak cabinets? | | |
We built our house 15 years ago, and got the standard oak cabinets. They're looking pretty orangey now. They're not what I'd pick today, but I'd rather work with them than paint them or replace them. So I'm working on a color scheme that will work with them. I have slipcovers from World Market in a sort of brick-red pattern (http://www.worldmarket.com/product/index.jsp?productId=4448276) and I'm looking at getting some curtains from there that have that color as well as others (http://www.worldmarket.com/product/index.jsp?productId=3596641&clickid=body_rv_img).

And I totally agree that there's no such thing as an ageless kitchen. The remodeling industry doesn't want it that way! That's why they have all the trade shows and articles about "hot trends." I've ready recently that (supposedly) the next big trend in kitchens is dark-stained wood. Here we go...!
---
| | | |
| --- | --- | --- |
| RE: Does ANYONE like builder grade oak cabinets? | | |
Lukkiirish - no worries... I was just worried that you had thought I was being critical of your choice of granite, so I wanted to clarify.

It's very interesting that you say you find yourself yearning for things of "yesteryear." I'm doing the same thing, and I don't know if it's the economy, which fortunately hasn't affected us directly, or if it's just my age, or what. I've been scouring ebay to find items I had growing up, which my parents have since gotten rid of. These include a Pfaltzgraff jug lamp (folk art pattern) and Corelle "crazy daisy" pattern dishes. (Two very different things.) I also want a manual coffee grinder... old style, with a crank and a drawer. (I can't believe my mother got rid of theirs!) And, I really really want a working rotary phone, but alas, while you can buy an older-style phone, the rotary dial does not work with most telephone companies' systems anymore, so you have to get one with buttons. Oh, and all I want is a small tube TV (of which I have several in the basement) instead of our 50" flat screen monstrosity, but that will NOT fly with my husband.

It's funny that all these things my parents got rid of (and which I encouraged them to get rid of) because they were "dated" are now things I want. And it's not that they've come back into style or anything like that - they just seem homey to me.
---
| | | |
| --- | --- | --- |
| RE: Does ANYONE like builder grade oak cabinets? | | |
We recently purchased a great lake house to use as a vacation house now and to retire to in about 6 or 7 years. The house is a real project house... every room is paneled, crazy floorplan, etc. The kitchen is big and the layout isn't bad so it's on the bottom of the list for renovations.
The cabinets are dark oak and honestly are pretty good quality. I have to live with the white formica countertops for now. I do want to spruce it up a bit. I plan on painting the paneling and retiling the backsplash. What colors do you think would be good for the walls and tile backsplash?




---
| | | |
| --- | --- | --- |
| RE: Does ANYONE like builder grade oak cabinets? | | |
Haven't read all the replies but I'm speaking up anyway. I love oak. Always have, always will. I have mission oak, both antique and new, and many other oak pieces with lots of different finishes throughout my house. Some people don't like the grain but I do. It looks like, gasp!, wood. Oak goes in and out of style pretty regularly so I wait until it's out and then I buy!
---
| | | |
| --- | --- | --- |
| RE: Does ANYONE like builder grade oak cabinets? | | |
Your kitchen will look tons beter when there are not so many wood tones and texture next to each other. I love green and blues next to dark brown woods but Lukkiirish's cream looks really nice near her light oak. I think painting the paneling and maybe new hardware for cabs will go a long way! My mahagony stained oak cabs abut behr ryegrass it is a soft light green and I like the combo. here is a pic.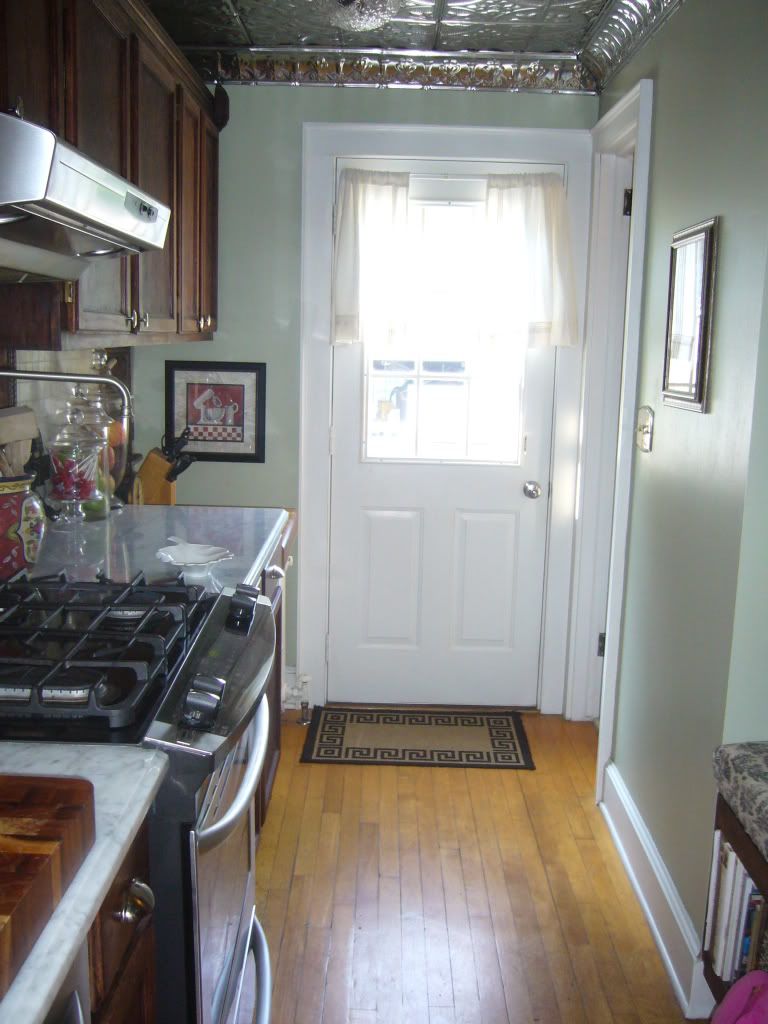 ---
| | | |
| --- | --- | --- |
| RE: Does ANYONE like builder grade oak cabinets? | | |
To the original question - does anyone like builder grade oak cabinets - my answer is no. But that's mainly because the particle board parts of the drawers and carcass usually come apart at some point, like the drawer front that came off in someone's hand.

The thread seems to have veered off into a question of whether even solid oak cabinets are liked, and or dated. I love my oak cabinets even though they need to be refinished. They are good quality, custom built though, and I think that makes a difference. I also like painted cabinets, and might even go that route next time.

This thread kind of reminds me of something that happened in 1978. We bought our first house that year, and so did some good friends. Both our kitchens had painted cabinets. Mine were brown with yellow doors, which I hated, along with the fact that they were older. I stripped and refinished them and they looked so much better. They were a slab style solid wood though I can't remember what kind now.

My friend's cabinets (and house) were newer, white, raised panel with arched top. I thought they were gorgeous, but she thought they were terribly dated since wood was really in then, so she started stripping hers too. That's when she found out that the doors were made of particle board, and stripping ruined two of them.

All that to say that painted vs wood comes and goes as we've discussed here before. If you like your cabinets and they are in good shape, keep the wood finished. If not, paint them. Whichever you choose, it will come back if it's not in now, and it will be out if it's not now. And that's probably the same with arched tops, beadboard panels, aprons between cabinets, and so on.
---
Post a Follow-Up
Please Note: Only registered members are able to post messages to this forum.
If you are a member, please log in.
If you aren't yet a member, join now!
---
Return to the Home Decorating Forum
Information about Posting
You must be logged in to post a message. Once you are logged in, a posting window will appear at the bottom of the messages. If you are not a member, please register for an account.
Please review our Rules of Play before posting.
Posting is a two-step process. Once you have composed your message, you will be taken to the preview page. You will then have a chance to review your post, make changes and upload photos.
After posting your message, you may need to refresh the forum page in order to see it.
Before posting copyrighted material, please read about Copyright and Fair Use.
We have a strict no-advertising policy!
If you would like to practice posting or uploading photos, please visit our Test forum.
If you need assistance, please Contact Us and we will be happy to help.

Learn more about in-text links on this page here