Return to the Home Decorating & Design Forum
|
Post a Follow-Up
---
| | | |
| --- | --- | --- |
| Modern Architecture & Controversy | | |
Posted by
sochi
(
My Page
) on
Sat, Aug 18, 12 at 10:22
There was an interesting debate in the comments section on a recent Houzz ideabook regarding modern infill in traditional neighbourhoods. See the link below to the Houzz ideabook.

I'm interested in the views of the GW community on this. Most people in my heritage conservation district/neighbourhood prefer this type of infill:

over modern architecture, and I can understand why. The picture above is my previous house, we sold it four years ago. It was built in 1989. When I first went to see it I was interested primarily because it fit in perfectly with the two 19th century houses on either side of it, but didn't come with the expensive baggage of a century home.
But architectural purists (as I understand it) do not like this type of infill, as it confuses the public: what house is original to the period of the neighbourhood, what is infill? We live in a "heritage conservation district", and the by-laws suggest that infill houses should not attempt to replicate the original styles of the homes. Rather sympathetic modern interpretations, with pleasing and welcoming street scapes, are preferred by the professionals it seems, if not by neighbours.
Regarding the examples provided in the house idea book, I agree that the first couple of houses (see link and photos below) seem too large (way too tall) in comparison to the other houses. Also, I'm not crazy about the recessed entries - it doesn't seem neighbourhood friendly. But at least there are no giant double garages dominating (blighting) the landspace in the front yard (although that second house needs some serious help with landscaping).

What do you guys think of modern infill in traditional neighbourhoods? This is a truly universal issue I think, no doubt this conversation is happening in heritage urban neighbourhoods all over North American and Europe.

What do you think of the examples and comments in the Houzz ideabook?

I'm assuming here that infill will happen, for better or for worse. I would prefer that the lovely side rose garden remain forever (that is what my house above used to be), but we live very close to downtown and I support infill over ever expanding suburbs.
Here is a link that might be useful: Houzz link
---
Follow-Up Postings:
| | | |
| --- | --- | --- |
| RE: Modern Architecture & Controversy | | |
I am not bothered by the modernism, but I find the scale offensive to the streetscape in both examples.

But I would find a faux-historic house built to such a scale "wrong", too.

There is a movement against recreating a faux history here, I think, but the historic commission and neighborhood districts would still require that the house play well with the neighbors.
---
| | | |
| --- | --- | --- |
| RE: Modern Architecture & Controversy | | |
The scale of the two Houzz examples is to my mind (and yours too I guess) clearly a problem. But the modern design seem to bother many commentators too, the mere fact that they are modern and not 'traditional' like the other homes. I think there is a knee jerk reaction (at least in my area) to dislike modern just because it is modern, ignoring the fact that many of the houses in these neighbourhoods are varied, diverse and largely unique from one another. Uniformity seems to be the goal. (Uniformity is quite distinct from heritage preservation in my mind).

I wouldn't want to tear down a lovely 19th century home in decent condition and replace it with a modern home - but I have no problem with a properly scaled but thoroughly modern home in the neighbouring empty lot.

Perhaps this knee jerk reaction is because people haven't been exposed to enough 'good' modern architecture? Unfortunately most of the 'modern' houses in my neighbourhood are awful.
---
| | | |
| --- | --- | --- |
| RE: Modern Architecture & Controversy | | |
I always thought "infill" was such an elitist and dismissive term...

Youve shown two bad examples. Im not sure ive seen a good example that is right in scale, "fits", yet modern and not a slavish repro. Anyone?
---
| | | |
| --- | --- | --- |
| RE: Modern Architecture & Controversy | | |
I'm sorry, but both of those houses are hideous to me. I would rather see a contemporary interpretation of a classic form than these things. But my top preference would be for a house that at least acknowledges it's surroundings. It doesn't have to blend in, but it shouldn't jump out at you, either.

Some elements should mimic the surrounding homes. Maybe the roofline (every other house has a pitched roof, so design a modern house with a pitched roof). Or the exterior - do something that will look good in stucco if the rest of the houses are Spanish Revivals all clad in stucco.

I can understand the people who love Modern architecture feeling picked on because nobody gets it, but I have to wonder if they would drive by a street full of Victorian homes (painted ladies) & see one very simple Spanish Revival house with terracotta tile roof & stucco walls in the midst of it and think, "Wow, that looks odd."

Of course, I live in a neighborhood built in the 1960's so it's a mix of split-level, tri-level, colonial, gambrel, and cape cod style homes. We "bungalow-ified" our house when we added a front porch & haven't been thrown out of the neighborhood yet ;)
---
| | | |
| --- | --- | --- |
| RE: Modern Architecture & Controversy | | |
Great Question!

I live in a city that has a particular section of town with original homes similar in style to the first picture here by Sochi. That area has traditionally been working families, but due to its location close to downtown, it is starting to become more gentrified. There have been very well done infill homes that are done in the linear, minimalist style, but have been done....shall I say....artistically and expensively. They have Perfect scale to the existing homes, and good landscape and hardscape. It looks really good in my opinion. It makes the neighborhood seem trendy and desirable, these are lots on very steep hills so not the easiest to build. These infill homes say :I want to be here.

In another area of town, where homes were built between WWI/WWII, there were some infills done in the 1970s. These are the most butt-ugly things you can imagine. Ranches or split levels in a neighborhood with 4 squares and bungalows just looks terrible. They also seem to be cheap looking. In fact, most have ended up as rentals, because they offer no charm to buyers.

So....is the first scenario just better done....or just newer? Will it also seem undesirable in 40 years? Time will tell....
Here is a link that might be useful: article on infill in Kansas City
---
| | | |
| --- | --- | --- |
| RE: Modern Architecture & Controversy | | |
Just to be clear, I didn't post the two Houzz pics because I think they are great examples, as I noted in my first post, I don't think they are at all. It is the conversation they generated that I find interesting.

Why on earth is the term infill elitist or dismissive? Is there another term that refers to the same thing?

Agree that the two from Houzz aren't good examples. I have seen modern in the past that work well, but don'thave pics. I like good design and architecture of any style, including modern or Victoran, or whatever. I agree that there are fewer example of good modern generally. Maybe this style it is more difficult to master?

The scale issue is a big one, with modern or contemporary infill. Everyone seems to want a huge McMansion with multiple garages (or at least the developers think they do). These huge homes just don't fit in existing older neughbourhoods, whatever the style.

Engineerchick, I expect I would like your neighbourhood, I appreciate variety. I don't think I've seen any contemporary interpretations of classic styles that I like at all (we have a lot of that in my city), but I totally agree with that infill should at least acknowledge it's surroundings.
---
| | | |
| --- | --- | --- |
| RE: Modern Architecture & Controversy | | |
Here they have managed to do a decent job in some neighborhoods by keeping elements of the facade such as water table, cornice height, and window placement consistent, or at least in acknowledgement of the surrounding or neighboring houses.
---
| | | |
| --- | --- | --- |
| RE: Modern Architecture & Controversy | | |
My knee jerk to " infill" also senses the term as insider elitist, but realize it may come naturally to those in the industry. My impression of the two homes is " how dare you ?". How selfish to thrust your singular taste in the faces of the residents in a long standing neighborhood. Find a comparably "nice" area where the homes are already mixed, and for gad's sake, stay reasonably , appropriately , sized. The size issue (mc mansions in cottage streets) began awhile back, and I am slightly ambivilant on that subject when it's in a water close community. But this is a whole ' nother' thing. These two, while perhaps works of art(?) on their own, are abortions here.
IMO, of course :> )
Marti
---
| | | |
| --- | --- | --- |
| RE: Modern Controversy | | |
Sochi, you and pal made me stop and do a re- imagining . Reduced in size and set back from the street, softened by beautiful trees( I'm seeing Japanese maples) and shrubs, etc, I can now 'see' a starkly modern design house on those streets.
BTW, my objection would be sorta close to the same if the house were Arizona stucco accented with cacti and yucca.
---
| | | |
| --- | --- | --- |
| RE: Modern Architecture & Controversy | | |
I never imagined that the word "infill' was so loaded. I'm part of our neighbourhood's heritage committee and they use the term for new construction in established neighbourhoods. I really don't know of another term, but I guess I did learn it only since joining the heritage committee. It still escapes me how the word itself can be elitist though. I'm certainly no insider.
---
| | | |
| --- | --- | --- |
| RE: Modern Architecture & Controversy | | |
martinca - landscaping is so critical, it can make a HUGE difference. Reminds me of the modern house that kaismom posted a few weeks back. I think we all recommended lots of landscaping to soften look from the curb.

There is a new modern house not too far from my neighbourhood that I love. While I love the building itself, the landscaping makes a huge difference in the appeal of the entire property. I will try to take a picture of it.
---
| | | |
| --- | --- | --- |
| RE: Modern Architecture & Controversy | | |
I'm enjoying reading this discussion. I have to laugh, though, because I live in a community where a 1950's cottage will be next door to a huge modernist house with a Mediterranean-influenced ranch or 1970's no-style box right next to that. There are three houses on my street that have been taken back to the studs. I have no idea what the resulting houses will look like, but I'm guessing that they will look nothing like their former selves. I guess these re-dos are not infill in its strictest sense, but they do show an interesting transition. I wish, now, that I had taken pictures of the befores to contrast to the afters.

Like many of you, my frustration is more with the lot line to lot line scale with no graceful placement rather than any concern with the actual exterior style.
---
| | | |
| --- | --- | --- |
| RE: infill Controversy | | |
Re "infill", I cannot think of another easy catch phrase, either. Hmmm. I've heard the expression " back fill" in business, re. Employee replacements, which I found odd.
The reaction is similar to those disliking "shelter magazine", used by regular, non- designer or media folk, but I'm now thinking infill is simply a handy new word . For another topic on other side, but a reminder to self to re- think an opinion , see another side, keep an open mind.
TBS, it will take a lot of filtering down before I use infill ( or backfill!) in
Regular company. :> ) ..(.I hate this iPad spelling thing!)
---
| | | |
| --- | --- | --- |
| RE: Modern Architecture & Controversy | | |
I agree that scale is the issue in the examples and also in my area. I don't object at all to a mix of styles, but please don't force your huge out-of-proportion-to-the-neighborhood house on me! There are several instances near us where people have redone or added on to old homes with contemporary architecture. Homes are still in scale to the others around them and look great. Then, there are those that are built so large that they make the neighbor's homes look like garden sheds. Not so great, IMHO, in fact, not even nice.

I do not have a problem with the term 'infill' at all. I think it simply describes the situation without any kind of judgment attached. Don't see it as either elitist or dismissive and am not really clear on how it is interpreted to be so.
---
| | | |
| --- | --- | --- |
| RE: Modern Architecture & Controversy | | |
A recent article in a Seattle paper discussed one developer who has used a loophole in zoning regulations to erect tall houses on small lots adjacent to older, shorter, homes throughout the city. He argues that his is a green business as it's increasing urban density. My objection is primarily to the scale of the houses, which loom over neighbors. One of these houses was built next door to my old house, where the next-door-neighbor's side yard used to be. I feel so sorry for the owners of my former house.
Here is a link that might be useful: Seattle developer
---
| | | |
| --- | --- | --- |
| RE: Modern Architecture & Controversy | | |
"Infill" is, in fact, an industry term, which should strip it of any emotion or class connotation.

Urban economists, city planners, developers, and architects use it to mean adding density (sensitively, one hopes) to handle growth without creating sprawl. It goes hand in hand with sensitive urban redevelopment, and adaptive reuse of existing building stock.

Well-conceived infill development saves neighborhoods and protects the architectural and historic character of cities. The key words are "sensitive" and "well-conceived."

If we had the political will to create the same kinds of binding master plans and enforceable zoning for our public sectors that people who can afford it accept within their gated communities, our public life would be the better for it.

You won't see the level of rudeness and affrontery illustrated by those two houses in Landingworthinghamshireton Estates. One brick, two brick, lawsuit, checkmate.
---
| | | |
| --- | --- | --- |
| RE: Modern Architecture & Controversy | | |
In-fill housing is used to create new density in a neighbourhood on previously unused plots of land or in adding dwelling space to a current home. It doesn't refer to rebuilding a house on an existing lot without increasing the density.
The first pic posted by the OP may or may not be in-fill housing. I couldn't find out if a house had previously been located there or not. It is, however, an extremely narrow lot and if it was previously vacant and unusable prior to someone using their imagination to build on it then it is infill housing. Adding density to an urban environment. You may not like the house but there are usually extremely tight requirements on the addition of infill housing and they would have had to follow them> I don't know this city very well but this area is a mix of condos/apts, student housing, rooming houses etc. Now they didn't build to the the sidewalk and left green space around the home - which is often another requirement of infill housing.

The second photo posted by the OP is not infill housing - a SF dwelling was torn down (or it was a major reno) and another SF dwelling was built in its place. No increase in density UNLESS at the same time they constructed a duplex or added a studio sized structure in the backyard (think coach house). Either of these two situations would have increased the density and that would be in-fill housing.

So this discussion seems to have two tangents to it - infill housing and an inconsideration of a neighbourhood sensibilities when rebuilding a home.

Infill housing which causes an increase in the density of a neighbourhood results in a lot of NIMBYism. Even though it is necessary people don't want it in their neighbourhood - they know it's necessary but put it somewhere else.

Where I live real estate is extremely expensive and there has been an ongoing attempt to add infill housing in the central urban area of the city and people are trying it. However the requirements and by-laws for building infill housing are extremely stringent.
---
| | | |
| --- | --- | --- |
| RE: Modern Architecture & Controversy | | |
I love well mixed neighborhoods, vibrant and interesting--like their residents. Like any other design, this needs to be done well and very sensitively, but far more than most it has potential to be truly awful. For a long time.
---
| | | |
| --- | --- | --- |
| RE: Modern Architecture & Controversy | | |
Blfenton is exactly right about the distinction between adding density and just adding square footage on an existing built-out lot.

But "the requirements and by-laws for building infill housing are extremely stringent" is only true if your locality makes it true.

The rules, the restrictions, the kinds and strength of zoning, the loopholes, and the enforcement vary widely from jurisdiction to jurisdiction. It's very local, it's usually very political, and unless it involves a legally binding easement of some kind that is attached to the deed, it is always susceptible to change, for good or for ill.

The hardest thing to do in any kind of building regulation is to be subjective and still get the job done. You can specify set-backs from the lot lines, height, square footage, lot coverage, and even building materials - anything that is measurable. But finding a way to dictate style - essentially to say "you can't make something that looks horrible" - is very much more difficult. It usually has to be done by an architectural committee, which is almost always appointed by the governing body of the locality - the city council, which is elected, or the planning commission, which is also often appointed by the elected officials. In any case, politics are involved.

Which is why, in America, where we value individual rights so highly and subject any government action to such scrutiny (as we should), the irony is that it is almost impossible to dictate style or taste except in a private development, where agreement with covenants is a legally binding requirement for building and for any improvements.
---
| | | |
| --- | --- | --- |
| RE: Modern Architecture & Controversy | | |
Okay - trying to meet mtnrdredux's challenge.

Here is a modern house in an existing older neighbourhood that I really like, but more importantly, I think they got it right. I like it on an aesthetic level, but I also think it fits well within the neighbourhood. Landscaping plays an important part here. As Blfenton and bronwynsmom point out, this isn't infill - they tore down the existing house and replaced it with another single family home.

Anyway, here it a picture I took this afternoon from my bike:

Another picture of it before the landscaping was done, in the top left corner of this picture. I found this pic on the web, ignore the other pics if you can:

Here is the house immediately next door to the modern one:

Most of the houses in this small pocket were built after WWI, with many cool 1920s and 1930s deco type homes, some MCM homes, some '80s stuff like the neighbouring house. Mostly nice homes, slightly larger than average perhaps, but not huge.
My case for this house - it appears to be exactly the same height and overall mass as the neighbouring house. The house is appropriately set back from the street. There is ample landscaping - this house faces a large park and a river, the flowers and other plantings appropriately bridge the space between the park, road and house. Ample parking for four cars, a car port instead of the dreaded garage. You can't really tell, but the car port has a green roof on it, which is awesome. They use brick, concrete and wood here, all appropriate materials I think, used in other houses in the neighbourhood. The front door is recessed and concealed, which I don't love, but I'm sure it works well with the lane and the car port.
Now this was a pretty big lot for an urban neighbourhood, so it is easier. It is far more challenging I expect to do an equally satisfactory job in a narrow infill lot. But surely it must be possible.
I will try to find more good examples tomorrow.
---
| | | |
| --- | --- | --- |
| RE: Modern Architecture & Controversy | | |
I could never buy a home if it were next to a 'structure' such as those posted. Mixed neighborhoods are one thing, but trying to unite what used to be to the 'wannabe(what?)just isn't going to work. I may as well live next to a parking garage. ;o)
---
| | | |
| --- | --- | --- |
| RE: Modern Architecture & Controversy | | |
Here are some pictures of the townhouse that was built after the Weather Underground blew themselves up while making bombs in Greenwich Village, 1970.

It was felt that the replacement should reflect that something happened on the site, rather than simply duplicating the facades on the street. The cornice and window positions on the top floor actually more closely duplicate those of most of the row than on the house to its left, and to some extent, the house that blew up, while the lower stories indicate the part of the house that blew out into the street.

I could not find a picture online of the original house, pre-explosion. Whether you find the replacement acceptable or not, the general means by which it follows the neighborhood pattern met commission approval.
---
| | | |
| --- | --- | --- |
| RE: Modern Architecture & Controversy | | |
Pal - when were they rebuilt? How soon after the explosion?
---
| | | |
| --- | --- | --- |
| RE: Modern Architecture & Controversy | | |
Blfenton,

You say that the bylaws on infill are stringent in your area. Does your city actively enforce the bylaws? We have regulations and bylaws too, but too often developers lobby the city and are allowed variances that thwart the intent of heritage conservation districts. Our city just introduced new infill guidelines (after consultation with heritage districts like mine). The guidelines are good (the developers hate them), but it is still to be seen if they will be rigorously implemented. I hope so.

Great example Pal, thanks for sharing. Fascinating architectual interpretation of the event that occurred.
---
| | | |
| --- | --- | --- |
| RE: Modern Architecture & Controversy | | |
Juliekcmo, thanks for sharing that article! I love the house it showcases, great scale. I would like to think that sympathetic renovations like that (and the others you describe) would stand the get of time given the thought and obvious attention put into the project. But as you say, time will tell.

Lazydaisynot, I'm sorry about your former house. Infill should not (need not?) be at the expense of sensitivity to the existing homes. Towering new buildings amongst small houses is almost never acceptable, however laudable the goal of urban densification.

My great grandmother's former home is the only house left on the block - it is surrounded by high rise condos. But it is literally right downtown and the old neighbourhood is long gone. It is inevitable (and appropriate?) in some areas I guess.
---
| | | |
| --- | --- | --- |
| RE: Modern Architecture & Controversy | | |
Pal, How interesting. I've never noticed that building, I will have to look for it when im in the area.

Sochi,

I know infill is neutral, but I think it is a term that doesn't sound appealing. Like something squeezed in, and somehow lesser than or secondary to "first fill". If you were marketing something, would you lead with "Lovely infill home on quiet street close to ..." LOL

But I am biased, because in my old town that is exactly what infill was. The town was built in the early 1900s, and most of the housing stock dates from then, though styles range from Victorian to Tudor to Georgian to Mediterranean and Craftsman.

In that town, infill was viewed as undesirable because it was always smaller than and had less historic character and charm then the properties their lots were carved from. It was added at a time when the large old houses were seen as just old, and out of date, and when their size and operating costs made them white elephants (eg 70s).

PS I will try to look for images, but I think Londoners do a good job at infill. Mostly buy keeping the scale the same and using a lot of glass
---
| | | |
| --- | --- | --- |
| RE: Modern Architecture & Controversy | | |
Most of these types of buildings result from loss of an earlier building, in my location.

This building was a later 19th c. remodeling of an earlier 19th c. building:

It aged imperfectly, and housed a bunch of very small apartments:
And one night, its overtaxed electrical system gave up, which left this for a year or so...
And it was eventually replaced with this. The extra height was allowed because it matches that of the buildings on several nearby corners. The veneer brick is cheap and awful looking up close, but other than that I think the building works well for the site.

---
| | | |
| --- | --- | --- |
| RE: Modern Architecture & Controversy | | |
Sochi, that's a great example of something new, and good, and respectful. I like the new one better than the rather blocky post-modern version of a more traditional form. Those houses always look to me more like architectural massing models than like real houses.

Palimpsest, I see the point of referencing the explosion by thrusting that angle out toward the street, and it's an interesting idea. I'm less sure that interrupting the consistency of the combined facades of those attached houses is aesthetically appealing, but it's still clearly done with respect as well. And looking at the one that blew up, you can see that the original arched recessed doorway wasn't like the others in the first place.
---
| | | |
| --- | --- | --- |
| RE: Modern Architecture & Controversy | | |
This, from Pinterest, works for me because it respects the scale of the other houses. Window alignments and sizes, height, the smooth stucco of the house to the right and on the other block.
Here is a link that might be useful: Modern infill
---
| | | |
| --- | --- | --- |
| RE: Modern Architecture & Controversy | | |
Where I live, the city council has not met a developer they don't like. They get around zoning laws by issuing SUPs (special use permits) allowing for higher density than permitted by law. On our road, a large house with two acres was sold when the owner died. The city allowed five more houses to be built on the property. Three not including the already standing home would have conformed to existing zoning restrictions (half acre minimum single family) but of course, the profit margin wouldn't have been as great. Huge homes on small lots. The new cul-de-sac is named after the developer.
---
| | | |
| --- | --- | --- |
| RE: Modern Architecture & Controversy | | |
Like others, I totally agree that it's about scale rather than style. See my pic below for an example of Spanish hacienda that looks dreadfully out of place.

My old neighborhood in Palo Alto has been inundated with frighteningly scaled newer houses scattered amongst the cute older bungalows; sometimes using empty lots, but more often purchasing then using two older lots at once (which is the exact opposite of infill, apparently?).

These houses, much like the modern ones in Sochi's OP, appear almost commercial in scale compared to the original housing stock in the area. We refer to this one as the Midtown Holiday Inn:
---
| | | |
| --- | --- | --- |
| RE: Modern Architecture & Controversy | | |
Ah, yes, the dreaded special use permit.

In my view, the developer should have to make the case for why the change is important enough to justify a variance. Instead, where we are, the citizens have to make the case for why it should NOT be allowed. If, in fact, the notification of the hearings is made at more than a whisper, and is scheduled for a time when people who have jobs can actually get there.
---
| | | |
| --- | --- | --- |
| RE: Modern Architecture & Controversy | | |
cyn427, your city sounds like it has the same attitude as mine. One developer blatantly disregarded city bylaws and built a modern infill house despite being told NOT be build the house they planned - it had to be scaled back in size and set back from the street (among other matters I believe). The developer went right ahead and built according to his plans. The city did nothing. I think they should have torn the house down - one example like that would serve as excellent notice to other developers I think. But instead, that developer is building more clones all over our neighbourhood. So frustrating.
---
| | | |
| --- | --- | --- |
| RE: Modern Architecture & Controversy | | |
Here are two examples from my neighbourhood, both outside the heritage district though, so they are subject to fewer restrictions.

This one I think did a pretty good job. This was originally a simple, single family brick home. They created a double and put a modern looking facade on it:

Here is an out of focus (sorry) photo of the houses to the right of the double above:

The height, set back and mass are acceptable. There is some pleasant landscaping, the driveway doesn't take up too large a percentage of the front yard. The materials are similar to other nearby houses. My only qualm is that the windows create such a privacy issue that they must constantly be covered with window treatments. They are also much larger than the windows on the other houses nearby.
Here is one on the same street I have a huge problem with:

They are putting three of these on that oversized single lot. They are WAY taller than all the other homes. All you see walking by on the sidewalk is the garage and the endless stairs up to the front door. No soft landscaping at all. I think it is awful, despite the admittedly pleasing interiors. These homes simply do not fit in here, yet they sell for well over $1M.
---
| | | |
| --- | --- | --- |
| RE: Modern Architecture & Controversy | | |
A developer here built a condominium building partly on sidewalk line. It had a raised "terrace"-like structure on the front of it...up a couple of steps from the sidewalk, and it left a matter of a bit more than a foot between it and some necessary obstructions on the sidewalk. (Street and traffic lights and such).

The terrace like structure had to be cut back to the lot line rending it a walkway to get into the commercial ventures on the ground level with steps at either end and the middle. Very inhospitable. And as a result nothing of any customer-based venture (it was supposed to be all restaurants, I suppose) lasts. It has some offices and a daycare I think.

Had he not built so blatantly in violation they may have worked out a better solution with steps encroaching in areas where passage was possible --this is grandfathered all over, anyway--but I think they played hardball because it was blatant --and it was in violation of the Disabilities Act.

I think he is bankrupt.I feel bad about that, but he should have not been quite so greedy with that extra square footage.
---
| | | |
| --- | --- | --- |
| Varying sensibilities. | | |
Here are two types of houses that were built during the blight clearance in the 1960s and 1970s.

The first house is clearly different from its neighbors but I think it suits the street well. The photo next to it is the type of situation they were dealing with in the neighborhood at the time. Some historic houses just weren't worth salvaging.

This house was for sale a while back and I showed the interiors. The neighborhood was quite dangerous at the time (at night) so the front has smallish windows, while the back is largely glass. It seems a better alternative to using large windows on the front and then putting bars over them, something else that was done at that time.

Between the early 60s and the 1970s--as we got closer to the Bicentennial, I suppose, there was more of a tendency to build something that looked "federal". These houses follow the shape of the neighboring houses exactly, and yet they are really all wrong, because they are too different to be the same, and too similar for it to be okay that they are different. The windows are too small on most floors, too big on the top floor and much too uniform in size and rigid in their placement. Not a successful infil, imo, even though they technically follow the neighborhood parameters.

---
| | | |
| --- | --- | --- |
| RE: Modern Architecture & Controversy | | |
Sochi - What they are trying in our city is Laneway Infill housing. The entrance has to be off of a lane, the house needs to be a certain distance from the main house, the backyard has to be a certain size and off-street parking has to be provided. Deliberate infill housing on existing SF lots is new for the city and I don't know how it's progressing or how successful it will be.

There are some older parts of the city where an old house will be torn down and through rezoning a back/front duplex will be built usually in a style that resembles the rest of the neighbourhood.

In some parts of the city and in the district where I live, developers will buy up 4 or 5 older homes, apply for rezoning and build townhouses (rowhouses). They can't build condos because of height restrictions.

Some areas of the city are subjected to the type of image that circuspeanut posted (not spanish hacienda style but some type of Mcmansion) Our real estate is very expensive and most of the value is tied up in the lot. Many of the lots are 50'-66' x 125' and worth $1000,000-$2000,000, with an 1800 sq.ft 1940's bungalow on them. People buy the homes, tear them down and build 4000 sq.ft. SF homes (no infill) on them and then flip them for $2500,000-$3000,000.

Because of the value of the real estate, homeowners watch what their neighbours and what developers are doing very carefully. Homeowners are very protective of their investment, sight lines are protected, light lines are protected, heights and mass are all regulated. Do some developers try to get around it. oh yea, they try.

We just did a whole house reno and wanted to add some extra square footage. We were able to add a maximum of 200 sq.ft. and that is only because the roof line for that square footage was in place when the home was built and because our house was grandfathered through some of the by-laws. We would have been even more restricted had we torn the house down and rebuilt. It's because of our neighbours sight lines.
---
| | | |
| --- | --- | --- |
| RE: Modern Architecture & Controversy | | |
My daughter lives in an 120 year old house in a historic neighborhood, where all of the houses original to the neighborhood have beautiful plaques hanging on the porch, so there is no confusion as to what is original and what isn't. Driving down the street it is very obvious what is original.

I would much prefer seeing traditionally styled, new homes built in a traditional, historic neighborhood than some concrete monster. Yuck.

The only aesthetically pleasing neighborhoods, imo, with extreme variations in architecture generally have very large, wood lots.
---
| | | |
| --- | --- | --- |
| RE: Modern Architecture & Controversy | | |
I live in a 1920's English style Arts & Crafts sort of house (it's hard to tell since the interior was stripped of all period details in the 1990's) and next door an architect is building *his* dream home. Dear lord! Do not they not teach them anything about scale? Proportion? Not being a burden to your neighbors? Their house is less than 4 ft from ours, we had to lose a tree because there was no way to cut the canopy back to accommodate the new structure, and they have no room at all to landscape so I guess that burden will fall to us so as to try to give each of us a smidgen of privacy. Oh, and every single plumbing vent is on the side of the roof that our windows look out over. Ugh. The new house *towers* over the bungalow beside it since we have a hilly terrain - so why not vent out that side of the roof where the vents couldn't be seen by the neighbors or from the street?

Everything about the house is awful and I can't believe that our seller, who apparently declined to appear at the SUP meeting, didn't have to disclose it to us. In fact, they started building after we went under contract (we lived out of state) and NO ONE mentioned it to us. Not even our agent. Imagine our surprise when we arrived to find a towering monster beside our 1920's charmer. And an immediate request for $2k worth of tree work.

(man, did that make me sound bitter?) I really should post some pictures. When they have the casement window open in their kitchen I can touch it by reach over my front fence.
---
| | | |
| --- | --- | --- |
| RE: Modern Architecture & Controversy | | |
That's terrible, grlwprls! I assume you've spoken to your attorney?

The idea that infill should authentically show that it is new is a dope cloud-fueled delusion among aging architects and urban planners. In the real world, the number of residential architects and clients with the competence to produce a modernist building that actually fits its surroundings approaches zero in most locations. If a neighborhood is already mixed, the inappropriateness of a new building is diluted somewhat. But in a cohesive neighborhood of a certain age, most of the edifices I see actually built (as opposed to theoretically speculated about) completely wreck the fabric of the neighborhood. The only practical solution is to require slavish mimicry of the surrounding neighborhood. Architects who care about "phoniness" are welcome to cry into their hookas. No one who lives in these neighborhoods actually cares about it--they're just relieved that their neighbor's new house doesn't look like a large urology practice.
---
| | | |
| --- | --- | --- |
| RE: Modern Architecture & Controversy | | |
grlwprls, how awful, I'm so sorry. It sounds horrific.

Marcolo - you're exactly right about the people in my neighbourhood - everyone wants infill like the first house I posted in the OP. I suggested that we just put the year built on the newer infill - 1989 - make it obvious that it is new.
---
| | | |
| --- | --- | --- |
| RE: Modern Architecture & Controversy | | |
The problem with new construction that mimics old, that is cheek-by-jowl with the real thing is that the new construction generally looks kinda fake.

There are a number of really unsuccessful facsimiles here. There is usually something blatantly wrong with either the proportion or the execution. (See "federal" houses above) That is why I think there should be enough difference to mark it stylistically, even if the overall form is historic.
---
| | | |
| --- | --- | --- |
| RE: Modern Architecture & Controversy | | |
What I'm saying is that, in cohesive neighborhoods, code should require rigid and slavish copying of old exteriors. Scale, cladding, window treatments, roofing materials, all of it needs to be removed from the discretion of idiot architects and their idiot clients, stiff necks bowed violently by force of law to produce exact reproductions of period style. This is due to the fact that the architects, and their clients, have proven again and again over decades that they are utterly incompetent to produce anything suitable to fit into the neighborhood. The tiny smattering of good design is well worth losing to prevent further catastrophe. On period streets, it is time to stop the pretense and the indulgence, staple a ring through their noses and force them to do something that looks good. Inauthentic is a small price to pay for avoiding an architectural abomination.
---
| | | |
| --- | --- | --- |
| RE: Modern Architecture & Controversy | | |
The problem is, I would like to see someone slavishly copy these. I don't think there are many who are capable. I am not picking difficult examples; there are hundreds of houses of this sort with empty lots nearby in the neighborhood.

This type of slavish copy has been accomplished, very successfully. But...in a couple years time by one of the neighborhood billionaires. Infills are now rare in this neighborhood, but are occasionally necessary.

I agree that there should be a strict adherence to guidelines regulating form and appearance, but I think I would rather walk by something like this (and you do walk by these, without being jolted, a lot of them are unobtrusive)
...than a near-miss facsimile.
---
| | | |
| --- | --- | --- |
| RE: Modern Architecture & Controversy | | |
As it happens, we went for a walk in our old neighborhood on Sunday. I actually thought about taking some pictures and posting them, because the images were so shocking.

One old humble Mansard had been gutted and rebuilt as two attached single families. The workmanship was quite poor, and the rear (new) dwelling was atrocious. However, once the signage goes away and the landscaping is finished, you will barely notice this building on the street. You'll continue to notice the neighborhood but not this individual structure.

By contrast, there was an old funeral home that started out as a large English colonial house and ended up being mostly (but oddly, not entirely) demolished and replaced with a modern multifamily abomination. It stands at a bend on Mass. Ave. in Cambridge on the next corner from a lovely but humble brick Romanesque church. Now the perspective down the street no longer focuses on the church, which this multistory structure now obscures. Instead you see this new edifice taking center stage with its bizarre amalgam of brick and cement and metal and glass and random lines. When it was going up I expressed my dismay to a couple of realtors as well as an architect I know, who all smugly and knowingly assured me how "hot" the building's architect was and how desirable the building would be. Never sold a single unit, it went into bankruptcy and it's half finished. Parts of the finished spaces have been rented out. Architects now live in a world as incestuous and closed as Versailles and are no longer capable of listening to anyone outside it, with predictable results.

I see Cambridge as the epicenter of this kind of disaster, since it suffers so many architectural assaults perpetrated by Harvard. You may have seen an article in the NY Times a couple of years ago in which a new, bizarrely cantilevered grad school dorm was deemed a public embarrassment. It is. But so is all of the Harvard-perpetrated infill in this city today. Further down Mass. Ave., a neighborhood of big old Victorians interspersed with '20s brick apartment buildings and fronted by low single-story retail space is now home to a new '70s retro Brady Bunch dorm. Further down, a new administration building seems inspired by Fascist architecture. It's not-too-affectionately known as the Reichschancellery.

When a profession has a 99.99% failure rate, it's time to shut it down.
---
| | | |
| --- | --- | --- |
| RE: Modern Architecture & Controversy | | |
There is little love lost between architects and interior designers. We are left to sort out their biggest mistakes so people can actually use them. Look at many of the posts in here, and you will see what I mean.

I also think there is little love lost between much of the smug Harvard educated subset and the rest of the country.

My father was happy when I got rejected by Harvard for grad school, he was afraid that I would go there.(They were actually #14 of my applications, I thought 13 might be unlucky)

When we did tours of local firms to see the different kind of design offices a number of them said they would much rather hire students from our type of program (which I considered 13th grade, in a way) because we had a practical education. One illustrated with this story:

"We had two interns, an architect from one of the Ivy's and one from an art-tech school, and we gave them the same project, to get together some lighting for a place we were doing.

"In a couple of hours the art tech student came back with two piles from our resource room and said--this pile is basic lighting that I know will light the space functionally just by laying it out properly. This pile has more interesting lighting but I would need to figure out the room cavity and stuff like that, and I am a little slow at that.

"The architecture student had several doodles on paper showing rectangles with lightbulbs drawn inside, because he was conceptualizing.

As for Harvard, I took Organic Chem at a State school with a Harvard student, and no one wanted to be her lab partner because she broke a lot of equipment, blew up one experiment, and threw awat the desired product and kept the waste product in at least one other. She also had one of the lowest test averages in the class.

But my illustrations may make your point as well, Marcolo, because the "different" infill buildings I show are all between 40 and 50 years old and I think there was still some common sense at that time.
---
| | | |
| --- | --- | --- |
| RE: Modern Architecture & Controversy | | |
Marcolo -- I bet you'd enjoy John Silber's 'Architecture of the Absurd". He worked in his father's architecture practice at one time, so he's not a complete architectural novice.

Next time I go into Harvard Square, I'll have to look for your examples (off-hand, I can't think what they might be).
---
| | | |
| --- | --- | --- |
| more on modern architecture | | |
Ooh, ooh -- I just thought of the funeral home abomination! It's closer to Porter, than to Harvard, right?
---
| | | |
| --- | --- | --- |
| RE: Modern Architecture & Controversy | | |
Here's that general area on Mass. Ave., pre-descecration.

Brady Bunch Dorm (it's much cheesier and uglier IRL)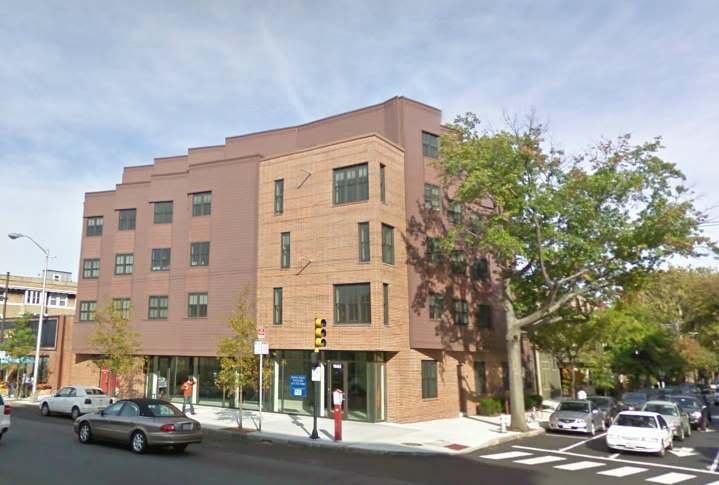 Funeral home abomination. Behind the tall part you can see the church spire that once used to end that vista on Mass Ave.


The still mostly-empty building. You may be able to see that they literally sawed off the bottom of the old facade and kept it, broken bricks and all. Has no relation to the tinfoil wrapped building, not even by contrast.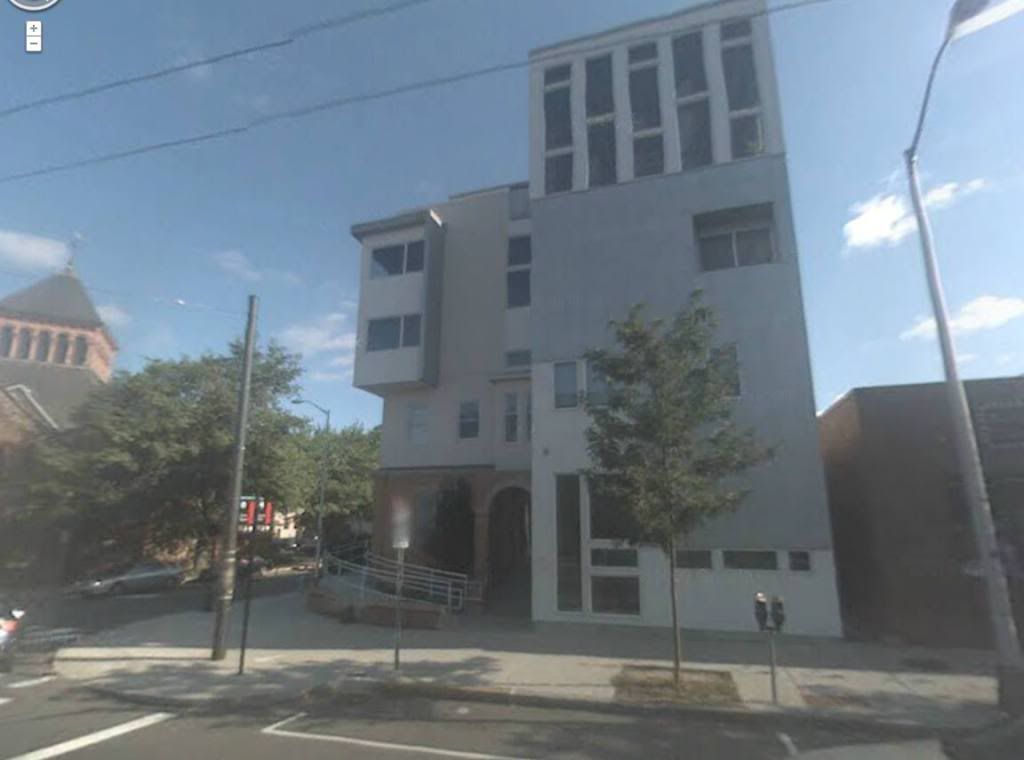 The new Chancellery. Surprisingly designed by Robert Stern, a big advocate of "traditional." In trying to modernize traditional, he ended up with something indistinguishable from Albert Speer's works. Again, much worse IRL--I'll try to find more pictures.

That new grad student building. No picture can fully capture its hideousness.

---
| | | |
| --- | --- | --- |
| RE: Modern Architecture & Controversy | | |
Ouch, those are some ugly buildings. Although on its own I don't mind the 6/7 building.

In the misery likes company department, I'm somewhat heartened to learn that it isn't only in my humble little town where all (okay, most of) the architects appear to have been dropped on their heads in infancy.

I'd still love to be an architect though.
---
| | | |
| --- | --- | --- |
| RE: Modern Architecture & Controversy | | |
The Stern Building isn't so bad in isolation. It looks like the deco-era post offices here, at least in its lower massing.

That sawed off building + silver building makes no sense whatsoever.
---
| | | |
| --- | --- | --- |
| RE: Modern Architecture & Controversy | | |
Another photo of the Speer building. It gets less interesting the closer you get to it, as if the budget ran out before details went up. It almost looks fake in person.
Not only is it overscaled for its site (not so much in height, but it takes up an entire city block on the Mass Ave side), but this is a bustling street with retail at virtually every door, then you get to this.
This is the least ugly of the buildings I posted. It's more funny, as in I literally burst out laughing first time I saw it. It doesn't recall an American Art Deco building. It just needs a balcony where the Fuehrer can address his people.
---
| | | |
| --- | --- | --- |
| RE: Modern Architecture & Controversy | | |
Look familiar?
pal, I know what you mean about '30s and '40s public buildings sharing some similarities with the Stern. This not only feels different, but clearly acts as if it is facing some grand Platz rather than a pedestrian urban street.
---
| | | |
| --- | --- | --- |
| RE: Modern Architecture & Controversy | | |
The buildings of the Third Reich were meant to intimidate.

I think the difference between those and the deco buildings I am going to post below is that these were meant to convey a sense of solidity in unstable times. These were WPA buildings, a couple post offices and the train station.

The big different with the main post office depot and the train station is that these were not placed in human-scale sites, but were really meant for long views. The post office annex is the only one on a pedestrian street, and it has some really nice reliefs at street level, and it is a business district. They are not on a street like yours at all.

(I am not a fan of the RAM Stern building that was recently completed here, either.

Annex:

---
| | | |
| --- | --- | --- |
| RE: Modern Architecture & Controversy | | |
In American Deco buildings there's always cool ornament to greet you as you approach, whether relief on the walls, nifty metalwork on the doors or whatnot. Stern's building, like Speer's work, gets blanker and blanker the closer you get to it. It's not built for your scale. It's an even sharper contrast because the arches were meant to echo a nearby HH Richardson building, but that has fairly ornate ornament on the arches to entertain you.

It's a very weird feeling to walk past the Stern building. I would never say all of Mass Ave is pretty--it's not--but it is extremely pedestrian in scale. The businesses are mostly very small storefronts in 1910s-1920s single-story plazas, so there's a new thing to look at every 15 feet or so. The street is busy and a PITA to cross but even more of a PITA to park on or near, so you're meant to approach everything as a walker. Then you get to the Chancellery. Not only does it loom at you, but contrasted to what you just walked by, it feels like it takes forever to pass and get away from it--you walk and walk, and it's still there. Past that building, retail fades away for a couple blocks until Harvard Square starts it up again, but you're still walking by mostly older and much more human scaled buildings, as well as a small park across the street. Sore thumb.
---
Post a Follow-Up
Please Note: Only registered members are able to post messages to this forum.
If you are a member, please log in.
If you aren't yet a member, join now!
---
Return to the Home Decorating & Design Forum
Information about Posting
You must be logged in to post a message. Once you are logged in, a posting window will appear at the bottom of the messages. If you are not a member, please register for an account.
Posting is a two-step process. Once you have composed your message, you will be taken to the preview page. You will then have a chance to review your post, make changes and upload photos.
After posting your message, you may need to refresh the forum page in order to see it.
Before posting copyrighted material, please read about Copyright and Fair Use.
We have a strict no-advertising policy!
If you would like to practice posting or uploading photos, please visit our Test forum.
If you need assistance, please Contact Us and we will be happy to help.

Learn more about in-text links on this page here