FORUMS:
GardenWeb
>
Forums
>
Home Decorating & Design Forum
> Vanity vs. Pedestal Sink for Half-Bath? >
Post a Follow-Up
Vanity vs. Pedestal Sink for Half-Bath?
I know this has been discussed before, but would you do me the favor of sharing your opinions regarding vanity vs. pedestal sink preference? I am gutting my hideous powder room! It's five by *almost* five ft., with a 30" vanity/31" top that is clunky, blah and boring.

I've been thinking that I'd have the Toto Clayton toilet and the matching pedestal sink installed. Recently however, I've read posts from the past where a number of people say, "I replaced a pedestal sink with this vanity."

That's just dandy, but I really don't want to spend over $400.00 for a pedestal sink that most potential buyers will view as something that needs to be replaced! So...when it comes to the big "R" (resale) will I be at a disadvantage if I get the pedestal sink?

Don't get me wrong, I don't imagine either option would be a full-blown deal breaker, but I wonder what perceptions are among house-hunters (or people pretending to be house hunters like I'm asking you all to be!).

I plan to replace damaged wood floors with marble 2" octagon tile with a 3/4" ebony inset that is set on the diagonal (diamond). Either a sink or a vanity could look swell with that tile I think.

Any thoughts shared would be appreciated!
| | |
| --- | --- |
| RE: Vanity vs. Pedestal Sink for Half-Bath? | |
I like pedestal sinks in powder rooms, mostly because they are not only space savers, but they allow the wall color or pattern to wrap the whole room in a charming way.
So the salient question is, what do you need to keep in there, and where are you going to keep it?

A small cabinet hung over the john can be decorative and useful. A flush medicine cabinet with frame molding on the mirror also helps. I like to keep the toilet paper in a pretty basket next to the john, and the paper hand towels in a little rectangular basket on the wall by the sink. (Oddly enough, the tp basket on the floor seems to encourage better aiming by the XY chromosome group...)

Whatever you choose can be consistent with your scheme - sleek mirror, metal, and lacquer finishes for modern ones, Asian lacquer and faux bamboo for a colonial/export idea, brass and walnut for the traditional themes, wicker basketry and tole painting for a French theme...that sort of thing.

Whew. Way more than you asked...
---
| | |
| --- | --- |
| RE: Vanity vs. Pedestal Sink for Half-Bath? | |
Another vote for pedestal in a half bath. They make the room the way bigger, and let's face it, pedestal sinks are nicer, they just aren't very practical. I would never have one in a main bath. There is nowhere to place your hair dryer/hair straightener/curling iron and other necessities when you are getting ready in the morning.
---
| | |
| --- | --- |
| RE: Vanity vs. Pedestal Sink for Half-Bath? | |
I love how pedestal sinks look, but vanities are so handy for storing cleaning supplies, soaps & toilet paper.

Do you have enough full baths for family & guests, or would your powder room be needed as a grooming station when the main baths are in use by others? Mine is the latter, so storage for contact lens & shaving stuff & other toiletries is needed, more than just a medicine cabinet. It's heavily used, hence a vanity.

I'm redoing my powder room too! How nice to share projects with you, stinky_g :) Love your plans for the floor. So pretty!
---
| | |
| --- | --- |
| RE: Vanity vs. Pedestal Sink for Half-Bath? | |
As usual I agree with bronwynsmom! I think pedestal sinks are the perfect choice for powder rooms and should not affect your resale value. After all, they will make the space look bigger and bigger is always better!

As B says you need to think about what you want to store here versus a laundry closet. In a small space I like to keep the area above the vanity plain with just a flat mirror - so that pushes storage over the toilet (check clearances) here are 2 examples of storage options that might work...
---
| | |
| --- | --- |
| RE: Vanity vs. Pedestal Sink for Half-Bath? | |
| | |
| --- | --- |
| RE: Vanity vs. Pedestal Sink for Half-Bath? | |
Another option, when you're gut renovating a powder room, and if you can do it attractively, is to cut out between the studs somewhere and create a narrow cabinet flush with the wall.
---
| | |
| --- | --- |
| RE: Vanity vs. Pedestal Sink for Half-Bath? | |
Pedestal sinks work great in a powder room. An over-large vanity would be a turn off.
---
| | |
| --- | --- |
| RE: Vanity vs. Pedestal Sink for Half-Bath? | |
we have a pedestal sink in the powder room, but i also bought a small table with 2 drawers- one deep enough for TP and use it to store TP, fresh towels, some fem products, lysol cleaning wipes, etc...
---
Wow, thanks for the prompt and detailed replies!

Bronwynsmom, thanks for all the great ideas. Everything you describe sounds so beautiful and functional. Seems like you find the PS idea appealing.

I agree, it all comes down to storage issues. My needs are few for the space, but I realize others may have more stuff to store. Currently in my vanity there is a 4-pack of toilet paper, a bottle of Lysol toilet bowl cleaner and 2 partially used gallons of paint. I don't worry about finding a new home for these items, but others who like to keep lots of things handy in the powder room will surely find the absence of a vanity a nuisance. But we can't please all the people, can we?

Thanks, Stephf! I agree- not so practical, but certainly pretty!

Nice to see you Awm03! So what are your plans for your powder room re-do? (I think you're going with a vanity as it sounds like you need the storage space.) Tell me more! Thanks for your input.

DW, I appreciate the feedback about the big R! Good to know. I love the pics you posted. Especially the first one. I really love that mirror, and that floor & baseboard as well. I will be using a 4" marble baseboard too, the same one I used in my master bath re-do. I'm leaning toward an oval mirror, but that could change! I'm still shopping for that.

Don't think I'll be shopping for a vanity though. Seems like you all like the idea of a PS! Thanks!
---
B'smom--I love the idea of built-in storage! I'll check on that.

Nottina, thanks so much!

Busybee that sounds terrific! You have the best of both worlds. I don't think I have the space to accomodate such a thing, but that sounds ideal. Thanks!
---
| | |
| --- | --- |
| RE: Vanity vs. Pedestal Sink for Half-Bath? | |
SG the first image was from sarah richardson - i remember watching this episode (some years back) - she had run out of money but still made this great space - maybe you can track down her resources...
---
Thanks, DW! No wonder I like it! I love SR. I think I am going to go with the Clayton fixtures as planned. While I love her mirror, I'm pretty sure that 1) it's too big--I'm going for about 26" tall due to my light fixture location, and 2) it's too pricey. I am still shopping for that though, so who knows? I am planning to do Palladian Blue on the walls, so that's similar to SR's room too!

I'd really like an oval pivot mirror, and was considering Moen's Glenchrist, Glen-something, but I have visions of it crashing down on top of my porcelain sink! I guess toggle bolts would secure it well, but makes me a little uneasy. (I'm a little paranoid, so bear with me!). There is a place nearby that will make a mirror in any configuration, size, description you want. I may consult them if nothing ready-made suits the space.

Thanks again, DW!
---
| | |
| --- | --- |
| RE: Vanity vs. Pedestal Sink for Half-Bath? | |
Stinky-I have the Clayton toto toilet and pedastal sink in my tiny powder room. They are nice.

Let me know if you want a pic.

I like a sparse powder room, because it makes it hard for my boys to junk up. I have a tower for extra toilet pepper rolls and a waste can. That's it.
---
| | |
| --- | --- |
| RE: Vanity vs. Pedestal Sink for Half-Bath? | |
I love pedestal sinks in powder rooms. PRs tend to be small, and a vanity seems to me to be too heavy. In our last home, I had an antique pedestal sink refinished, and it was beautiful.
---
| | |
| --- | --- |
| RE: Vanity vs. Pedestal Sink for Half-Bath? | |
Stinky, I haven't read the responses, but thought I'd throw my 2 cents in since we have a the Memoirs pedestal sink by Kohler in our powder room and there are pro's and con's to both.

Pro's: I love the look and how much more open a smaller space looks. (Ours is similar in size to yours) Depending on the style you choose, they can also be more cost efficient.

Con's: No storage so you have to have an alternative spot to store toilet paper and cleaners. Have to clean lower pedestal part as often as you would the bottom of your toilet because it does catch a lot of dirt. (That is my least favorite part about cleaning the bathroom!)

Over all, it's a given and I really do like ours. Hope that helps! I'm looking forward to seeing what you end up doing so I hope you plan on posting pics. :c)
---
Red lover, of course I'd like to see pics! Tell me whatever else comes to mind too! I love the shape of the Clayton toilet, so I'm really just getting the sink to be coordinated! I was going to get the Promenade suite, but saw it in the showroom last weekend, and could not believe how tall the toilet tank on the Prom was. It towered above all the toilets in the showroom...what a throne! It would not be the right scale for my powder room, so I decided then on the Clayton: nice scale, pretty lines!

Joyce, thanks for the input. Your antique sink must have been beautiful ( & you sold your house!).

Lukki, nice of you to list pros and cons. (I think the Memoirs is one of the most beautiful sinks out there, btw!) I appreciate the warning about extra cleaning duty. I'm psychologically prepared now! Yes, I think it's probably the best way to go. Open up the space and deal with the storage, which for me I don't anticipate to be a big deal. Future owners may whine. I hope they don't ditch it, but that's what happens sometimes. They may gut my master bath too because they don't like all the gray in the carrera marble. They may think it looks too "cold!" Who knows? I'm just good at putting the cart before the horse. Thanks again, Lukki!
---
I can't remember, but I think we went with Clayton too...
I think in a small room the pedestal helps the room look more spacious and I don't need nor want the storage...just more space to collect more junk. I put a little low shelf on the floor in there to put some decorative items and spare tissue paper.
---
Yes, that is the Clayton, Annie! Pretty! I like your dramatic wall color and the Chippendale mirror is darling. Very nice.

I only saw the toilet in person. The showroom didn't have the pedestal sink on display, so it's helpful to see it situated in a room. The website photos are so sterile--here's the toilet, here's the sink. Thanks!
---
| | |
| --- | --- |
| RE: Vanity vs. Pedestal Sink for Half-Bath? | |
I'm a big fan of pedestal sinks in small bathrooms. Stinky, for storage we installed an oval medicine cabinet mirror over the pedestal sink in my daughter's bath. I also put a glass shelf over the toilet for hand soap, candles and other small items. A basket on the floor next to the pedestal keeps extra towels and toilet paper. (sorry for the large photos)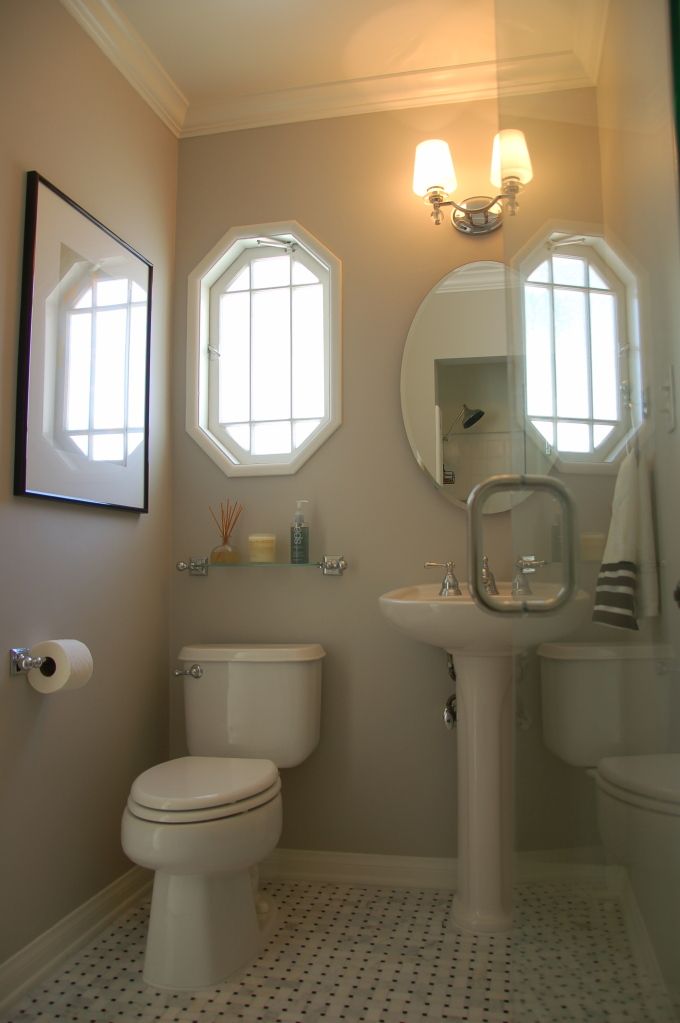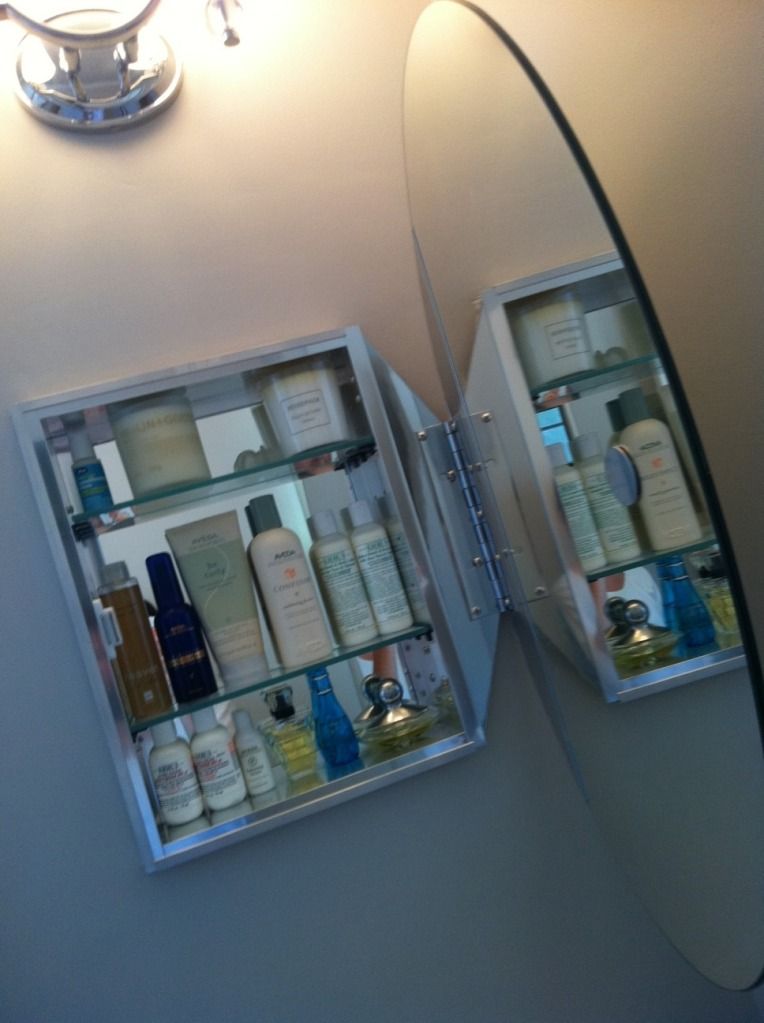 ---
Pipdog, that's beautiful! Thank you for the large pictures! That mirror is exactly what I am imagining in terms of shape and size. I see yours is a medicine cabinet. I'd have to have the wall recessed for that. Guess I could have that done. Would you mind sharing who makes it?

You've tackled the storage issues very well!

Love your floor, and that window is SO pretty! Great job!!!
---
| | |
| --- | --- |
| RE: Vanity vs. Pedestal Sink for Half-Bath? | |
I had a pedestal sink in the PR of our first house, and while I m a total fan of the aesthetics of them...it just wasn't practical for me, especially when entertaining. I don't like storing TP where it can be seen, and I like to have a small candle burning in there, plus somewhere to put paper guest towels in their caddy. I was always afraid the TP would run out at parties! I'd discreetly check it every hour! :) Anyway, here is what I chose to give me some countertop and storage, in a small-sized vanity.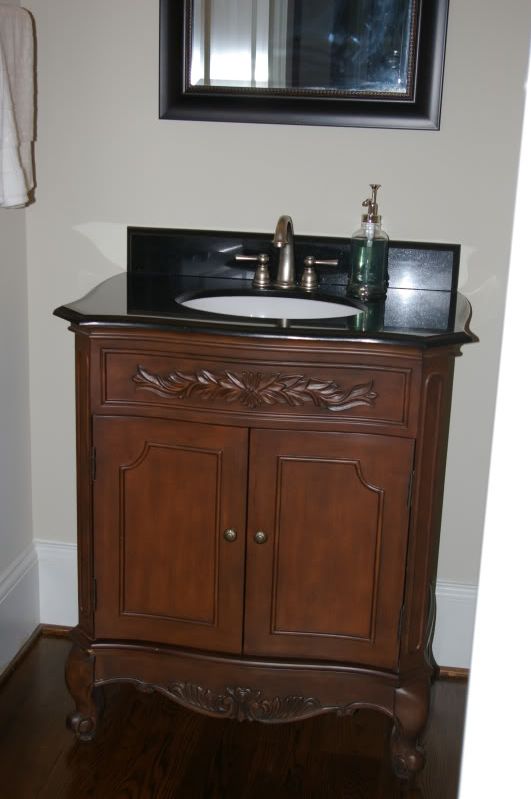 ---
| | |
| --- | --- |
| RE: Vanity vs. Pedestal Sink for Half-Bath? | |
Thanks Stinky, it was installed when we moved in and I have to agree, it is a nice sink. :c) I might as well share a pic, though our powder room isn't near as nice as some of the ones others have posted pics of.
---
| | |
| --- | --- |
| RE: Vanity vs. Pedestal Sink for Half-Bath? | |
Love the Memoirs sinks! We have the Memoirs toilets but need storage, so we have vanities. However, I love the look of pedestal sinks. My former home had a pedestal sink, but I had built-in shelving for towels and lower doors for the TP and cleaning supplies.
---
| | |
| --- | --- |
| RE: Vanity vs. Pedestal Sink for Half-Bath? | |
thanks Stinky! We found the recessed mirror/medicine cabinet at Home Depot.
Here is a link that might be useful: Mirror
---
| | |
| --- | --- |
| RE: Vanity vs. Pedestal Sink for Half-Bath? | |
We recently gutted our small powder room that's tucked in under and removed a clunky vanity and replaced it with a pedestal sink (Kohler Memoirs). Really opened up the room. The kitchen is nearby so I keep cleaning supplies there and only have a wastebasket and a wicker basket full of rolls of toilet paper.
---
Nini, you found a petite vanity that works well for you! Thanks for posting!

Lukki, that looks beautiful. You certainly have no shortage of great-looking bathrooms at your house! The sink is perfect there, and I love that soft, green paint color. Well-done!

Pipdog, thanks for the link! That was sweet of you.

Skywatcher, what a great makeover! I love it! But, you have the Kohler Devonshire suite. It's lovely!
---
Gsciencechick, I missed your post sweetie, sorry! The coffee hasn't kicked in completely yet!

Thanks for your feedback. Your previous house with built-in storage sounds ideal for the PS scenario. I will have to look into that. Want to keep costs down, since I'm already spending a fair amount on materials, (but it doesn't cost anything to inquire!).
---
| | |
| --- | --- |
| RE: Vanity vs. Pedestal Sink for Half-Bath? | |
I also like a pedestal sink in a smaller bathroom, especially a half bath. It's a lot easier to clean up in a hurry if you have guests coming :)
---
| | |
| --- | --- |
| RE: Vanity vs. Pedestal Sink for Half-Bath? | |
Skywatcher, I'm crazy about your gold radiator.

And lukkiirish, I agree that your powder room is very pretty. You might consider having your mirror framed and hung like a picture - that's the only thing in the photo that isn't quite as attractive as it might be...?
---
| | |
| --- | --- |
| RE: Vanity vs. Pedestal Sink for Half-Bath? | |
Thanks Stinky and Bronwynsmom. I appreciate the feedback about the mirror, once hubs is better maybe I can do that. I haven't framed any of them.
---
| | |
| --- | --- |
| RE: Vanity vs. Pedestal Sink for Half-Bath? | |
hi again SG - whilst the rectangular mirror in sarah richardson's room looks great, with your square-ish vanity i think contrasting with an oval mirror is a good way to go. can't wait to see "after" photos... it will be a gem.
---
| | |
| --- | --- |
| RE: Vanity vs. Pedestal Sink for Half-Bath? | |
Ha, yes, stinky, that's a Devonshire set. We are in the midst of gutting another full bath upstairs and we'll be putting in a Memoirs pedestal sink and toilet, so I've got it on the brain. I laughed to my husband that I've been studying bathroom fixtures so much, that when I watch commercials with bathrooms pictured, I automatically identify the sinks and faucets.

Thanks, Bronwynsmom. We've been gradually painting all our downstairs radiators gold. It's a little brassy in the photo, but it's toned down some after a few years of radiator use.
---
Thanks, Kswl! I value your opinion.

DW, good to hear you think an oval mirror is the way to go. I did wonder if I was on the right track with an oval, so it's nice that you spoke to that specifically! Thanks so much for the words of encouragement. I really appreciate them!

Skywatcher, I know exactly what you mean about recognizing fixtures everywhere you look! I do it all the time now too! If only this *ability* was worth something! But I'm sure our recently acquired "knowledge" along with 10 cents, wouldn't buy us a cup of coffee. If only there was a game show called "Name that Faucet!"

I think your gold radiator is really neat too, btw, and the Devonshire suite was the PERFECT choice to complete the room's charming vintage look! Please post pics when your bath in progress is done!
---
| | |
| --- | --- |
| RE: Vanity vs. Pedestal Sink for Half-Bath? | |
I'm crazy for that open shelved lower look with a basket or two.
---
| | |
| --- | --- |
| RE: Vanity vs. Pedestal Sink for Half-Bath? | |
We are installing the Kohler Tresham set (pedestal sink and matching commode). Don't have pics yet though. I want to get some shelves to go over the toilet for storage. I would leave a basket on the floor but then the dog and baby would find and destroy...
---
Hey BB, thanks!

Cottonpenny, the Kohler Tresham suite is divine! Drop Dead Gorgeous! Ooh la la! Please post a pic when it's done. (I want a whole house tour when it's ALL done, for that matter!).
---
| | |
| --- | --- |
| RE: Vanity vs. Pedestal Sink for Half-Bath? | |
Aw stinky you are so sweet. I did sort of fall in love w the tresham set. I've never seen it in person, so I hope I'll like it as much as I do from the ad photos.

I try to minimize photos of my house. I had an experience here when we first started building where people told me my house was ugly. It may be. There is no architect, interior designer, lighting designer, kitchen designer or anything. It's just me and a builder who does high quality work but whose tastes are different than mine. In a perfect world I'd have all those things but then I'd be overbuilt for the whole city. So I do my best. It is still so much nicer than what so many people have, I can't cant complain at all.
---
"...people told me my house was ugly." Well, that's just crazy. Really. Cottonpenney, anyone who says or implies that your house is "ugly," is insanely jealous. Or just insane. Or just really jealous. I'm glad you put the negative remarks into perspective and recognize and appreciate that what you have is very, very (very) nice...
---
| | |
| --- | --- |
| RE: Vanity vs. Pedestal Sink for Half-Bath? | |
We put in the Tresham vanity and pedestal. I love them! I like the openness the pedestal gives us in the powder room. I couldn't have gotten the same look with a vanity. I keep extra rolls of toilet paper in a cute basket in the corner behind the door. Our laundry room isn't far so I keep cleaning supplies there. I haven't gotten to post any pics yet so I'm posting a few!
---
| | |
| --- | --- |
| RE: Vanity vs. Pedestal Sink for Half-Bath? | |
Beautiful PR babs! Now I'm even more psyched for my Tresham set.

Love the wall color too - what is it?
---
| | |
| --- | --- |
| RE: Vanity vs. Pedestal Sink for Half-Bath? | |
Babs, I love the way your chandelier gives all that pattern and drama to your gray wall. And the mirror is yummy with those very simple porcelain forms. Good job, you!

StinkyG, I just saw an ad in House Beautiful for moldings made to put around plain flat bathroom mirrors - I'm going to investigate for one of mine that sorely needs a frame.
Here is a link that might be useful: Mirror Mate frames
---
| | |
| --- | --- |
| RE: Vanity vs. Pedestal Sink for Half-Bath? | |
Thanks guys! I haven't gotten a chance to show off the room here yet! LOL!

The color is BM Knoxville Gray. It's a dark blue-green gray. I love the way it came out. You can't tell but the ceiling paint is one of their metallics in a deeper pewter shade. Honestly, I don't think I'd bother with it again. It didnt turn out as metallic looking as I'd hoped (maybe the lighting?) and it cost a lot more. I think I could have just done a gloss shade up there and have been just as well off and saved money. Oh well!

Cottonpenny, did you get to check out the toilet lever? I get more comments on how cute it is. I love this set!
---
| | |
| --- | --- |
| RE: Vanity vs. Pedestal Sink for Half-Bath? | |
This is my teeny weeny 1/2 bath in the back hallway on the way to/from the pool. I love my tiny pedestal sink. I have the extra tp and soap etc on the tiny table next to the sink.

There are some BEAUTIFUL bathrooms on this thread ! c
---
| | |
| --- | --- |
| RE: Vanity vs. Pedestal Sink for Half-Bath? | |
Wall hung is a great space saver too! Like most, I prefer pedestal unless you really need the storage. It all comes down to storage needs.
---
| | |
| --- | --- |
| RE: Vanity vs. Pedestal Sink for Half-Bath? | |
The common thread in all these wonderful powder rooms is the freedom to add far more drama than you want to live with everywhere else.

Like a perfectly tailored charcoal gray suit, a white shirt, and a slightly deranged handpainted silk tie...
---
Babs, your powder room looks gorgeous! Everything is outstanding!

Trailrunner, thanks for posting that pic. What a charming powder room you created. I love everything in it. Like the rest of your house, it's so unique and special and YOU!

Sochi, love that idea too! Great pic!

Bronwynsmom, I'm getting a new mirror, but that idea for framing looks like a winner! I'm thinking of using an oval mirror.

I agree that a powder room is a great space to try out dramatic elements. I'm personally going for "simple, clean and spare," but I do love seeing glamour and glitz incorporated in a half-bath too!
---
| | |
| --- | --- |
| RE: Vanity vs. Pedestal Sink for Half-Bath? | |
I was just watching "Monk" and noticed he's got a Memoirs sink in his bathroom, lol.
---
Oh, that's funny, Skywatcher! Btw, I've never seen that show, but it sounds really good. Someone told me years ago that I should watch it...(and the main character has the same first name as me IRL!)
---
| | |
| --- | --- |
| RE: Vanity vs. Pedestal Sink for Half-Bath? | |
Stinky, we watch the show on Netflix and there are repeats shown on USA channel (I think it's USA). Show is set in San Francisco and Monk's apartment is decorated beautifully in arts and crafts style.
---
| | |
| --- | --- |
| RE: Vanity vs. Pedestal Sink for Half-Bath? | |
"Simple, clean and spare" is about as glamorous as you can get, Miss Gardener!
---
Skywatcher, sounds intriguing. I'll have to catch some re-runs. Thanks!

Why thank you, Ms. B.!

I hope what I'm imagining becomes reality! I'm in the interviewing phase for my workers (again!) and I'm really tired of "no-shows." Three so far-- no show, no call, no e-mail, no nothing. I thought people wanted work! I found one more person who is supposed to call me back next week. He said he just got back from vacation & needs to catch up on his calls. Keeping my fingers and toes crossed that this guy will actually be back in touch to schedule an estimate for me! This has been a chronic problem-finding reliable workers who actually show up!
---
| | |
| --- | --- |
| RE: Vanity vs. Pedestal Sink for Half-Bath? | |
I was making a very small half-bath, 3' x 6'6" , such that there was no room for any normal vanity, but I also have never really liked pedestal sinks. I ended up making a wall-mounted vanity, with a "semi-cassa" style sink, and just love how it turned out.
---
My gosh, Bob, that's fabulous. I love it! Thanks for posting.
---
| | |
| --- | --- |
| RE: Vanity vs. Pedestal Sink for Half-Bath? | |
Bob, can you tell us who made your sink?
It looks marvelous. A brilliant use of space.
Or should I say, lack thereof..?
---
Yes, I wish I had a little alcove space in my half-bath like Bob's to cradle a sink like that. I also wish the arrangement of my room was like all the powder rooms pictured above, walking in FACING the fixtures. Instead, you walk in facing a window, and the sink is to the immediate right, and the toilet is on the same wall to the left of the sink.

You lose a lot of the beauty of the fixtures that way. I love looking straight into the room to see the sink right there. As we've seen from all the pics posted here, a sink and faucet are not merely utilitarian fixtures. They can serve as striking sculpture! (Ditto the toilet actually! There are some beautiful ones out there now!).

I'll try to make the best of the configuration I have. (If someone will get their caboose over here to help me with my project!)
---
| | |
| --- | --- |
| RE: Vanity vs. Pedestal Sink for Half-Bath? | |
| | |
| --- | --- |
| RE: Vanity vs. Pedestal Sink for Half-Bath? | |
| | |
| --- | --- |
| RE: Vanity vs. Pedestal Sink for Half-Bath? | |
Thank you, Bob!
I wasn't in a hurry, so don't give it a thought.

The ipe was an inspired choice - you're very brave to work with it in a space requiring that level of precision and finicky finishing, but you did it - looks wonderful.
---
| | |
| --- | --- |
| RE: Vanity vs. Pedestal Sink for Half-Bath? | |
My son and DIL have a tiny powder room, maybe 5' x 4', with a pedestal sink and a narrow painted cabinet for storing bathroom supplies. The cabinet is less than 3' in length and maybe 12" deep with an interior shelf. Just enough room to store tp and some hand towels, air freshner, etc. Very cute and the pedestal sink is perfect making the room appear larger than it would with a vanity.
---
| | |
| --- | --- |
| RE: Vanity vs. Pedestal Sink for Half-Bath? | |
Sochi Love your PR. Can you please give me the scoop on your beautiful wallpaper? Thanks.
---
Post a Follow-up to this Message
Please Note: Only registered members are able to post messages to this forum.
If you are a member, please log in.
If you aren't yet a member, join now!
---
Return to the Home Decorating & Design Forum
Information about Posting
You must be logged in to post a message. Once you are logged in, a posting window will appear at the bottom of the messages. If you are not a member, please register for an account.
Posting is a two-step process. Once you have composed your message, you will be taken to the preview page. You will then have a chance to review your post, make changes and upload photos.
After posting your message, you may need to refresh the forum page in order to see it.
Before posting copyrighted material, please read about Copyright and Fair Use.
We have a strict no-advertising policy!
If you would like to practice posting or uploading photos, please visit our Test forum.
If you need assistance, please Contact Us and we will be happy to help.

Learn more about in-text links on this page here