Return to the Home Decorating Forum
|
Post a Follow-Up
---
| | | |
| --- | --- | --- |
| Questions about SW Blonde | | |
Posted by
laura2
(
My Page
) on
Sat, Aug 18, 07 at 10:15
Hi,

I see SW Blonde mentioned a lot here, and elsewhere on the Internet, so I'm thinking of using it for my living room and dining room. On the SW color chart I picked up from the store, it almost looks like it has a greenish tint to it. On my computer monitor, it looks more golden. Which is more accurate?

I also like the look of the Compatible Cream on the color chart, but am having a hard time visualizing it.

The pictures and curtains I already have that it needs to coordinate with have a bit of gold/yellow in them.

Also, I'd like to use the main color -- the Blonde -- above the chair rail in the dining room, and a darker color below the chair rail. Originally, I was thinking some shade of green, but I don't know how that will look with the Blonde -- ?? (Sage green probably won't look right as I have more of a dark bluish green elsewhere in the area).

Any suggestions are greatly appreciated! If I find some time later, I'll try to figure out how to post a picture!

(My first attempt at finding a gold/tan color for the wall was pretty hideous -- way too orange and dark -- so I'm ready to try a more traditional, neutral color!)

Thanks!
---
Follow-Up Postings:
| | | |
| --- | --- | --- |
| RE: Questions about SW Blonde | | |
Blonde is gorgeous with the right lighting. It went completely green in my living room that has almost no natural light. DH actually thought it WAS green.

It went bright orange in my gameroom that has TONS of natural light and terracotta floors.

You really have to be careful with it. Get one of the sample quarts from Sherwin Williams and paint some poster board. You'd be surprised at how much the color changes from room to room, and at different times of day.
---
| | | |
| --- | --- | --- |
| RE: Questions about SW Blonde | | |
At first I was worried about SW Blonde and that it might be too bold a color or too dark, so bought several different colors/sample buckets, including "Compatible Cream." CC just did not do it for us - too pale and washed out looking. We ended up painting Blonde in all major parts of the house - kitchen, living areas, dining room, bedrooms, media room. We painted the smaller rooms, such as foyer and all bathrooms "Mannered Gold." We're not even through with building our house, but have received quite a few compliments.

That being said, we do have quite a bit of natural light, and high ceilings and have not experienced any green or orange - thank goodness.

The funny thing about the "Mannered Gold" - I originally thought about using it in a guest bedroom, painted some on the wall, and hated it. But in the smaller areas, such as the bathrooms, and with different lighting, it showed up beautifully, really rich looking.

Good luck with your choices! There are so many beautiful colors to choose from!
---
| | | |
| --- | --- | --- |
| RE: Questions about SW Blonde | | |
I have Blonde in most of the public areas of our home and we have never seen green. We do get tons of compliments and the builder changed his choice on a spec home after seeing ours. It does change with lighting and time of day, but it's definitely got a golden glow. Our living room is Mabnnered Gold and looks very rich. We do have very high ceilings.
---
| | | |
| --- | --- | --- |
| RE: Questions about SW Blonde | | |
I would highly suggest getting a large sample and putting it on several areas of the room you're wanting to put it in, then look at it at different times of the day. I was convinced that Blonde was the perfect color for my new house and when I put it up on some sheetrock, it looked very muddy and UGLY. I'm sure it's the lighting, but it was a real shock to me. I ended up having to try about 10 different colors and I think we've finally settled on BM Shelburne Buff, which, in our lighting, looks like the golden beige I wanted from the Blonde!
---
| | | |
| --- | --- | --- |
| RE: Questions about SW Blonde | | |
Superchick, do you happen to have a pic? I am trying to lighten my kitchen which is painted a dark taupe. The Laura Ashley Gold 3 is reading alittle orange in the daylight and I was considering Shelburne Buff.Yellow is tricky!
---
| | | |
| --- | --- | --- |
| RE: Questions about SW Blonde | | |
There is NO accuracy until you get it home, in your lighting. I tried in in one of my rooms and it looked like pea soup. Although I liked it on the swatch and looking into the sample container, it sure didn't look good in my room/lighting. ;o)
---
| | | |
| --- | --- | --- |
| RE: Questions about SW Blonde | | |
Snagd-I don't have one here at the old house with me. And the workers keep throwing away my sample boards! But if you'll do a search here for Shelburne Buff, there are a couple of good pics. But in my house, it looks more gold than in the pics posted here. Also you can go to BM and buy a little 2 oz. jar of it. Don't be afraid of what it looks like in the jar though. It's not very pretty until you put it up on something.
---
| | | |
| --- | --- | --- |
| RE: Questions about SW Blonde | | |
I have Blonde in our masterbedroom & it worked perfect in there for my fabrics. It definitely has never had a green cast in my house, but more of a golden/yellow tone. I'd definitely do the sample test in YOUR house before you commit. It's a nice color, but I wanted something less yellow for the rest of my house, so I settled on SW Whole Wheat. It has more brown.

Here's Blonde in the MB & it looks very true to the color on my monitor:
And here's Whole Wheat in the LR area, this is an accurate shot of it without it washing out:
---
| | | |
| --- | --- | --- |
| Shelburne Buff | | |
Snagd-don't know how to post a link to the thread, but there's lots of pics on "Favorite yellows and golds". Pearl4t posted a nice pic of Shelburne Buff on there. Good luck.
---
| | | |
| --- | --- | --- |
| RE: Questions about SW Blonde | | |
Thanks for the link superchick,if that photo is accurate to how the color looks, I love it!
---
| | | |
| --- | --- | --- |
| RE: Questions about SW Blonde | | |
I have SW Blonde in a room but it doesn't look as pretty as Georgiagal's room.

I have SW Compatable Cream in the foyer:

daytime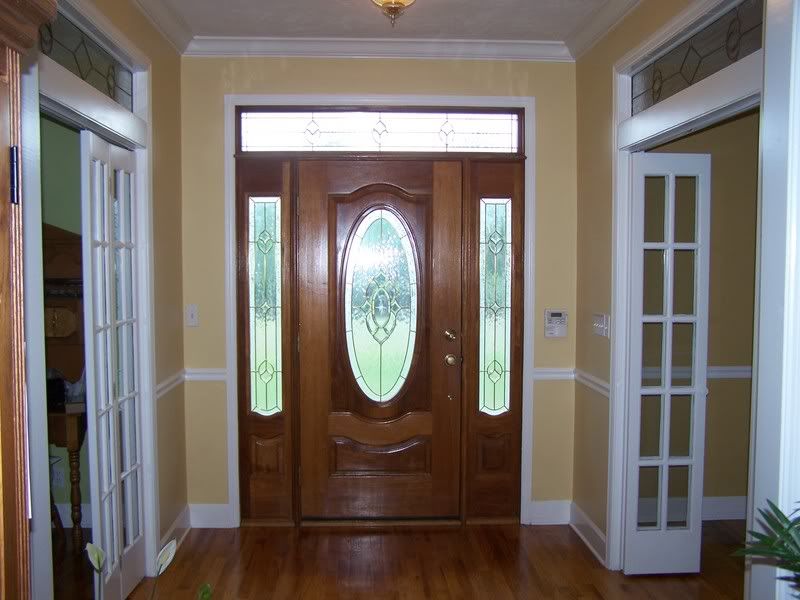 ---
| | | |
| --- | --- | --- |
| RE: Questions about SW Blonde | | |
I tried SW blonde too, but it looked horrible in my lighting. I ended up using BM's Desert Tan, a warm gold/tan. You need to see a sample in your home on the wall you'll be painting, you'd be surprised how much color changes depending on the enviroment.
---
| | | |
| --- | --- | --- |
| RE: Questions about SW Blonde | | |
We used both the SW Blonde and the SW Compatible Cream in our house. We used the Blonde in our mudroom/laundry areas to brighten up the space. It does not appear orange at all in our lighting. It has more light yellow tones, not fleshy/peachy at all. Nor does it seem green in any way.

We used SW Compatible Cream in our master bedroom, and it is lighter than the Blonde. It is a very warm creamy color, and we really like it. Again, in our lighting, it does not look orange at all. It's a great color for creating a warm, light, airy feel.

For our main living area and a spare bedroom, as Superchick also mentioned, we wanted a less yellow color and chose BM Wilmington Tan, which varies from a warm medium tan to a golden color, depending on the lighting and time of day. Superchick used Shelburne Buff, which is very similar. We really like this color.

I am posting pictures of all of these colors below. I will say that lighting and other factors have a lot to do with how paint colors appear in a room (versus a chip). I learned from our experience in building this house that the colors tend to come across darker than they appear on the chip when they are on four walls. We kept our ceilings a light, creamy white, and it works well in our house. I agree with the advice of the others about painting a sample area or piece of poster board before committing. Good luck! Jan

Here is the SW Blonde. We were actually taking a picture of the floor tile in the photo, but you probably get the idea anyway:

Here is the Compatible Cream in our master bedroom:

Here are two photos of the BM Wilmington Tan:

---
| | | |
| --- | --- | --- |
| RE: Questions about SW Blonde | | |
What about Monroe Bisque or Camelback by SW? Any other pics of these two colors? I like the Wilmington tan. Not meaning to Hijack Laura,but I think were looking for a similar thing!
---
| | | |
| --- | --- | --- |
| RE: Questions about SW Blonde | | |
Snagd - I have to say that finding a warm, golden tan that wasn't too yellow or overwhelming was very difficult. The reason is that the colors on the paint chips are deceptive. All the colors I thought would be right were too yellow or too orange. I just couldn't seem to find the right one. After trying samples on boards and bringing them into our home, as the drywall was finished to see what they would look like - I wanted to cry - the BM Chestertown Buff was too bright yellow and BM Gingerbread Man was screaming orange . . . you get the idea. Our painter happened to show up that day and helped us find the color that was eluding us - BM Wilmington Tan. It's just right. However, it does change significantly in appearance based on lighting factors. When there is less light it looks more brownish, and when there is more light, it takes on a warm tan with golden tones. It is a bit deeper color than SW Blonde, but it works okay for us, as we have a deep red kitchen/dining area. We've been living in a house with all white walls for the past four years, and we're just craving color. Choosing colors was the hardest choice of building our home. I did read somewhere about how some colors are more complex and change in appearance more easily. It is so interesting. Also colors are often relative in their appearance to other colors. I have been enjoying reading all the posts and watching people transform their rooms with color. Good luck in finding the right color.

Jan
---
| | | |
| --- | --- | --- |
| RE: Questions about SW Blonde | | |
Here is a picture of my dining room recently painted SW blonde. (room in progress!) In my room the lighting sometimes gives it a gold look sometimes a tan look, never green. So every room is different. I saw your other post, though, and I will tell you I am contemplating adding a chair rail in that room and leaving it the same color both above and below. Im just adding the chair rail for interest. Good luck with your color, it took me forever to decide, and Im still trying to make the room look finished!



---
| | | |
| --- | --- | --- |
| RE: Questions about SW Blonde | | |
I too had a hard time finding a neutral tan that did not turn greenish, was not too gold and was not too light as my first choice (too safe) Putnam Ivory that we started with and disliked.

We repainted with BM Decatur Buff which is more of a tan with gold undertones. It is a very pretty color that stays true at different times of the day and has a rich depth to it without being too dark.

This picture is not quite accurate and the color looks a bit more washed out.
Here is a link that might be useful: Decatur Buff
---
| | | |
| --- | --- | --- |
| RE: Questions about SW Blonde | | |
Love SW Blonde but didn't achieve what I was looking for. In my rm. it went waaaayyyyyy yellow! NE facing rm. w/ lots of light but indirect light. I was hoping that it would look more creamy full bodied tan in my rm. A BM Pittsfield Buff sample (or was it Powell Buff?) worked better for me but I decided to go in a different direction. There's a shocker!
---
| | | |
| --- | --- | --- |
| RE: Questions about SW Blonde | | |
I thought I wanted SW Blonde throughout with my open floor plan but did not like the sample board at first. I ended up with SW Blonde in a small room with a Northeast exposure and I like it a lot - Did SW Whole Wheat in the great room and kitchen in Harmonic Tan - They almost look the same when looking from one vantage point but look very different in each room - the Harmonic Tan is definately a green in my southern exposure kitchen.

SW Blonde in Office-Bedroom
Same Room
SW Whole Wheat in Great Room
Harmonic Tan
---
| | | |
| --- | --- | --- |
| RE: Questions about SW Blonde | | |
Wodka, Please post a PIC

We ended up painting Blonde in all major parts of the house - kitchen, living areas, dining room, bedrooms, media room. We painted the smaller rooms, such as foyer and all bathrooms "Mannered Gold." We're not even through with building our house, but have received quite a few compliments.

Cheers and thanks,
DD
---
| | | |
| --- | --- | --- |
| RE: Questions about SW Blonde | | |
diy_dirk - Would you believe today is our moving day!!! We've been up since 4 a.m. preparing for the movers. As soon as I get hooked up at our new home, I will send you some photos. I've asked this before - but what is the SIMPLEST way to post pictures here?

It's funny how different SW Blonde can look on the different photos and walls. Our walls do not have any greenish tint to them, and the color seems to blend in with everything we've done.

Our old house that Katrina blew away was painted mostly with SW's "Crewel Tan." I don't think they make it any more, but it was very similar to Blonde. When we started building our house, I thought I'd be more of a risk taker and go with bold, bright colors. You wouldn't believe how many samples I bought - but all roads led back to Blonde and Mannered Gold. Go figure.

Better get off this computer and get back to work. I'll email back soon.
---
| | | |
| --- | --- | --- |
| RE: Questions about SW Blonde | | |
So good by day.....so bad at night. I sampled both Blonde & Restrained Gold in my DR. I'd tried both in my LR but they turned waaaayyyyyy too yellow for me. DR is at oposite side & end of house & they both looked great by day but horrid green undertones were revealed by night when I turned on the lights. So sad. We ended up w/ BM York Harbor Yellow in the DR.
---
| | | |
| --- | --- | --- |
| RE: Questions about SW Blonde | | |
I'm being half silly (perhaps delirious because the movers are running two hours late and I have been up since 4 a.m.), but is it possible that different SW stores don't mix colors the same? I have looked and looked at these pictures and all are beautiful, but none look like my "Blonde." For instance, Georgiagal's master br "Blonde" is gorgeous, but it looks apricot to me. Others look more brownish tan than golden tan. I guess room locations make a tremendous difference.
---
| | | |
| --- | --- | --- |
| RE: Questions about SW Blonde | | |
Hi, Wodka, congrats on getting moved! I know you must be tired. Just for the heck of it, I thought I'd throw in another shot of my masterbedroom with Blonde. This shot is a little more true & I think the other one looks very intense because of the lighting there & the closeup shot. This one is accurate on my monitor & is definitely less peachy. I don't notice anything peachy about it except maybe a tad a night. Mostly it's really yellowy, which works with my fabrics in there. It's funny how it changes from house to house. Looking at all these pics, it doesn't even look like the same color!
---
| | | |
| --- | --- | --- |
| RE: Questions about SW Blonde | | |
georgiagal, thanks (yes, I'm exhausted - and not even close to being unpacked. I wore sandals yesterday to the closing (because I couldn't find my box with my winter shoes!) My tootsies got a little cold! I just want to rest and decorate, but that will be a few more days, I'm afraid. But, boy, do we sleep good at night!

Love your pictures - you have a beautiful home.
---
| | | |
| --- | --- | --- |
| RE: Questions about SW Blonde | | |
SW Blonde must be really site temperamental as I see what wodka sees--an orange cast to it in some of the pixs...I have SW Blonde in my foyer and hall and it has golden qualities vs. peach..
Susan
---
Post a Follow-Up
Please Note: Only registered members are able to post messages to this forum.
If you are a member, please log in.
If you aren't yet a member, join now!
---
Return to the Home Decorating Forum
Information about Posting
You must be logged in to post a message. Once you are logged in, a posting window will appear at the bottom of the messages. If you are not a member, please register for an account.
Please review our Rules of Play before posting.
Posting is a two-step process. Once you have composed your message, you will be taken to the preview page. You will then have a chance to review your post, make changes and upload photos.
After posting your message, you may need to refresh the forum page in order to see it.
Before posting copyrighted material, please read about Copyright and Fair Use.
We have a strict no-advertising policy!
If you would like to practice posting or uploading photos, please visit our Test forum.
If you need assistance, please Contact Us and we will be happy to help.

Learn more about in-text links on this page here