Return to the Home Decorating Forum
|
Post a Follow-Up
---
| | | |
| --- | --- | --- |
| Railing for loft - which style? | | |
Posted by
alicia58801
(
My Page
) on
Tue, Aug 4, 09 at 9:57
We are down to crunch-time in deciding on a railing for our loft above the kitchen. Here is a picture of the loft in the house. Please ignore the mess and the wood trim leaning up against the loft (DH was finishing it that day).
Our house is going to have a rustic feel. Pine ceiling, stone fireplace with a split log mantle. All of our light fixtures and hardware are either ORB or black finish. Our dining table will be in front of the kitchen (which is under the loft). Here is the chandalier that will be hanging from the ceiling in front of the loft.

So now my question...What type of railing should go on the loft? My husband really loves the log railing, which would go well with our log mantle. We originally were going to have a friend of ours make this, but he is just too busy. So we're looking to order online.

I prefer the log and iron railing. I think the black iron spindles would tie in nicely to our other black finishes. We kind of have a 'black hardware on pine' thing going. This picture gives you an idea of what I'm looking for.

So what do you think? All log or log/iron railing? The logs have a much more rustic feeling. The iron still feels rustic, but not too much. One of my fears is to go too over-the-top with the rustic-ness. I like the comfortable feeling, but I don't want it to feel too much like a hunting lodge. :)
Thanks for your input!
Alicia
---
Follow-Up Postings:
| | | |
| --- | --- | --- |
| RE: Railing for loft - which style? | | |
My vote is for the second pic (pine w/ iron). It looks rustic yet the iron gives it a slightly more "special" quality, if that makes sense.
---
| | | |
| --- | --- | --- |
| RE: Railing for loft - which style? | | |
I hope I do not offend you with this: I love the style that you have going in your home. It is refreshingly different. However, I would choose a less "rustic" railing so that the rustic style is not overdone. A iron and more simple, turned wood railing would be still in keeping and would compliment your light fixtures. Sort of an updated rustic. Just my opinion of course.
Diane
---
| | | |
| --- | --- | --- |
| RE: Railing for loft - which style? | | |
I'm sorry Alicia, but I think the all log looks the best. The log and iron seem to be competing styles to me and therefore don't make it in my book. Are there other log and iron looks that might not compete so much? Or something scenic in the wrought iron like shown at the link below. Thought not the same. Maybe all trees either bare or evergreen.
Here is a link that might be useful: Wrought Iron and log railing.
---
| | | |
| --- | --- | --- |
| 2RE: Railing for loft - which style? | | |
Something like this......
Here is a link that might be useful: twigs
---
| | | |
| --- | --- | --- |
| 3RE: Railing for loft - which style? | | |
| | | |
| --- | --- | --- |
| 4RE: Railing for loft - which style? | | |
All were found here..........
Here is a link that might be useful: Log stairs
---
| | | |
| --- | --- | --- |
| RE: Railing for loft - which style? | | |
I prefer the hand forged iron railing that's in the bottom right photo on the site that justgotabeme provided. It is like the second photo that you showed us, and doesn't carry the "log cabin" theme too far. While the detailed trees, birds, animals, etc., are unique, I can imagine that they could be quite expensive and they do appeal to only certain individual themes.
---
| | | |
| --- | --- | --- |
| RE: Railing for loft - which style? | | |
Diane, absolutely no offense taken! That's what I'm asking for, honest opinions. I'm afraid of overdoing the rustic thing, but I also wonder if a contemporary or more traditional railing would look out of place with our other finishes?

Justgotabme, you said almost exactly what my sister said about an hour ago! The iron and wood just don't seem to go together. Maybe the iron isn't the way to go. I like the all-log look, but I think the rustic logs might be too chunky and big for our loft space, and block too much of the light and view from up there. Does that make sense?

My husband would love the railing that you linked! I also like it, but agree that having a cut-out without an animal might be a little more neutral. Back to the search, I guess. If anyone has any more ideas, keep 'em coming! :)
---
| | | |
| --- | --- | --- |
| oops.. | | |
Oops, I cross-posted while you were linking all of those. Thanks for finding those, justgotabme! I actually really like the iron twigs and some of those cut-outs. I'm going to explore that site a little more and see what I can find.
---
| | | |
| --- | --- | --- |
| RE: Railing for loft - which style? | | |
The Twigs definitely have my vote. Very organic and also sophisticated. I love that look. COmbines the fixture you have going on and no more wood. I don't think you need anymore wood in the railing. Most times "less is more" and the more wood you have competing with the ceiling and the mantle will dilute the impact that you want to have with those 2 elements. Just my opinion of course. I would aim for "elegant and understated" as a great contrast to all the rustic. c
---
| | | |
| --- | --- | --- |
| oops... | | |
meant to say "and not too much wood" as the twigs does have some wood. I also love the curving all metal railing that they show. Anyway more elegant metal and less wood...
---
| | | |
| --- | --- | --- |
| RE: Railing for loft - which style? | | |
I love the twigs too-- unique and organic but not cliche and overdone.

I had a friend with an A-frame with a very similar design. He had a log railing very similar to the one your hubby likes. It looked nice in context-- but probably a tad too rustic and outdoorsy for me had I owned the house.

My only caution with the twigs is that it might be too much motion overhead-- too busy. I definitely would want to give it a try though!
---
| | | |
| --- | --- | --- |
| Too much going on? | | |
I like the twigs a lot, and the railing on the site linked by justgotabme are some of the nicest I could find. However, I found on the site that they are $795 per lineal foot!! So, for a 19 ft. span that would be...way too much!

Funkyart, hadn't thought of having too much motion in a railing. Makes complete sense though. I'm beginning to wonder, how many focal points can be in one room? We have the ceiling, stone fireplace (real stone veneer, drystacked ledgestone with a bit of sparkle) and our wall of windows. Maybe I should try to keep the railing simple and avoid having too much going on in one space.

To give you a better idea of the space, here's a photo of the windows I was talking about and the fireplace (no stone yet), and my DH doing the endless job of finishing trim. :) This wall is opposite from the loft, and there's a great view out those top windows from the loft.
Here's the view

(Sorry, I know those photos were a repeat if anyone saw my other thread.) Anyway, are my concerns of having too much going on in one room valid? And what type of railing would be simple?
Alicia
---
| | | |
| --- | --- | --- |
| 4RE: Railing for loft - which style? | | |
Oh my gosh! I didn't check the prices! YIKES! I would check in the area and see if there's an artist or even a welder (?) that could do the iron work for you. I'm sure it would be much more cost effective. I do think it's the way to go to fit both you and your hubby's ideas. I know often my own hubby and I have different views on what would look best during the process of finishing our own home and wind up with a compromise that we both like better than either of our original ideas of what was best.
---
| | | |
| --- | --- | --- |
| RE: Railing for loft - which style? | | |
Yikes is right. I sure wish my welder were nearer...he is amazing and does beautiful work and is very reasonable.

I still think simple and elegant are the way to go. I really think the view + stone work + ceiling are all you need. Of course there will be art work too...so the railing really needs to be a backdrop to all the beautiful things you already have going on. Like wonderful simple earrings when you already have a great dress and hair and necklace...does that make sense ??? Hope all this helps. c
---
| | | |
| --- | --- | --- |
| RE: Railing for loft - which style? | | |
LOVE the twig railing!!!!!!!!!!!!!!! That stinks that it's so much $$$.....
---
| | | |
| --- | --- | --- |
| 5RE: Railing for loft - which style? | | |
What about glass balustrade so it's invisable?
---
| | | |
| --- | --- | --- |
| RE: Railing for loft - which style? | | |
I think I would use something understated like an interior transparent railing. You seem to have enough going on with the view and the architecture --why try and compete with it?
Here is a link that might be useful: glass railings
---
| | | |
| --- | --- | --- |
| .RE: Railing for loft - which style? | | |
Barbie, that's just what I was talking about. Especially the first one.
---
| | | |
| --- | --- | --- |
| RE: Railing for loft - which style? | | |
I vote for a frameless glass railing. Less wood. Too much wood will overwhelm the look. The stunning view is the star and glass will show it off the best.

here is an example. you can lose the hand rail, just keep the glass.

Here is a link that might be useful: glass railing
---
| | | |
| --- | --- | --- |
| RE: Railing for loft - which style? | | |
I love the glass, or at least the concept of it. It would be beautiful and completely open up the space to the views. However, it might make me a little nervous. Did I mention that I have two little boys, who have many other rambunctious boy cousins in the area? I guess I'd have to look into the safety of it a little further. But I suppose that any railing has the potential of safety issues.

I noticed on that site that their glass railings must be installed by them. I wonder if there's someone in my area that makes these? Off to do more searching...

Thanks for all the great ideas!
---
| | | |
| --- | --- | --- |
| RE: Railing for loft - which style? | | |
I love the glass version, too--but then again, I am a contemporary-decor fan. Not sure if that really works for this house. And with two kids, you know you'll be running up there to clean fingerprints much too often! LOL!

I wouldn't go for the all-log version just because it seems a little too heavy when viewed along with the ceiling (which looks amazing, by the way!)

I think something like the log/iron version you pictured would be fine. It's a more neutral look, and I think you want that railing to just blend in and not attract attention on its own. Perhaps a metal worker in your area would also be able to use maybe not wrought iron but a metal he/she can powdercoat with the ORB finish of your lamp fixture, if that's closest to the loft (otherwise since you will have other black fixtures, stay with the wrought iron).

The view is to die for! I think I would find I'd spend most of my time up in the loft lying on a couch daydreaming at the view...
---
| | | |
| --- | --- | --- |
| RE: Railing for loft - which style? | | |
I think I would want something really, really simple so that it does not distract from all the other beautiful things going on in the space. I think it should be functional but not a focal point. Nor should it "stop the eye" which wood would do. The black will disappear and let the eye pass to the view in both directions.

I don't care for the glass for the reasons stated above, but mostly because I am afraid of heights and would need to feel secure up in that loft. Glass would be scary for me! :-) Not to mention the fingerprints...!

I could see a beautiful rug or blanket draped over a part of the plain railing, off to the left where it won't block the view. I'd let that be the decoration...not the railing itself.
---
| | | |
| --- | --- | --- |
| RE: Railing for loft - which style? | | |
I love the twigs, too, and would have had the same reaction you did: Beautiful, but WAY too many $$.

One bit of information for you: We have a great view from our living room, out across the covered porch. I went through agony trying to find something that wouldn't block the view -- I considered the glass balustrades but figured they'd get dirty just like windows -- think grandkids' handprints! -- so finally gave it up. Like I need more glass to wash!

Our porch materials suppliers told us to use black iron, saying that they'd just disappear. "Yeah, right," I thought . . . but it solved so many problems, I decided to let it happen. Well, they were right. We see right "past" the black rails. They also said that setting them on the diagonal minimized them -- I still don't know if I buy that, but we did . . . and it works.

I think I'd use just black iron -- I think the logs call attention to themselves more than I'd want. I'd want the railing to disappear visually.

Good luck . . . every decision is wrenching, isn't it? You have a killer view and a beautiful house -- have fun deciding!
---
| | | |
| --- | --- | --- |
| RE: Railing for loft - which style? | | |
I agree with hosta. I have a VERY rustic log home and believe me, when you start adding more wood, it gets a little overwhelming. So, I'd just use a plain black iron railing without much design or ornamentation. Let your fireplace be the big "wow" factor (although it's gonna have to work hard to compete with that gorgeous ceiling!

~~Veronica
---
| | | |
| --- | --- | --- |
| RE: Railing for loft - which style? | | |
alicia58801-

What about stainless steel cable and wood for the top rails? This is exterior, but they can be done interior, we used cedar 4" x 4" full size for the vertical posts and 4" x 4" (ripped lengthwise) for the horiziontal ones. As Amy said, the logs stop you dead in your tracks, perhaps a horizontal line with wood on top would be better?

Lots of companies make these, we purchased from Outwater, who seemed to have the best prices (excellent customer service too). There was a learning curve, but once we figured it out, it actually went along pretty easily. We then used Bush Oil on them, about 5 coats IIRC.

I know these pics are big, but I'm at work and PB doesn't want to resize for me. My apologies.

Good luck-

sandyponder
---
| | | |
| --- | --- | --- |
| RE: Railing for loft - which style? | | |
You are all so helpful and generous with your suggestions, so thank you! I've definitely come to the right place for help. :-)

Amysrq, I think I agree with you that my concern over the glass railing isn't that it isn't safe, but that it wouldn't FEEL safe! I think that the mere knowledge it is glass, and glass is breakable, would make me afraid to have my kids pressing against it. Just gives me the heebie-jeebies thinking about it! And looking up at a fingerprint-covered glass railing would bug me, I already know it. SO, glass is out.

Hostagrams (and everyone else with this thought), thank you for point out that the black spindles would be easy to look through, where as with wood I would almost have to look around each spindle. (Does that make sense?) It is this issue more than any other that makes me lean toward the black spindles. I don't want to block the view or the light, and I don't want to have to stand up and look OVER the railing to be able to see anything below or out the windows.

Sandyponder, I LOVE your railing! Looks very cool and functional, and doesn't block the view at all. But I showed the picture to DH, and he vetoed it immediately. Not rustic enough, apparently. But thanks for the photos - it looks great!

Okay, all of this leads me to the fact that I'm pretty sure that a combo of black balusters and logs is the best compromise for DH and I. The logs in the railing would tie in with the log mantel, which is important to DH. I'm thinking that something like this (which is pretty much what is in my original post) might be the best of all worlds.

So did all of your great ideas and input ultimately lead me back to where I started? Well, no matter what we decide, you have all been a huge help in helping me think through this decision. So thank you!
Alicia
---
| | | |
| --- | --- | --- |
| RE: Railing for loft - which style? | | |
Alicia:
This is from our weekend log cabin, so I just got the pictures today. We used the black railing, so I wanted you to see them. We also used the same steel cable on the deck that Sandyponder used since we didn't want to obscure the view.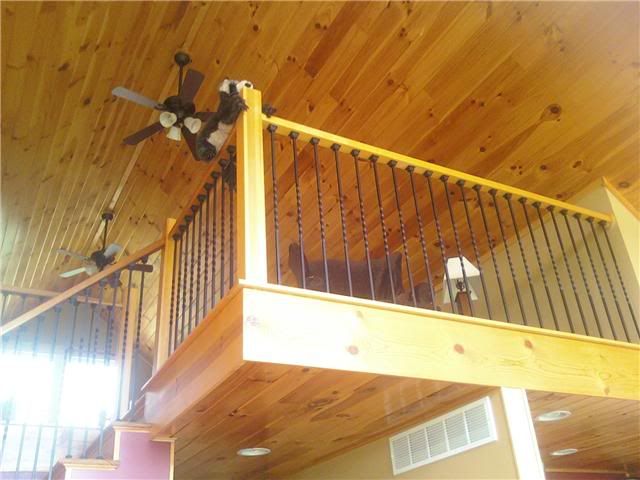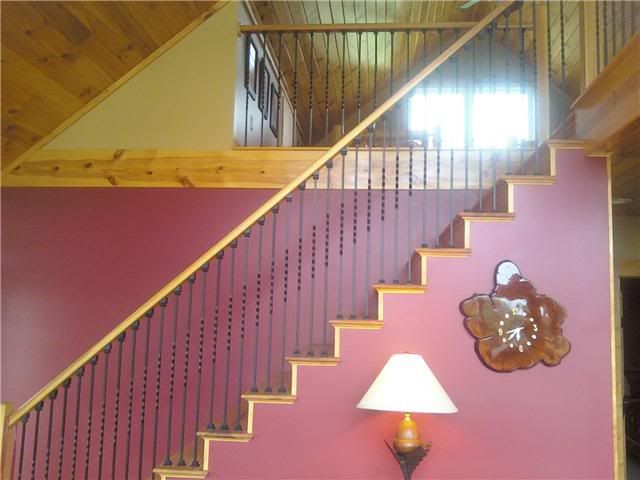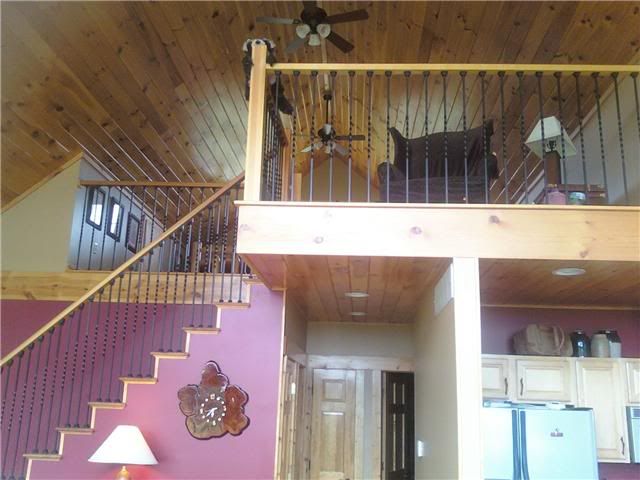 ---
| | | |
| --- | --- | --- |
| RE: Railing for loft - which style? | | |
Alicia, I told my dh that your house reminded me of one he helped a friend build. Here is his loft and 2nd story landing.

Click to enlarge - sorry the pics are blurry.



---
| | | |
| --- | --- | --- |
| RE: Railing for loft - which style? | | |
Deeinohio and Marti8a, thank you so much for those pictures! Dee, your cabin is beautiful! And marti8a, your husband must be very talented to have helped build such a beautiful place - the double loft lookouts is great! I love the ceilings (although I guess I'm a little biased. :)) Those photos really help to reinforce the decision of getting the black balusters. I think I'll like the look and function of it.

I did order the logs for the posts and top/bottom railings yesterday. Now I just have to choose what style of balusters I want. DH really likes the twisted one like those in Dee's photo. Simple, but it adds a little visual interest. I'll be sure to post a photo once it is installed. Thanks again!

Alicia
---
Post a Follow-Up
Please Note: Only registered members are able to post messages to this forum.
If you are a member, please log in.
If you aren't yet a member, join now!
---
Return to the Home Decorating Forum
Information about Posting
You must be logged in to post a message. Once you are logged in, a posting window will appear at the bottom of the messages. If you are not a member, please register for an account.
Please review our Rules of Play before posting.
Posting is a two-step process. Once you have composed your message, you will be taken to the preview page. You will then have a chance to review your post, make changes and upload photos.
After posting your message, you may need to refresh the forum page in order to see it.
Before posting copyrighted material, please read about Copyright and Fair Use.
We have a strict no-advertising policy!
If you would like to practice posting or uploading photos, please visit our Test forum.
If you need assistance, please Contact Us and we will be happy to help.

Learn more about in-text links on this page here