Return to the Home Decorating & Design Forum
|
Post a Follow-Up
---
| | | |
| --- | --- | --- |
| Need Help with DIY Antique Dresser to Sink Vanity Conversion | | |
Posted by
jan_in_wisconsin
(
My Page
) on
Tue, Aug 5, 14 at 9:12
Garden Web Friends,

I found this gem of an antique dresser at an antique store this past weekend (sorry, not the best photo):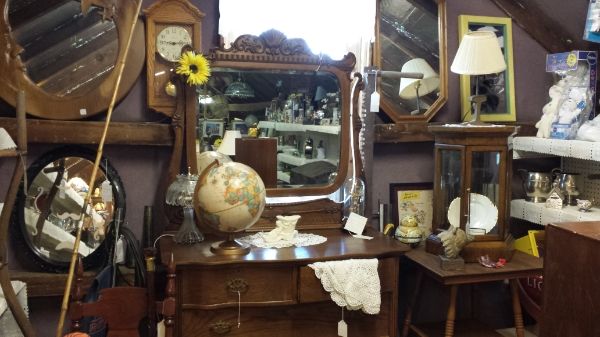 I have had my heart set on converting a dresser like this to a sink vanity for our half bath for a number of years now, and after finding this piece, I'm ready to make it happen. This is the general idea: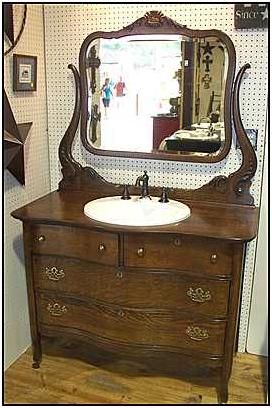 EXCEPT, I want to chalk paint it a creamy white and just lightly distress around the fluting and carvings. I have seen some of Ms. M's work here, and it's gorgeous. I took a chalk painting class recently, and I have used it on a pair of nightstands and mirrors in the past. I think I would like to keep the vanity top either stained or replaced with marble, quartz, or granite, etc., something like this:
I'm looking for some help with the following:


What is the first step (strip and stain the top, if I decide to keep it wood, cut out sink hole and other holes for plumbing, or paint the sides and legs)?


What do you think about keeping the top stained? Is there a way to protect it sufficiently? This will be used in a powder room of sorts. Or would it be wiser to have the top replaced with a more durable material?


If I do stain the top, would it look best to keep it the same color it is currently, since I will be sanding slightly through on the sides and mirror? Or would it look alright to go a bit darker with the stain color?


Do you think it would be best to shellac this piece before painting to ensure the stain doesn't bleed through the paint? I didn't notice a strong odor or musty smell with this piece. It is oak, so maybe with the distinct grain, it would be a good idea to shellac first for that reason?


Since the wood is a medium tone, and I think I might prefer a darker stain showing through with the distressing, I am considering staining the whole piece darker first, but that may be way more work than I want to do.


Hardware - I think I want to keep the hardware a contrasting color (not cream like the dresser will be). Should I leave the hardware the antique brass color, or do something different? Our current faucet is oil rubbed bronze, and so is our bathroom door hardware, etc.


Would we need to hire both a plumber and a carpenter since we're not very handy? What is the best way to coordinate this work, and when should they get involved?


I think I'm in the analysis paralysis stage. My DH already thinks I've bitten off more than I can chew. He is concerned the overall cost is really going to add up, since plumbing needs to be modified and lighting moved. This dresser vanity will be placed slightly to the left of our current pedastal sink.
So . . . I want to impress him with some results here. :o)
Anxious to hear your thoughts and ideas.
---
Follow-Up Postings:
| | | |
| --- | --- | --- |
| RE: Need Help with DIY Antique Dresser to Sink Vanity Conversion | | |
I personally would love to see the top kept stained. You can seal with a water repellant sealer. I cannot think of the name we used on outside wood chairs. It is a decking sealant - rubs on. NOT shiny!

We have used a piece for a vanity. Cut the top first. It doesn't really matter, but why stain more than you have to?

You can stain it darker and then if you think the distressed areas need to look darker - use some dark wax after painting. That will also make the carvings show up better too. Use clear wax before using dark wax.

I believe there is an additive you can use to prevent bleed through, but that may be with MMS milk paint instead of chalk paint. I'd look at both her web site and the annie sloan site for guidance on that.

I think the brass/gold color on hardware will work!

tina
---
| | | |
| --- | --- | --- |
| RE: Need Help with DIY Antique Dresser to Sink Vanity Conversion | | |
Thanks Tina! Yes, the dark wax should do to enhance the light distressing around the carved areas. I definitely want to keep the top stained if possible. I just need to find a high-performance poly like you mentioned.

From the Annie Sloan materials I have read, Zinnser's Shellac is used to prevent bleed through, and also for sealing odors or other imperfections prior to painting.

A couple more questions:

I plan to strip the top and stain it in a darker shade. Somehow I need to strip the underside of that top piece, I would assume, since that overhang/lip should be stained underneath vs painted. I wonder how difficult that would be.

I love the white sink in the Sweet Pickins photo above. But, our toilet is bisque, and our wainscoting is a creamy white. Does the sink need to match the toilet, etc.?

I know, I'm overthinking this! :o)
---
| | | |
| --- | --- | --- |
| RE: Need Help with DIY Antique Dresser to Sink Vanity Conversion | | |
It would look beautiful with the top stained, rather than 'updated' with a hard surface. I would do several coats of 'Boat Coat' or a similar product. You want something that 'beads up' when water get on it obviously.

Are you going to do a glaze over the white or will it be left a pure white? I have a dresser almost identical in one of the guest rooms. I took the mirror off and used something more decorative. Thought it was 'too country' for the 'French' look I was going for, but loved it at the same time. Can't wait to see the transformation!
---
| | | |
| --- | --- | --- |
| RE: Need Help with DIY Antique Dresser to Sink Vanity Conversion | | |
I think you should make an outline in your powder room of the shape of the vanity plus mirror will take. It seems largish and powder rooms are often smallish. Just be sure it can work before you begin to modify the piece. I tend to agree with your husband.
---
| | | |
| --- | --- | --- |
| RE: Need Help with DIY Antique Dresser to Sink Vanity Conversion | | |
Measure to make sure it'll fit through the bathroom door as well.

I agree with the others, a stained top will look very nice, and do all the cutting on it before staining/painting so you don't have any accidental marring of your new exterior surfaces.
---
| | | |
| --- | --- | --- |
| RE: Need Help with DIY Antique Dresser to Sink Vanity Conversion | | |
There is room in the powder room and doorway. The curved top is just under 22" at its deepest point, and at its narrowest is 19". It is 43" long (enough for an extra foot+ to play with in positioning the dresser along the wall with the toilet), and our ceilings are 9' so there is plenty of room for the less than height. It will definitely have a larger visual presence than the pedestal though. I will do the template to get a better feel.
---
| | | |
| --- | --- | --- |
| RE: Need Help with DIY Antique Dresser to Sink Vanity Conversion | | |
The first pictured dresser--it is so beautiful it would be a sin to paint it--but that is not THE dresser you are talking about, correct? You didn't ask about your paint plans so back to the subject. I have been wondering if there is a piece of glass you could add to protect the wood top and give you the wood look? I have never heard of that done in a bathroom but it is done on table tops all the time.
---
| | | |
| --- | --- | --- |
| RE: Need Help with DIY Antique Dresser to Sink Vanity Conversion | | |
An excellent topcoat in a wet environment is Waterlox - DIY friendly, easy to repair, and has excellent water resistance.
Bleed through is usually found with those deep red stains usually found on Mahogany. Shellac is a good barrier to prevent/minimize that. Likely not necessary on the piece you show but no harm in doing it. Caveat there though is the shellac in the can is not de-waxed and may affect your choice of top coat.
As for staining the body darker to match the top - probably not necessary. The little bit of color that will peek through after you distress will not appear that much different - and as stated above a bit of dark wax can even it up if it is that noticeable to you. A little dark wax goes a long way so use with a light hand.
As for the underside of the top - use a sanding sponge to get under there - easiest if you flip the piece over and work that way. You may not need stain under there but you will want your topcoat to cover it.
Here is a link that might be useful: Waterlox
---
| | | |
| --- | --- | --- |
| RE: Need Help with DIY Antique Dresser to Sink Vanity Conversion | | |
Arcy, yes, the very first picture of the dresser in the cluttered antique store is the actual one. I do understand the sin of painting it, but I think it will look great that way as well. I want to keep the top stained, hopefully. The issue with the glass would be that it needs to accommodate the sink.

Kathy, thanks for the Waterlox info. I'm definitely checking that out. Flipping the piece will be helpful for the underside, and I agree now it's not necessary to darken the stain. I'll use dark wax if necessary and lightly too.
This post was edited by jan_in_wisconsin on Wed, Aug 6, 14 at 16:21
---
| | | |
| --- | --- | --- |
| Forgot to mention | | |
Forgot to mention that I agree about the shellac. This is an oak piece, not one of those deep red mahogany pieces. I am also in the process of a sideboard redo, and that piece will need the shellac first I think.
---
| | | |
| --- | --- | --- |
| RE: Need Help with DIY Antique Dresser to Sink Vanity Conversion | | |
jan, Have you bought it already? I just wanted to tell you to do some research on sinks to be sure you can find one that will fit front to back. I have three 'old furniture vanities' and only the one on the first floor had a nice deep front to back top, so the sink was no problem there.

You say that the narrowest part of the top is 19", and I don't think that is at the center, but measure from the front inside of one of the drawers to the inside back of the piece, as that measurement will be important when you look at sink specs.

For my two 'narrow from to back' ones, the only sink I could find that I liked was a Kohler 'Serif' that I have linked below, in the biscuit color. You can get it in a one hole for the faucet, 4" spread or 8" spread.

This is one in my basement vanity -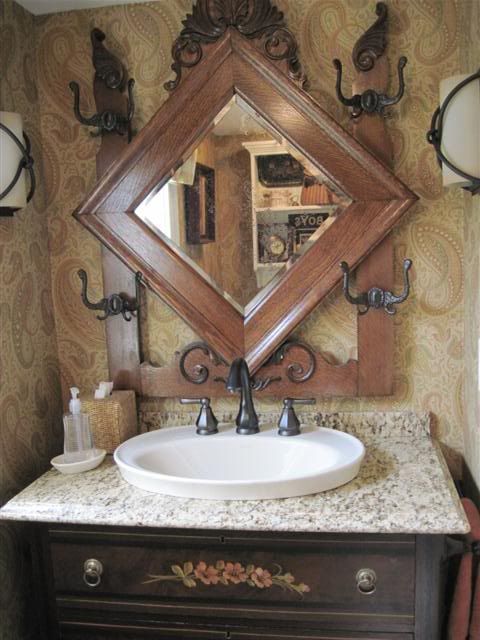 Here is a link that might be useful: Kohler K-2075
---
| | | |
| --- | --- | --- |
| RE: Need Help with DIY Antique Dresser to Sink Vanity Conversion | | |
my3dogs - Yes, I bought it since it was from an out-of-town antique shop to which we'd never otherwise return, with the idea that I could resell if it didn't work out. But, I definitely want it to work out. Thank you for the great image of your basement vanity. Wow! I love it! You brought up a great point about the sink measurements. I believe the sink you posted (which I love, btw), would fit, even considering the narrower distance than 22" for the inside of the front curved drawers to the back. I'm going to have my DH, who is a math guy, check it out, though, and measure it to be sure. Also, we have a friend who is a carpenter that will be stopping by to help with the dresser modifications needed.

Thanks for the sink link!
---
| | | |
| --- | --- | --- |
| RE: Need Help with DIY Antique Dresser to Sink Vanity Conversion | | |
Sounds like you are ready to go full speed ahead! Yay!! The one we did (wish I had a picture!), we needed a smaller sink and I found that online. That was several years ago and I can't remember where! You could probably google. I do remember looking at bar size sinks too. The sink should come with a template - which you can trace onto the wood top. You may lose use of some of the drawers for the pipes/plumbing.

Glad my3 had some pix - I had forgotten about her beautiful vanities. Great examples!

tina
---
Post a Follow-Up
Please Note: Only registered members are able to post messages to this forum.
If you are a member, please log in.
If you aren't yet a member, join now!
---
Return to the Home Decorating & Design Forum
Information about Posting
You must be logged in to post a message. Once you are logged in, a posting window will appear at the bottom of the messages. If you are not a member, please register for an account.
Please review our Rules of Play before posting.
Posting is a two-step process. Once you have composed your message, you will be taken to the preview page. You will then have a chance to review your post, make changes and upload photos.
After posting your message, you may need to refresh the forum page in order to see it.
Before posting copyrighted material, please read about Copyright and Fair Use.
We have a strict no-advertising policy!
If you would like to practice posting or uploading photos, please visit our Test forum.
If you need assistance, please Contact Us and we will be happy to help.

Learn more about in-text links on this page here