Return to the Home Decorating & Design Forum
|
Post a Follow-Up
---
| | | |
| --- | --- | --- |
| Library finishing touches | | |
Posted by
pps7
(
My Page
) on
Thu, Aug 22, 13 at 9:00
You guys have been so helpful with my library and it's really close to being done!

I spray painted this coffee table aged brass and I think it's a good temporary solution. Now I need maybe a pillow for the sofa. I don't want a gazillion pillows- maybe just one or 2. Do I need to put something on the coffee table it can I leave it bare like that?

Any suggestions for the pillow or coffee table?
---
Follow-Up Postings:
| | | |
| --- | --- | --- |
| RE: Library finishing touches | | |
Looks fantastic, like a room from HB! I would go w/ one pillow on the opposite side of the throw.
---
| | | |
| --- | --- | --- |
| RE: Library finishing touches | | |
Gosh, I love your room!

Since it's a library, and you already have so many items (books) out and exposed, leaving the table bare makes sense. It's nice to have a surface that's uncluttered and available to lay a book down.

For a pillow or two, I would look for something exotic that uses jewel tones, or maybe akin to antique tapestry.
Here is a link that might be useful: Something like this would be pretty
---
| | | |
| --- | --- | --- |
| RE: Library finishing touches | | |
Hmmm
I don't know if I would do anything to the sofa. It looks so nice as is. Rather pull in color on the coffee table instead?

Love love love the lamps

I'm not very good at accessorizing -- it's truly an art. But what about a chess set and then a stack of antique books for height? Or a graduated stack of large coffee table books -

This isn't your "look" but I like the idea:

One thing I noticed is your shelves. I'm always attracted to an organized bookcase - with nice pieces of pottery and picture frames, etc. It's what I hope to do in my office: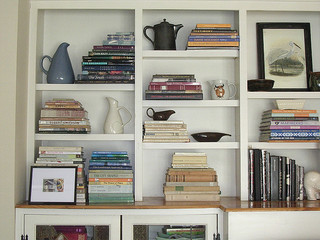 Anyway - your room looks GREAT!
---
| | | |
| --- | --- | --- |
| RE: Library finishing touches | | |
Looking good!

I'd suggest a plant and something sculptural for the coffee table. I think there's enough light for a low-light plant on the table. I think the sofa looks fine with the throw. Maybe one fancy square pillow in the middle, but no more.
---
| | | |
| --- | --- | --- |
| RE: Library finishing touches | | |
Wow! Wonderful! Beautiful, cozy, love it. :)

I love the brass coffee table, and think it looks great with nothing on it, or would look nice with a few books you're reading, or a few pretties. Big help, huh? I just love all you've done!
This post was edited by Miz_M on Thu, Aug 22, 13 at 9:46
---
| | | |
| --- | --- | --- |
| RE: Library finishing touches | | |
Thanks everyone. I will be on lookout for one pillow that catches my eye. I love this one on etsy. It's a Galbraith and Paul fabric. I've been eyeing it for months. I haven't pulled the trigger bc I think the white is too bright and stark and it really needs an ivory back ground.

Alex, I agree that jewel tones is really the best way to go.

Janice, I'm not be best at styling bookcases but I promise it's better than it looks in the picture-lol! Part of the issue is that the room has a lot of bookcase( the whole wall behind the chair on the left is floor to ceiling bookcases). We just don't have enough books and accessories to fill it up yet and I refuse to just buy "stuff". So I will wait and slowly accumulate as I find things that I like. Another problem is that dark brown color of the shelves and they are deep- almost 18". Creates a bit of a black hole.

Annie, I was looking at succulents in a concrete planter but there's probably not enough light for that.
---
| | | |
| --- | --- | --- |
| RE: Library finishing touches | | |
I agree - that pillow is too stark. I think for now you can go without a pillow and wait for the right one. I'd do what Foxes said and put it to the end opposite the throw - not the middle of the sofa. For some reason, a single pillow in the middle of a sofa bugs me. Now if you had pillows all down the sofa, that would be different - but just one pillow stuck in the middle bothers me.

I also think you need something on the table - not much - but something. You could do an open book - and display a vintage magnifying glass, something like that. Or a plant in a nice container would be good too.

The art above the sofa is perfection! Love the room.

tina
---
| | | |
| --- | --- | --- |
| RE: Library finishing touches | | |
Pretty pillow!

Your room looks terrific!! You can always try some things out on the coffee table, stand back, and see if or how they "hit" you. If the look of the table with nothing on it still appeals to you the most, then continue to leave it bare (at least for the time being).
---
| | | |
| --- | --- | --- |
| RE: Library finishing touches | | |
Looks great! I like the bare coffee table. If there's a book you're currently reading, that would be a great place to leave it, but otherwise I think bare is good. I also like the sofa as is. I think the cute round pillows are just the right touch. I wouldn't want to cover the beautiful back of the sofa.
---
| | | |
| --- | --- | --- |
| RE: Library finishing touches | | |
You have the magic touch ! I just love this room and your taste is impeccable ....waiting till the right things come along is my forte...sometimes it is years though :) c
---
| | | |
| --- | --- | --- |
| RE: Library finishing touches | | |
I would do a soft gold pillow on the couch to bring in the golds of the brass lamps and table. Also think you need something on the table....a few small books stacked or pick one of the other colors from the painting besides blue or coral and get a small bowl, candles, etc..
---
| | | |
| --- | --- | --- |
| RE: Library finishing touches | | |
Your room looks great! I was at a decorator showhouse yesterday. They had some fabulous looking faux terrariums (terraria?). Everyone thought they were real until the docent told us they were not. They were in large clear apothecary jars. Might be something to consider for your coffee table and light would not be an issue.

What paint or technique did you use to give your table the aged brass look? I have an old table I need to do the same to.
---
| | | |
| --- | --- | --- |
| RE: Library finishing touches | | |
One long pillow with touches of blue, dark brown and terra cotta ....

Large blue or brown (or both) pottery bowl sitting on a short pile of decorating books! :)

Candy in the bowl would be helpful too ..... just teasing! :)
---
| | | |
| --- | --- | --- |
| RE: Library finishing touches | | |
Love the way this has turned out! I would not use a pillow on the sofa because people just move them to sit down. But I would def put something on the coffee table to ground it--- it is too airy and ethereal for the heft of everything else. I would put a few books there, whatever you are reading at the moment, or an oversize art or architecture tome, and perhaps a leather or wood box in which to keep pad and paper, bookmarks, etc. We have an extra "house" kindle that lives in our library as well. It has a red leather cover and with it a a guest or anyone else can access about 300 more books than are on the shelves.
---
| | | |
| --- | --- | --- |
| RE: Library finishing touches | | |
Bbstx, I spray painted it with rustoleum primer and then 2 coats of metallic aged brass. it was super easy. I will definitely spray paint again.
---
| | | |
| --- | --- | --- |
| RE: Library finishing touches | | |
Thanks, pps7. Was the metallic aged brass also a Rustoleum paint?
---
| | | |
| --- | --- | --- |
| RE: Library finishing touches | | |
How about a pillow like this centered on the couch as you have the two small ones already.
Here is a link that might be useful: blue couch pillow
---
| | | |
| --- | --- | --- |
| RE: Library finishing touches | | |
You did a fantastic job on this room!

I do think you need something on the coffee table - both on the top and bottom glass. Right now it disappears but with a few good accessories the whole room will be cohesive.
---
| | | |
| --- | --- | --- |
| RE: Library finishing touches | | |
If you add a pillow, I think it needs to be something Fabulous. The one from etsy isn't fabulous enough and yes, it's too white.

But I don't think the sofa really NEEDS a pillow.

Maybe you could experiment with placing different things on the table. A short stack of books topped with a plant? Maybe include a pottery bowl with some coasters inside (where am I going to put my drink? I need a coaster.)? An orchid? The table feels just slightly naked to me in contrast to the cozy nature of the rest of the room.

Love the room, though.
---
| | | |
| --- | --- | --- |
| RE: Library finishing touches | | |
Such a nice room! I wouldn't do a pillow on the sofa since it has the two rolled ones, and the back is so pretty I wouldn't want to cover it. I like it with just the throw because the room has a sparse look to me which I really like, its so calming. I would put something on the coffee table because its there to be used, even if its just the current books you are reading. I seem to always have a couple going at the same time. And then maybe just one decorative object or a plant. Nice job, everything in it looks great.
---
| | | |
| --- | --- | --- |
| RE: Library finishing touches | | |
Bbstx, yup that one was rustoleum too.

Thanks guys! I will try to find one item for the coffee table and stop there, unless I find a pillow that I love!
---
Post a Follow-Up
Please Note: Only registered members are able to post messages to this forum.
If you are a member, please log in.
If you aren't yet a member, join now!
---
Return to the Home Decorating & Design Forum
Information about Posting
You must be logged in to post a message. Once you are logged in, a posting window will appear at the bottom of the messages. If you are not a member, please register for an account.
Please review our Rules of Play before posting.
Posting is a two-step process. Once you have composed your message, you will be taken to the preview page. You will then have a chance to review your post, make changes and upload photos.
After posting your message, you may need to refresh the forum page in order to see it.
Before posting copyrighted material, please read about Copyright and Fair Use.
We have a strict no-advertising policy!
If you would like to practice posting or uploading photos, please visit our Test forum.
If you need assistance, please Contact Us and we will be happy to help.

Learn more about in-text links on this page here