Return to the Home Decorating & Design Forum
|
Post a Follow-Up
---
| | | |
| --- | --- | --- |
| Another CL chair re-done | | |
Posted by
my3dogs
(
My Page
) on
Wed, Aug 8, 12 at 7:37
This one must weigh 40 lbs, just the frame, but I was attracted to it when I saw it, and I hadn't even seen its distant cousin at Restoration Hardware. Oh, the RH one is now on sale for $1440, down from $1695...Link below

Anyway, mine was $45 and a LOT of elbow grease, but I'm pleased with the result. I cut the curve from the bottom of the back, as I preferred it without. The frame is 2"+ thick oak.

Before -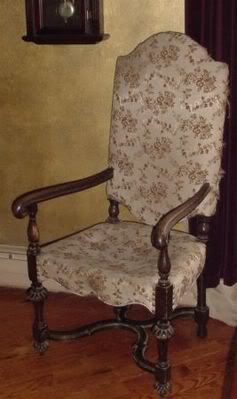 During -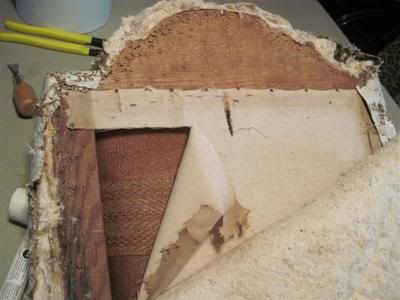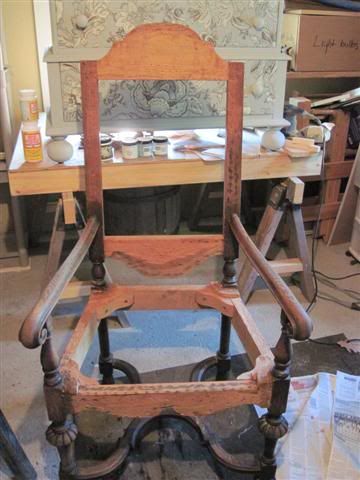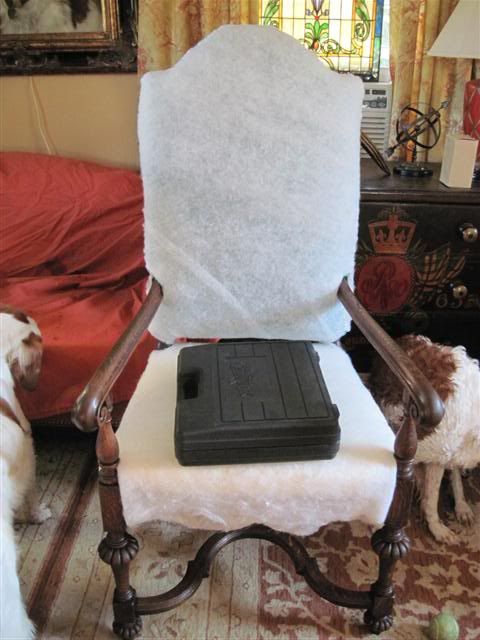 After -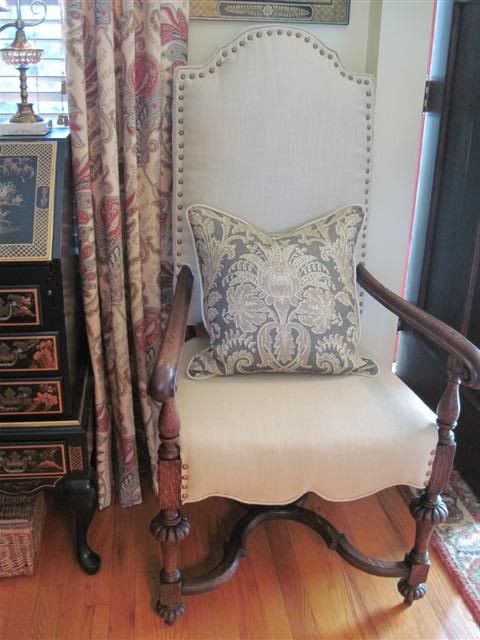 Here is a link that might be useful: 18th C. French Burlap Chair
---
Follow-Up Postings:
| | | |
| --- | --- | --- |
| RE: Another CL chair re-done | | |
Wow! That looks terrific...I'm so impressed...never had the guts to try reupholstery. You did a great job.
---
| | | |
| --- | --- | --- |
| RE: Another CL chair re-done | | |
wow my3dogs, you are such an inspiration! I love seeing pics of your upholstery projects they are just fantastic and this is another example (you are so good at it!).
---
| | | |
| --- | --- | --- |
| RE: Another CL chair re-done | | |
Annie, this is something that I have wanted to try for years. Like you, I have sewn for years, but this was 'the last frontier', and I finally got up the courage to try it. Buying inexpensive, as little as $10 on CL chairs, and completely transforming them is a blast!

A sneak peek at the next in line. Yes, the original REALLY is that ugly, and adorned with gold paint. As bought for $25, all walnut and large. Needs total re-gluing of all joints, which are doweled together.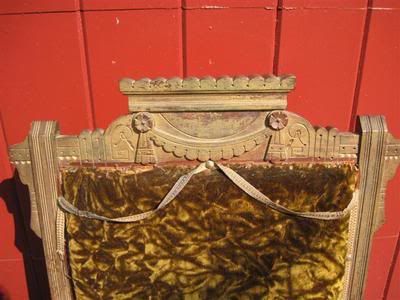 Underway -

Refinished with tung oil only. It is all in separate pieces now, and just 'dry-fit' to hold together to allow the tung oil to dry. Next, it gets glued back together.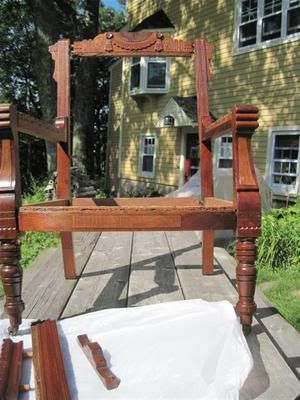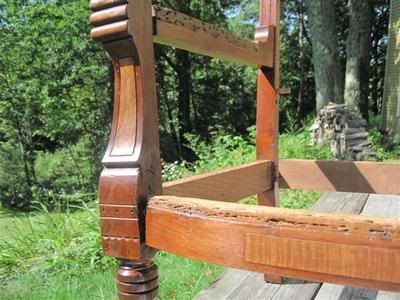 The fabric I plan to use, which is a $6.00 remnant from Joann's big sale last weekend. Regular price per yard is $39.99.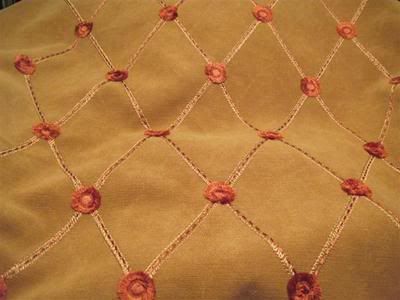 ---
| | | |
| --- | --- | --- |
| RE: Another CL chair re-done | | |
Another gorgeous "3dogs" project completed! Love it! (The curtains next to the chair are so pretty. I suppose you made those too?) I know your house is not *that* big, but you always manage to find a space for one-more-thing! Everything looks absolutely beautiful and perfect in its new home too!

When are you going to open your antique shop/reupholstery/design business? (That would be well worth a trip from VA to ME to visit!)
---
| | | |
| --- | --- | --- |
| RE: Another CL chair re-done | | |
Ha - You caught me stinky! That curtain fabric was $2.00 a yard on eBay years ago and it is 110" wide! It's so heavy that I didn't need to line them. Some of these chairs will definitely be up for sale - this old house can't hold all of my projects!

This one that I pick up later this AM won't be staying once it's re-done. Doing the different styles is a great learning experience. It's distant cousin is linked below.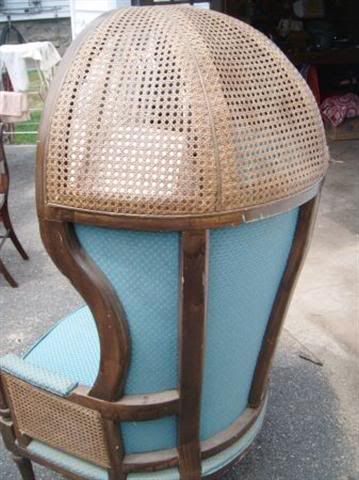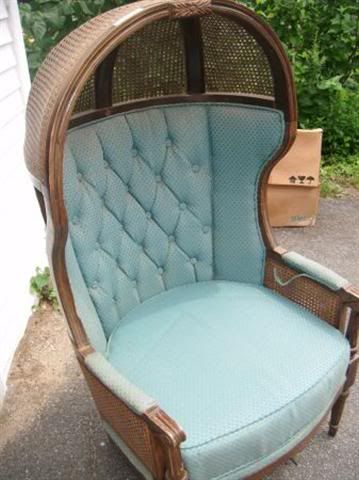 Here is a link that might be useful: Cane Balloon Chair
---
| | | |
| --- | --- | --- |
| RE: Another CL chair re-done | | |
Wonderful, wonderful.

Seeing what you do makes me want my garage and my thumbs back!

Waiting with bated breath to see what you do with the balloon chair.
---
| | | |
| --- | --- | --- |
| RE: Another CL chair re-done | | |
Wowee. Your work is gorgeous. Is that your house in the background? Very nice!
---
| | | |
| --- | --- | --- |
| RE: Another CL chair re-done | | |
That. Is. Gorgeous.

I wish I was that talented to have both the eye for design and skill that you seem to possess.
---
| | | |
| --- | --- | --- |
| RE: Another CL chair re-done | | |
You have so much talent..it is certainly a joy to see what you are going to showcase next. c
---
| | | |
| --- | --- | --- |
| RE: Another CL chair re-done | | |
Wow! Just amazing.

How difficult was it to do the area in front where it curves to a point at the center?
---
| | | |
| --- | --- | --- |
| RE: Another CL chair re-done | | |
My3dogs, I really like all that you have done! That cane balloon chair is very cool.

Can you believe I haven't found the right fabric for the upper part of that settee I bought? Just picking the fabric is painful.
---
| | | |
| --- | --- | --- |
| RE: Another CL chair re-done | | |
Beautiful chair & Great job!!

Have done a little re-upholstering & know that it's not always easy. What fabric did you use?? I have a large antique wing-back that I'd love to try in something similar.

Good luck with the balloon chair! Don't envy all the work on that tufted back. Know it'll look great though.
---
| | | |
| --- | --- | --- |
| RE: Another CL chair re-done | | |
| | | |
| --- | --- | --- |
| RE: Another CL chair re-done | | |
You are amazing. That's all I can say. I love that chair.
---
| | | |
| --- | --- | --- |
| RE: Another CL chair re-done | | |
I was so excited to see your thread! Another beautiful job. Can't wait for the next one to be finished! I don't understand how you complete these so quickly. Amazing.

How did you learn what to do about the guts of the chair --what new materials to use to replace the old insides?
---
| | | |
| --- | --- | --- |
| RE: Another CL chair re-done | | |
I love seeing your projects, my3dogs! You have an amazing eye - I troll CL all the time and I never see the angel in the marble, KWIM? All I see is an old, probably mildewed and mouse eaten chair in a barn. ;)

I also love seeing glimpses of your canine helpers!
---
| | | |
| --- | --- | --- |
| RE: Another CL chair re-done | | |
Just fantastic!!!

Another magazine-worthy transformation! :) You have such a talent and an eye for these projects! :)
---
| | | |
| --- | --- | --- |
| RE: Another CL chair re-done | | |
Just fabulous! Can't wait to see the pics of the next two in line. :)
---
| | | |
| --- | --- | --- |
| RE: Another CL chair re-done | | |
That walnut Eastlake chair is inspiring, even incomplete! I've been wanting a man's Eastlake chair to go with the lady's chair I have.

But not only do you upholster, you refinish and rebuild! I'm in awe! You should let us know how you go about that.
---
| | | |
| --- | --- | --- |
| RE: Another CL chair re-done | | |
I am just back from picking up the balloon chair! I meet the nicest people through CL and this was no exception. Sharon lives in an old house that they have fixed up beautifully, and has a tiny dachshund named Jack, and beautiful Bernese Mountain Dog name Winnie. We chatted about similar interests for an hour!

When I saw the chair in person, it just hit me that I'd like to do it in a light coat of chalk paint, then use a light colored wax, and this fabric combo, which was one of two I was considering.
dedtired, that is the back side of my house, which always surprises people. It has been called a 'storybook cottage' from the street, but the back, with the daylight basement and full dormer on the second floor makes it look (to me) like a 3 story apt. building!
graywings, that part really wasn't bad, in the curved center despite my fears of it. I did have to cut some slits in the fabric to get it to wrap around those curves well under the seat area, and I pulled a few staples I'd put in to tighten the fabric better. The hardest part was the curve at the top of the back. Look closely and you'll see that not only does it have that top center upward curve, but that goes down on either side to little squared off points, and then continues onto another curve on each side.
krayers, that fabric came from the link below. I don't see it now in that color, which I think was called 'wheat', but I have linked the same in white. Til 8/12, he is having a sale on these types, which are half-price!
50% OFF
UPHOLSTERY FABRICS (U)
DRAPERY FABRICS (D)
MICRO SUEDES (MS)
RETRO FABRICS (RT)
lazydaisy, I see what was used in the past as I take it apart, and then either use the same type materials, or their modern counterparts. In that linen chair above, I used jute webbing woven in a basket weave pattern to support the back, then used synthetic burlap on top of that, then foam and then batting, and THEN the linen fabric. I've watched several You Tube videos and read upholstery blogs to help me figure out what to do.
You all know how much I love to create things, and this is a fantastic hobby that I'll have fun with through the fall and winter.
Here is a link that might be useful: Barn Fabric D-4395
---
| | | |
| --- | --- | --- |
| RE: Another CL chair re-done | | |
Amazing! Great job! And i love that balloon chair - can't wait to see what you do with it!
---
| | | |
| --- | --- | --- |
| RE: Another CL chair re-done | | |
I so wish you were my neighbor friend!! I've been wanting to learn upholstery for a while now..even bought a lovely book on it, but just haven't brought myself to get started. I was at the antique auction last night and there were some awesome chairs going for almost nothing. Kind of scared of retying springs and tightening joints. I'm just learning how to dismantle and re-glue dining chairs...hopefully re-upholstering chairs will be in my future soon. Can't wait to see more of your inspiring work. So much fun to see what folks can teach themselves!
---
| | | |
| --- | --- | --- |
| RE: Another CL chair re-done | | |
Thanks for the explanation, my3dogs. I am so impressed by your vision and the beautiful quality of your work.
---
| | | |
| --- | --- | --- |
| RE: Another CL chair re-done | | |
What a GREAT thread! I like how you showcased all your current chairs. I can't wait to see the balloon chair and how it comes out.
Your other chair, the first one is amazingly classy and rich looking with the great job you did on the frame and the upholstery!
That throne chair will be great in that fabric!

I love it when a plan comes together!
---
| | | |
| --- | --- | --- |
| RE: Another CL chair re-done | | |
Omg! That is truly amazing! I love love love the new look you gave!

I just bought a $5 bread box off CL. I'm going to paint it to match my newly remodeled kitchen, which will match my painted cabinets. I hope that someday I'll be at your level!!! I have to start somewhere though..lol!
---
| | | |
| --- | --- | --- |
| RE: Another CL chair re-done | | |
my3dogs, I don't have the guts to try upholstery yet, but thank you for the link for the Barn Fabrics. I ordered yardage yesterday to slipcover two sofas (first time trying that; fingers crossed) in a natural twill.

I think your chair fabric could be perfect for draperies for our LR but when I called and asked about that fabric (the white linen-look cotton you linked as an example) in a slightly deeper shade of pale khaki/wheat, he said it never came in a different color. He said they had some similar fabrics and he would sell me yardage of something similar at $4.99 but only sight-unseen (no photo or swatch). I understood him to mean that he didn't want to take the time for such service with internet sale customers, which I do understand. However, I don't want to buy fabric without seeing it, at least on-line. That would just be dumb.

So my question to you is, do you happen to have the number of that fabric, or any other identifying info? If it's too much trouble to look this up, that's completely fine.

Thanks very much for all the information you've provided on your projects and sources here on GW. I always love seeing what you've done!
---
| | | |
| --- | --- | --- |
| RE: Another CL chair re-done | | |
This will teach me NOT to call in orders to Gary, but to do them through his site so I have the darn item number!

I don't have it, but I just called Gary and he is going to call me back as he had some customers waiting. I feel pretty darn sure that he will have a record of it and I'll be back to give it to you. It IS a great 'natural' color.

Every time I go to his site I am so tempted...I saw these micro suedes the other day, and knowing that I can get them for $4.99 a yard, when on another site, they are $28.25 a yard.... I'm trying to be tough, but don't know if I can hold out!
Here is a link that might be useful: P Kaufmann Alta
---
| | | |
| --- | --- | --- |
| RE: Another CL chair re-done | | |
BUMMER! He just called and the number was D-4363 and he is sold out. He never knows what he'll get back in, either. I'm so sorry!

You probably want a solid, too. I am looking at D-4149 and D-4150, which are simple striped linens.

You may want to look at Unbleached Osnaburg. It's only 45" wide, but it's inexpensive and has a linen-look.
Here is a link that might be useful: It's not as gold as it appears here. Joann's has it, too
---
| | | |
| --- | --- | --- |
| RE: Another CL chair re-done | | |
Oh my goodness, that is so kind of you. Thank you very, very much.

I also just ordered six yards of the white fabric you had linked for our bedroom. You've made me into a regular customer, which is dangerous considering I have a pile of fabrics in my closet "for throw pillows" and haven't even managed to stitch a single seem on those in the year since they've been there.

Yes, those microsuedes are a great price. Wow. I don't know, you can take my advice and "Be strong" or follow my example, which is to follow your example, and, well, just pick up the phone and order! If you don't, you'll probably regret it later when just the right project comes your way and you remember the microsuede you passed up.

Thanks again.
---
| | | |
| --- | --- | --- |
| RE: Another CL chair re-done | | |
I can see that we all need that bumper sticker that says, "She Who Dies With the Most Fabric Wins."
---
| | | |
| --- | --- | --- |
| RE: Another CL chair re-done | | |
Oh, B, that is EXACTLY what I told a friend who has recently ordered many yards from them...I am addicted to nice fabric, and when you can get a bargain like that, well, my willpower is weak. When my walls start bulging out and I have to step over piles like a hoarder, hopefully I'll accept some help, and perhaps go into rehab...where maybe they'll need some new WTs, pillows etc in the facility?
Here is a link that might be useful: I should get one of these
---
| | | |
| --- | --- | --- |
| RE: Another CL chair re-done | | |
Bronwynsmom, too funny!

My3dogs, I see I was typing when you followed up with the info. Dang. Yes, I want a solid. It's more or less a wall of windows and I don't want to detract from the garden view with any pattern. That other solid looks like a possibility, but the color of your chair is just so right! I think I'll keep watching the site and see if it, or something similar, comes back. I wonder how often they do the $4.99 sales....

Thank you once again!
---
| | | |
| --- | --- | --- |
| RE: Another CL chair re-done | | |
I seem to be one step behind today, always replying to the wrong post. My3dogs, WT's and pillows for the facility -- cracked me up!
---
| | | |
| --- | --- | --- |
| RE: Another CL chair re-done | | |
Your original chair reno is even nicer than the RH one in the link, M3Ds! It's lovely. I'm anxious to see the next two chairs you've pictured when they're finished. You truly have a gift for this!
Lynn
---
| | | |
| --- | --- | --- |
| RE: Another CL chair re-done | | |
These are all just fabulous!
---
| | | |
| --- | --- | --- |
| RE: Another CL chair re-done | | |
They are all great M3D's...The chairs are wonderful.
You have a great eye to find these old chairs and the talent to turn them into a thing of beauty.

I love your projects.
---
| | | |
| --- | --- | --- |
| RE: Another CL chair re-done | | |
What if we all met somewhere once a year, shipped our bolts ahead, rented out the local high school gymnasium, got somebody to lend us long tables and chairs and a bunch of machines, bought a couple cases of wine, and had a week-long pillow-, quilt- and curtain-making fest, gave it all to the local women's shelters and Habitat, and went home?
---
| | | |
| --- | --- | --- |
| RE: Another CL chair re-done | | |
Thanks, ladies! I started to pull the old fabric off the balloon chair yesterday, and gathered up my little sample jars of chalk paint to see what I'm going to concoct for a color. I need to get some 1" foam for it, as that is what is between the front and back fabric on it.

My young carpenter friend, who I've sort of 'adopted', was here yesterday briefly and I told him I was going to glue the 'throne' chair back together this weekend, so I could start to get that fabric on. You should have seen his unhappy face, as he looked at me and said, 'REALLY? You've got enough chairs down there to keep you going for months, and it HAS to be that one this weekend?'

He WANTS to do it, as he IS a carpenter, and he has strap clamps to use, and he has detailed for me how he'll do it. So, that is why the balloon chair is underway, and I'll admit that once I got to tearing the fabric etc, off that one, I was just as happy as if I was putting fabric BACK on the 'throne'.
---
Post a Follow-Up
Please Note: Only registered members are able to post messages to this forum.
If you are a member, please log in.
If you aren't yet a member, join now!
---
Return to the Home Decorating & Design Forum
Information about Posting
You must be logged in to post a message. Once you are logged in, a posting window will appear at the bottom of the messages. If you are not a member, please register for an account.
Please review our Rules of Play before posting.
Posting is a two-step process. Once you have composed your message, you will be taken to the preview page. You will then have a chance to review your post, make changes and upload photos.
After posting your message, you may need to refresh the forum page in order to see it.
Before posting copyrighted material, please read about Copyright and Fair Use.
We have a strict no-advertising policy!
If you would like to practice posting or uploading photos, please visit our Test forum.
If you need assistance, please Contact Us and we will be happy to help.

Learn more about in-text links on this page here