Return to the Home Decorating & Design Forum
|
Post a Follow-Up
---
| | | |
| --- | --- | --- |
| calendar or dry erase n kitchen? | | |
Posted by
mellyc123
(
My Page
) on
Sat, Aug 18, 12 at 7:01
Does anyone have a calendar or dry erase board in their kitchen? I dont like the idea of chalk dust so no chalk boards.

School starts next week and I am considering a framed dry erase board and a calendar in my kitchen.

The idea of this bothers me because it feels like clutter.

There is no space to make a "command center".

Please post pics if you dont mind sharing.
---
Follow-Up Postings:
| | | |
| --- | --- | --- |
| RE: calendar or dry erase n kitchen? | | |
We had both in our kitchen. The dry erase was for daily reminders (trash out tonight) or short notes (Mom, the plumber called etc.) The calendar was for scheduled appointments, game times, birthday reminders etc. They were next to the phone for quick notes and I had to tie a string between the dry erase pen and board to keep it from disappearing.
---
| | | |
| --- | --- | --- |
| RE: calendar or dry erase n kitchen? | | |
I know you said no chalk board, but keep an open mind.
It is a cool look if you have the place for it.
Our daughters chalk board in her kitchen.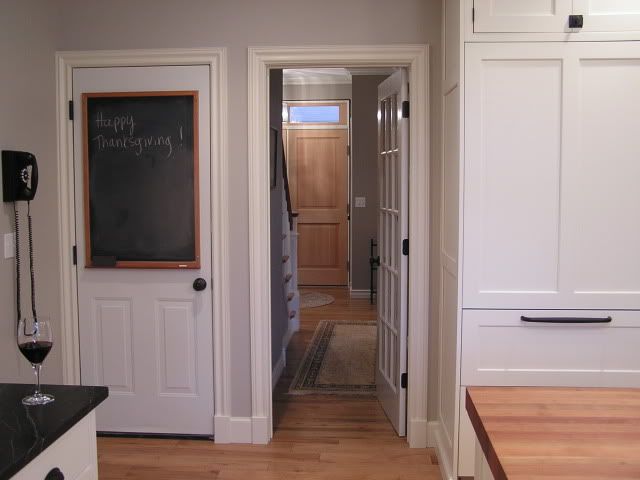 ---
| | | |
| --- | --- | --- |
| RE: calendar or dry erase n kitchen? | | |
We only have a calendar which hangs on the inside of one of the cupboard doors by our desk area.
---
| | | |
| --- | --- | --- |
| RE: calendar or dry erase n kitchen? | | |
Run a search on colored dry erase boards. They are available in dozens of colors, shapes and even with art completely covering them. May give you some interest/ideas. I had a large chalkboard for the side of the fridge, attached with velcro. Went to my daughter, she needed it more.

Do you need this in plain site? If not, the back of a door would work...cupboard, wall. I'm not much on the clutter either, but kids bring us a new decor. At one time I had an antique sign chalkboard in the bath. Loved the messages left for me.
---
| | | |
| --- | --- | --- |
| RE: calendar or dry erase n kitchen? | | |
The idea of this bothers me because it feels like clutter. "
Clutter is something sitting in a place it shouldn't be, serving no useful purpose in that place. A much-needed information center is NOT CLUTTER.
I agree with you on the chalkboard dust. I think they are going to be the "goose with sunbonnet" cliche of the 2010s.
---
| | | |
| --- | --- | --- |
| RE: calendar or dry erase n kitchen? | | |
You just have to put up with "clutter" with school age young children. I had one that was weekly, I kept tract on a monthly calendar but posted stuff for the week on the fridge with the wet eraser. We of course had all the magnets with things under them.
Kids are out, kitchen redone, my subzero paneled fridge has nothing on it! (Hurray!)
I guess you could do something on an inside closet and you would get in the habit of looing there daily. My adult daughter is forever using chalakboard paint in her apartments. You might be able to do that on an inside closet. Then you just paint it to the size you want and it doesn't have to be screwed or nailed. When no longer functional, paint over it.
---
| | | |
| --- | --- | --- |
| RE: calendar or dry erase n kitchen? | | |
I always have a large calendar that's part of the decor in the kitchen. Every year I search for museum catalogs and buy the one I like best. I also re-use my favorites! There are 14 kinds of years. 2011 was the same as 2005. 2013 will be the same as 2002.

Here's this year's:
---
| | | |
| --- | --- | --- |
| RE: calendar or dry erase n kitchen? | | |
When I had kids at home, notes went on the refrigerator and a calendar hung by the phone on that short wall in the hall.
My daughter in law has a magnetic board that holds a calendar which she prints monthly with standing appointments on it ( guitar lessons, mom's pilates, Dad out of town etc....and other stuff gets penned in. The magnets hold permission slips to be returned, checks for a lunch ticket, invitations, notes that everyone should see etc.
I think it's neat because it corrals the stuff and puts it by the breakfast table where everyone can see it.

As for a chalk board......I lived with one as a kid, I now have it but no one to leave notes for! But a chalk board leaves minimal dust.....just always use a wet sponge to clean it. Don't even HAVE an eraser near it.
---
| | | |
| --- | --- | --- |
| RE: calendar or dry erase n kitchen? | | |
I turned a closet door just off the kitchen into the Command Center. A normal decorative calendar isn't big enough for me to write everyone's activities. I buy one of the big, desk-blotter type calendars from Staples and hang it on the door. (There are two tiny holes at the top, perfect for two little nails.) Each day has enough space for me to write down each kid's "stuff." It's the only calendar I've found that really works for me. I also have each school's printed calendar taped to the same door, and usually a few items of fabulous artwork or report cards. It ain't Martha Stewart, but it works. I used to use a different color pen for each kid, but I got over that pretty quickly.

For some reason, I'm not a fan of whiteboards. Too stark? and they do look sort of messy in a way, unless you have really fabulous handwriting.
---
| | | |
| --- | --- | --- |
| RE: calendar or dry erase n kitchen? | | |
Wipe off board on the front of the frig for quick notes and daily reminders or things needed at the grocery store (this is not a french door frig) and calendar on the wall. Have had this arrangement for quite a long time. The kids and DH always knew where to look for what...
---
| | | |
| --- | --- | --- |
| RE: calendar or dry erase n kitchen? | | |
A combo paper calendar and white board on the side of the fridge. Everything was written on the calendar, and then I transferred things to the white board for the day, such as meetings, practices, etc. Good for reminders, and quick things to be added to a grocery run. Even the kids were good about checking the whiteboard.
---
| | | |
| --- | --- | --- |
| RE: calendar or dry erase n kitchen? | | |
My calendar hangs inside an upper cabinet door. I keep a pen and a pad of sticky notes by the kitchen phone.
---
| | | |
| --- | --- | --- |
| RE: calendar or dry erase n kitchen? | | |
I have bifold doors in the pantry, so the back of the door is not an option unless I want a 1k solution by replacing the doors and I am not sure if we would look at it.
. i am going to do the paper printout calendar for now and use nice magnets on a magnetic chalk board with the chalk pens. Thanks for the suggestions.
---
| | | |
| --- | --- | --- |
| RE: calendar or dry erase n kitchen? | | |
We have a calendar which I make using iPhoto. Used to use Kinko, but it is much easier to upload our photos to make collages. I use the pictures from the previous year as a photographic diary. It is a great way to keep our best photos and it is a fun gift for DH every year. We use magnets to hang it on the refrigerator door and it makes me smile all the time. We have calendars going back 16 years.
---
| | | |
| --- | --- | --- |
| RE: calendar or dry erase n kitchen? | | |
Yes -- I keep a regular calendar by the kitchen phone -- one in the home office and one on the small bulletin board in the master bedroom closet ...
---
Post a Follow-Up
Please Note: Only registered members are able to post messages to this forum.
If you are a member, please log in.
If you aren't yet a member, join now!
---
Return to the Home Decorating & Design Forum
Information about Posting
You must be logged in to post a message. Once you are logged in, a posting window will appear at the bottom of the messages. If you are not a member, please register for an account.
Please review our Rules of Play before posting.
Posting is a two-step process. Once you have composed your message, you will be taken to the preview page. You will then have a chance to review your post, make changes and upload photos.
After posting your message, you may need to refresh the forum page in order to see it.
Before posting copyrighted material, please read about Copyright and Fair Use.
We have a strict no-advertising policy!
If you would like to practice posting or uploading photos, please visit our Test forum.
If you need assistance, please Contact Us and we will be happy to help.

Learn more about in-text links on this page here