Return to the Home Decorating & Design Forum
|
Post a Follow-Up
---
| | | |
| --- | --- | --- |
| Help me choose the right sectional | | |
Posted by
the13th
(
My Page
) on
Fri, Aug 1, 14 at 4:00
Hi everyone from a long time lurker first time poster.

I'm looking for a sofa for my living room, which also servers as my theater room and lounging room and whatever else have you.

Room is about 5x6 meters (thats about 16x20 ft) and I wanna put a corner sectional which will see daily use for watching TV, entertaining guests, etc.

The walls are a very light cream (slight off-white) and I have an olive green accent wall on one wall (right of the sectional - there will be some shelving on that wall and I'm thinking 2 armchairs and a coffee table). There's also a bordeaux wall on which the TV will go in front of the sectional (you can see it in the corner of the pics).

The floors are solid oak, and the furniture in the room will be a darker brown essence, probably also oak. Also, and I'm going to get an area rug to go with the couch and whatever else furniture I'll end up with.

I think I've settled on two models, out of which I'd rather have the leather one (cuz I think it looks cool) and the GF would like the microfiber one as she feels it's more comfy.

If we go her way, I like the green color, as pictured, if we go my way then I'm stuck between cream, beige and brown.

So, advice? What would you do if you were in my place?

More precisely, since I'm 90% decided to go with the leather couch (afterall, this is my place and the GF has hers), which one would you choose? I think I would like the lighter colors, but I'm afraid it will get dirty soon with daily use... I especially am scared of indigo tint from jeans.

What's your experience with these?

I'll attach pics of the room, the "GF couch" (this one has the corner on the left and it needs to be on the right but you get the idea), the leather couch in Cream, as well as pictures of the swatches in Beige and Brown. The pics don't do the colors justice, but both the Beige and Cream are very light, one is slightly buttery and one slighty grey-ish. The brown isn't too dark either, and has sort of like lighter spots in places which I think might give it an interesting look. Also, this is leather dyed in depth. Price wise, the leather is 4x the microfiber and TBH it's quite pricey, but I'm partially looking at it as an investment, as I figure it will easily outlast the microfiber and if needed I can re-upholster it.

Oh and if you haven't figured it out by now, I'm trying to go for a modern look with a mix of classic wood and finishes... Hard to explain but I have it all in my brain; the couch needs to be modern tho :)

Thanks everyone for chipping in.
---
Follow-Up Postings:
| | | |
| --- | --- | --- |
| RE: Help me choose the right sectional | | |
I really like the brown leather. It will definitely not show dirt like the light colors. It would look great against the cream walls and your accent walls. Just go light for your rug and it will be a nice contrast with the rug and break up the wood and the brown sofa.

You have a very cool place! I love the stairs!

One thing to remember, it is nearly impossible to keep pillows on leather. They slide off super easily. That is if you are using decorative pillows at all.

Keep us posted!
---
| | | |
| --- | --- | --- |
| RE: Help me choose the right sectional | | |
The microfiber sofa has the kind of pillows that always look like a mess. I have one like this and am constantly puffing them up and straightening them out.

The leather sofa is really modern and if you're sure you won't get tired of it too quickly is a nice option. Check out how it suits your build and decide how you're going to use it. We got a leather sofa for a den area. My husband thought it was comfortable but once it got home he found there was no way to lie down on ot because of the arms. I am considerably shorter than him and I found I was sliding out of the sofa when I tried to sit back. It was nice to sit on in short spurts, but not something I'd want to spend the night watching TV.
---
| | | |
| --- | --- | --- |
| RE: Help me choose the right sectional | | |
I'd definitely try either for comfort. I have white, brown, blue leather sofas, and yes, the white is harder to keep looking clean. Haven't had any issues with jeans, though.
---
| | | |
| --- | --- | --- |
| RE: Help me choose the right sectional | | |
Brown leather is classic and will blend well with all your other colors. It looks richer than the light. That way you'll have a more organic modern look . Earth colors always work better.
---
| | | |
| --- | --- | --- |
| RE: Help me choose the right sectional | | |
That brown leather is a beautiful rich color (added bonus that it won't show dirt). I have a new leather sectional in a lighter taupe and although it doesn't show any day-to-day dirt, I live in fear of ink! (BTW, so far the decorative pillows are staying put nicely - might it depend on the fabric of the pillows?)
---
| | | |
| --- | --- | --- |
| RE: Help me choose the right sectional | | |
You've got such a beautiful room, I think the cream or beige sofa would look spectacular with your paint colors. I'd take my chances with it. I'd ask the manufacturer about the leather finish and if it needs further protection. The brown might be okay, but it would be...well...brown.

The microfiber sofa cushions already look messy- like they have squished out and wouldn't stay put.
---
| | | |
| --- | --- | --- |
| RE: Help me choose the right sectional | | |
I too like the idea of the brown floors and couch, with a light rug to break it off. However I'm concerned that this particular model won't look nearly as good on brown as on the lighter colors.

I'll attach a photo of a similar model so you can see what I mean. I don't think it's the color itself, but the styling that makes it look a bit weird to my eyes. Is it just me, or does something about it seem... off?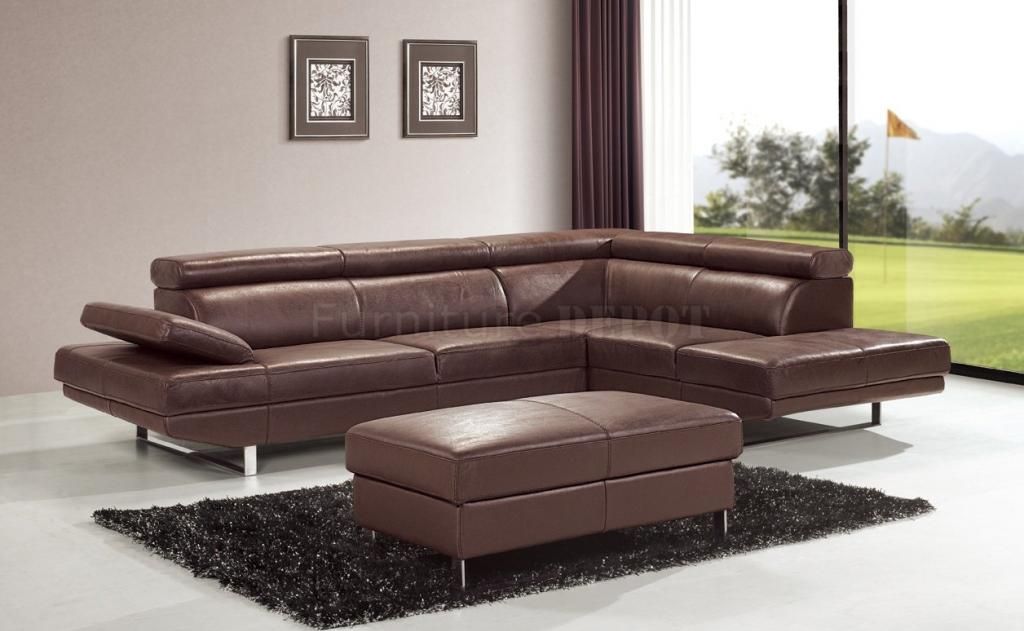 Oh, and two more questions: the size is 310x260 cm (122x102 inches) do you think that's too big for the space?
And last, price wise we're talking around the $5k mark, do you think that's too much? Like I said before it does seem a bit steep to me, but I have no experience shopping for couches really :) However it is one of the more expensive ones from the one I've looked at, but seemed to be on par with other italian brands on leather...
As far as comfort goes, what I really like about this couch is that it has a system where the back support goes all the way to the back, and transforms the regular sitting area into a mini-chaise long, so to say. It's very comfy, for sure.
The couch does come in fabric as well (which is about a grand cheaper), but it seems to me the design kinda calls for leather? see below:
This post was edited by the13th on Sat, Aug 2, 14 at 5:18
---
| | | |
| --- | --- | --- |
| RE: Help me choose the right sectional | | |
I don't know...brown leather seems more traditional and with the contemporary style I think the lighter colors look better. But I guess I just don't really care for brown furniture, so that's my bias.

Does the leather come in any other colors you'd consider? Something unexpected? Orange? Blue? Green?
---
| | | |
| --- | --- | --- |
| RE: Help me choose the right sectional | | |
I had two light colored (not white, beige) club chairs and they did not look dirty. Ever. I have three grandsons, three sons, a husband, a male cat and a dog. I had brown leather so long I just tired of it.
---
Post a Follow-Up
Please Note: Only registered members are able to post messages to this forum.
If you are a member, please log in.
If you aren't yet a member, join now!
---
Return to the Home Decorating & Design Forum
Information about Posting
You must be logged in to post a message. Once you are logged in, a posting window will appear at the bottom of the messages. If you are not a member, please register for an account.
Please review our Rules of Play before posting.
Posting is a two-step process. Once you have composed your message, you will be taken to the preview page. You will then have a chance to review your post, make changes and upload photos.
After posting your message, you may need to refresh the forum page in order to see it.
Before posting copyrighted material, please read about Copyright and Fair Use.
We have a strict no-advertising policy!
If you would like to practice posting or uploading photos, please visit our Test forum.
If you need assistance, please Contact Us and we will be happy to help.

Learn more about in-text links on this page here