Return to the Home Decorating & Design Forum
|
Post a Follow-Up
---
| | | |
| --- | --- | --- |
| What do you think of this steel pole fence? | | |
Posted by
rockybird
(
My Page
) on
Tue, Aug 5, 14 at 2:02
I am meeting the ctr. tomorrow to look at the 2" wide and the 1.5" wide pole samples. I will likely go with the 2" wide poles. But it is NOT cheap. Still, this is the only fence I like for in the back. It is totally visible from the kitchen, living room, dining room, pool etc. so I would like it to look nice. There will be plants against it, but the landscaper thinks the fence will still be visible. It will meet a glass fence (which allows for city views) on one side of the pool and the original 1958 block fence on the other side. THe glass fence is too expensive to put up along the back, plus the birds hit it and it is hard to keep clean. I currently have tape on it which is helping to keep the birds from hitting it.

THere is a drop-off behind the feed of about 10+ ft. Alternatively, I could run a cheap fence in the wash and leave the drop-off open, with plants. But this risks someone falling off the edge. Also tying the fence in with the other fences might look funny as it will have to run up the steep wash.

I am inclined to sign the contract an give a deposit, but I dont want to rush into it.

Fence example (it will rust after a few months):
Wash below fence:

View from inside: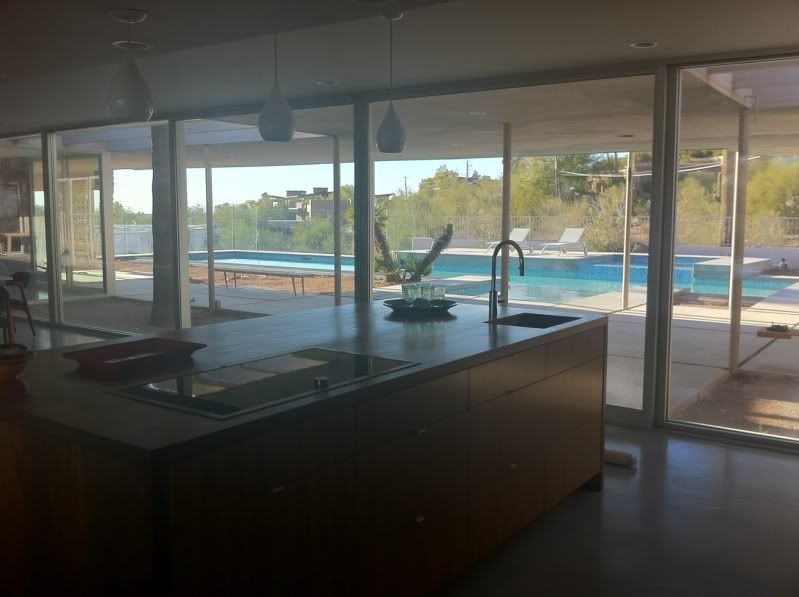 ---
Follow-Up Postings:
| | | |
| --- | --- | --- |
| RE: What do you think of this steel pole fence? | | |
I like it! How tall will it be?
---
| | | |
| --- | --- | --- |
| RE: What do you think of this steel pole fence? | | |
Love it!

Btw, for your bird vs glass issue, check out the link below. This is a non-profit dedicated to reducing bird vs glass collisions in the Toronto area. Great section about the myths of how to prevent it and current research on what actually works.
Here is a link that might be useful: Flap Canada
This post was edited by Shrubbish on Tue, Aug 5, 14 at 6:55
---
| | | |
| --- | --- | --- |
| RE: What do you think of this steel pole fence? | | |
That fence is cool but may I make a suggestion about the glass fence?

I had to put stickers on my big front window to prevent birds from flying into it. The ones I have are not those black outlines of birds but a slightly frosted clear leaf shape. Supposedly the birds see it very differently than human eyes. The stickers are not very visible or distracting to humans. Birds don't hit the window any more so they work.

I bought them at a store that specialized in bird stuff, with a name like wild birds unlimited maybe?

I've been enjoying see your home. Thanks for sharing the pictures.
---
| | | |
| --- | --- | --- |
| RE: What do you think of this steel pole fence? | | |
When I hear of these glass fences/deck rails I always think in my head "how does one keep that clean?" I have a patio table top that gives me fits keeping it decent looking I CANNOT imagine having more to keep up!! I am wondering if your view will be greatly compromised with this pole choice? I suppose it all depends on the width of the poles and how far apart you set them. What is your goal privacy or keeping people/critters in and or out? I would not want to obstruct the view. I would lean toward decorative poles and a mesh that is very difficult to see. Here in the woods we put up deer fences to keep them out. They blend into the landscape most of the time people cannot SEE FENCE when they look out the window. For this pole idea to work it will have to be well executed. All perfectly straight, all exactly the same width apart. "Not cheap" is an understatement!! Please share the "after" once it is installed.
---
| | | |
| --- | --- | --- |
| RE: What do you think of this steel pole fence? | | |
beautiful views! what state are you in?

you have several things to consider in this... I have no ideas tho.

I am going to check out the Canadian bz regarding the stickers in case birds fly into my patio door. It's fairly blocked now but in the future it won't be.
---
| | | |
| --- | --- | --- |
| RE: What do you think of this steel pole fence? | | |
Thank you guys! Well, I just gave a deposit for the fence. *gulp*

Once it rusts, I am hoping it will will match the red rock of the house.

WMA89 - it has to be 5 ft tall for code.


Thanks for the bird info shrubbish and hhreno! I do have those stickers all around the glass in the house. I wanted to make sure they worked before I bought more for the fence. I got them at a wild bird store. I need to get some more, but wanted to make sure it worked first. Birds can see light in a different wavelength than humans. I think the stickers stand out more to them, as the reflect light in that wavelength range.

It will be 5 feet tall, up to code.

Arcy, for some reason the glass stays relatively clean. Of course it needs to be cleaned but only maybe twice a yr. I am surprised. Maybe it is because where I live it does not rain much? The fence shouldnt block the view as it will be the same height as the fence that is already there. LOL the only view I have in that direction is my neighbor's house, anyway.

Desertsteph, I bet we live in the same state - AZ. :)

Here is a better pic of the fence wash and neighbor: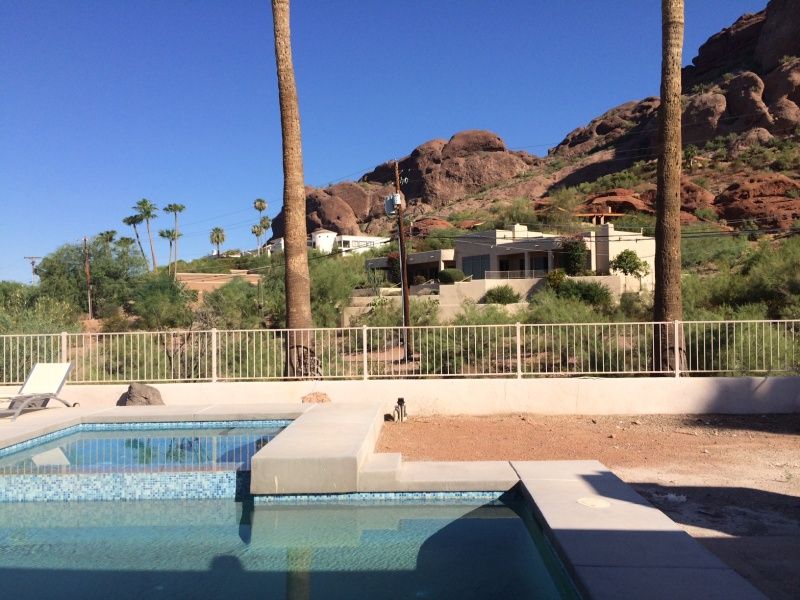 ---
Post a Follow-Up
Please Note: Only registered members are able to post messages to this forum.
If you are a member, please log in.
If you aren't yet a member, join now!
---
Return to the Home Decorating & Design Forum
Information about Posting
You must be logged in to post a message. Once you are logged in, a posting window will appear at the bottom of the messages. If you are not a member, please register for an account.
Please review our Rules of Play before posting.
Posting is a two-step process. Once you have composed your message, you will be taken to the preview page. You will then have a chance to review your post, make changes and upload photos.
After posting your message, you may need to refresh the forum page in order to see it.
Before posting copyrighted material, please read about Copyright and Fair Use.
We have a strict no-advertising policy!
If you would like to practice posting or uploading photos, please visit our Test forum.
If you need assistance, please Contact Us and we will be happy to help.

Learn more about in-text links on this page here