Return to the Home Decorating & Design Forum
|
Post a Follow-Up
---
| | | |
| --- | --- | --- |
| Carpet choices. I Need a Color Experts help! | | |
Posted by
tyjy
(
My Page
) on
Wed, Aug 1, 12 at 1:42
I need a color expert! We're replacing the carpet and I've looked at carpet samples at home in different lights, in different locations and took pictures with & without the flash trying to decide if one tone is better than another. I need some general rules of thumb or just plain...advice!

My two new family room leather chairs are a tan/camel color (and know I can't replace them anytime soon). My sofa is black leather. My adjacent room flooring is a gray/brown hardwood. I like this multi-flecked frieze carpet and having the hardest time deciding the best color tone. The trouble is the chair color vs. the carpet color. In some pictures I think the carpet sample looks a little pinkish, other pictures it matches up pretty good. There's three carpet samples that are so close my daughter & husband can't even see the difference! I'm seeing the difference but spending WAY too much time deciding which goes the best. Then I sway to a darker gray/brown color and it seems dingy/dirty the lighter colors look whitish tan! Here's a couple questions:

Do carpets look lighter or darker overall than the color sample when it's installed?

Are photo's better to get a sense of the color against say a chair vs. the naked eye?

If a color sample does not seem pinkish with the naked eye but some photos seems to suggest a tinge of it, which do you trust?

Is it better to choose a contrasting color to the chairs vs. a complimentary/monotone choice? If contrasting: Lighter or darker? On the tan/camel tones? Or grayish which I wish I could get?

Please help! Thanks!
---
Follow-Up Postings:
| | | |
| --- | --- | --- |
| RE: Carpet choices. I Need a Color Experts help! | | |
First, photos are never better than the real thing.

Second, you can't ever be sure what your carpeting will really look like unless you have a sample from the same mill run. Colors vary across different production runs.
Samples are subject to the same wear and tear as actual carpets - an old sample will often be quite different from the actual roll yours comes from.

For your family room, I would suggest that you consider a more definite pattern than one that is a "multifleck." If you could post a picture of the carpet you are considering, and perhaps a photo of the advert page so that we can see it in an installation, it would help.

But in my opinion, the multifleck patterns can look terribly institutional, commercial, and bland, whereas some of the subtle patterns can look quite lovely, and pull your whole scheme together.

Here are some examples of how an overall geometric pattern in neutral shades can furnish a floor and make the room inviting and pulled together:
---
| | | |
| --- | --- | --- |
| RE: Carpet choices. I Need a Color Experts help! | | |
Bronwynsmom's suggestions are spot on. The multi flecked can look boring and oft times need an area rug over them to give interest to the room. Think pattern and look for a tone of that incorporates tan and a contrasting tone. I think you need to keep with the warm shades to offset the black sofa and then cross pollinate the sofa with some lighter pillows or a throw.
---
| | | |
| --- | --- | --- |
| RE: Carpet choices. I Need a Color Experts help! | | |
In my experience carpet will look lighter than a sample when it is put down.

I have multi flecked frieze and I don't think it is boring at all. If you want the focus on your floor, then go with a pattern.
---
| | | |
| --- | --- | --- |
| RE: Carpet choices. I Need a Color Experts help! | | |
i have multi flecked frieze in my family room. I love it because it doesn't show every speck of dirt left from the kids or dogs.
---
| | | |
| --- | --- | --- |
| RE: Carpet choices. I Need a Color Experts help! | | |
Can one of you show a photo of the multi flecked frieze? Maybe this is a specific pattern I'm not familiar with.
---
| | | |
| --- | --- | --- |
| RE: Carpet choices. I Need a Color Experts help! | | |
Sorry I don't know how to apply phone pix to this (camera broke), but here's some of the elements links online: carpet style, chairs & hardwood. Our black leather couch is well, normal black, and we have a whole bank of windows on one wall and a fieldstone fireplace as well if that helps:

Here's a link to the carpet style: Karastan Nature's Bounty. Potential colors: Daybreak, First Star and Mobe Pearl (maybe Mushroom Cap which is closer to my hardwood but that's the one I worry about looking dingyish)

http://karastan.com/CarpetDetail.aspx?LookupID=7&Source=pattern&startIndex=0&ViewAll=true&CarpetID=453


These are the chairs I bought:
http://www.steinhafels.com/merchandise/merchandisedetail.aspx?PID=0&CID=0&ID=902315553


This is the flooring I have-Mirage Maple Charcoal (pictures look more gray, actually a grayish brown):

http://www.miragefloors.com/ENG/hardwood-floors-maple-charcoal.php

but looks in person like this Yahoo Image I found (shown in oak). IMPORTANT NOTE: the wood work in this photo looks a lot like the color of my woodwork/cabinets/trim, etc. (Can't change) I bring this up because I've been reading the thread about "Is Wood A Color" and know this orangy color is definitely in play in our house:

http://images.search.yahoo.com/images/view;_ylt=A2KJkewwShlQ0XAAG0aJzbkF;_ylu=X3oDMTBlMTQ4cGxyBHNlYwNzcgRzbGsDaW1n?back=http%3A//images.search.yahoo.com/search/images%3Fp%3Dmirage%2Bmaple%2Bcharcoal%26_adv_prop%3Dimage%26va%3Dmirage%2Bmaple%2Bcharcoal%26fr%3Dyfp-t-701%26tab%3Dorganic%26ri%3D142&w=800&h=552&imgurl=congressionalfloors.com/online/wp-content/flagallery/hardwood/mirage-red-oak-graphite.jpg&rurl=http%3A//congressionalfloors.com/online/hardwood/&size=69.3+KB&name=Living+Room+with+a+Red+Oak+hardwood+floor+in+Charcoal+stain.+%5Bimg+src+...&p=mirage+maple+charcoal&oid=556d033c0ea65f276836d99c012c4946&fr2=&fr=yfp-t-701&tt=Living%2BRoom%2Bwith%2Ba%2BRed%2BOak%2Bhardwood%2Bfloor%2Bin%2BCharcoal%2Bstain.%2B%255Bimg%2Bsrc%2B...&b=121&ni=96&no=142&ts=&tab=organic&sigr=11fodvh2g&sigb=14dd4rks4&sigi=12p18sobr&.crumb=xeRPm2lsmg.
---
| | | |
| --- | --- | --- |
| RE: Carpet choices. I Need a Color Experts help! | | |
Does anyone know how to show the photo's from these links I gave you above onto this thread?? Maybe even I could visualize it then too! thanks
---
| | | |
| --- | --- | --- |
| RE: Carpet choices. I Need a Color Experts help! | | |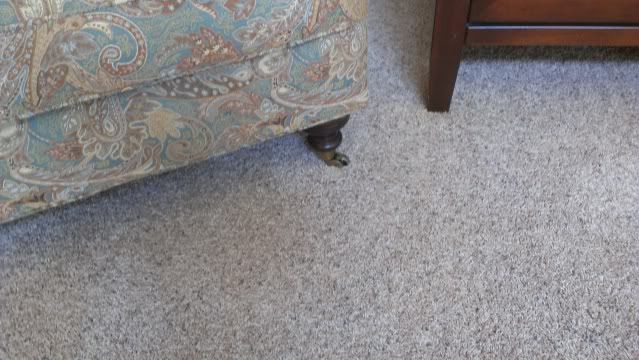 While I love the kind of carpet that bronwynsmom pictured, I saw it in one of the model homes I had visited. It showed a lot of wear pattern. We crossed it off our list and went with a flecked frieze for our great room. I picked a medium color as it was the darkest in their selection. It shows no wear or foot traffic patterns. you don't have to be as concerned about cool vs warm colors, either, as it just seems to blend with anything.

I just looked at my pics and you can't really tell that there is a black/dark grey fleck in it, also. (In addition to the long, white cat hairs that I didn't even notice. I just vacuumed yesterday. It hides everything)
---
| | | |
| --- | --- | --- |
| RE: Carpet choices. I Need a Color Experts help! | | |
I like the flecked frieze style because as francy's photo shows: up close you see the different colors but from afar it blends together. The colors seem to reflect so there's a texture to it all.

I love the photo's of the patterned flooring but HATE shopping & just don't have the guts to pin myself down to something so forever patterned. In fact this carpet choice is going to be my "forever" choice. So with my solid colored chairs and couch my idea is to get the patterns with pillows and curtains and a throw or something that can be changed vs permanently installed. Hope this makes sense.
---
| | | |
| --- | --- | --- |
| RE: Carpet choices. I Need a Color Experts help! | | |
I think you have answered your own question, then!
Sometimes posting and reacting to other people's ideas can make it clear to you what you really want.
The carpeting is less institutional than I imagined, and it certainly has the characteristics you are looking for - hides the dirt, and ends the shopping! I think it will work just fine for you.
---
| | | |
| --- | --- | --- |
| RE: Carpet choices. I Need a Color Experts help! | | |
Hopefully it doesn't hide too much dirt cuz that's sure not my intention! Personally I'm hoping a new vacuum will handle that really well! I'm really getting carpet to help warm up and soften all our concrete floors and would love to be done with this shopping you are right!

I mainly needed help with opinions if carpet looks lighter or darker as a general rule after it's installed. Gracie01 says lighter, is that the concensus?

I also needed to know about a photo vs the naked eye and that one I did almost answer myself just by trying to find a good link to include here for the hardwood flooring we have! So it WAS helpful reacting to other's ideas as it was made pretty clear that pictures are not as true as seeing it for oneself !!

My lingering dilemma is trying not to wind up with a greenish hue or a pinkish hue carpet because I am notORious for choosing the wrong colors and having to redo almost everything I attempt: / Paint changes are one thing but this much carpeting is a big big other thing! Any suggestions will be greatly appreciated!

Thanks
---
| | | |
| --- | --- | --- |
| RE: Carpet choices. I Need a Color Experts help! | | |
This is a TIP I read on ehow when searching online for "How to Choose A Carpet Color".

"Avoid color patterns, opting for a neutral, solid color, unless you are absolutely sure you will not tire of the pattern. Also, remember that a carpet containing several colors rather than a solid color will make a room feel "busier" and you'll need to tone down all other decorations to keep a sense of order in the room"

Does anyone think francy's photo shown with the chair look "busier" because the carpet has several colors in it? To me it blends together nicely as a whole, almost like a solid color. Just wondering what other's think about the multi-fleck.
---
| | | |
| --- | --- | --- |
| RE: Carpet choices. I Need a Color Experts help! | | |
SEEEE...this is why I can never make a decision! The more I read the more contradictory it all is:

From another online article:
"A cautionary note: A large carpet will look DARKER at home.
A floor is a large area, and a whole floor of carpet will intensify the color, making it seem darker than the small sample. You may wish to select a carpet color one shade lighter than your target color in order to compensate for this."

So much for knowing what is what : /
---
| | | |
| --- | --- | --- |
| RE: Carpet choices. I Need a Color Experts help! | | |
All I can say is that when I pick a "beige" or light carpet, it looks even lighter when down.

Make sure you look at your carpet samples in daylight AND at night. I once brought home a burgandy piece to make into an area rug; at night it looked brown!
---
| | | |
| --- | --- | --- |
| RE: Carpet choices. I Need a Color Experts help! | | |
Mine looked about the same and if anything, a bit lighter. I actually would have liked to go a bit darker but was at the darkest of the samples offered.

Maybe you're over-thinking a bit. Flecked frieze isn't what I would call "patterned" or "several colors" but more of a textured look. It wouldn't clash with other patterns in a room.

It looks like the day we had it installed and it's 5 years old. I sure can't say that for the plush we have upstairs and that gets a lot less use.
---
| | | |
| --- | --- | --- |
| RE: Carpet choices. I Need a Color Experts help! | | |
Lighter vs darker: I'm trusting you guys then (saying lighter) as you oughta know, it's first hand knowledge! I'll probably go with a darker color then as it's a fairly large room with an entire wall of windows which can be bright.

Flecked frieze: I like that style too (my actual sample calls it a "cut pile textured") so the only decision left is the actual color selection.

How would you determine undercolors (such as green-gray, blue-gray or tan on the pinkish side?)...by putting the carpet samples next to say a white sheet of paper??? (only reason I'm asking is...I have had a pretty dark "gray" bathroom wall for many years, one day someone came over & said I like your green walls! WHAT? I NEVER imagined it as green That's how bad I am at colors!)

Thanks!
---
| | | |
| --- | --- | --- |
| RE: Carpet choices. I Need a Color Experts help! | | |
i agree that overall, carpet looks lighter when actually laid on the floor... the same as paint does once the whole room is painted- the sample always seems to look darker than the overall look when done.

i don't think a multiflecked carpet will contribute to an overall busier look either--- we have it in our basement and from afar, it looks pretty solid! we have a couch down there with a pattern and there's no concern with clashing or looking busy! i also have patterned rugs on hard floor nearby and it was easy to get rugs that coordinate(color wise as well as pattern wise) probably partly because it wasn't a solid, flat color...(it's a sage color with primarily brown and tan flecks...so grays look nice with it as well as browns)
---
| | | |
| --- | --- | --- |
| RE: Carpet choices. I Need a Color Experts help! | | |
How would you determine undercolors (such as green-gray, blue-gray or tan on the pinkish side?)...by putting the carpet samples next to say a white sheet of paper??? (only reason I'm asking is...I have had a pretty dark "gray" bathroom wall for many years, one day someone came over & said I like your green walls! WHAT? I NEVER imagined it as green That's how bad I am at colors!)
What I used to do was to go to a paint store. I'd get some chips of a specific color from both ends of its spectrum and one that was smack dab in the middle. Now I can just take the middle one, say a green that doesn't have much yellow or blue and just use that as an example of color neutral. You don't have to worry nearly as much with a flecked frieze because there always seems to be enough of a mixture in the carpet itself. Mine leans to the cooler end but my fabrics and furnishings are warm.
---
| | | |
| --- | --- | --- |
| RE: Carpet choices. I Need a Color Experts help! | | |
Why don't you bring a few carpet samples home?
---
| | | |
| --- | --- | --- |
| RE: Carpet choices. I Need a Color Experts help! | | |
Got the carpet samples home and a newfound confidence (well newfound partial confidence). You all helped a lot. Thanks for taking the time!
---
| | | |
| --- | --- | --- |
| RE: Carpet choices. I Need a Color Experts help! | | |
My dear, you are asking for simple answers to more complex questions, which is often the case with color. And you are looking for definitive expertise on the internet, which is always risky.

Some carpeting will look darker and some lighter when installed. It's because the kind of fibers and the weave and the dye lots and the light in your house all affect color.

Undertone is there, but how you perceive the color will also be affected by the colors that are around it, the reflected light from trees or buildings that are outside the windows, and your lighting conditions.

So you would probably do better to give up on an academic answer to a perceptual/emotional question - you've already seen how frustrating that is!

The answer to all your questions is, "it depends."

Use your own eyes, get the biggest, newest samples you can wheedle out of the carpet dealers, put them on the floor, stand back, relax, and imagine each sample spreading and bleeding out all over the floor. It's a lot easier than it sounds...just focus and imagine.

Then listen to your perception and instincts, once you've quieted your nervous brain and your fearfulness about making a mistake.

We all had to learn to do that, and you can, too.
---
| | | |
| --- | --- | --- |
| RE: Carpet choices. I Need a Color Experts help! | | |
bronwynsmom: I really appreciate your candor and understanding of what I'm going through. It isn't that easy an answer and you spelled out why!

My FEELINGS are telling me to get a (slightly bluish)grayish carpet color (but slightly brownish too if that makes sense??) (which is a tad on the "cool" side) as it looks like it comes close to matching the grout/mortar in the fieldstone fireplace. It's possible though that the most COMPATIBLE carpet in terms of being on the same range of colors may be a normal "warm" tannish color due to my orange oak woodwork and camel colored chairs but that feels so same-ole same-ole. That's why I'm having trouble deciding which look will be better or more comfortable feeling. (I am a worry-wort by nature so if I can get a calming color scheme going I feel I might calm down too? Could this happen with color?)

"Relax" might be the most applicable suggestion you make, because I'm not relaxed about it is why I think everyone in my family runs the other way when they know I'm trying to decide on a color for something...

Anyways, I know you're absolutely right on with everything you wrote so I will do just what you suggest, give it my best and cross my fingers.

Thanks so much!
---
| | | |
| --- | --- | --- |
| RE: Carpet choices. I Need a Color Experts help! | | |
Just a little update:

I took francypants' advice and brought the two carpet sample "finalists" to Sherwin Williams paint store and the clerk helped me pick a paint chip (colors below) that closest resembled each carpet sample. THAT was REALLY HELPFUL because it gave me a solid color to work with and also compare to both ends of the color spectrum!

The cool part is I had chosen the exact colors while waiting for her to help me. YAY, cuz what that did was gave me the confidence that I wasn't as bad at seeing colors as I thought I was! And maybe I can trust myself a little more!

One carpet sample looks like:
SW6080 Utterly Beige
(probably the first tone to cross over to the warm side)

The other carpet sample looks like:
SW6072 Versatile Gray or SW6073 Perfect Greige
(probably the first tones to cross over to the cool side)

If you're familiar with Sherwin Williams do you have an opinion how these will look with orangy oak woodwork, a brownish-charcoal floor, and a blueish-gray fieldstone fireplace concrete mortar??

Do you think the Versatile Gray or Perfect Greige will look too blue when put down everywhere as carpet?

Thank you for whatever advice you can offer! You guys are talented & I value your opinions!
---
Post a Follow-Up
Please Note: Only registered members are able to post messages to this forum.
If you are a member, please log in.
If you aren't yet a member, join now!
---
Return to the Home Decorating & Design Forum
Information about Posting
You must be logged in to post a message. Once you are logged in, a posting window will appear at the bottom of the messages. If you are not a member, please register for an account.
Please review our Rules of Play before posting.
Posting is a two-step process. Once you have composed your message, you will be taken to the preview page. You will then have a chance to review your post, make changes and upload photos.
After posting your message, you may need to refresh the forum page in order to see it.
Before posting copyrighted material, please read about Copyright and Fair Use.
We have a strict no-advertising policy!
If you would like to practice posting or uploading photos, please visit our Test forum.
If you need assistance, please Contact Us and we will be happy to help.

Learn more about in-text links on this page here