Return to the Home Decorating & Design Forum
|
Post a Follow-Up
---
| | | |
| --- | --- | --- |
| What house color with a grey roof | | |
Posted by
jane__ny
(
My Page
) on
Sat, Aug 4, 12 at 1:07
Just bought a house in Florida. It has a light grey roof. The house is now painted a strange blue. We want to repaint but I can't find a color which works with the roof.

I don't have a good picture, but this gives you an idea. Having lived in NY all my life, Florida architecture baffles me. I don't know what style this would be called. The house is a cement-block ranch. Drove around the neighborhoods and houses with grey roofs are all painted white, blue, yellow, green. I really would prefer a neutral color and something which doesn't scream color!

Jane
---
Follow-Up Postings:
| | | |
| --- | --- | --- |
| RE: What house color with a grey roof | | |
Many Florida houses like yours take their color palette from the Caribbean and Bermuda, where both bright and pastel colors appear, and look festive or soft in the tropical light. There are lots of choices that are more neutral but that still fit with the traditions of painted houses, and that would look great with your gray roof.

Think about warmer choices like peachy or creamy tones that appear bleached out by the sun, like Benjamin Moore Morning Light, Georgia On My Mind, Simply Irresistible, Knitted Cape.
---
| | | |
| --- | --- | --- |
| RE: What house color with a grey roof | | |
What if you got the color from somewhere other than the body of the house? It brought to mind one of my favorite unattainable beach neighborhoods in the panhandle: Alys Beach. Alys Beach is very Bermuda/Dutch Colonia in influence andmost everything is standard white. But colors are picked up in shutters, awnings, etc.
Here is a link that might be useful: Alys Beach
---
| | | |
| --- | --- | --- |
| RE: What house color with a grey roof | | |
I would see how a darker gray body looks in a photoshop of your house. The light gray roof, medium to darker gray house, and appointments like black Bahamas shutters, black railings, black coach lights on the garage, a black and white striped awning over the doors, etc., would make a lovely combination.
---
| | | |
| --- | --- | --- |
| RE: What house color with a grey roof | | |
In my Mom's area in FL a lot of the homes like this one were painted a caramel color so the rust stains from the water when watering plants would blend in and not be so apparent....
---
| | | |
| --- | --- | --- |
| RE: What house color with a grey roof | | |
I agree that kswl's combination would look great, but I'd worry about all that dark gray and black in the Florida heat and humidity. Something much paler and cooler in feeling makes more sense to me - but I love the idea of striped awnings and Bahamas shutters on windows that you want to keep the sun out of.
---
| | | |
| --- | --- | --- |
| RE: What house color with a grey roof | | |
Another vote for a medium gray -- with sharp white accents -- and a glossy black door.

Add silver/pewter handles and doorknocker.

Also add silver/pewter outdoor lights .... and if you add awnings (a marvellous idea BTW!) -- try deep black/gray outlined in white ....

Benjamin Moore:

Iced Cube 2121-50
Coventry Gray HC-169
Boothbay Gray HC-165
Stonington Gray HC-170
Deep Silver 2124-30
Seattle Gray 2130-70

Just some shades to get you started ....
Here is a link that might be useful: Bellacor.com -- possible outdoor lights
---
| | | |
| --- | --- | --- |
| RE: What house color with a grey roof | | |
Or maybe a very very pale, barley-there gray, with a bright colored door and/or trim?

Also just a quick note, I have those Kichler outdoor fixtures that tea cats linked to at my house that is 1/4 mile from the beach in RI. They are only two years old and already showing rust. Ick. I have no idea what type of exterior fixtures hold up to sea air, but I can tell you that those don't!
---
| | | |
| --- | --- | --- |
| RE: What house color with a grey roof | | |
Looks a lot like my neighborhood in Florida.
Lots of older homes mixed in with newer and brand new homes. The older homes are the ones that are mostly "colorful". Brights and pastels. The brand new homes are very neutral..and the newer homes are usually more colorful neutrals.

Sea
---
| | | |
| --- | --- | --- |
| RE: What house color with a grey roof | | |
Wow, thanks for such good ideas. I will try to get a better shot tomorrow.

We haven't moved in yet as we are waiting for the tile to be put in and the painters to finish inside. They are scheduled to paint the exterior in a week.

My problem is we will probably have to replace the roof in about 5 years. I would not use light grey. I would like to paint a light beige or brown. But I don't like the look with the grey shingles. I suppose I'd have to repaint when I replace the roof. The house, originally had a tile roof but the owner replaced it with shingles 12 yrs ago.

You gave me some good ideas. I notice most of the homes with grey shingles painted white, light green/blue or a peachy color. I do like a Key-West look with blues and purples/pinks, but I think we'd get run out of the neighborhood!

jakabedy, I never heard of Alys Beach. Love the shots.
Love the idea of awnings.

Thanks again,
Jane
---
| | | |
| --- | --- | --- |
| RE: What house color with a grey roof | | |
Replaced a tile roof with shingles? Wonder why - tile roofs usually don't have an expiration date. Many outlast the structure.

A light gray cool roof limits the color palette options for sure.

But you have to choose colors for the house you have now, not the one you're planning for.

Decorate for the life you really have, not the life you wish you had. - Magnaverde Rule No. 16
Here is a link that might be useful: Kind of similar color conundrum
---
| | | |
| --- | --- | --- |
| RE: What house color with a grey roof | | |
Florida is NOT New England, and doesn't do well with those types of blah colors. The sun washes things out too much. Any color that you use should be stronger and brighter than you think will work because of that. EMBRACE the Florida colors!

A creamy yellow (NOT pale) always looks good with gray, especially with a bit of white and black thrown in for accents.
Lavender, but not too pale always looks good with gray, especially contrasted against the green plant growth that occurs overnight in Florida.
Blues of all shades look wonderful with a gray roof, and are especially suited to Florida.
(LOVE the coral door!!)

Then there is the classic Florida look of pink and gray or peach and gray.
See how good the peach looks if you were to restore the tile roof?

---
| | | |
| --- | --- | --- |
| RE: What house color with a grey roof | | |
When you replace the roof I would do so with white tiles. If you plan to stay in the house, that is your best, coolest option and one that will add value in any neighborhood in Florida. White square cement tiles are less expensive and easier to install than barrel tile, and on your house--- which is not a style that really calls for barrel tiles--- the square cement ones would look great. Then you could keep your medium gray color.

Very light pink, with the same black accoutrements, would also look good with your present roof and any future white roof.
---
| | | |
| --- | --- | --- |
| RE: What house color with a grey roof | | |
Adding that the pumpkin color of the house above is lovely with the red barrel tile. I saw a picture long ago in Southern Living of that color stucco with a black roof and accoutrements and it looked unbelievably elegant and NOT Halloween-ish at all!
---
| | | |
| --- | --- | --- |
| RE: What house color with a grey roof | | |
| | | |
| --- | --- | --- |
| RE: What house color with a grey roof | | |
kswl, a pic of friends house which has been in So. Living mag, though probably not the one you were thinking of.
---
| | | |
| --- | --- | --- |
| RE: What house color with a grey roof | | |
You might want to remember not to use dark shingles on your roof when you replace them. Dark colors hold the heat and depends on how much sun you have, it can make a big difference in your electric bill. We found that out when we lived in Texas. Our new home had dark brown shingles and the house up the street that was just like ours had light tan shingles. Our electric bill was so much more than theirs and their family was bigger.
---
| | | |
| --- | --- | --- |
| RE: What house color with a grey roof | | |
Not the one, Annie, but I LOVE it! Great presence and vibe--- in addition to the great color!
---
| | | |
| --- | --- | --- |
| RE: What house color with a grey roof | | |
Thanks everyone. Great photos, love the different styles. Unfortunately, this house is quite plain without too many options. I really hate the roof color and having to work around it.

Here are a few photos which I took yesterday. Tile is being laid and paint inside is almost done. Painter wants to start immediately on the outside, but I have put him off as I don't know what color to use.

It is painted a pale turquoise/blue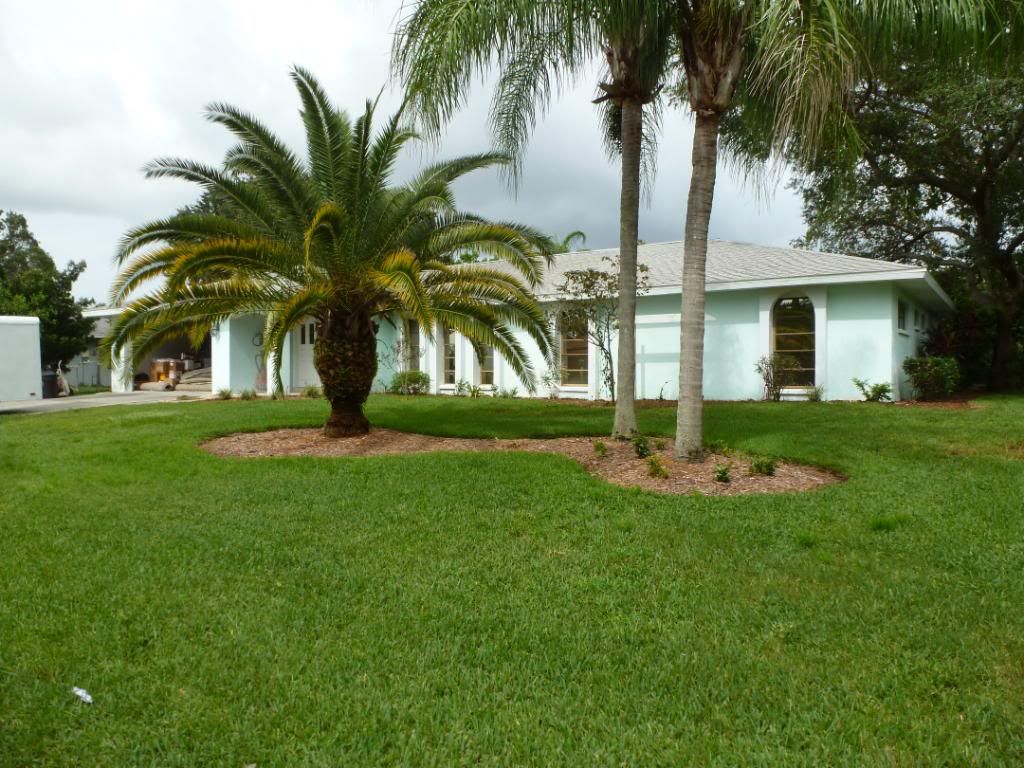 In this photo, you can see a large blank space between the windows on the right. The owner has some sort of white trellis?? sunk in the ground. I will remove that unless someone has some idea for it. It also needs a lot of landscaping.
Notice the mural painted on the entry wall!
Another angle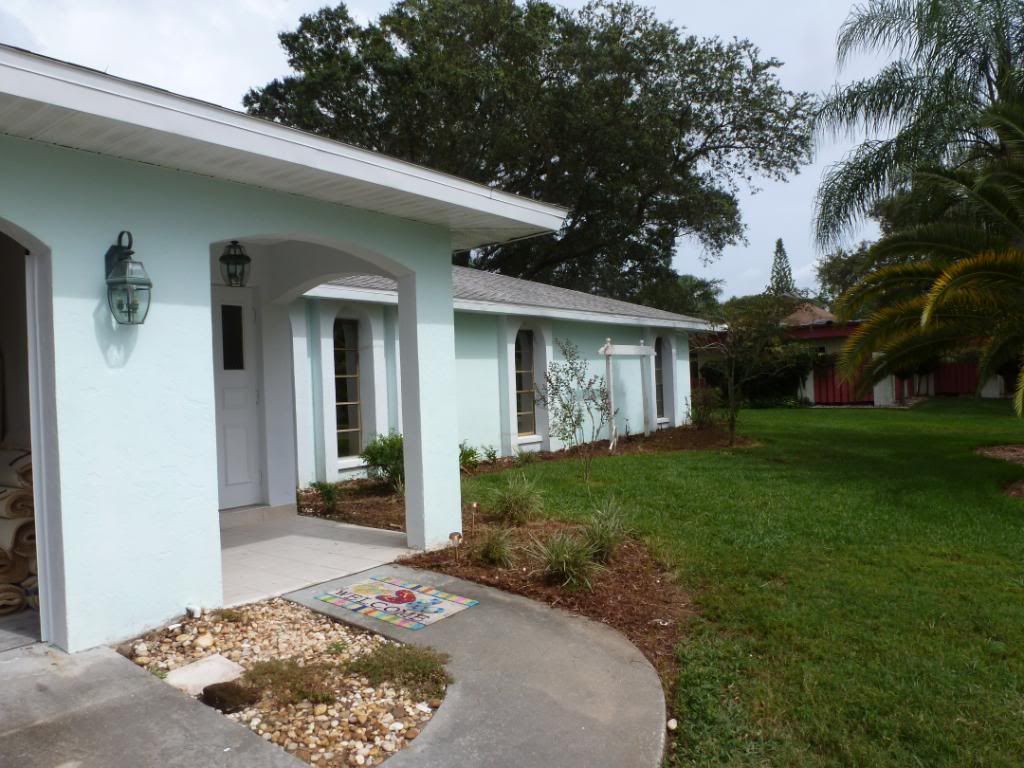 The rest of the neighborhood consists of newer homes which are more contemporary. There are a few houses like mine but they either have tile roofs or dark brown roofs. None have the arch windows.
My instinct tells me that painting the house grey/white will make it appear very boring and plain. That large wall is worrisome as it will look like a big, grey, space. I'm not crazy about yellow on this house. I just don't think this house looks Key West.
Any ideas would be appreciated.
Jane
---
| | | |
| --- | --- | --- |
| RE: What house color with a grey roof | | |
You already got some ideas. What do you think of them?

The recent trend is toward dead neutral colors. I think that's from the soft housing market. People start thinking of resale before they move in. Most of these dull colors just look incredibly stupid in Florida.

"Florida architecture"

That's called an oxymoron.
---
| | | |
| --- | --- | --- |
| RE: What house color with a grey roof | | |
The body, field color should be a green with just the right pitch of nuance, tone. Not too dull else it will wash out in the intense FL sun, yet not too clear. Trim should go from crisp white to a grayed bisque. Color story, or the color thread to weave the roof to the field to the trim would come from striking harmony among the three main colors, roof, field/body, trim. That will leave you room to punctuate with a wide range of colors via landscaping, front door, etc. Reds, oranges, dark blues -- purples would be especially pretty.
---
| | | |
| --- | --- | --- |
| RE: What house color with a grey roof | | |
Your other best option, in my view, is a warm, rosy pale tan, just enough different from the white to give it dimension, and saturated anough not to disappear or turn into face powder in the Florida sun. A faded version of the adobe color on the house Annie posted most recently, or one of the light naturals or sunset tones in the South Beach palette in her next post are what I mean.

My feeling about houses like yours is that the walls should be a color that could exist in the traditional materials, which are a version of earth. (Probably the reason I don't like blue rugs...who walks on the sky or the water, after all...?)

And I don't like green houses in your landscape. I think the greens of the plants are so much prettier than any of the painted ones that I'd want my house to be a backdrop for them rather than a pale approximation.
---
| | | |
| --- | --- | --- |
| RE: What house color with a grey roof | | |
Don't have any color suggestions, just want to say I think you have a cute house! It looks very solid and well built too. Going from NY to FL is a big transition. I hope you're enjoying your new place.
---
| | | |
| --- | --- | --- |
| RE: What house color with a grey roof | | |
Yes, and I should have said that, too. It's a wonderful house!

I particularly like the deep recesses of the windows. They make the light patterns move around the room as the day goes on, which enlivens an interior while protecting it from the heat and the damage of too much concentrated sunshine.

I'm imagining your yard, with sweeps of massed plantings chosen with xeriscaping and texture in mind...but you didn't ask that, did you??
---
| | | |
| --- | --- | --- |
| RE: What house color with a grey roof | | |
Well -- I still that that dark charcoal gray would look amazing with the pale gray roof and the white trim ... then add much more contemporary lighting ....

As for the section with the trellis -- I would add a tall "wall-type" fountain (looks like a wall with the water coming down it)

As for that odd stone area (to the left of the Welcome mat) -- add a tall container with an ornamental grass ....
---
| | | |
| --- | --- | --- |
| RE: What house color with a grey roof | | |
Yes, the space with the stones is actually a wonderful little planting area and TC's idea of ornamental grass there sounds adorable.

How about a soft pink for your house? It's certainly done and accepted as a fresh exterior color option in your neck of the woods and it wouldn't be boring!

Holly posted some pics of pink houses with wood siding. Here's one more with stucco. (I'm not on board with the mint green trim on this house, however!)
Here is a link that might be useful: Pretty in pink
---
| | | |
| --- | --- | --- |
| RE: What house color with a grey roof | | |
I can see why you want to change the color. It's too pale for the location you live in. A much stronger blue with a bit of green and grey thrown in would work to tie in the gray roof and blue is always such a pretty color as a backdrop to greenery.

Behr Dragonfly

Behr Voyage, a little less gray but able to stand up to the Florida Sun and work with a gray roof.

Peacock Tail

---
| | | |
| --- | --- | --- |
| RE: What house color with a grey roof | | |
Thanks, everyone. Since we haven't moved in and only spend a few hours a day, I just can't get a feel for anything about the house. We are new to Florida, we don't know the plants, landscaping is so mixed up in different neighborhoods, there doesn't seem to be a style or theme to this area.

I can't see painting the house pink, purple or green. We want to replace the front door and I want to do a strong color there. This neighborhood is sort of formal and conservative. I'll post a photo of the house next door. It has a nice grey paint and trim, but totally different style house.

We looked at homes for many months in the beachy areas and they were painted all sorts of color which I call Key-West style and I love them. They fit the neighborhoods. This house is not in that type of place.

All the houses are painted neutral colors. The new houses have more trim and nicer roof lines. This house looks bare and sort of 'blank.'

bronwynsmom, I'm leaning toward a pale, rosy tan but worry about the grey roof, which is so dominant.

I'm thinking landscaping may change the way I see the house presently.

That blank wall really bothers me. A fountain might look nice, but that side of the house faces SW and water would dry up in an hour. Geeez, it is soooo hot here!

Jane

House next door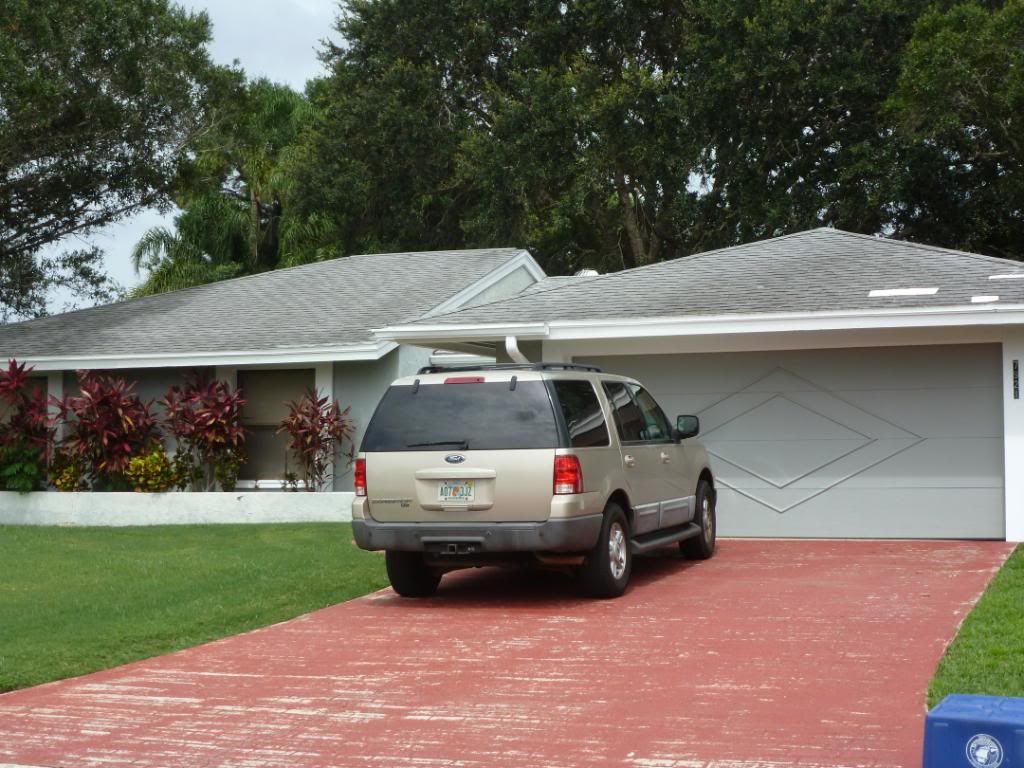 Across the street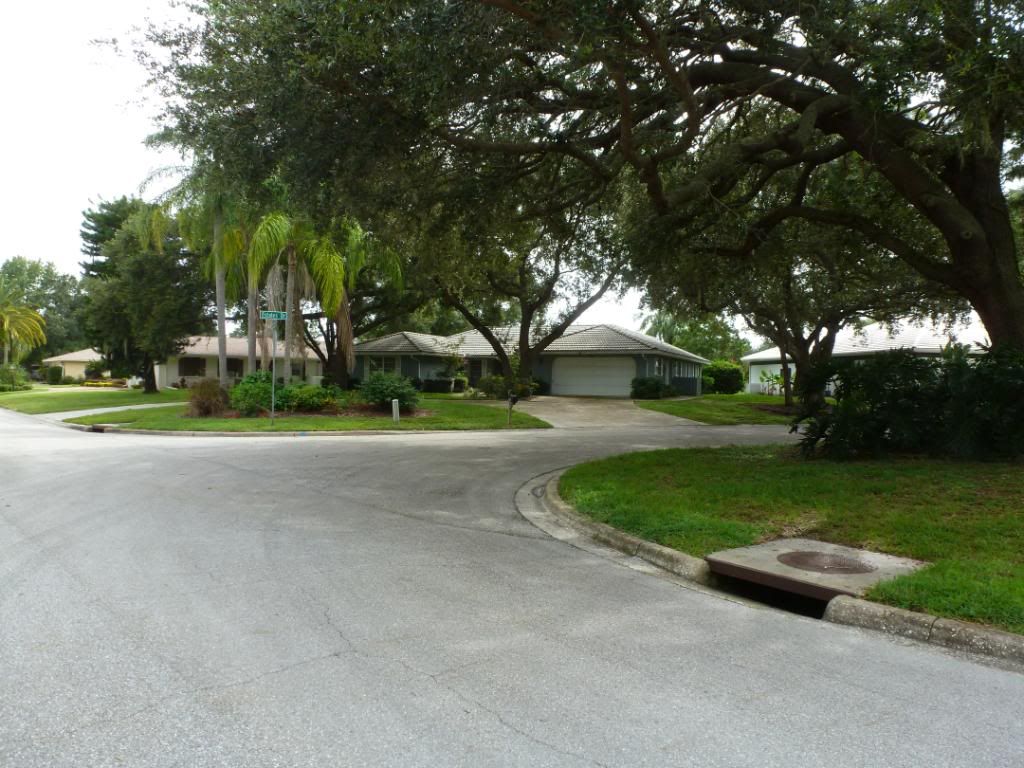 Jane
---
| | | |
| --- | --- | --- |
| RE: What house color with a grey roof | | |
<Hi, this statement interests me, as I also have a roof I'm not crazy about (also in Florida...it will need to be replaced in a couple of years? Anyway, could you, kindly, show me an example of a house with these roof tiles like the one you are describing?

Thanks,

Jane,
where is jerrilynn (I didn't think of this till I started this posted, so the spelling is probably wrong) she will have a good idea of the look for your house. She is not that far from me. And, I have a neighborhood very near to me, in fact, a couple of them.. and even have some of that type of house in my neighborhood. It's a very mixed area.. with a midcentury mod vibe, lots of barrel roof, big ol honkin' estate type houses with the BR... some of the neutral bland colored brand new contemporary, make that Florida contemporary and lots of swanky lookin' houses like your neighbors house.. with your style mixed in.

I'd love to know where in Florida you are? I'm going to find myself looking for your style of house. that's the other thing with these neighborhoods.. lots of the house styles repeat....I'm not talking about the new builds.. that's pretty much a given....

My DH and I walk in the morning and we try and take a different route just to spot the houses... see our favorite style/s. Some of them are just so gorgeous in an old glamorous way!
Anyway, I think I remember seeing your posts on the Buying/Selling a Home forum... glad you finally found something!

And, YES....it is screaming HOT!

Sea
---
| | | |
| --- | --- | --- |
| RE: What house color with a grey roof | | |
Hi Sea, you are right about Buying & Selling. I drove them crazy over there. Spent almost a year trying to find a house. We looked all over Sarasota. Daughter has a vacation house on Siesta Key and some other family sprinkled around.

We started looking in the Siesta Key area, realized most homes are vacation homes, not real neighborhoods. We kept moving further out and wound up around the University Park area because it is younger and has great shopping. Less transient and more land. We are gardeners and most of the homes, near the Key, had very small properties.

You are right about the mix of styles. Each time we go to the house, we take a different street and try to find houses similar to ours. It isn't easy. Ours was built in 81 and it seems these developments began about that time and just kept growing. As a result, our house appears to be one of the oldest, surrounded with a mix of contemporaries, two-story and weird looking, imitation Spanish style with all the clay, barrel tile.

Where are you??

Not sure how to fit this house into the neighborhood. I think I'm back to grey again.

It is horribly hot!

Jane
---
| | | |
| --- | --- | --- |
| RE: What house color with a grey roof | | |
Jane, what I am hearing in all your posts is that you are moving into new territory, physically, culturally, and architecturally, and that you hate being so unclear on what to do, because you usually know how you want to proceed.

So of course Miss Mary Bossypants wants to suggest that you relax, and wait until you get a feel for your house, for your new life, and for your surroundings. You've gotten a lot of contradictory advice, all of it reasonable, and I think you should put it in your back pocket and figure out your new life before you worry too much about which solutions are best for you.
---
| | | |
| --- | --- | --- |
| RE: What house color with a grey roof | | |
bronwynsmom, you are right.

Jane
---
| | | |
| --- | --- | --- |
| RE: What house color with a grey roof | | |
I like those blues that GreenDesigns posted. I think that they would be a lot more striking than the kind of mint green you currently have. My mother's house, which my grandparents built in 1945 is a deep blue and has a lighter gray roof, so I'm kind of partial to the combination.
---
| | | |
| --- | --- | --- |
| RE: What house color with a grey roof | | |
I don't think the blue would work. There is little trim on this house. I think I should find a way to add trim for contrast.

I'm going to try to put the painter on hold. I have so much to deal with inside the house, I just can't focus on the outside. We have to move in this week. We need to get settled. The painter is not going to be happy...

Jane
---
| | | |
| --- | --- | --- |
| RE: What house color with a grey roof | | |
Painter not happy, you happy.

Painter happy, you not happy.

Which one to choose....hmmm....
---
| | | |
| --- | --- | --- |
| RE: What house color with a grey roof | | |
Hi Jane,
Well, you are on the West Coast and I am over on the East Coast. Although, looking at the map of Florida, we are directly across from each other. I am in Port St Lucie on the Treasure Coast.

Btw, I neglected to tell you that I like your house. And, OH MY! what I wouldn't give for those swanky double doors!

The "older" houses in my area are older than yours. Many of the houses are 70's. Mine is 1973.. but loads of them have a 60's look. Mine isn't one of the more 'cool' looking houses, although it does have some elements of the 60's style..I will add more. Not talking about going totally Atomic, I just like some of the architectural features that I see here.

It's so friggin hot here that I don't even want to go for the morning walk anymore. That's a shame, cuz like I said, I so enjoy looking at the house styles.

I would love to hop in the car with my camera and just explore.. but even that isn't easy. Just like most of Florida, lots of areas here don't have sidewalks. We are lucky, my neighborhood does....at least, parts of it. I'm told if you are within a certain distance of a school there must be sidewalks. I don't like the fact that some areas don't have them. Plus, just another weird Florida thing, if you are lucky enough to have sidewalks they will run right through your front lot! I scrolled back up and see that your neighborhood is without sidewalks. It isn't safe...plus, even worse, at night it is so dark here. Again, seems to be another Florida thing...I can take a road, a fairly busy road, the same road that my house is on the corner of, and get up a few miles and no sidewalks...at night you cannot see a thing. I was riding in my car and did not see people walking their dogs, literally right at the edge of the road.. and you could not see them until you were right on top of them. Scary. I don't know why they don't light the streets better. I quickly learned that you must get out to the MAIN roads and streets to travel at night.

Anyway, I will take my car soon to look for your house style in a neighborhood or two. If I do find it or something very similar, I will take a pic and send it to you.

Good luck in your new house and new neighborhood.....it looks really nice!

Sea
---
| | | |
| --- | --- | --- |
| RE: What house color with a grey roof | | |
browny, painter unhappy. Had quite a scene today, he was furious. I actually got nervous, thank goodness the tile guy showed up and I hung out with him. I would up paying the painter to get him out of the house. Another story for another post...

Sea, you are so right. How about people bicycling at night? I have almost run over teenagers skate-boarding in the dark. I agree, sidewalks would be safer and nice.

The heat is starting to get to me! It rains everyday. Not refreshing - even the rain is warm. I like the East Coast, I miss the Atlantic, the waves and the cool water.

Jane
---
| | | |
| --- | --- | --- |
| RE: What house color with a grey roof | | |
You might find this enlightening and some help. ;o)
Here is a link that might be useful: gray roof
---
| | | |
| --- | --- | --- |
| RE: What house color with a grey roof | | |
OMG! patty_cakes, how did you find this? You are so kind, how helpful. I'm going to read it all tomorrow.

Just fantastic!!

Thank you sooooooo much...

Jane
---
| | | |
| --- | --- | --- |
| RE: What house color with a grey roof | | |
painted in yellow and purple as the picture showes is very beautiful
---
Post a Follow-Up
Please Note: Only registered members are able to post messages to this forum.
If you are a member, please log in.
If you aren't yet a member, join now!
---
Return to the Home Decorating & Design Forum
Information about Posting
You must be logged in to post a message. Once you are logged in, a posting window will appear at the bottom of the messages. If you are not a member, please register for an account.
Please review our Rules of Play before posting.
Posting is a two-step process. Once you have composed your message, you will be taken to the preview page. You will then have a chance to review your post, make changes and upload photos.
After posting your message, you may need to refresh the forum page in order to see it.
Before posting copyrighted material, please read about Copyright and Fair Use.
We have a strict no-advertising policy!
If you would like to practice posting or uploading photos, please visit our Test forum.
If you need assistance, please Contact Us and we will be happy to help.

Learn more about in-text links on this page here