Return to the Home Decorating & Design Forum
|
Post a Follow-Up
---
| | | |
| --- | --- | --- |
| Help me pick a paint color for my Kitchen | | |
Posted by
dilly_ny
(
My Page
) on
Tue, Jul 17, 12 at 23:57
The kitchen forum has been a great inspiration to me in selecting and deciding so many choices. In the home stretch of our renovation, we've hit a hurdle about paint color. We have maple stained cabinets with dark glaze, colonial gold granite counters, black iron hardware and stainless steel appliances. We have not yet selected back splash tile. We will be staining the beams and other trim either in tone with the cabinets or floor, not sure which yet, but we will not introduce another wood tone. Here is our work in process: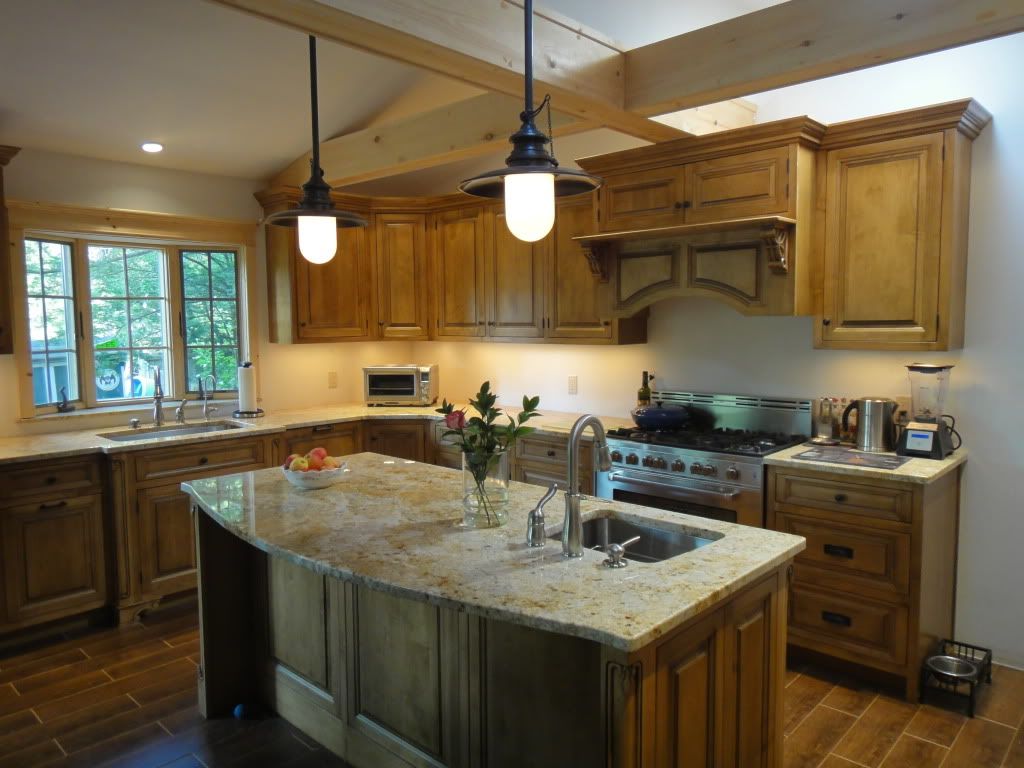 In the room, we also have a stone fireplace which has alot of grey tones.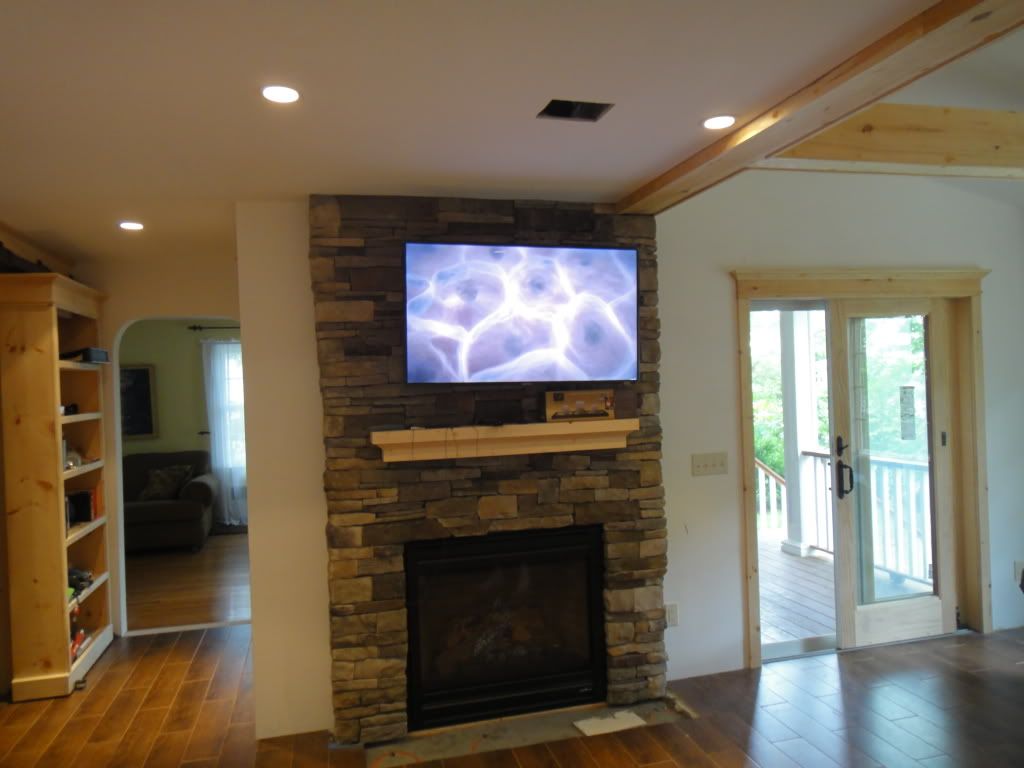 The stone is called Bucks County Ledge Stone and here is a closer up look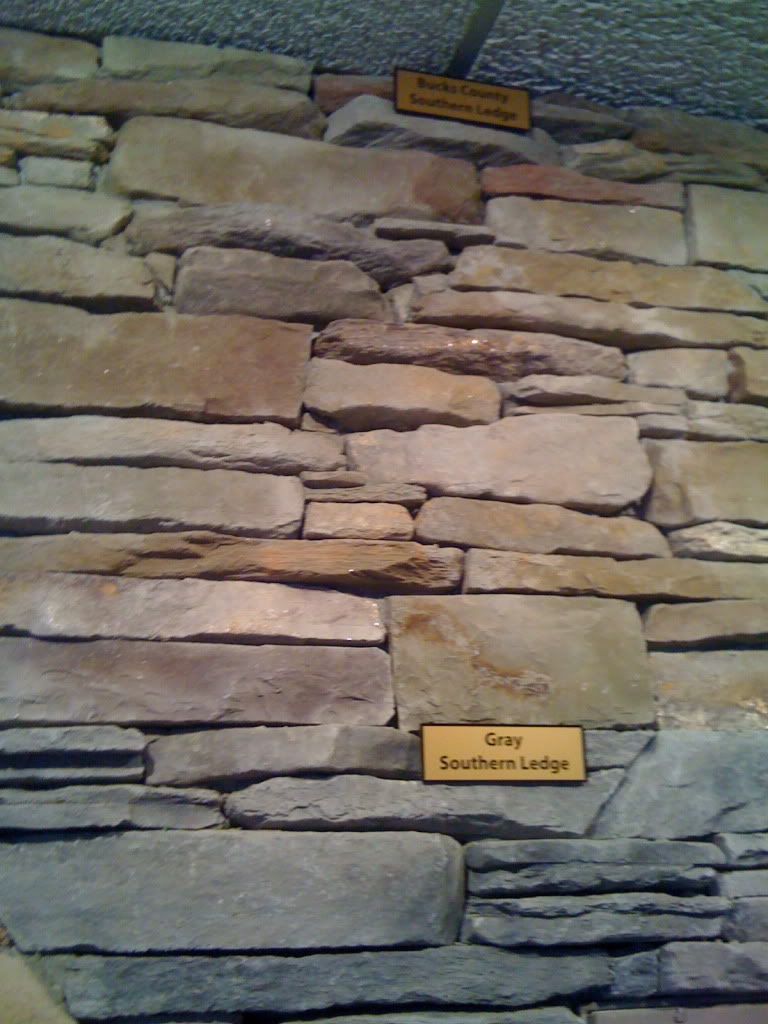 We are just not sure which way to go with paint color. We would like to achieve a rustic farmhouse look. I was leaning towards a light neutral color, but I don't like the monotone look of this room (though very nice).
I would like a bit more color in the paint. I appreciate any suggestions. Thanks!
---
Follow-Up Postings:
| | | |
| --- | --- | --- |
| RE: Help me pick a paint color for my Kitchen | | |
What a lovely kitchen!
I immediately thought how gorgeous all your materials choices would look with a cooler neutral on the walls. I know you said "more color," but I think if you stick to a soft warm gray, everything else you have chosen will stand out beautifully.
Because your cabinet color is so warm, I would avoid anything with a green undertone, which will push them toward orange. Something like B Moore's "gray owl" or "Stonington Gray" or the gorgeous "Thunder" from the Affinity group would look wonderful.

If you want to be colorful, I'd consider a luscious gold like the veining in your countertops. Farrow & Ball's "Ciara Yellow," "Citron," or "Print Room Yellow" might be contenders.
---
| | | |
| --- | --- | --- |
| RE: Help me pick a paint color for my Kitchen | | |
Oh - and I vote for toning the woodwork in with the floor rather than the cabinets. Too matchy the other way, and I like the idea of connecting the architectural elements to the darker tone, to help the cabinets stand out.
---
| | | |
| --- | --- | --- |
| RE: Help me pick a paint color for my Kitchen | | |
What a beautiful kitchen. I think something like BM Mellowed Ivory 2149-50 would be so fresh. Soft light blue or gray would also be beautiful. There are so many colors that would look good, what direction are you thinking.
---
| | | |
| --- | --- | --- |
| RE: Help me pick a paint color for my Kitchen | | |
Bronwynsmom - can grey be a warm color? Grey always seems cool to me. I will go and get a paint sample of a grey you suggest.

Caminnc - I would like a warm color. I definitely do not want the cabinets to look orange. I would like an old fashioned rustic look. I was thinking of teal as an accent color for accessories in the room. I love the SM Mellowed Ivory, but it is very similiar to the SW Compatible Cream that I have in an adjoining room and I wanted something different.
---
| | | |
| --- | --- | --- |
| RE: Help me pick a paint color for my Kitchen | | |
Oh teal could be beautiful but I would keep it on the lighter side.
---
| | | |
| --- | --- | --- |
| RE: Help me pick a paint color for my Kitchen | | |
I would not paint the walls teal, but I was thinking of teal decor items. I have a large table in the room, so perhaps a tablecloth with some teal in it. I also plan to have some window treatments on the sliding door next to the tv, so maybe bring in some teal there too.

I originally considered blue denim for decor items (not paint), but I didn't like it when I tried a blue denim colored tablecloth.
---
| | | |
| --- | --- | --- |
| RE: Help me pick a paint color for my Kitchen | | |
The one gray beige that is not anything but neutral is BM smokey taupe. It's enchanting and will go beautifully with your rooms. It changes depending on the light but always stays in the greige tones. Google fieldstone and BM smokey taupe and go to google images. Your home is gorgeous and this paint is a sophisticated yet rustic look, it's very pleasant.
---
| | | |
| --- | --- | --- |
| RE: Help me pick a paint color for my Kitchen | | |
Thanks! I am so happy with the way things are turning out, but I know picking the right paint is very important for the final look.
---
| | | |
| --- | --- | --- |
| RE: Help me pick a paint color for my Kitchen | | |
I'm back again and I've been putting up samples of some of the colors mentioned above as well as some green. I want a warm feeling in this room. Will using a sage green paint take away from the warmth?

SW Sea Salt, SW Tidewater, and BM Thorton Sage all look too blue in my room. Now I am looking at SW6190 Filmy Green and BM 471 Tea Light. What do you think of these colors? WIll they overwhelm the space? Or are they light enough to give a little color without over powering? I hesitate because they are "cool neutrals."
---
| | | |
| --- | --- | --- |
| RE: Help me pick a paint color for my Kitchen | | |
What I first saw was a reddish/orangish bold color -then I mentally toned it down. Then I thought I saw the goldish color of your granite. But, I have been trying to pick a color for my FR for a year now, so don't go by what I see ! LOL
---
| | | |
| --- | --- | --- |
| RE: Help me pick a paint color for my Kitchen | | |
Have you looked at Restoration Hardware's Silver Sage? You can always have it mixed at BM instead of purchasing from RH. I think it's beautiful with warm wood tones.
---
| | | |
| --- | --- | --- |
| RE: Help me pick a paint color for my Kitchen | | |
@Jeannie - selecting a color is so hard. Personally, I like the white primer but DH is pushing me to add color.

@Lazydaisy-not- I did not know that RH has paint. That looks like a really nice color. Maybe I can order a sample.
---
| | | |
| --- | --- | --- |
| RE: Help me pick a paint color for my Kitchen | | |
dilly, it's a really nice color that changes depending on the light, showing varied shades of grey/blue/green. You can probably find lots of photos of it by googling. Good luck!
---
| | | |
| --- | --- | --- |
| RE: Help me pick a paint color for my Kitchen | | |
You can have Sherwin Williams mix up a SAMPLE of RH Silver Sage. Their samples are very large and not expensive at all, I think around $5. That's what we did on a recent RH match and it worked out perfectly.
---
| | | |
| --- | --- | --- |
| RE: Help me pick a paint color for my Kitchen | | |
Good idea, fripper - just keep in mind that the inexpensive samples don't have the same chemical structure as the regular paint, and you shouldn't use them for anything but to check the color. And even then, they lack some of the richness of the high-quality paints.
---
Post a Follow-Up
Please Note: Only registered members are able to post messages to this forum.
If you are a member, please log in.
If you aren't yet a member, join now!
---
Return to the Home Decorating & Design Forum
Information about Posting
You must be logged in to post a message. Once you are logged in, a posting window will appear at the bottom of the messages. If you are not a member, please register for an account.
Please review our Rules of Play before posting.
Posting is a two-step process. Once you have composed your message, you will be taken to the preview page. You will then have a chance to review your post, make changes and upload photos.
After posting your message, you may need to refresh the forum page in order to see it.
Before posting copyrighted material, please read about Copyright and Fair Use.
We have a strict no-advertising policy!
If you would like to practice posting or uploading photos, please visit our Test forum.
If you need assistance, please Contact Us and we will be happy to help.

Learn more about in-text links on this page here