Return to the Home Decorating Forum
|
Post a Follow-Up
---
| | | |
| --- | --- | --- |
| Comforters vs. Coverlets vs. Duvet Covers- HELP? | | |
Posted by
witmom
(
My Page
) on
Thu, Jul 3, 08 at 23:03
I am totally confused. What's the difference between all of these? What is the "purpose" of each? What do I use and when? We are buying new bedding for our master bedroom, and I've always just used a comforter on the bed, which we also use as a cover when we sleep. Recent posts have me wondering if this is wrong?
---
Follow-Up Postings:
| | | |
| --- | --- | --- |
| RE: Comforters vs. Coverlets vs. Duvet Covers- HELP? | | |
Wrong?? No Way! Whatever suits your room, your style, and your comfort requirements is the right thing for you to do.

In the Fall/Winter I use a comforter with my sheets and blanket and use it for cover as well as to do my room pretty with shams and throw pillows. Some people love their comforter year round but remove it at night to sleep in the warmer months. That works too.
My Bedroom isn't nearly this intense gold and my drapes are a golden beige, but this is about how my room looks with comforter during the cooler part of the year...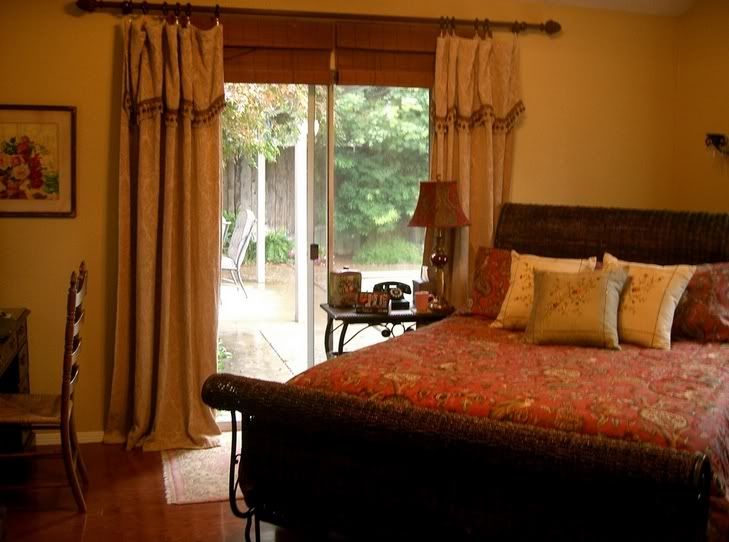 Years ago, I used a duvet, which is like a giant pillowcase for your comforter. The duvet changes the look of the room in an instant, and can usually be washed so that the comforter is protected. If you get one that fits right, they are great. If you don't like fussing around to make your bed, since trying to arrange a big comforter attractively in it's 'cover' can be a little frustrating, then, maybe a duvet isn't for you.
If you check out Valinsv's new matelasse coverlet thread, you can see some shots of various poster's coverlets, (something like a bedspread, just not usually to the floor) in matelasse, a very popular washable summer bedding.
Red
---
| | | |
| --- | --- | --- |
| RE: Comforters vs. Coverlets vs. Duvet Covers- HELP? | | |
It's all a matter of your preference.

I'm attracted to a cleaner lined bed. I like just plain white sheets tucked in and around the mattress and then a big duvet folded back at the feet. Or else a simple coverlet with a duvet at the feet.

Some people like quilts or bedspreads or comforters---whatever suits you.
---
| | | |
| --- | --- | --- |
| RE: Comforters vs. Coverlets vs. Duvet Covers- HELP? | | |
I agree with Red and texashottie: No choice is "wrong." Personally, I prefer matelasse coverlets, as well as quilts. But some folks prefer the lofty and scrumptious look of a comforter (with or without a duvet). I also like bedspreads because you don't need a bedskirt with them. It all depends on the "look" you like, as well as the comfort.
---
| | | |
| --- | --- | --- |
| RE: Comforters vs. Coverlets vs. Duvet Covers- HELP? | | |
A duvet is a white feather filled comforter which has to be inserted in a duvet cover, which is the big pillowcase for your duvet, you can change the duvet cover to suit your decor.
---
| | | |
| --- | --- | --- |
| RE: Comforters vs. Coverlets vs. Duvet Covers- HELP? | | |
im so glad that you asked this question - i myself had been wondering the difference as well. :)
---
| | | |
| --- | --- | --- |
| RE: Comforters vs. Coverlets vs. Duvet Covers- HELP? | | |
I used to use fat comforters like those in the bed-in-a-bag types but stopped because I couldn't wash them in my washer at home & w/ lots of pets I wasn't trucking to the laundromat to use a large capacity washer or paying to have them dry cleaned on a regular basis.

Now I use them to stuff in my duvets & I use simple white quilts as I can easily wash them whenever. Typically I use the quilt to cover the bed (sometimes layering more than one to achieve different looks & warmth levels) & have the fluffy comforter filled duvet folded at the foot of the bed.
---
| | | |
| --- | --- | --- |
| RE: Comforters vs. Coverlets vs. Duvet Covers- HELP? | | |
Many Europeans use the duvet cover as the top sheet, which isn't my choice, but it does eliminate one layer. I live in Southern California, so I don't need lots of blankets. But I like the look of a quilt or lighter coverlet, and then another folded at the end of the bed.
---
| | | |
| --- | --- | --- |
| RE: Comforters vs. Coverlets vs. Duvet Covers- HELP? | | |
Thanks everyone. I'm not very good at decorating, so I'm always afraid I'm getting it "wrong". But from what you have all said, there is no wrong- what a relief! That's the kind of answer I like.

Beautiful room, Redbazel. It has given me some ideas to think about.
---
Post a Follow-Up
Please Note: Only registered members are able to post messages to this forum.
If you are a member, please log in.
If you aren't yet a member, join now!
---
Return to the Home Decorating Forum
Information about Posting
You must be logged in to post a message. Once you are logged in, a posting window will appear at the bottom of the messages. If you are not a member, please register for an account.
Please review our Rules of Play before posting.
Posting is a two-step process. Once you have composed your message, you will be taken to the preview page. You will then have a chance to review your post, make changes and upload photos.
After posting your message, you may need to refresh the forum page in order to see it.
Before posting copyrighted material, please read about Copyright and Fair Use.
We have a strict no-advertising policy!
If you would like to practice posting or uploading photos, please visit our Test forum.
If you need assistance, please Contact Us and we will be happy to help.

Learn more about in-text links on this page here