Return to the Home Decorating & Design Forum
|
Post a Follow-Up
---
| | | |
| --- | --- | --- |
| New house, painting advice | | |
Posted by
jane__ny
(
My Page
) on
Mon, Jul 23, 12 at 22:44
We recently bought a house in Florida and had painters start immediately to remove popcorn ceilings and old wall paper. We haven't spent any time in the house as its a mess from the painters.

Sounds really crazy, but I don't have any 'feel' for this house as I've never spent a day in it. It is empty, floors covered in drop-cloths, light fixtures covered with plastic, etc. Really weird to pick paint colors when I don't 'know the house' or know what the rooms will look like without all the wall paper removed.

We want the work done as quickly as possible so we can start moving in. We are having tile put down in bedrooms after the painting.

How the heck can someone figure out paint colors with our situation?? I'm thinking, neutral colors. My furnishings (in storage) are mostly browns and tans. I'll post a photo of my couch from our past home.

The painter only uses Sherwin Williams paint. I could push the issue but it doesn't seem to matter as I don't have any idea what colors to choose anyway. We have always used BM in the past so I am familiar with those colors. I have never used SW which adds to our problem.

I've been staring at SW paint charts for two days. Painter wants the colors tomorrow. Any suggestion for a basic color to get this house painted?
This photo is from our old house. Ignore the pillows as I would change them from time to time to bring in color. The walls in the photo are BM Smokey Taupe. I was never thrilled with the way the couch worked with the paint color. My old house was very bright with tons of light. New house is dim, poor lighting. We are considering skylights to bring in much needed light.
Floors in new house living/dining room are dark cherry wood. We are tiling the rest of the house with light tile.
Here's a few shots of the living room before we bought the house. This is not our furniture nor wall-paper! You have no idea the wall paper we're dealing with! The space is small and I'm not even sure what furniture will fit. The fireplace was left behind (selling it on CL) and is not real.

In this shot, you can see tile in the entry meeting the wood in the living room space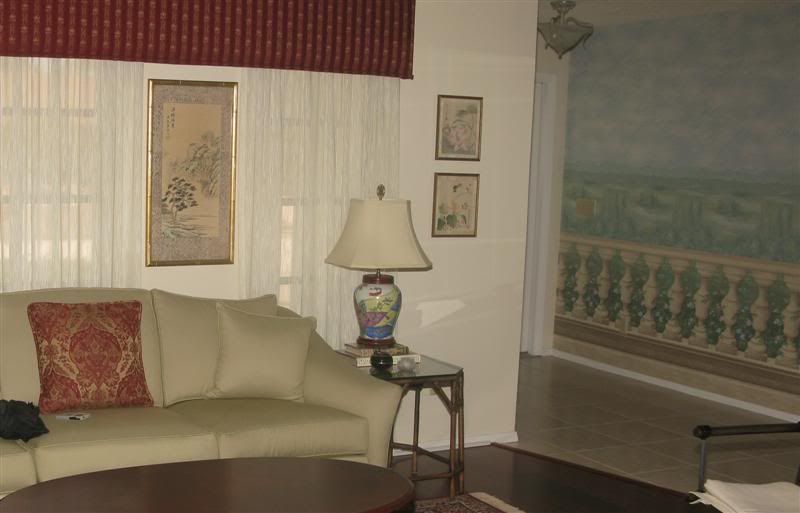 Thanks for any help,
Jane
---
Follow-Up Postings:
| | | |
| --- | --- | --- |
| RE: New house, painting advice | | |
SW Believable Buff or SW Whole Wheat possibly if you're going neutral?
---
| | | |
| --- | --- | --- |
| RE: New house, painting advice | | |
I have a different view.

Since you really can't be confident about choosing a color until you have lived in this house for a while, may I suggest that you choose a clear, slightly warm white, and paint everything with it. Choose one that you think will be a good trim color to keep.

Then let the house and the light tell you as you live there through one set of seasons, and repaint in a year. It sounds like a pain to do it over, but if your painters do all the prep work well, and give you a blank canvas, the repainting will be much less difficult, and you have a much better shot at getting something you really love.
---
| | | |
| --- | --- | --- |
| RE: New house, painting advice | | |
I agree completely with bronsynsmom.

You wrote: "Really weird to pick paint colors when I don't 'know the house' or know what the rooms will look like without all the wall paper removed."

Not weird at all! Your instincts are excellent. In an ideal world, paint color should be chosen LAST. After the tile is done, after the furniture/rugs/fabrics are chosen, and after you live in the house and you learn about the light -- THEN you will know which color will tie everything together.
---
| | | |
| --- | --- | --- |
| RE: New house, painting advice | | |
What is your opinion of the color that is on the walls now? Could you live with that? Match that and revisit the color issue later once you are settled in. It looks like it would be easy to paint over.
---
| | | |
| --- | --- | --- |
| RE: New house, painting advice | | |
I know you're using SW paints; but thought I'd add my 2 cents. When we built homes for resale, BM Monroe Bisque(which is a neutral) was a color we used a lot. We were never disappointed with the color. Typically, we would paint one room full Monroe Bisque, some of bedrooms at maybe 50% and even 25%. Home buyers seemed to like the combination as well. In the bathrooms & kitchen, we always used color.
---
| | | |
| --- | --- | --- |
| RE: New house, painting advice | | |
I agree with Bronwynsmom...the hard and expensive part about painting is the trim. If you pick a single color now for walls and trim that is a trim color you can live with, then as you figure out each room, all you have to paint is flat walls which is very easy. Great suggestion B!
---
| | | |
| --- | --- | --- |
| RE: New house, painting advice | | |
Jane, that looks like the mural from the house you said you wound up not buying. Did it work out after all?
---
| | | |
| --- | --- | --- |
| RE: New house, painting advice | | |
Thank you for the good ideas. I told the painter to use SW Believable Buff for the living/dining room. I asked about BM colors as that is what I know, he said I could buy the paint myself. His price included the SW paint. He said he could match any BM color with SW.

In NY I used RH Silver Sage in my master bed/bath. My bedding was chosen to work with that paint. I'm trying to find a SW paint similar to SS but may just do a light grey for now.

Told him not to paint the kitchen or bathrooms as I don't even know how they look without the wall paper. To make matters worse, they couldn't remove the paper in the baths so are going to put some sort of texture over the paper.

I used BM Shaker Beige in my past house for the guest room. I told the painter I would pay for it for this house as my bedding worked with it. I'll just buy it myself. I don't trust matching colors from different companies.

I think I will choose a grey/white for the rest of the house and have him paint it. As recommended, I can repaint next year although the cost is a consideration.

I'm going to buy some samples and try them out. Any suggestions for a soft, grey/white?

Master bath sink area, wallpaper (dark, no windows)
Won't let me straighten the photo - sorry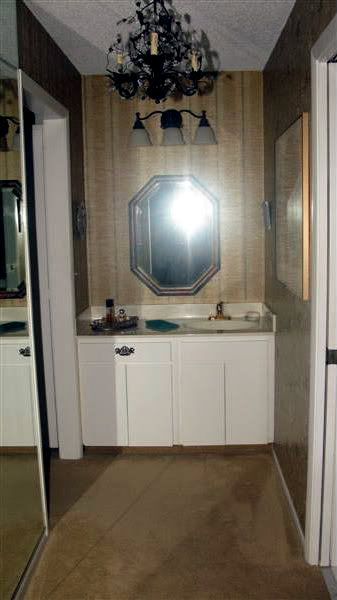 Kitchen - wall paper on 3 walls and textured paint on another. We plan to redo the kitchen.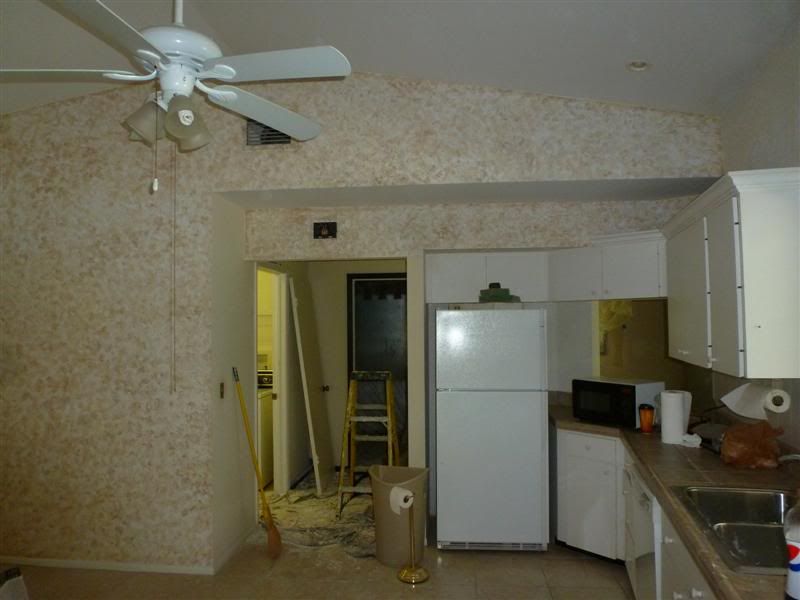 Jane
---
| | | |
| --- | --- | --- |
| RE: New house, painting advice | | |
I actually really like the mural in the entry hall and the wallpaper in the bath. I'd leave them alone. They look like high quality wall coverings and aren't inappropriate to their surroundings.

For the rest of it, I would NOT be throwing a bunch of different colors on the walls that you have used in the past. You are very likely to be disappointed in how different they look in this new home. Paint everything a single warm white as Bronwynsmom suggested. You should live in the home at least a year to see what colors might work in the space.
---
| | | |
| --- | --- | --- |
| RE: New house, painting advice | | |
In the Sherwin Williams range, for a gray white without pronounced green or purple undertones, try Toque White SW 70023, or Incredible White SW 7028.

If there is a Benjamin Moore white that you like for trim, I'd go ahead and buy that, and have him deduct that portion of the contract. Have you specified the exact range of paint for him to use? Some paint contractors will use the contractor grade of your colors unless you specify, so it's a good idea to be sure you're getting what you expect.

However, if you do decide to just paint everything white or pale gray, it will matter less, since you will be painting over it in a year. But those grades of paint are harder to maintain, and can look chalky and less appealing.

But you probably already know all that...I get a little carried away with the details!
---
| | | |
| --- | --- | --- |
| RE: New house, painting advice | | |
I asked about BM colors as that is what I know, he said I could buy the paint myself. His price included the SW paint.
I don't like your painter.
---
| | | |
| --- | --- | --- |
| RE: New house, painting advice | | |
You might like Origami White by Sherwin Williams. It is a little softer.
Here is a link that might be useful: SW Origami White
---
| | | |
| --- | --- | --- |
| RE: New house, painting advice | | |
Very pretty, Nanny - a good choice for a warmer white.

Your painter probably gets a better discount at S-W, which puts more to his bottom line, and that's why he is stubborn. You could ask him about that, and volunteer to pay the percentage difference, if that's his reasoning.

Annoying. How hard would it have been for him to tell you that, and offer to negotiate? Makes me worry that he isn't thinking enough about how much the results please you.

If it would ease your mind, ask him to describe his prepping and cleaning up process, if it isn't specified in his bid.
---
| | | |
| --- | --- | --- |
| RE: New house, painting advice | | |
I loved the interior neutral white with grayish trim in this house makeover at Cote de Texas

http://cotedetexas.blogspot.com/2011/01/incredible-renovation.html
(hopefully it's hotlinked below)

at the end, she lists the paint colors, all Sherwin Williams satin finish

Kitchen Cabinets and Walls -- Shoji White (SW 7040)
Trim -Worldly Gray -(SW 7043)
Fireplace - Intellectual Gray (SW 7045)
Front and Back door- Urbane Bronze (SW 7048)
Exterior Trim -Anonymous (SW7046)
Here is a link that might be useful: Cote De Texas Incredible Renovation
---
| | | |
| --- | --- | --- |
| RE: New house, painting advice | | |
I used SW lattice which is a neutral light grey. One of my friends used SW Sea Salt, it is a light blue/green.
---
| | | |
| --- | --- | --- |
| RE: New house, painting advice | | |
i agree that it is a bit odd that your painter has only one paint option - is he offering you a substantial part of the discount he is obviously getting on the paint?
one thing i have done in the past is take a sample pot of a paint i loved and the paint store (which was a sherwin store) was able to match it using one of their paints as a base. ask your guy if this is possible. then you could use your old BM colors....
---
| | | |
| --- | --- | --- |
| RE: New house, painting advice | | |
Thank you all, you are sooo nice to offer suggestions. I wrote down all the whites and will pick them up tomorrow.

Part of our problem is we are living 40 mins from the house. We are trying to juggle so many projects at one time, choosing tile (which needs to be ordered) and trying to research kitchen appliances and kitchen remodel.

Today I decided to tell the kitchen person I couldn't deal with picking cabinet stains, counters, etc. It would wait until we move in.

Checked the house today. It is such a mess with all the stuff from the popcorn ceilings and whatever they are using to 'texture' the ceilings. Dust everywhere plus this sticky popcorn stuff. Florida weather is hot and very humid so opening the windows made the house worse. Shut it all up and turned down the AC.

I agree about the paint. I will try the whites tomorrow. Can anyone suggest a light, blue-grey for the master? We had used Silver Sage but could go with a pale grey/blue. Nina, the lattice sounds promising. I'll get a sample.

We are not happy with these painters either. We moved here and did not know anyone. This has been a difficult time.

Thanks so much for the advice. You have no idea how I appreciate it.

Jane
---
| | | |
| --- | --- | --- |
| RE: New house, painting advice | | |
Re the mess...yeah it always gets worse before it gets better... but when it gets better it gets much, much better!
---
| | | |
| --- | --- | --- |
| RE: New house, painting advice | | |
We had the opposite situation: only Benjamin Moore paint available and our selected palette was in Sherwin Williams colors. But! It's very easy for any paint store to make up other brands' colors in their own paint, so unless you love something about the actual paint itself (texture or sheen) your painter can take your SW color numbers and have them made in BM. No problem!
---
| | | |
| --- | --- | --- |
| RE: New house, painting advice | | |
Whups -- I meant take your BM color numbers and have them made in SW. :-)
---
| | | |
| --- | --- | --- |
| RE: New house, painting advice | | |
I think you have found the key stress reliever, my dear.
"It can wait."

We all want the ideal situation - getting all the fundamental work done, done to suit us, and done well, before moving into a new house. But who among us hasn't had at least one thing in the process go all pear-shaped?

We moved from New England to Virginia, had all our floors refinished first, and arrived with three cats and a huge truck two hours behind us to find that the finish was messy, there was sawdust everywhere, and the old shoe molding was still in a heap in the back yard. We moved everything out of the first floor and had it all done over a month later.

My sister just closed day before yesterday on a house - the bank lost the paperwork, they were scheduled to close three weeks before their final move-in date, and now they have three days, and no time to have any of the scheduled work done in advance.

And yet, we survive it. And so will you.

Try to use your limited energy to stay on your workmen and make them do a good job, and the rest will come right in the end.
---
| | | |
| --- | --- | --- |
| RE: New house, painting advice | | |
May I suggest you have all your HVAC ducts cleaned before you move in, or you will be breathing construction dust for years ....

good luck with everyrthing!
---
| | | |
| --- | --- | --- |
| RE: New house, painting advice | | |
Pale blue-grays might include Nebulous White SW 7063, Site White SW 7070, Quicksilver SW 6245, or Rock Candy SW 6231.
---
| | | |
| --- | --- | --- |
| RE: New house, painting advice | | |
Yes! It CAN wait!

Such an empowering moment. You realize that you are paying THEM to make you happy. Not the other way around.
---
| | | |
| --- | --- | --- |
| RE: New house, painting advice | | |
I disagree I don't think it can wait. For one, there is stripped wallpaper everywhere and stripped popcorn ceilings - who wants to live with that?

Nothing transforms a home and makes it yours like a fresh coat of paint in some colors you love. I know everyone says how colors look different in different homes etc BUT if you choose colors you love and paint it now, you will definitely feel like it is more "yours" and fresher, cleaner and nicer with a coat of paint even if the color is not 100% perfect for the lighting or whatever.

I chose our colors before we moved in and before we put the furniture in (so much easier to paint with the floors out and nothing inside!). We are delighted with the colors! We have mainly BM Mascarpone a warm white without noticeable pink or yellow undertones, accent wall in the living room and office BM Mexicana, and the bedroom is BM Wedgewood Grey (a calm spa color I just adore it).

I would pick a warm white color and paint everything including ceilings that color and pick one or 2 accent walls to paint darker, if you end up not liking the accent color it is easy to repaint one wall.
---
| | | |
| --- | --- | --- |
| RE: New house, painting advice | | |
I don't think we are suggesting that Jane wait to finish the basic prepping and painting - I think we are just talking about the final color choices, and so you are agreeing with us about a warm white everywhere...Jane seems to prefer a cool one, which is also a fine choice.
And I agree that Mascarpone is a wonderful color - a pure and elegant barely off white.
---
| | | |
| --- | --- | --- |
| RE: New house, painting advice | | |
I see - I guess I did not do any prep pr "basic" painting, just went right on there with the Ben paint which includes primer! I didn't see the point of doing more than one paint job but maybe that's because I was doing it myself :) I tend to feel like if something gets left unfinished it will never get done after you move in!
---
| | | |
| --- | --- | --- |
| RE: New house, painting advice | | |
Thanks again! Seeing light at the end of the tunnel...decided to hold off on any further construction until we move in. The popcorn had to go as the wall paper. I'll have the tiles laid next week (another messy job) and schedule the movers for the end of next week.

Told the painter, mix BM Shaker Beige for the two bedrooms and den, paint the baths, halls, extra bedrooms Origami White (someone recommended). Sorry I didn't know about Mascarpone yesterday. I'll see if he's already mixed the Shaker Beighe.

Have lived through major reno's in the past and knew we didn't want to move in until the popcorn and wall paper was done. It is hot and humid, the paint fumes are horrible. Would have gone low VOC but was too rushed with the painter. Didn't know the colors.

I don't care now, its got to be finished. Mtnrdredux, I have thought the same thing. Worried about all the dust and fumes. In NY, I always kept the windows open and planned painting in Spring/Fall. It is sooo hot here, it is impossible to turn the AC off.

Thanks for all the support, you folks are the best!

Jane
---
Post a Follow-Up
Please Note: Only registered members are able to post messages to this forum.
If you are a member, please log in.
If you aren't yet a member, join now!
---
Return to the Home Decorating & Design Forum
Information about Posting
You must be logged in to post a message. Once you are logged in, a posting window will appear at the bottom of the messages. If you are not a member, please register for an account.
Please review our Rules of Play before posting.
Posting is a two-step process. Once you have composed your message, you will be taken to the preview page. You will then have a chance to review your post, make changes and upload photos.
After posting your message, you may need to refresh the forum page in order to see it.
Before posting copyrighted material, please read about Copyright and Fair Use.
We have a strict no-advertising policy!
If you would like to practice posting or uploading photos, please visit our Test forum.
If you need assistance, please Contact Us and we will be happy to help.

Learn more about in-text links on this page here