Return to the Home Decorating & Design Forum
|
Post a Follow-Up
---
| | | |
| --- | --- | --- |
| Organizing closet by kitchen | | |
Posted by
sallymo
(
My Page
) on
Mon, Jul 16, 12 at 21:03
I have a small closet by the kitchen/family room that is not wide, but deep. It is only half as tall as I had planned due to a vent that takes up the bottom. Since it is in an obvious place, and we get dog treats out of it daily, it is seen by anyone in the main part of the house. I've tried organizing it with baskets, etc, but trying to store tall bottles (cleaners, etc) is odd in baskets because you can't see very well. The pull out plastic drawer works for various tools, but it does need to be better. I can get rid of things but will keep some cleaners, dog treats, trash bags, toilet paper for adjacent bathroom, and light bulbs. An odd mix, but we have been getting them from there for too many years!

Ideas for those deep, narrow closets? I can take a pic (not that I want anyone to see, but . . .) if it helps.
---
Follow-Up Postings:
| | | |
| --- | --- | --- |
| RE: Organizing closet by kitchen | | |
Pull out shelves! I'd be lost without the ones in my kitchen cabinets. They can be pricey but they're worth every penny and you won't dread going into the pantry! They come in different widths & depths to fit your needs.

Pics and dimensions would help.
Here is a link that might be useful: shelves
---
| | | |
| --- | --- | --- |
| RE: Organizing closet by kitchen | | |
Here's the awful truth! Notice the space missing on the bottom due to a vent on an outside wall. The doorway is only 16 inches, but inside it's closer to 24 inches, so because of the way it was framed, I have lost space on the sides. Pull outs would have to be so narrow. There is 22 inches of depth. The top goes to the ceiling on the inside, but it's a waste because you can't really put anything up there. I'm thinking only toilet paper on that shelf. I may get the plastic trays with the handles and make one for cleaners, and one for whatever else I really need in there! We have tools and flashlights in a plastic drawer, but that could be separated out.

Am I the only one with these deep, rather useless, closets. This isn't the only one, just the smallest.
---
| | | |
| --- | --- | --- |
| RE: Organizing closet by kitchen | | |
I would remove the wire shelves and have pull-out shelves installed. You could put additional shelves into the hidden, hard to reach area on the side and keep rarely used items on those shelves.

If you don't want to make that large of a change, then consider buying a syrup bottle organizer or two to hold your bottles of cleaning supplies upright. Since you will be able to fit several bottles in each organizer, it will be easy to lift the whole organizer out if you are trying to get to something else. Stack toilet paper and paper towels in the hard to reach spaces on the sides which will help keep other items in the center.
Move small electrics or other rarely used kitchen items onto that top shelf to free up more easily accessed cabinet space in your kitchen.
---
| | | |
| --- | --- | --- |
| RE: Organizing closet by kitchen | | |
Thanks for the pic. Because the shelves extend behind the door frame, installing sliders will be difficult. If sliders were installed, the area on the right and left of the shelves will be pretty useless and inaccessible.
Here's another option: Install shallow shelves (I prefer wood so things don't fall thru) and then hang a unit of shelves on your door (the shelves have to be shallow so the door can close). This will give you easy access to the items on the door and you won't have to deal with the difficult, deep shelves you now have.
Remove the door handle and replace it with a dummy handle so you can use the whole surface of the door. Then install a catch-ball latch either on top of the door or on the side edge.
For a similar visual of what I'm describing check the link below.

Otherwise, ideally, tear out the door frame, widen the area and install a new jamb and door. :~)
Here is a link that might be useful: Shelving
---
| | | |
| --- | --- | --- |
| RE: Organizing closet by kitchen | | |
If you can't see what you have or access it easily, those extra 8" on the side aren't doing you any good. I had a deep floor to ceiling closet like that in my breakfast room that drove me crazy when I had to find something. I had pull out shelves made to fit, and it's made a world of difference. I feel so civilized now. Trust us, you'll be glad if you get them.
---
| | | |
| --- | --- | --- |
| RE: Organizing closet by kitchen | | |
I have lived in houses with closets like that and you just want to hunt down and smack the thoughtless guy who designed it.

If finances are a concern, annz's idea is probably the least expensive of your options. But the problem you might have is when reaching into the closet, you are going to bang your toes and knees on the vent.

I was thinking about a slide out pantry, where you pull on the door and the entire closet rolls out. But I'm not sure that's possible with the vent below.
---
| | | |
| --- | --- | --- |
| RE: Organizing closet by kitchen | | |
We used the Ikea pull out shelves when we repurposed a broom closet. it is now our pantry, one that holds more then I ever imagined.

Before: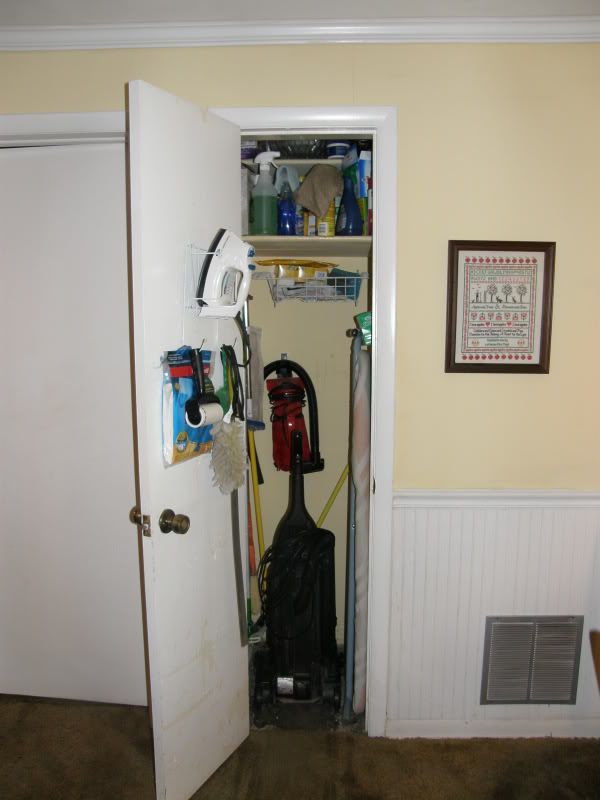 After: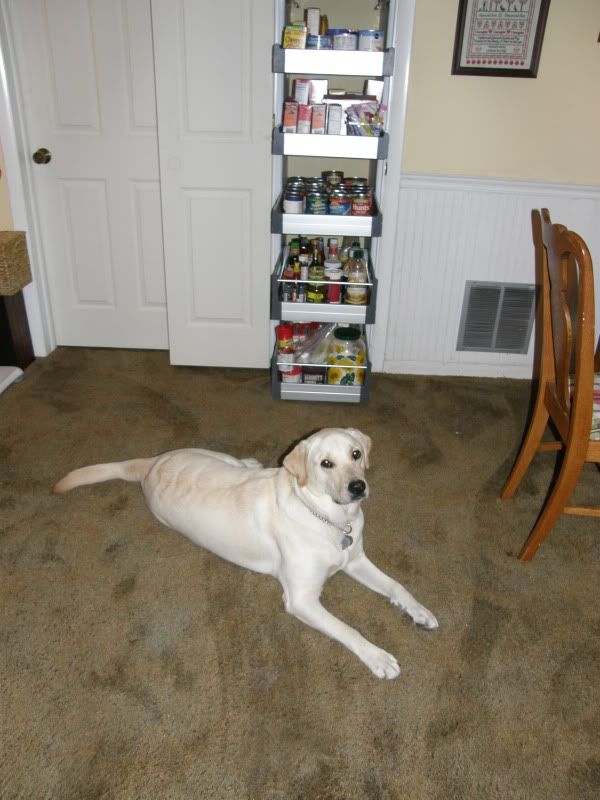 ---
| | | |
| --- | --- | --- |
| RE: Organizing closet by kitchen | | |
The pull out shelves would be great if they didn't cost you so much side space.

I'd do something else...gut the thing, and put pegboard on one side wall and the back to hang up tools that will fit, and shallow baskets for things like Swiffer refills, little bottles and jars, maybe a magnetic knife bar for small tools.

Then fit the other wall out with shallow rimmed shelves running front to back for the rest of your supplies...rimmed to keep things from falling off.

And install a light, if there isn't already one in there.

That should give you the full use of the wall space inside, and allow you room to reach all the way in.
---
| | | |
| --- | --- | --- |
| RE: Organizing closet by kitchen | | |
I can't see behind the door, but could you add a door around the corner? You could have pull out shelves oriented to the original door, then a shallow closet accessible by the new door with shelves on the door and fixed shelves backing up to the pull out shelves.
---
| | | |
| --- | --- | --- |
| RE: Organizing closet by kitchen | | |
Great ideas, you are giving me a lot to think about. I don't know if pull out shelves will work but I'm considering it. I don't want to do an expensive redo, yet, but when that time comes I'm adding the actual food pantry to the list. It's also a deep closet with double doors but those crazy hidden sides. It could have been a wonderful pantry if we had known exactly what to request at the time, and also if it was in the budget. Of course now, I see it's silly not to do those type of things, but I wasn't so worried about that 13 yrs ago.
Thanks for the photos and input. I will post pics when I get something done.
---
| | | |
| --- | --- | --- |
| RE: Organizing closet by kitchen | | |
Annz - there is space,and there is usable space. If you can't effectively use the space along the sides because you can't see it or reach it, it's may as well not be there.

Install wood shelves and pull-outs and you will be far happier with the closet.
Here is a link that might be useful: DIY pullouts
---
| | | |
| --- | --- | --- |
| RE: Organizing closet by kitchen | | |
Not sure what you're referring to lazygardens.....maybe my comment about the sides being inaccessible? I wasn't saying that sliders couldn't be used, only that it's going to take more work to install them since solid shelving would need to be installed, or either the sides supports built up, before one could install pull-out drawers.

The Ikea unit may be the easiest solution if they have one that fits the area. We installed one in DS's home and they are very nice!
---
| | | |
| --- | --- | --- |
| RE: Organizing closet by kitchen | | |
Finally got a chance to post the after. I went out to find pull-out shelves the weekend after I posted the before. Lowes had a nice wooden one that fit just perfect. I put the cleaners, bug spray, trash liners, everyday stuff in the drawer. Now I can see it all I won't be buying duplicate items that I can't find. Putting other drawers (nicer wooden ones) didn't seem necessary in this closet, but I see it's the way to go in my pantry. The plastic pullout has tools, and some misc that we use fairly regularly. The smaller plastic pullout handles light bulbs and the lint roller! The smallest has extra switch plates, and some plate hangers (stuff you don't really use often, but where do you put them). The top shelf has toilet paper for the adjacent tiny powder room, a basket with plastic gloves and scrubber, and a closed plastic container with polishes for leather, silver, etc. My little lantern actually helps to find things---I didn't have the idea for a light in there when we built the house! I guess I thought a small closet didn't need one, but they do.
Thanks everyone for your suggestions!
---
| | | |
| --- | --- | --- |
| RE: Organizing closet by kitchen | | |
I'm glad you came back to post the result of your efforts. It's always nice to see the after picture!
---
| | | |
| --- | --- | --- |
| RE: Organizing closet by kitchen | | |
Wonderful transformation!!!

Yes -- it is surprising how many closets/storage do not have good lights inside! :)
---
Post a Follow-Up
Please Note: Only registered members are able to post messages to this forum.
If you are a member, please log in.
If you aren't yet a member, join now!
---
Return to the Home Decorating & Design Forum
Information about Posting
You must be logged in to post a message. Once you are logged in, a posting window will appear at the bottom of the messages. If you are not a member, please register for an account.
Please review our Rules of Play before posting.
Posting is a two-step process. Once you have composed your message, you will be taken to the preview page. You will then have a chance to review your post, make changes and upload photos.
After posting your message, you may need to refresh the forum page in order to see it.
Before posting copyrighted material, please read about Copyright and Fair Use.
We have a strict no-advertising policy!
If you would like to practice posting or uploading photos, please visit our Test forum.
If you need assistance, please Contact Us and we will be happy to help.

Learn more about in-text links on this page here