Return to the Home Decorating Forum
|
Post a Follow-Up
---
| | | |
| --- | --- | --- |
| Help with TV location for Family Room | | |
Posted by
mamabear2010
(
My Page
) on
Sun, Jul 4, 10 at 20:58
Hello, I am new here - so glad something like this exists! I'm at a loss for what to do. We are moving into a new house (new to us - the furniture in the pictures belong to the family that currently lives there). I am at a loss of where to put our TV. Right now they have a TV armoire in one corner of the room. Not sure if that's what we want to do, but it looks like it might be the best option. Have thought about above the fireplace, but is looking less desirable with the TV being too far up not to mention the heat from the fireplace when it's running. Have thought about putting it into the space in the built-ins on the side wall.

Would love your input and thoughts on this. I'm sure I'll be back with lots more! Thank you so much.
---
Follow-Up Postings:
| | | |
| --- | --- | --- |
| RE: Help with TV location for Family Room | | |
I have to figure out how to put the pictures up... sorry...
---
| | | |
| --- | --- | --- |
| RE: Help with TV location for Family Room | | |
| | | |
| --- | --- | --- |
| RE: Help with TV location for Family Room | | |
Welcome to GW. What a beautiful home...congratulations, bet you are excited about the move. I agree...above the fireplace is not a good location. If you can put it behind the built-in cabinets, seems like that would be close for everyone to see. Otherwise a corner armoire like pictured would be good. It will be important to find out where all the hookups are too.
---
| | | |
| --- | --- | --- |
| RE: Help with TV location for Family Room | | |
I think your idea of putting the television on the wall with the built-ins is your best choice.
---
| | | |
| --- | --- | --- |
| RE: Help with TV location for Family Room | | |
I agree that making space in the built ins on the end wall would be the best use of the space.

A lovely room - you must be thrilled to be calling it home.
---
| | | |
| --- | --- | --- |
| RE: Help with TV location for Family Room | | |
Thanks vampiressrn - we are excited!!

I am not digging the corner armoire, because I don't like putting things at angles in the corner, but wonder if the placement of furniture would make that the best bet... I think the built-in area might be the best place for the TV. I kind of wanted it above the fireplace so I could see what the kids were watching while I'm in the kitchen, but I just don't love the idea of it above the fireplace.

Do you think that small wall on the opposite side of the fireplace would work? Next to the window?
---
| | | |
| --- | --- | --- |
| RE: Help with TV location for Family Room | | |
I do like the way the furniture is arranged in the room, plus I thought you would be able to view the TV from the kitchen if you use the built-in area. That room looks pretty large...you could actually put a game table on the end of the room by the doors...might also be a good spot for the kids to do homework and still be in sight...or if you don't have a formal dining room, that end of the room seems like it would be good for that...but hard for me to tell from the angles. I am not a yellow fan, but the color they have in there is very nice and that area rug really pulls it together. :-)
---
| | | |
| --- | --- | --- |
| RE: Help with TV location for Family Room | | |
I think if we put the TV in the built-in area, I wouldn't have the loveseat there, but that's ok. When facing the built-in, the first set of white doors there leads to the hall/foyer and the second set of white doors (next to the kitchen desk area) leads to the formal dining room. I think I'm going to remove all those doors. The kitchen we are also redoing, and that will be white with black countertops and SS appliances.

Funny you mention the yellow - I was thinking if I should change it. The sellers have similar taste to mine so I do like a lot of the colors, but the sunroom in the back I am going to make a bright green and blue, so I was wondering if the golden yellow/rusty colors would go (our family room right now has the same colors!!)...
---
| | | |
| --- | --- | --- |
| RE: Help with TV location for Family Room | | |
What about the built in cabinets just to the right of the fireplace on the same wall? What is that like behind the doors? To me that would be the best bet for the TV.
---
| | | |
| --- | --- | --- |
| RE2: Help with TV location for Family Room | | |
opps forgot to add my "Welcome to the Garden Web!"
---
| | | |
| --- | --- | --- |
| RE: Help with TV location for Family Room | | |
Green and blue sounds great. I think there is a lot of light in that room and it can probably handle about any color you add. I love sage and celadon and turquoise...those are colors I haven't used much in my life, so trying to swing out...LOL. I think your kitchen plans sound fabulous...I'm looking forward to seeing more pix. When do you get to move in?
---
| | | |
| --- | --- | --- |
| RE: Help with TV location for Family Room | | |
Welcome to GW, Mamabear. Are you someone with the same mambear who used to post at Princeton Review? Welcome either way, but if so, I'm glad to see you here!
---
| | | |
| --- | --- | --- |
| RE: Help with TV location for Family Room | | |
It's easy to post your pictures from photobucket right into you post. Just copy and paste the HTML code.
---
| | | |
| --- | --- | --- |
| RE: Help with TV location for Family Room | | |
justgotta - Thanks! You know, that is an idea I hadn't even thought about - and am intrigued. It could be the best location. It is currently shelves behind for game storage; but there are lots of other places to keep games in the built-ins on the other wall as well as the basement/playroom. I'll have to see what we can do with that! Thanks!

bonnie - thanks for the welcome - no, never posted before!

terriks - that's what I tried to do... but it kept giving me an error message!

vampire - these are my inspiration pix for the sunroom. The fabrics are from Calico Corners - they still have them - I think the close-up picture is from their spring catalog. I have a dark sky blue white white trellis pattern carpet in mind which I will probably do a wall-to-wall over the existing white ceramic tile - don't have pic of that. I also like the floral rug, but it might be too much. I also like the two orange rugs in the other photos... I don't think that will go so well with the blue/green. Maybe I could incorporate it into the guest room somehow. I love orange - my current dining room is orange and I am going to paint the new one orange, too!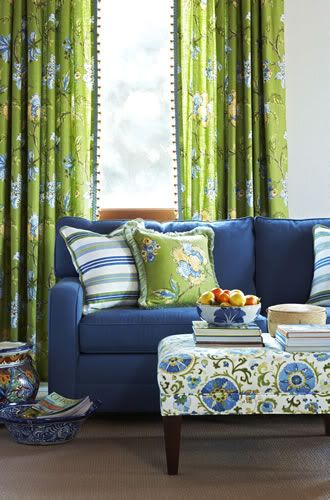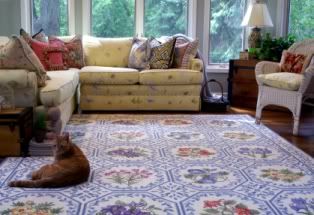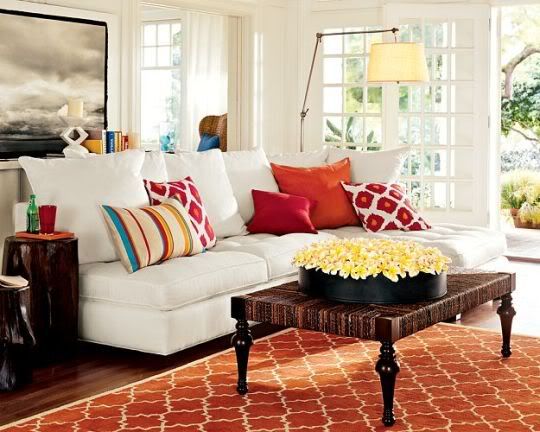 ---
| | | |
| --- | --- | --- |
| RE: Help with TV location for Family Room | | |
Yay, the pix worked!

Vampire - not sure when we're moving in yet. Have to see how all the prep-work goes first. But am getting antsy to get in there and start decorating!
---
| | | |
| --- | --- | --- |
| RE: Help with TV location for Family Room | | |
You are very welcome. I hope it works out for you. I have to tell you I'm drooling over that first photo with the blue and green. That's my all time favorite two color combo and the shades are perfect!
---
Post a Follow-Up
Please Note: Only registered members are able to post messages to this forum.
If you are a member, please log in.
If you aren't yet a member, join now!
---
Return to the Home Decorating Forum
Information about Posting
You must be logged in to post a message. Once you are logged in, a posting window will appear at the bottom of the messages. If you are not a member, please register for an account.
Please review our Rules of Play before posting.
Posting is a two-step process. Once you have composed your message, you will be taken to the preview page. You will then have a chance to review your post, make changes and upload photos.
After posting your message, you may need to refresh the forum page in order to see it.
Before posting copyrighted material, please read about Copyright and Fair Use.
We have a strict no-advertising policy!
If you would like to practice posting or uploading photos, please visit our Test forum.
If you need assistance, please Contact Us and we will be happy to help.

Learn more about in-text links on this page here