Return to the Home Decorating Forum
|
Post a Follow-Up
---
| | | |
| --- | --- | --- |
| well, I did it. I spray painted my ceiling black! | | |
Posted by
purrus
(
My Page
) on
Sun, Jul 17, 11 at 20:54
Here are some pictures. First of all, keep in mind that you can't really see the before because I simply never took a picture of it. Before, there was a moldy drop ceiing, flourescent tube lights (some of which were disconnected), and dark, filthy, shiny paneling.

Here's the basement after I painted the paneling, removed the mldo 1974 drop ceiling, and got can lights. trust me, what you see here is already a HUGE improvement.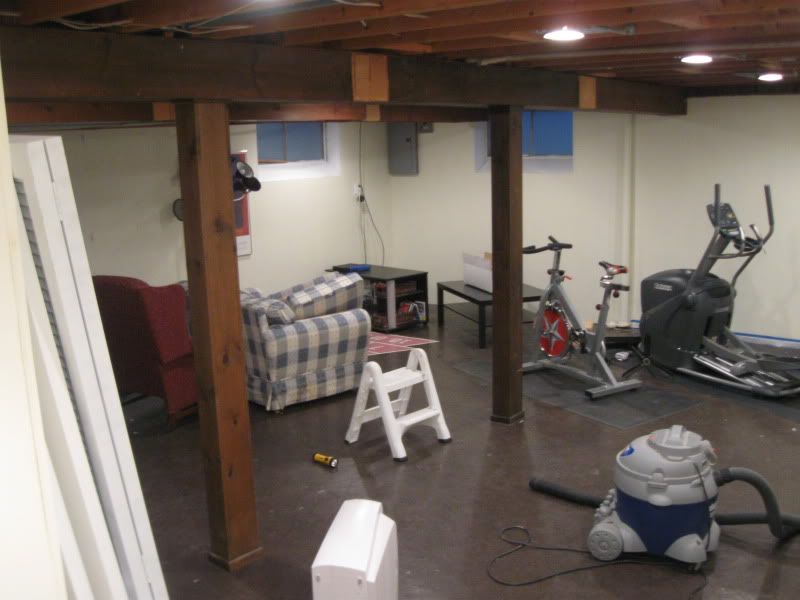 Here's the basement, all taped up and primed. It looks abandoned or haunted, I know. I couldn't even turn the lights on because I had to paint the lights as well. I rented a sprayer from HD, but it clogged when I went to put the black paint in it. After fixing it several times, I took it back to HD, where they tested it and admitted that yes, it was actually broken. They also rented me a HUGE sprayer--one you'd use to paint the whole exterior of a house. So the primer went on, uh, thick. I was pretty frustrated and burned out so we just hired someone to finish it. If that hadn't happened I could have done all of the painting in a day (a long day), though be warned that taping took a whole day on its own. We still saved a lot of money by me doing all of the prep and the priming.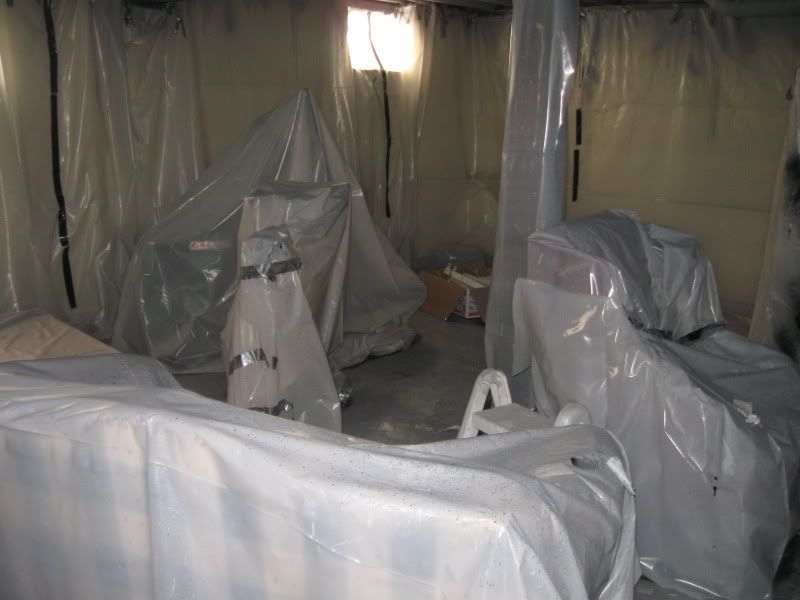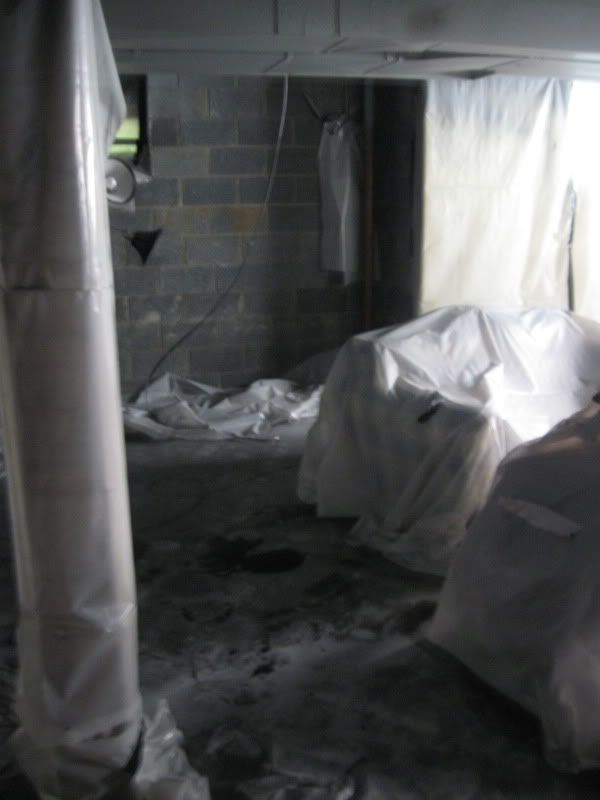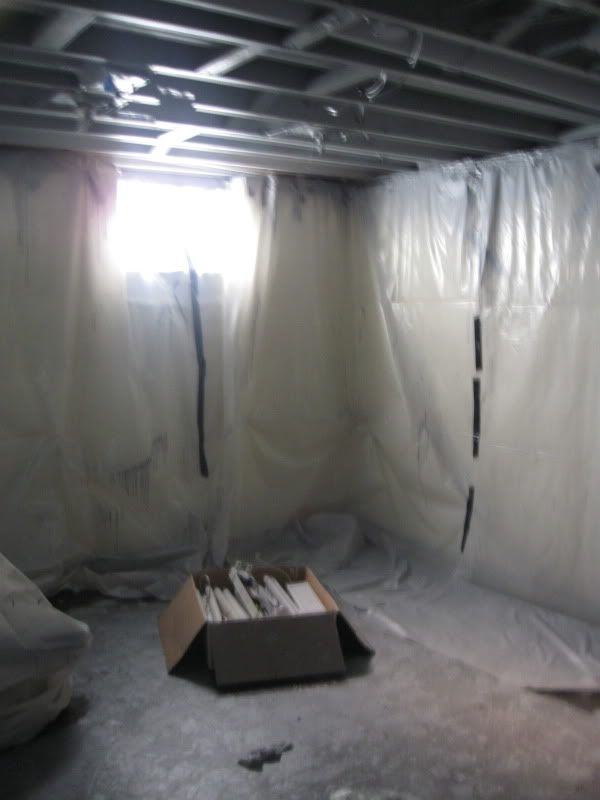 laundry room, primed and taped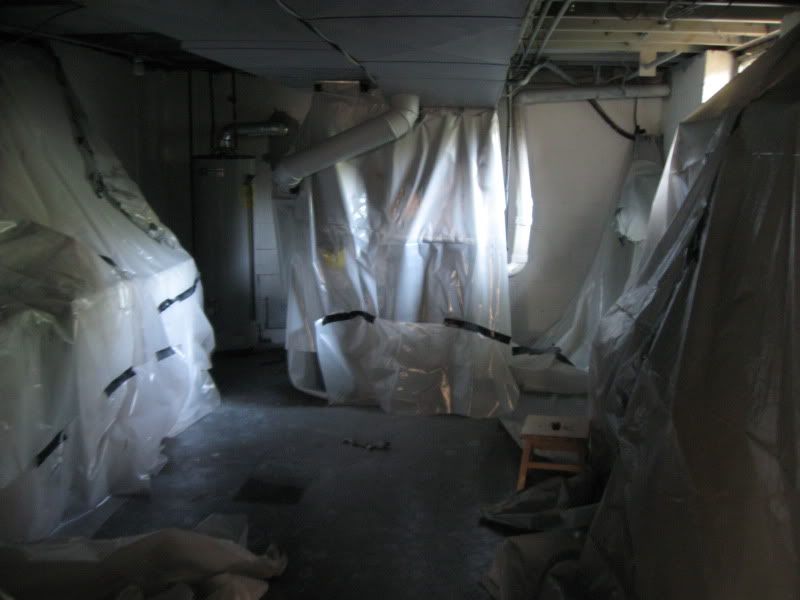 Huge cabinets used to be here, but I got rid of those too (made with nasty smelly old plywood and wall paneling---they had no ceiling, so verything was dusty all the time)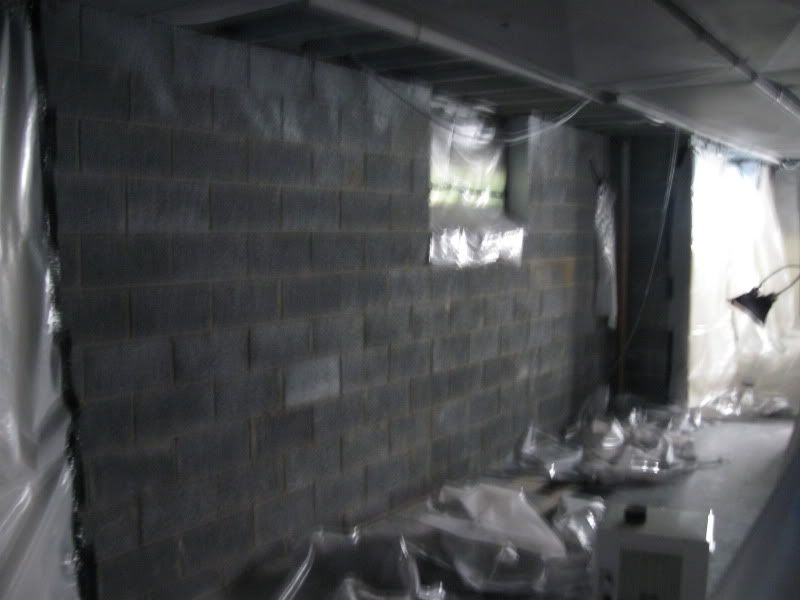 And painting ceiling finished!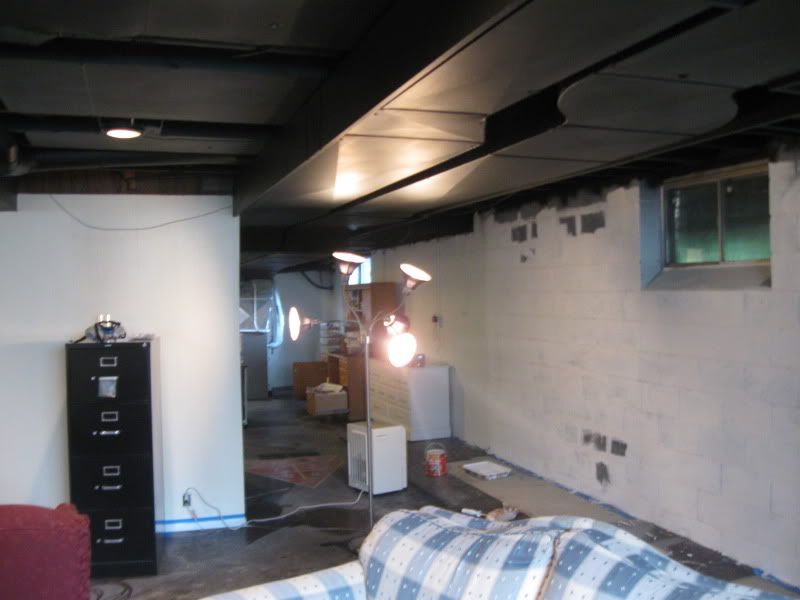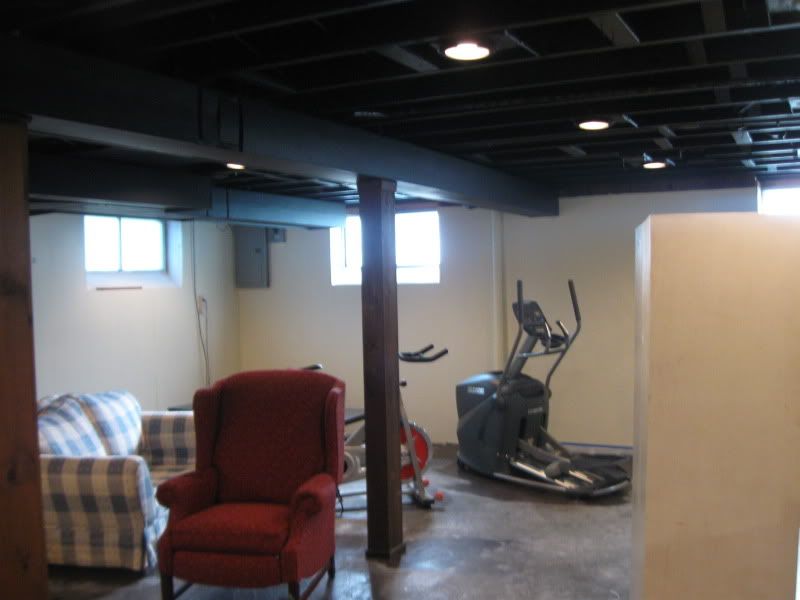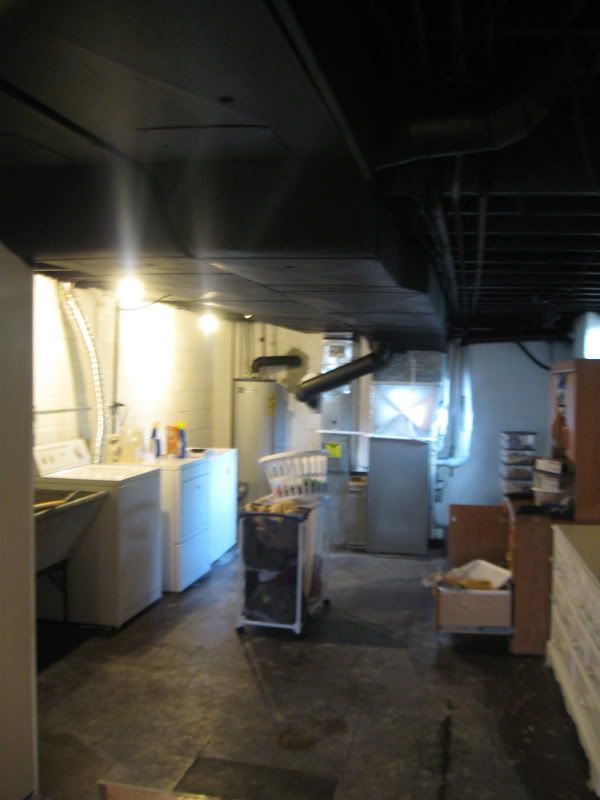 Here's my inspiration picture, which is laughably distant at this point. But it does look nice, and it keeps me going.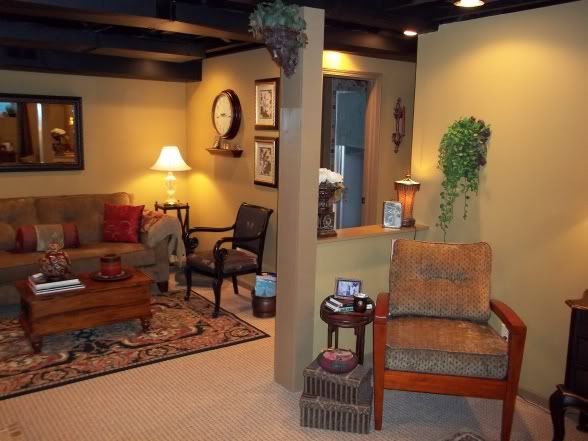 Now I have to find flooring that is inexpensive to cover up these nasty floor tiles, which actually do NOT contain asbestos (I had it tested), although the mastic does. What I really want to do is get rid of the tiles and mastic and acid stain the floors, but I don't have that kind of time. Unfortunately waiting to do something is not an option because I spilled so much paint and there is so much overspray on the floor, and it is already peeling up. There's way to much to actually clean up though, especially for a floor I hate and want to get rid of. SIGH.
So if anyone has any suggestions or thoughts on what to do with my floor, I'd really appreciate it.
---
Follow-Up Postings:
| | | |
| --- | --- | --- |
| RE: well, I did it. I spray painted my ceiling black! | | |
We did a floating floor in the main part of our bsmt 5 years ago and it looks good and is warmer than the previous old tiles beneath it. We plan on adding more in the other bsmt rooms as soon as we have the money and have hit other projects upstairs first.
We did ours in a "Brazilian cherry". I would not put it next to a real wood floor on the main level, but in the bsmt, it is very pretty. Carpets downstairs can get musty but this floor cleans nice and serves its purpose. There are all sorts of looks for floating floors these days, so you don't have to go with a wood look either...
---
| | | |
| --- | --- | --- |
| RE: well, I did it. I spray painted my ceiling black! | | |
I'm just nervous about cost. We have a lot of deferred maintenance to take care of, and this floor is just one part of that. Do you have any idea what's normal for installed floating floor cost?
---
| | | |
| --- | --- | --- |
| RE: well, I did it. I spray painted my ceiling black! | | |
What an improvement! I love the black painted beams -- we did something similar in our basement, which I'll link to at the end. We saw a basement much like your inspiration pic while we were househunting and thought the open ceiling was so cool, so when we were ready to do our own basement, we copied it. And you were wise to hire someone -- we bought our own sprayer (~$200 at Lowes) so we could take our time, but it was still an immense pain in the butt. We probably would have been better off hiring it out. The best thing about it is how easy it is to add wiring or access pipes -- we ran a few wires for extra outlets after the ceiling was finished and it would have been a nightmare trying to do that if we had drywalled the ceiling.

No clue about what to suggest for your floor (I LOVE the shuffleboard, btw -- too bad it can't be saved!) - we carpeted ours, but it wasn't cheap. Our whole house is hardwood though, and we wanted one room where the kids could sprawl out on the floor comfortably. Plus the carpet helps insulate the floor and keep it warm and it helps with sound too: one downside to the open ceiling is that it is awfully loud -- sound in the basement comes right up to the first floor and people walking on the first floor sound like elephants to people in the basement. But I still wouldn't change it - I love it, and I can't wait to see how yours comes out!
Here is a link that might be useful: Our basement
---
| | | |
| --- | --- | --- |
| awesome! | | |
Wow, thank you so much for the awesome pictures of your basement!!! I can't imagine how much work that must have taken! We're at the "bandaid" stage--we just want to make it nicer down there, but in the future we want to make it a walkout since we are located on a hill and it should be easy to do so. But we're not at the place where we are ready to add walls or anything. This little update will get us through the next 5-10 years, depending on what else happens.

These old tiles are all coming up on their own, which is why I really need to get rid of them. The mastic is likely asbestos, so I can't fool around with walking over it day after day. I also think the vintage shuffleboard is cool., and if it were in good shape, I'd just leave it!

I kind of want carpet for similar reasons to you as well--we have no carpet anywhere else in the house. We have a 2-story colonial with all hardwoods or tile everywhere else. Obviously I need to figure out a different solution for the laundry room no matter what...not only is this the location of the washer/dryer, but also the litter box. So carpet is definitely out!

However, carpet does make me nervous in the basement. But all of my neighbors have it, so it must be fine in our neck of the woods. No one around me has any wet basement issues; I just run a dehumidifier constantly to take care of basic humidity issues.

I haven't gotten the quote from the flooring guy we talked to about possibly using carpet for the main part and cheapo vinyl tile (which I hate) for the laundry room. I'd still have to take up the existing tile for the vinyl tile installation.

Sigh.
---
| | | |
| --- | --- | --- |
| RE: well, I did it. I spray painted my ceiling black! | | |
| | | |
| --- | --- | --- |
| RE: well, I did it. I spray painted my ceiling black! | | |
Thanks Anele! I'm afraid of doing something major like this and having it turn out horribly. I think I may also need to choose a bolder color for the walls, like lkplatow has. If anyone has a vision for this, let me know! Even my inspiration pic still has yellow, but it's a warmer yellow than the very pale color I have on the walls currently. With the black beams, it almost looks like a white. So I'm open to general feedback---not only about floors, which is the most pressing thing, but definitely paint color for the walls and other trim too!

I assume that, like my inspiration pic, I'd paint the vertical beams/posts the wall color. (Well they use the trim color, but it's so close that the effect is similar.)
---
| | | |
| --- | --- | --- |
| RE: well, I did it. I spray painted my ceiling black! | | |
you could do a raised floor system( the bottom has a raised plastic design, and the top is composite wood), and lay carpet over it. Water would flow underneath it to a drain.
---
| | | |
| --- | --- | --- |
| RE: well, I did it. I spray painted my ceiling black! | | |
| | | |
| --- | --- | --- |
| RE: well, I did it. I spray painted my ceiling black! | | |
We purchased bamboo, then priced the mastic. Paid a re-stocking fee and went with carpet tiles. It turns out they don't REALLY stick all by themselves and we bought another mastic which was expensive, but not quite as bad as the bamboo. The tiles buckled and had to be trimmed...I guess DH installed them too close together? Bottom line I am pretty sure we could have gone to a carpet shop, had them install wall to wall for the same if not cheaper. If we then add what DH's time is worth that floor is not worth what it cost.

Your ceiling was sooooooooooooo much work. "Just paint it"; sounds so easy doesn't it? WOW, well good for you it is done. For a basement, if money wasn't an issue, I would keep the carpet tiles (leaks ALWAYS appear just after you finish) and put in floor heating in under the carpet. Cost is ALWAYS a factor, bummer.
---
| | | |
| --- | --- | --- |
| RE: well, I did it. I spray painted my ceiling black! | | |
We just finished installing foam tiles in our basement, and I really like them. They look like puzzle pieces and you just hook them together. Easy and relatively inexpensive. You can just take one up if you need to for any reason. We use our basement for the laundry room and workshop, so we weren't looking for anything fancy.
---
| | | |
| --- | --- | --- |
| RE: well, I did it. I spray painted my ceiling black! | | |
Wow, that looks really cool. Our basement looks very similar (only worse) so your not alone. I love your inspiration picture too. What if you did an epoxy floor? It would give it some interest, they're cheap and they're really durable. There's so many different colors and looks that there should be one that would fit in your vision.
Here is a link that might be useful: Epoxy Paint Pictures
---
| | | |
| --- | --- | --- |
| RE: well, I did it. I spray painted my ceiling black! | | |
What a HUGE improvement!! So much work but worth it -- it will be such a great space! :)

We have a laminate plank floor throughout our whole house -- and it has worked very well for us! :)
---
| | | |
| --- | --- | --- |
| RE: well, I did it. I spray painted my ceiling black! | | |
Teacats, is laminate plank floating?

i am going to visit the flooring person today (aka my savior), so I am trying to master the terminology.

I am actually under a lot of pressure with my career and really need to get this fixed so I can focus on that. UGH!!!!!

Lukkiirish, I would love to do epoxy but my understanding is that, like acid staining, I would need to have a bare concrete floor. It's the mastic removal that would be a huge job and I just don't think I have time for that right now, unfortunately.
---
| | | |
| --- | --- | --- |
| RE: well, I did it. I spray painted my ceiling black! | | |
Laminate is a type of floating floor...but in some cases it can be glued to the floor. The brand we used said the warranty would be voided if we glued it. We ended up gluing it on steps but for the rest of the floor we laid it as instructed.

Laminate would work on your floor if you're laying it on top of the tiles. If you have uneven areas of missing tile and exposed mastic, I don't think you can successfully lay the laminate with either patching or floating the areas of missing tiles.

Your most economical solution may be to go to a carpet outlet and buy looped indoor/outdoor carpet (the outlet I used had carpet installers). We put it in 2 rooms in the shop and it has held up very well the past 9 years.
I also have a bird room with this type carpet and I haven't had any problems keeping it clean. Of course, my Roomba runs in that room every day!

I see no reason the looped carpet can't be put in the laundry area as long as you don't have a water issue to start with. For the litter box you can place a washable rug either under or in front of the box to catch any fallout.
---
| | | |
| --- | --- | --- |
| RE: well, I did it. I spray painted my ceiling black! | | |
Yes -- do check out industrial grade carpeting too at the store -- might be a good choice.

As for litter boxes -- always sit them on extra-large rubber boot mats. Easy, easy easy to clean ....
---
| | | |
| --- | --- | --- |
| RE: well, I did it. I spray painted my ceiling black! | | |
OK. I visited the flooring store.

I looked at berbers and industrial carpets. I have a cat as I mentioned, so the looped berber makes me nervous--way too easy for kitty to claw it and create runs.

Also, my husband's exercise bike is down there and he sweats buckets. So I need a carpet that will withstand that. We do have a rubber mat to go underneath, but it's not that big.

I really don't want to pick something ugly, but it has to work. Part of the problem is that whatever we choose will start at the entryway from the garage and go all the way down the stairs. So you'll be able to see it really obviously.

What color carpet would you choose? I basically have tan or gray as choices. My wall color is currently candlelit dinner from Glidden--a very soft, pale, buttery yellow. But I could certainly change that.

For the laundry room area, the salesperson showed me Armstrong excelon commercial vinyl composition tiles. I cannot choose a color though...there are several nice grays, but I am not sure I want gray carpet in the main area because it will look too cold/businesslike.

I also just don't want it to look like a church basement. Industrial is OK. Maybe I should give in and go for the gym look. Thoughts?
---
| | | |
| --- | --- | --- |
| hmmm | | |
I was thinking black/white checkerboard for the laundry room. Would that be too much? (Remember the picture of the laundry room is above.) I mentioned that idea to the flooring guy and he had a negative reaction.

In case you couldn't tell by the existing tile on the basement floor, I should mention that my home was built in 1964, so it is of that era.

I have lots of other black/white patterns throughout the house, so it wouldn't be that weird. However, none of them are on a floor, so none are that permanent.
---
| | | |
| --- | --- | --- |
| RE: well, I did it. I spray painted my ceiling black! | | |
Will you run a dehumidifier? You said the drop ceiling that was removed was moldy (and plywood was "smelly") - your neighbors may not have a problem, but you did and may still, if whatever caused that problem hasn't been corrected....you've done so much work, don't rush now!!
---
| | | |
| --- | --- | --- |
| RE: well, I did it. I spray painted my ceiling black! | | |
Allure flooring at Home Depot. We've used it in a room in our basement...and it has performed well. Just be certain to let it "season" for a couple of weeks. Follow the directions and roll the seams well. If I can get Picasa to load I'll post pictures.

Picasa loaded! This has been down since before Thanksgiving...and no seam lifting:





And I have a laundry closet that I did in 2005 that still looks good...different pattern: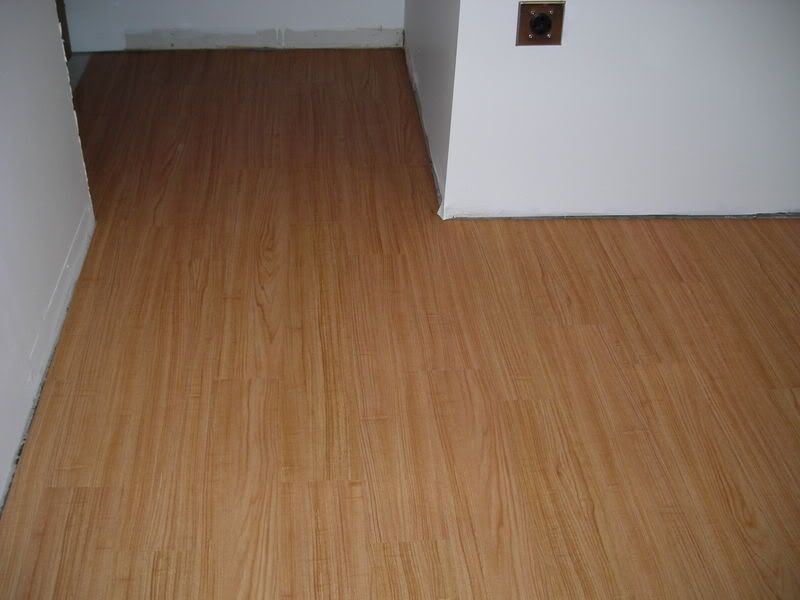 ---
| | | |
| --- | --- | --- |
| RE: well, I did it. I spray painted my ceiling black! | | |
Peegee,
Yes, the drop ceiling was moldy. But the house was vacant for several years, adn there was obviously a kitchen leak right above this area that went untreated for some time. I blame the mold on that, not regular basement wetness. Now, with no drop ceiling, we'd be able to fix leaks much more easily.

Also, the smelly closets had been in the basement for almost 50 years, and to my knowledge these people did not believe in dehumidification or any maintenance at all (we bought from the original owners, so part of that was just old-fashionedness and also probably having the house paid off and not needing to really update stuff). I am certain that there was no dehumidifier for at least several years, after the widow passed and the kids were fighting over the estate while the house sat vacant and neglected.

We do ahve a sump pump, but to my knowledge it has never been on since we've lived here. And we do run a dehumidifier 24/7, and I empty it once every day and a half or so. No visible water either.

Of course, I do realize that we could have an issue and not know it. I guess I can't really know for sure whether there might not be regular old basement ickiness coming up through the floor underneath the ancient vinyl tile. I have never noticed any wetness, but I don't know. Does this seem like an unreasonable risk to you guys? I certainly can't afford to be replacing carpet anytime soon, so once it's down it has to stay down.

Mjsee--that is a beautiful floor. Unfortunately though we decided that something like that would be too much money for us right now. :( VERY unfortunately.
---
| | | |
| --- | --- | --- |
| also | | |
I should also add, that when I demolished the closets I noticed absolutely no visible mildew or mold. If there had been one spot I'd expected to find it, it would have been in those closets. But the point that I could have an issue my neighbors don't is well taken, and stops me in my tracks.

ugh. WWGWB? (what would gardenweb do?)
---
| | | |
| --- | --- | --- |
| RE: well, I did it. I spray painted my ceiling black! | | |
purrus...the allure flooring I posted above runs 1.99/sf. It's not a laminate...it's a solid vinyl product The floats. We put it over OUR asbestos mastic (after I sealed if to with a cementaceous product that isn't affected by the black mastic). Ardex Feather Finish. (I got that at HD too.) I don't think you are going to find flooring that runs less than 1.99/sf.

Of course, then one has to DIY...but it really wasn't difficult. Some folks have complained of lifting seams...but we've had no problems like that. (Of course, we followed the instructions to the letter...I'm a little OCD about things like that.) I'll link the HD page for the allure flooring. Just in case. And you might want to scoot over to the flooring forum. They may have more suggestions.

Good luck!
Here is a link that might be useful: Traffic Master Allure flooring at HD
---
| | | |
| --- | --- | --- |
| RE: well, I did it. I spray painted my ceiling black! | | |
Meant to say...I love the ceilings!
---
| | | |
| --- | --- | --- |
| RE: well, I did it. I spray painted my ceiling black! | | |
| | | |
| --- | --- | --- |
| RE: well, I did it. I spray painted my ceiling black! | | |
I was interested to see how other's would respond, but the position on the 2nd page (bump) didn't change anything....
---
| | | |
| --- | --- | --- |
| RE: well, I did it. I spray painted my ceiling black! | | |
Peegee, the point is now moot. We're taking up all of the old vinyl tile and I am probably just going to put vinyl tile all over the whole thing again. So no carpet! I knew I felt funny about it, and finally just couldnt' go through with it. Thanks for helping me think through this, peegee and everyone else! I am still trying to figure out a pattern for the vinyl tile.

mjsee: we are going to have the floor people apply a feather coat over our mastic as well. Did you remove your old tiles? what horrible, horrible work. I am about crippled from today's labor.
---
| | | |
| --- | --- | --- |
| RE: well, I did it. I spray painted my ceiling black! | | |
It looks great! Wow, that's a lot of work. You're well on your way to the inspiration photo.
---
| | | |
| --- | --- | --- |
| RE: well, I did it. I spray painted my ceiling black! | | |
I think spraypainting open basement ceilings black is the best thing since sliced bread! In our neighborhood of old houses most of the ceilings are too low to drop and sheetrock so spraypaint is the best option. One of the houses on the Olde house tour had spraypainted their basement! just like yours from yuck to so usable!
I havent done my laundry room yet- thinking about it.
---
| | | |
| --- | --- | --- |
| RE: well, I did it. I spray painted my ceiling black! | | |
Yup, we took up the old tiles. It wasn't so bad...you just need the right tool. Ours were so old they popped up multiples at a time. We put them in black plastic trash bags and hauled them up. I didn't think the trash folk would take them...but they did!

I wish I'd taken pictures of the "in progress work"--not just before. Taking up the old carpet and pad and pulling out the tack strips...now THAT was miserable. When we do the rest of the space I'm going to be certain to take more pictures. (I say that every time.)I think you'll be pleased with the vinyl tiles.
---
| | | |
| --- | --- | --- |
| RE: well, I did it. I spray painted my ceiling black! | | |
You can test your sump pump to make sure it's still working by dumping a bucket or two of water in the pit. I do that once or twice a year just to check.

My neighbor just spray painted her basement ceiling black - but her ceiling is so low that I feel like a giant black cloud is hovering over me.

We played it safe in our basement- in the storage area we had the floors epoxied and I absolutely love it. The finish is so much smoother than the original concrete that it's a snap to sweep or vacuum. We're going to do it in the garage in the fall.

In the finished area we installed 21" porcelain tiles. Our sump pump did fail once when the float stuck and we had 2" of water in the basement. We had to rip up the carpet, padding and repair the bottom of the drywall where the water had wicked.

We put down 2 areas rugs so if need be they can be rolled up and removed or sent to the cleaner.
---
| | | |
| --- | --- | --- |
| RE: well, I did it. I spray painted my ceiling black! | | |
WOW!!

I haven't read all the posts, but I am certainly going to bookmark this. You've inspired me on what to do with my dungeon basement. We can't afford to finish it right now. I'll be checking to see the finish product. Can't wait.
---
| | | |
| --- | --- | --- |
| RE: well, I did it. I spray painted my ceiling black! | | |
OK! I ordered the floor. I ended up doing the controversial gray and white diamond (Checkerboard but laid on the diagonal) pattern. I also got some rubber trim in charcoal. I'm already planning a huge area rug for the TV part. So, while I wait for the floor to be installed (for time reasons, I can't DIY it, which means $$$), I will finish the painting.

Now, here's my big final question: are there any paint color ideas for the walls ? I am thinking black on the posts now (my vision has changed since deciding to tile the whole thing), but not sure waht to do for the walls. Almost anything would work since the floor will be gray and white and the ceiling black. Thoughts?

I will definitely post pictures when it's done. Finished ripping out the nasty old crap today. I so appreciate everyone's feedback and ideas.
---
| | | |
| --- | --- | --- |
| paint color | | |
Here are the tiles
http://www.armstrong.com/commflooringna/product_details_toolbox_magnify.jsp?item_id=47165
http://www.floorprices.com/vinyl-tile/armstrong/vct/standard-excelon-imperial-texture/armstrong-vct-51915-charcoal/

Ceiling black as you can see above.

What wall color? I'm torn between bright and reallllly neutral, like a light warm gray.
---
| | | |
| --- | --- | --- |
| RE: well, I did it. I spray painted my ceiling black! | | |
Update!

Today they are installing the floor tile (armstrong VCT). You guys were such great help with choosing colors, etc. As you can see from earlier in this thread, I removed the hideous old drop ceiling, painted the unfinished ceiling black and installed can lights, (because I couldn't decide on a color)---painted the walls BM Decorator's White in flat finish (though I might opt for an accent wall later), and now they are installing grey and white diamond -angled tiles.

Whew.

Here's the in-progress picture:

For some reason it comes out rather dark--probably my crappy phone camera. Anyway, I'll post completed pictures when it's all done. In the meantime, any thoughts on an accent wall color, or should I just leave it all flat white? I'm going for the industrial look, but hopefully with an elegant spin.
---
| | | |
| --- | --- | --- |
| RE: well, I did it. I spray painted my ceiling black! | | |
Looking forward to seeing that floor when it is finished.
Maybe one accent wall in that gray a bit lighter or darker (LOL) than the tile.
---
| | | |
| --- | --- | --- |
| RE: well, I did it. I spray painted my ceiling black! | | |
I like the white walls~ good for you and your enthusiasm! Great project, thanks for sharing!
---
| | | |
| --- | --- | --- |
| RE: well, I did it. I spray painted my ceiling black! | | |
Just wanted to post that we ate in a restuarant yesterday that had the black painted ceiling like yours, and it really looked spectacular.
---
| | | |
| --- | --- | --- |
| RE: well, I did it. I spray painted my ceiling black! | | |
How about pink for an accent wall? I know pink and gray is early eighties, but they do look great together!
---
| | | |
| --- | --- | --- |
| RE: well, I did it. I spray painted my ceiling black! | | |
Hey guys, thanks for the comments! I am really pleased with how the floor looks. I was kind of freaked out when they were getting started ,but now with the trim (I used industrial rubber base molding, charcoal-colored), it is starting to come together. I will need a LOT of decorating help, though. It's a bit oddly laid out. We don't have a couch yet, but we are thinking IKEA karlstad, charcoal-colored.

Nancy, I am afraid my dh would veto the pink. I adore pink though, and I have two light pink and light gray rooms (my office nad the dining room!).
---
| | | |
| --- | --- | --- |
| RE: well, I did it. I spray painted my ceiling black! | | |
When are we going to see pictures?
---
| | | |
| --- | --- | --- |
| RE: well, I did it. I spray painted my ceiling black! | | |
Lyban, I'm sorry!! I absolutely love the floors, though I'm already wishing we'd sealed them (I think this will pass as I add furniture, rugs, etc). Unfortunately none of the pictures are very good so far, but here are some anyway.

So, approaching hte basement, before you'd have seen really nasty old linoleum with dirt ground in and shiny dirty-looking paint

Now you see fresh flat white paint and new charcoal carpet. The new basement floor is visible, but pretend you don't see that yet!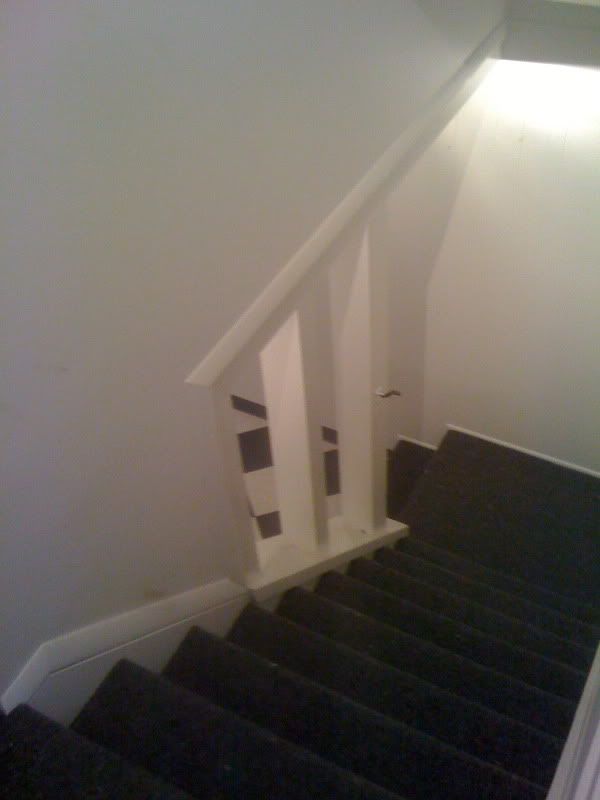 Walking into the basement, before there were dirty dark shiny paneled walls (I don't even have any pictures of those), a moldy old dropped ceiling, flourescent lights above gross old panels, and dark brown vinyl tiles that were releasing from years of neglect.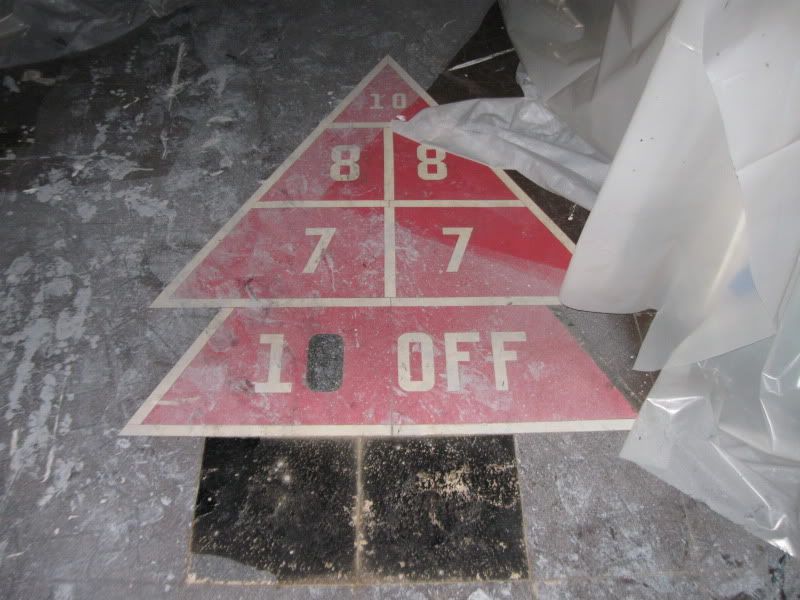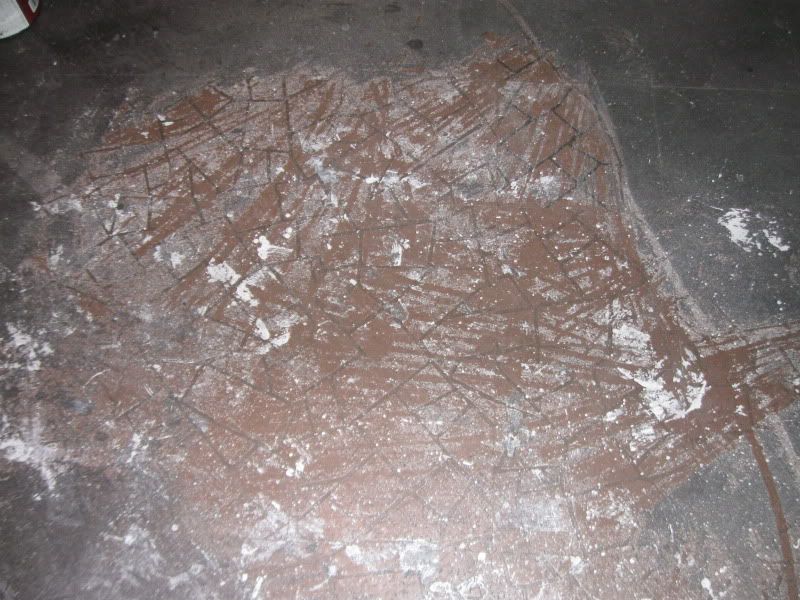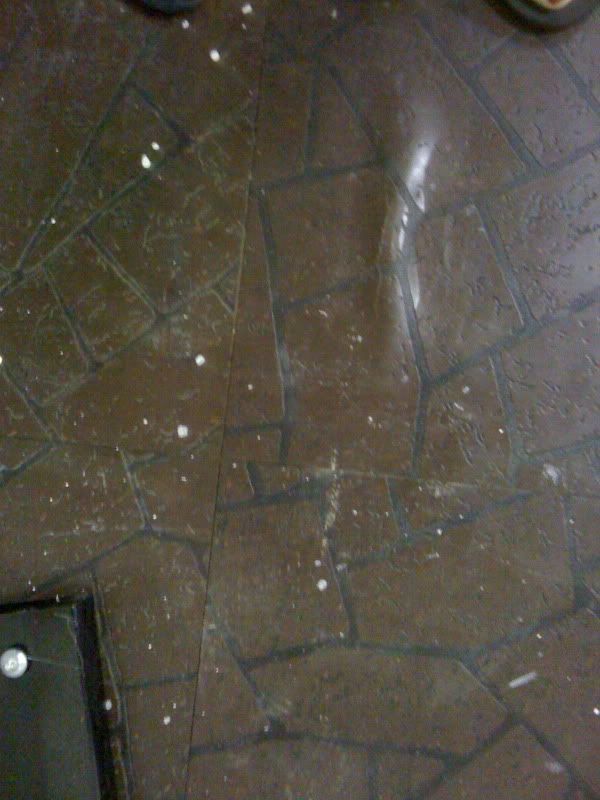 This represents a halfway picture, with older paint, the dropped ceiling removed, and new lighting.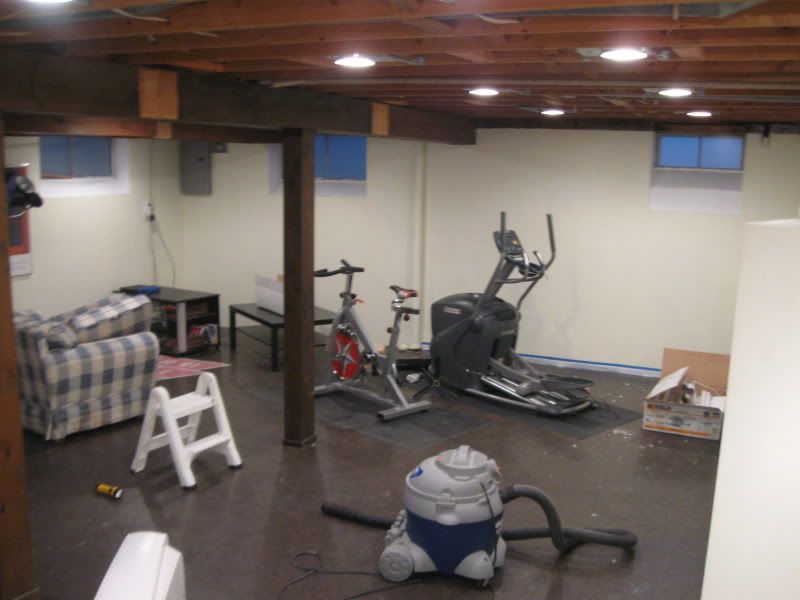 Then we painted the ceiling flat black (the subject of this thread, of course!), painted the walls bright flat white, and replaced the flooring with diamond-set white and grey vinyl tiles (the commercial stuff by Armstrong).
The pictures of the new floor aren't very good...we don't have any of the new furniture we're planning to get and frankly I'm not even sure what I want. So I am definitely open to decorating ideas...I'm thinking charcoal couch, huge area rug (perhaps an accent color?), and a loveseat or additional chairs. Even now, as I sit here, we've placed some of the furniture--TV, our one chair, and the exercise stuff, but I dare not take pictures because DH finally has his TV back after almost 1.5 months!
Laundry room

main living area, with furniture all pushed to the middle (this was right after installation)

To sum up, this is what's happened over the last 6-7 weeks:
1. ripped out old/moldy/disintegrating/incompletely installed dropped ceiling
2. installed can lights (removed old, in some cases nonfunctional, flourescent tubes)
3. painted the unfinished ceiling black (huge ordeal, involved moving almost everything upstairs and then taping off all walls and remaining items with thick plastic sheeting before renting a gigantic power paint sprayer...)
4. demolished huge, old, smelly, dusty-----but surprisingly (and unfortunately for me, the demolisher) well-built!----plywood/particleboard/pegboard/wood closets
5. ripped up nasty old floor tiles that were coming up and breaking into small pieces all over the place (thank you victoria---horrible job); we then lived with nasty black mastic for almost two weeks, until #8 happened this week.
6. Had an asbestos-wrapped copper water pipe professionally removed
7. painted old dark shiny paneled walls flat white, including the stairwell walls and ceiling.
8. installed new VCT tile and base molding, and carpeted the stairs with charcoal-colored carpet
---
Post a Follow-Up
Please Note: Only registered members are able to post messages to this forum.
If you are a member, please log in.
If you aren't yet a member, join now!
---
Return to the Home Decorating Forum
Information about Posting
You must be logged in to post a message. Once you are logged in, a posting window will appear at the bottom of the messages. If you are not a member, please register for an account.
Please review our Rules of Play before posting.
Posting is a two-step process. Once you have composed your message, you will be taken to the preview page. You will then have a chance to review your post, make changes and upload photos.
After posting your message, you may need to refresh the forum page in order to see it.
Before posting copyrighted material, please read about Copyright and Fair Use.
We have a strict no-advertising policy!
If you would like to practice posting or uploading photos, please visit our Test forum.
If you need assistance, please Contact Us and we will be happy to help.

Learn more about in-text links on this page here