Return to the Home Decorating & Design Forum
|
Post a Follow-Up
---
| | | |
| --- | --- | --- |
| Decorating my country kitchen | | |
Posted by
bleigh
(
My Page
) on
Thu, Jul 19, 12 at 20:11
Ok. I need some direction on how to deal with this kitchen. I've realized that everything I like for the kitchen fits with French Country style.

I love the brick floors and the fireplace, but the wall color has got to go. Right now I have two samples on the wall and we definitely do not want the green. Of the two samples we like Edgecomb Gray, but I'm not totally sold. Quite possible it looks muddy with all that yellow surrounding it?? The living room is Lenox Tan and I love that color and want something that will transition well between the rooms. Any thoughts on Edgecomb Gray? Any other suggestions? I'm pretty open to considering anything (my dad talked me down from a chocolate brown).

The table will change to the one I am working on in the carport. I'm in the process of giving it a hand rubbed finish so it's going to look sort of farm rustic. My dad will build two benches for the stove side of the table. I will also be using the chairs that are currently in the kitchen on the other side. Will reupholster the hostess chairs to use on the ends when we're seating a crowd. I'd love to use a red larger checked fabric for the seat cushions. My delima is what to hang over the table. I've thought about two lantern style pendants or centering a chandelier. I would love to find a way to hang a pot rack over the table, but I worry that will be too much visual clutter. I really need some suggestion what to do over the table!!

The fireplace is another big issue for me. That long mantle throws me into a decorating fit. I will replace the fake fern with one of my grandmother's Christmas catus. Anyway, should I just decorate the area over the firplace box and the leave the mantle to the right empty? I'd love to put an old weathervane up there or possibly a rooster painting, but that's as far as I can get myself.

I will make a valance for over the kitchen window and the doors. I love Covington's Bosporus Toile in the Billard or Antique Red colors, but not sold on this fabric either. The only thing I know for sure is that I'm going to use a red checked (not gingham) fabric for the chair cushions...fabric for the windows and hostess chairs I feel I can't decide. Would love some input for colorful French country fabrics to use with a red check.

I'm really overwhelmed with this house. I've got so many different long term plans (additions and renovations) that dealing with simple cosmetic changes that will carry us for the next couple of years is too much. Oh, just in case it's noticed the weird areas around the microwave and above the fridge are going to be fixed soon...new appliances and those old cabinets don't really go together. Also, new stove will be chosen in the next month or so and will match the others.

Hopefully this wasn't too long and annoying. I know there are some great decorators here and I'd love to get some helpful input so I can just get it done and not stay in this decorating anxiety.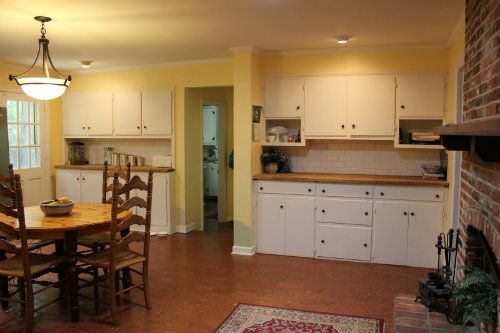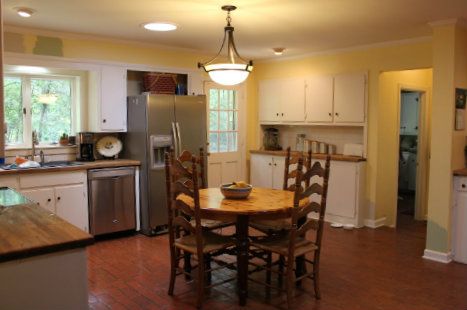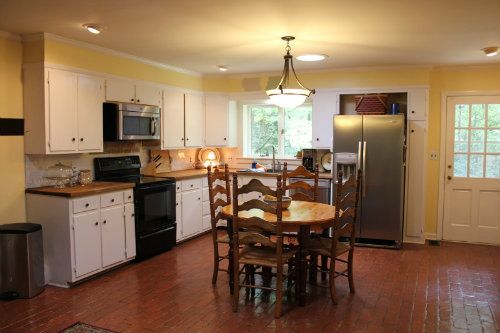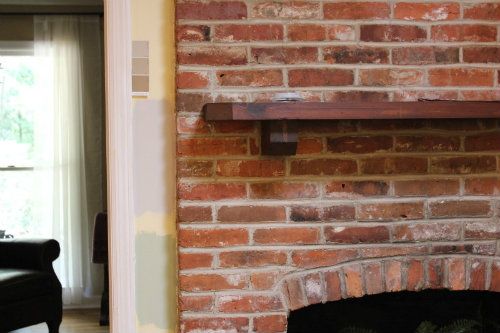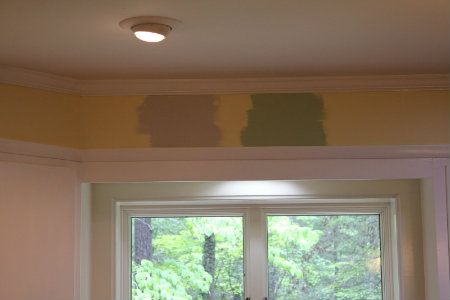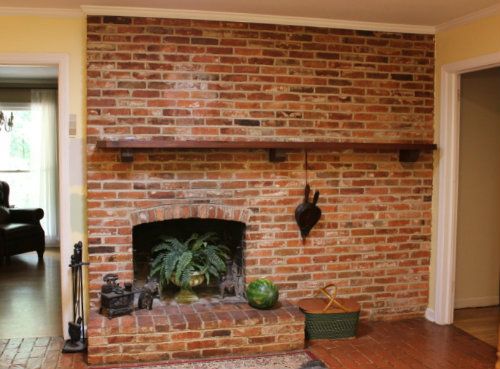 Table that is going to be replacing kitchen table.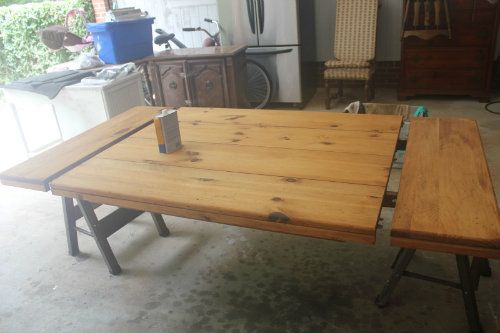 ---
Follow-Up Postings:
| | | |
| --- | --- | --- |
| RE: Decorating my country kitchen | | |
Are you up for changing the bowl fixture over the table?
---
| | | |
| --- | --- | --- |
| RE: Decorating my country kitchen | | |
Great space. You have a lot of orange in the brick. I suggest trying to find some paint swatches that match the floor and fireplace bricks. Then using these swatches, find wall colors you like. I have found that sometimes your brain can't take apart the color and the object. This allows you to only look at the color.

I think some warm blue gray colors would be nice on the walls.
---
| | | |
| --- | --- | --- |
| RE: Decorating my country kitchen | | |
palimpsest, BIG YES for changing that fixture over the table!! I hate that fixture in this kitchen. I'm just confused with what to replace it with.
---
| | | |
| --- | --- | --- |
| RE: Decorating my country kitchen | | |
I might paint the wooden mantle whatever green or grey you choose for the walls (Hampshire Grey?) and then put a collection of white stoneware pitchers or similar there.

I am not sure about your post --- do you want French Country or are you avoiding it?
---
| | | |
| --- | --- | --- |
| RE: Decorating my country kitchen re | | |
would you consider lime washing the brick?
---
| | | |
| --- | --- | --- |
| RE: Decorating my country kitchen | | |
I really like French country style and need to pull the room together to complete that look. Really stumped on wall color and fabrics...and lighting fixture over the table.

I would consider lime washing...haven't thought about that idea. Maybe that would make choosing a wall color a bit easier. Definitely not going with any shade of green.

Would it make sense to cut the mantle and just have it over the fireplace and not the entire brick wall?
---
| | | |
| --- | --- | --- |
| RE: Decorating my country kitchen | | |
I need to read when I am more wide awake but a couple thoughts. You have a gorgeous start.
That table makes me pea green with envy!!!! Wow, what talent.
I agree if you want french country you might consider a new light. I imagine a wine bottle chandelier or such....
---
| | | |
| --- | --- | --- |
| RE: Decorating my country kitchen | | |
I really like what you have going on right now. That table is gorgeous and perfect for the space.

I wouldn't touch that fireplace...it is beautiful as it is and the brick color can work well as an accent color in the space. And it blends nicely with the color of the floor.

I would start with the fabric, not with the paint. It's always easier to find paint to go with the fabric rather than the other way around. And that way a professional (fabric designer) has helped you select your color palette so it will work well.

Fabric ideas: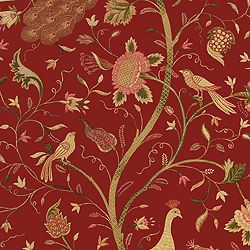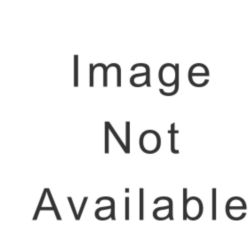 Then once you pick a main fabric, you can pick coordinating fabrics for the chair pads and table runner or place mats. I think of lots of prints together when I think country french.
For over the table, I would want a simple iron fixture that mimics an old fashioned candelier (certainly not a pot rack).
Then for the fireplace, get a dried flower arrangement to put in the fire box...something in a basket...would be great if it includes wheat and lavender for fragrance and color. Or get some white birch logs and place them in there for show, preferably on andirons. You could put a large dried wreath over the mantle centered over the fireplace with some candles in candle holders or some pottery...pitchers and such....on the mantle.

I think the idea of metal around the brick is also great...copper pots or pans, pewter plates, the weathervane would be good on the right side.
HTH!
---
| | | |
| --- | --- | --- |
| RE: Decorating my country kitchen | | |
Beautiful table. Where did you get it? I love your kitchen. It will be amazing! Below a couple of links (I personally like the combinations with check and toile)

http://thepapermulberry.blogspot.com/2011_05_01_archive.html (scroll down to kitchens)
http://casualcottagechic.typepad.com/this-and-that/2009/10/english-bliss.html (not French but English country kitchen)
http://foreverdecorating.blogspot.com/2012/02/new-red-toile-valances.html
http://athomewithelizabethgary.blogspot.com/2011/06/new-kitchen-chairs-question.html
http://easywindowtreatmentideas.com/kitchen-bay-windows-toile-breakfast-area-window-seat/
http://thecomfortsofhome.blogspot.com/2009/03/toile-party.html
Here is a link that might be useful: French cottage kitchen update
---
| | | |
| --- | --- | --- |
| RE: Decorating my country kitchen | | |
Annie thank you so much for wonderful ideas!! Wish you could come and decorate the kitchen for me. Glad to hear you like the brick wall...when I came in for my coffee this morning I had a twinge at the thought of changing it. I think I'll run with your suggestions on how to deal with the fireplace...sounds perfect! Also feel much better with the idea of a simple chandelier over the table. I was beginning to worry anything else might be too busy. Really like the fabrics on the bolts especially the red and gold.

nosoccermom, the table is an older Ethan Allen piece that belonged to my great aunt. The chairs in the kitchen completed that set. I'm going to look at your links right now.
---
| | | |
| --- | --- | --- |
| RE: Decorating my country kitchen | | |
I think that the orangey tones of the brick wall and floor can make it hard to decorate, and a light wash could tone it down. But you can also tone it down by what you put on the mantle (that's why I suggested white ironware; see link). I would leave the mantel all the way across, otherwise the empty wall might look odd.

I think of light colors and chippy, distressed things when I think of French Country (sort of Shabby Chic). But you may be thinking vibrant, south of france colors, sort of Pierre Frey or Beauville linens?

Totally agree on Annie's chandy suggestion, can't go wrong. I also happen to own one of them, from the PO. Haven't had the heart to discard it but doubt I will ever use it as we have redone the whole house and have no place for it. If you'd like it, I will send it to you.
Here is a link that might be useful: some of these images may give you ideas
---
| | | |
| --- | --- | --- |
| RE: Decorating my country kitchen | | |
Bleigh, that farmhouse table was made for your kitchen. Love the fabrics that Annie linked.

Question - did you paint your flat panel cabinets? If you did, they look great. Could you show a close-up of them? I did a search and couldn't find any reference on GW about this.

I have flat panel plywood cabinets and am researching/gathering inspiration for a paint job :).

TIA
Tuesday
---
| | | |
| --- | --- | --- |
| RE: Decorating my country kitchen | | |
mtnrdredux, I did research limewashed brick and LOVE what I saw. I do think that's a great idea, but there is alot of sentimental value to this house and the brick is one thing I've not considered changing. However, I do wonder if I could lime wash the brick floors?? That could be interesting while leaving the wall as is. I definitely lean toward to the more vibrant colors and rich tones. The ironstone is beautiful..I'll have to keep an eye out for some.
- Do you have a picture of your chandelier? I would love to buy it from you if it's even close to the one Annie posted.

nosoccermom - the kitchen valance featured on the Forever Decorating blog (her floral valance) is perfect. She told me where to get the fabric and I can't wait to shamelessly copy that treatment. Thank you so much for posting!

Tuesday - those cabinets were painted by my crazy sister and her ex-husband (we've taken over the house since they divorced). I wouldn't dare show a close up as the paint job is horrible (drips, chips and smudges). They even changed out the original black hinges, which I love, for cheapy white ones that got paint all over them. Anyway, the original owners had the cabinets painted from the beginning and they were lovely. Unfortunately they got painted with latex over oil and now I've got a mess on my hands. I do think that painting these wouldn't be too difficult if prepwork is done well.
---
| | | |
| --- | --- | --- |
| RE: Decorating my country kitchen | | |
If you need to repaint the cabinets, what about a green or blue? I like the fabrics above, too...and the chandelier is perfect!

Don't paint the brick! You can always do it later, but if you do it now...you may regret it. Decorate the rest of the space and I think you'll love the brick 'as is'.

And...the walls are just too bright, but a softer, paler yellow/gold color would look great with the fabrics, above...and the brick. Especially if you put a color on the cabinets (besides white) well, at least on some of them.

French country cabinets were usually free-standing, so painting one section a different color (maybe behind the back door or by the fireplace) would look really good, IMHO :)
---
| | | |
| --- | --- | --- |
| RE: Decorating my country kitchen | | |
Excellent thoughts and ideas above!

JUST a thought -- is there enough room in the room to place the table in front of the fireplace AND add a long thin kitchen island in front of the main prep area?

Yes -- do research limewashing the brick to create a softer color ....

Yes -- do wait until you have chosen fabrics AND perhaps even limewashed the brick before you pick a wall color!

Yes -- a new light above the table will go a long ways to changing the whole look of the room!

Your table will look so wonderful -- I hope you continue to post photos as your room's decor progresses! :)

Also -- would you consider adding a wood "box" over the current mantel to create a larger mantel that is better scaled to the size of the whole fireplace?
---
| | | |
| --- | --- | --- |
| RE: Decorating my country kitchen | | |
And...the walls are just too bright, but a softer, paler yellow/gold color would look great with the fabrics, above...and the brick. Especially if you put a color on the cabinets (besides white) well, at least on some of them.
Agreed. IMHO, the world doesn't need any more grey walls. They are everywhere now. If you go with your original Bosporus, try looking at a dulled down gold/yellow with a bit of green in it.
---
| | | |
| --- | --- | --- |
| RE: Decorating my country kitchen | | |
Hve you considered bringing the Lenox tan in the kit? It would go with the white cabs, floor, black iron chandy, FP & shade of red plus flow to liv rm.
---
| | | |
| --- | --- | --- |
| RE: Decorating my country kitchen | | |
Thanks Bleigh. You cabinets look good at a distance...on the monitor :). The only reason I asked is that I have seen some really good paint jobs on these type of cabinets and some crappy ones. Even though you say they did not do a good job painting the hinges white, I have seen some of these type of cabinets with HUGE black or copper hinges - think door hinges :) - and they can look very distracting.
---
| | | |
| --- | --- | --- |
| RE: Decorating my country kitchen | | |
If you think you'd like to use it, I'll just send it to you. I like it but the room it was in, really a small entry hall that connected the old house with the new wing, was demolished and replaced with a two story addition that is totally different. Having just done the whole house, I cannot even fathom redecorating and so, if it isn't in use now, it will likely remain in my barn/shed for a lonnnng time.

Here is a photo from the listing photo tour. If you think it works, I can find it and take a better photo.
---
| | | |
| --- | --- | --- |
| RE: Decorating my country kitchen | | |
Tuesday, the kitchen cabinets used to have the larger black hinges on them and I really like them. They are still on the cabinets in my laundry room and miss them in the kitchen. Funny - on one of the decorating/real estate shows on HGTV a home had these cabinets and hinges and the designer and homeowners thought they were horrid...maybe this is a case of beauty is in the eye of the beholder : ) .

lavender, eventually the cabinets will have a different color scheme. The cabinets that are currently next the back door will become a built in that looks like furniture. I do think that piece will be an antique green. The cabinets on the other wall (next to the living room) will be gone completely as we're planning to close in the carport for a family room...that space will be the doorway. I'm still trying to come up with a plan for the other cabinets. Possibly not have many uppers opting for more open shelving.

I'll put up a sample of Lenox Tan and upload a pic. The kitchen has been painted a similar color before and that was the best it's looked.
---
| | | |
| --- | --- | --- |
| RE: Decorating my country kitchen | | |
mtnrdredux, so sweet of you to offer your fixture. I do think I would like to use it. It looks perfect! I like to reuse old when I can...no point in letting it hang out in the barn : ) .
---
| | | |
| --- | --- | --- |
| RE: Decorating my country kitchen | | |
oh good -- email me ( i think i am set up so you can??) and we can arrange

best
mtn
---
Post a Follow-Up
Please Note: Only registered members are able to post messages to this forum.
If you are a member, please log in.
If you aren't yet a member, join now!
---
Return to the Home Decorating & Design Forum
Information about Posting
You must be logged in to post a message. Once you are logged in, a posting window will appear at the bottom of the messages. If you are not a member, please register for an account.
Please review our Rules of Play before posting.
Posting is a two-step process. Once you have composed your message, you will be taken to the preview page. You will then have a chance to review your post, make changes and upload photos.
After posting your message, you may need to refresh the forum page in order to see it.
Before posting copyrighted material, please read about Copyright and Fair Use.
We have a strict no-advertising policy!
If you would like to practice posting or uploading photos, please visit our Test forum.
If you need assistance, please Contact Us and we will be happy to help.

Learn more about in-text links on this page here