Return to the Home Decorating & Design Forum
|
Post a Follow-Up
---
| | | |
| --- | --- | --- |
| Closet re-do plan...stroke of brilliance or horrible mistake? | | |
Posted by
williamsem
(
My Page
) on
Fri, Jul 11, 14 at 20:03
Next up on my great room makeover is the closet. It's the only decent sized storage area on the first floor. I already fixed up the tiny utility closet and it is full. This closet needs to hold our coats, shoes, vacuum, and assorted other stuff. I'm hoping to get a bench for under the window that will also hold a few pairs of shoes, but most of them will be in the closet.

Meet the closet:

There is 18 inches on either side that is near impossible to get things out of. Plus, at least for now, I'm keeping the sliding doors. So between those things setting it up like a traditional reach in closet won't work well.
It's almost 24 in deep. So I thought I'd use the two 18 in black hole sides better by using the depth to hang coats. They'd all be easy to reach, and with one side as a double rod I'd have pretty close to the same hanging space I currently have. Then I can stack some nice shoe racks on the floor, tuck in the vacuum (plus maybe a hose holder on the wall) and still have space for more shelving than I have now.
Here's what I'm thinking of. I favor the detached shelves, DDad suggested the connecting shelves, though I'm not sure I like the asymmetry and it would require a third standard to support the end.
Sorry about the angle, they are pretty readable if you click in.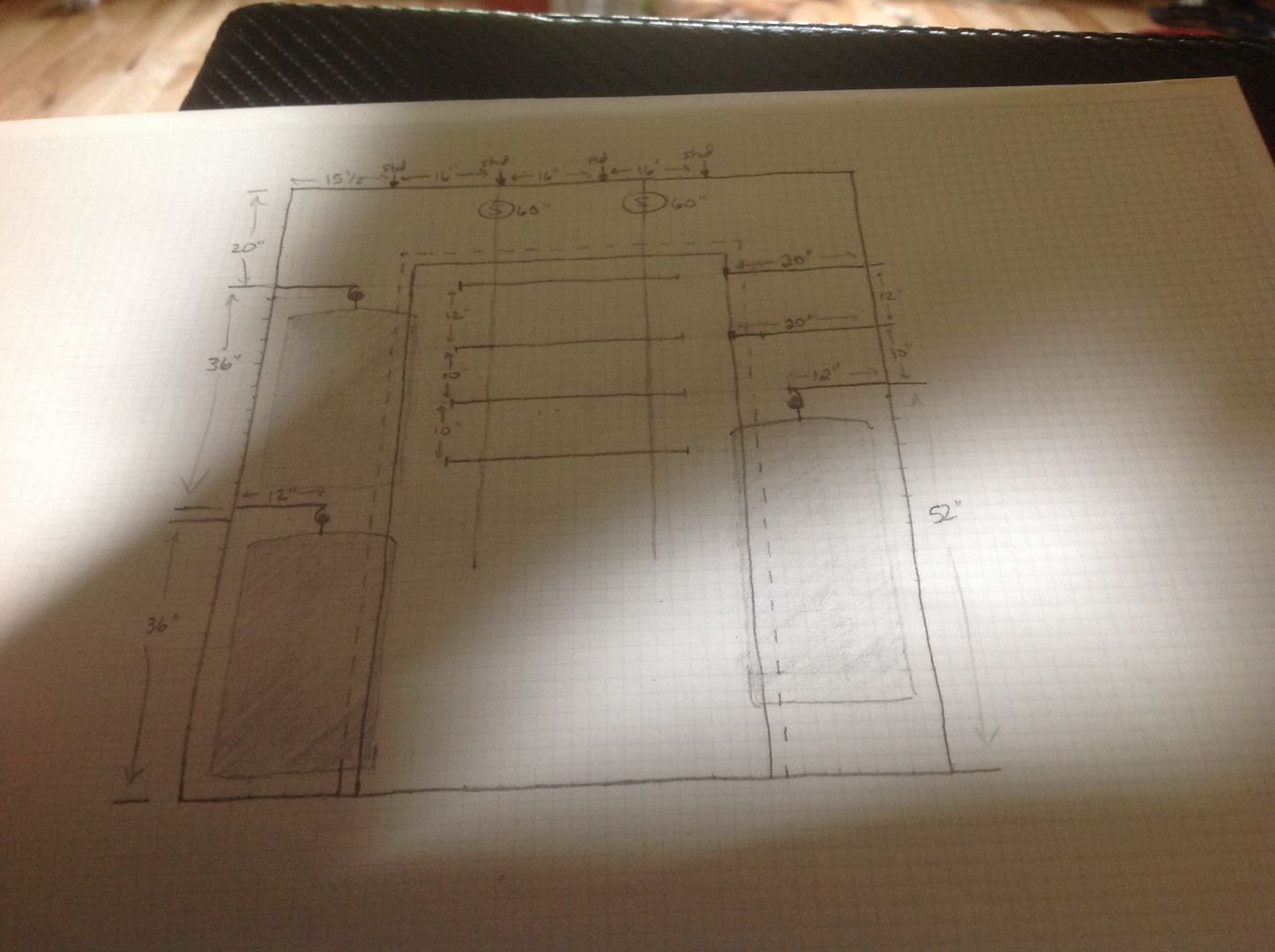 It's a bit different, but sounds very functional. What do YOU think...brilliant or horrible idea? I tend to have a disconnect between what I envision in my head and reality, so I want to be sure before I get it all purchased and installed.
---
Follow-Up Postings:
| | | |
| --- | --- | --- |
| RE: Closet re-do plan...stroke of brilliance or horrible mistake? | | |
Take the door off, take the trim off. Cut the opening so that it is almost end to end and top to bottom. Get trim and re-trim it, and get new doors, and now you have good access to all of the space in there.

Insid, have a center section for hanging coats, with a shelf over them and cubbies on either side, with space to one side to hold the vacuum cleaner. Get hinged doors and attach baskets on the inside of the doors for yet more storage - hats, gloves, shoes….small stuff.
---
| | | |
| --- | --- | --- |
| RE: Closet re-do plan...stroke of brilliance or horrible mistake? | | |
I love it! We have several closets that are this way and this is an excellent way to see what is back there.

Hmmm. Might need to look at the entry hall closet tomorrow.
---
| | | |
| --- | --- | --- |
| RE: Closet re-do plan...stroke of brilliance or horrible mistake? | | |
That is exactly what we did in all three bedroom closets and the main floor closet of our old home. It was so much more functional and easier to reach and see the items inside. I would not hesitate to do it again if we ever move to a house with similar closets.
---
| | | |
| --- | --- | --- |
| RE: Closet re-do plan...stroke of brilliance or horrible mistake? | | |
A different thought ... if you hang things on either side you will have them protruding into the entrance be about 6-10 inches (depending on puffiness of the coats)

1 - re-do the door so you have enough depth on one side to hang coats and a shallower side for shelves.

Close off a bit to shift the opening left or right and re-hang the door as a "barn door" by moving the hardware to the outside on a small fale beam (or make a barn door ... plenty of plans on the Internet)

2 - The "coat" side would have rods spaced for the coats you have, and a space underneath for boots and shoes, and deep shelving all the way to the top for luggage and

3 - Install "L-shaped" shelving - about 10-12 inches deep on the side and 4-6 inches on the back for storing smaller things, or put shelves on the left and use the back wall for hanging shoe pockets and other flat things.

4 - Custom fit one spot for the vacuum and the hose, with a hook to hold the hose if it's a canister.
---
| | | |
| --- | --- | --- |
| RE: Closet re-do plan...stroke of brilliance or horrible mistake? | | |
| | | |
| --- | --- | --- |
| RE: Closet re-do plan...stroke of brilliance or horrible mistake? | | |
Before you cut any openings, familiarize yourself with standard door sizes.

Not much fun to get a huge door opening and then have to pay for custom-size doors.
---
| | | |
| --- | --- | --- |
| RE: Closet re-do plan...stroke of brilliance or horrible mistake? | | |
mclarke makes a very good point. But all that closet is is three pieces of wallboard, so it shouldn't be difficult to widen that doorway, which is too small anyway. It'll look MUCH nicer, be a bonus for re-sale, improve your storage abilities and access to the stuff…IMO, a very worthwhile improvement. Get doors that open outward, not hanging sliding doors, which are such a pain.
---
| | | |
| --- | --- | --- |
| RE: Closet re-do plan...stroke of brilliance or horrible mistake? | | |
| | | |
| --- | --- | --- |
| RE: Closet re-do plan...stroke of brilliance or horrible mistake? | | |
Wow, great feedback!

Tibbrix, I'd considered just enlarging the opening. At this point I think DH would pack up and move out until the mess was finished! I'm sure I'm capable of learning how to cut through the studs, add support for the opening, retrim, and hang doors, but most of those will be new for me (though it would be a good excuse to get the miter saw I've been eyeing!). It will take me weeks, and I'm not willing to get the contractor involved in yet another project, this house isn't worth it. Not entirely ruling it out though, I need to do some sketches to see what I'd gain vs this plan first!

Momof2 and geokid, thanks for the feedback! Glad to hear it is indeed functional.

Lazygardens, I think a barn door would be tight if it fits at all, and would require a much smaller opening than I currently have to have a chance at working. The current closet has about 24 in of depth, the coats only protrude 21 in and the rest is clearance space to get them out (in theory). Adding the 2.5 in of trim, they will stick out about an inch on each side. I did think to measure that, lol! I'm having a really hard time envisioning your idea, what it translates to in my head seems like not much hanging space and a lot of open space between the shallow shelves and the door, I don't think I'm picturing it right.

Thanks, greywings!

Mclarke, great advice!

Tibbrex, I had though about bifold doors if I decide to tackle widening the opening, I'll have to see what regular doors would mean in terms of the ability to open them and move around them in the small foyer area.

Nosoccermom, I'll tell DH you like his bike, thanks! The summers he rides, he gets pretty serious and can go 50-100 miles at a time.
---
Post a Follow-Up
Please Note: Only registered members are able to post messages to this forum.
If you are a member, please log in.
If you aren't yet a member, join now!
---
Return to the Home Decorating & Design Forum
Information about Posting
You must be logged in to post a message. Once you are logged in, a posting window will appear at the bottom of the messages. If you are not a member, please register for an account.
Please review our Rules of Play before posting.
Posting is a two-step process. Once you have composed your message, you will be taken to the preview page. You will then have a chance to review your post, make changes and upload photos.
After posting your message, you may need to refresh the forum page in order to see it.
Before posting copyrighted material, please read about Copyright and Fair Use.
We have a strict no-advertising policy!
If you would like to practice posting or uploading photos, please visit our Test forum.
If you need assistance, please Contact Us and we will be happy to help.

Learn more about in-text links on this page here