Return to the Home Decorating & Design Forum
|
Post a Follow-Up
---
| | | |
| --- | --- | --- |
| help decorating new/smallish bedroom | | |
Posted by
dryersheet
(
My Page
) on
Mon, Jul 16, 12 at 19:53
I just moved and I'm ready to make my bedroom a place I wanna spend time in but I'm a complete noob when it comes to decorating.

Here are my problems/questions

this is literally the only place I can put the bed, the other wall is a full length closet and any other placements take up too much floor space or block the door.

Should I lower the bed so its not right under the window?
Should I get a headboard? If so, a big one? a small one?
How should I decorate the walls..I cant paint so pretty much just artwork or ledges or stuff like that..

any ideas/tips welcome!! Thanks in advance :D
---
Follow-Up Postings:
| | | |
| --- | --- | --- |
| RE: help decorating new/smallish bedroom | | |
I don't think you necessarily need to lower the bed. It doesn't appear too high now. I'd probably think about a metal headboard. I always think they look good and do well in smallish rooms since you can see through them. I know you didn't ask about window treatments but what about replacing the blind with a bamboo shade and hanging it very close to the ceiling and then putting stationary panels on either side? This will give the illusion that the whole wall is windows and that takes care of "decorating" one wall.

You've got a good neutral wall color so you're really looking at a blank slate. Good luck. Hope you'll post finished pictures.
---
| | | |
| --- | --- | --- |
| RE: help decorating new/smallish bedroom | | |
I think an iron bed or headboard would look really nice in your room. They have an open airy feeling and give the illusion of space. A small nightstand would be nice and would give you storage. Because of your neutral wall color which is always a plus, you could use any color bedding that you want. I personally love to use decorative pillows to add warmth to the room. As for artwork, find something that you really love to hang on the wall over your bed or maybe a grouping of things. Mirrors are always good in a small space.
The bed is fine where it is, but could you possible place it under the windows? Just a thought. I love to move furniture around! You could still do the window treatment that's been suggested and have your bed in front of that, and you wouldn't necessarily need a headboard. Hope this helps.
---
| | | |
| --- | --- | --- |
| RE: help decorating new/smallish bedroom | | |
I meant to add about window treatments so thank you! I really like that idea, will definitely look into that.

And no the bed can't go under the window :( That was my thought but it would block the doorway too much. This room wasn't laid out too well for rearrangement haha. I also love moving my furniture around every once in awhile so it's a bit sad. But if I can make it look awesome like this then it will be okay :)

Thanks for the help!
---
| | | |
| --- | --- | --- |
| RE: help decorating new/smallish bedroom | | |
Check out thrift shops for small chests and use them for night stands, finding a chest with drawers in it adds to the storage. You should get a dust ruffle, maybe a plain one with corner pleats, that immediately makes the bed look better. It would be good if you could tell us your favorite colors, do you like clean lines, brights or muted shades, contemporary, traditional. Any clues would be could plus a few more pictures of the rest of the room. I would start with paint. Google bedrooms and see if you come up with some rooms or colors you like and let us know.
---
| | | |
| --- | --- | --- |
| RE: help decorating new/smallish bedroom | | |
Is that a TV at the foot of the bed? If so, a nice cabinet to house the TV and store items would help it blend in and yet give you more storage. Ikea has lots of options if you have one near you. In fact they have lots of inspiration rooms in their display area for small apartments/rooms.

Something like these:
---
| | | |
| --- | --- | --- |
| RE: help decorating new/smallish bedroom | | |
Hi, this was a room I did for a teen (so slightly messy) but it could be modified to your tastes. This was a small room. To me small rooms look roomer without a lot of bed head/footboards and such. It's a simple bed with drawers on rollers underneath for extra storage. You can create a lot of drama and give the illusion of more space by going vertical with paint. All you need is a cheap level (to help draw your lines in with a pencil), blue painters tape, a small sponge type or something similar roller, a bag of regular rollers (buy a bag of the cheap ones and just throw away the used ones when done), an angled paint brush and paint tray with several paint tray liners (paint tray liners make clean-up easy because you throw them away when done). For this sort of project you might want to visit the Oops paint which is usually on a side isle in the paint section of HD or Lowes and is hugely discounted. You will need under or around two gallons for the main wall body and a few small quart sizes for the stripes. It is time consuming but amazing too. It's amazing what you can do with paint, and painters tape and how a room can look double the size.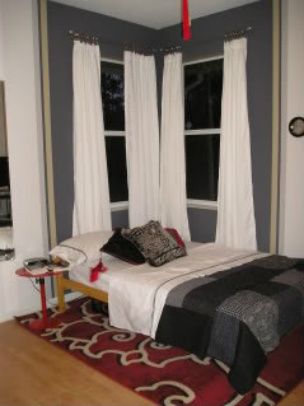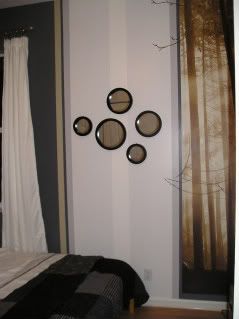 ---
| | | |
| --- | --- | --- |
| RE: help decorating new/smallish bedroom | | |
I think the height of the bed is fine. I would put the nightstand on the other side of the bed, to give you just a little distance from the wall. The bed won't feel so jammed in, and it will be easier to make the bed.

I would skip spending money on the headboard for now, and get a flat tv. You can get a really nice sized one for very little money these days, and that will make a huge difference in how the room feels there.

Watch Craigslist for an inexpensive dresser that can serve as storage and hold the tv on top. Add a lamp there as well, and you can eliminate the need for the harsh overhead lighting.

I would move the fan to the other side of the tv, so that it not only points out toward your bed but also to the rest of the room.

I think the blinds are fine - adding a valance up above will soften the window but not crowd the room.

Craigslist is also a source for a taller nightstand and a taller lamp that will help fill the wall space and give you nicer lighting in the room. The nightstand could be a bookcase or small cabinet to give you additional storage as well as style.

Once you get all the major pieces in place, then you can add some inexpensive art. Frame some inexpensive photos or postcards or even pieces of cool scrapbook paper. Do enough (maybe 5 in a line above the bed)to have visual impact and take the place of a headboard.

Love your bedding! Do you have an accent color in mind?
---
| | | |
| --- | --- | --- |
| RE: help decorating new/smallish bedroom | | |
Just a follow up to some things that I totally forgot.

I just moved 3 weeks ago and gave birth a week before that so excuse the mess/lack of stuff in my room :p

I do have a dust ruffle but its still packed somewhere so yes my bed looks crappy right now haha.

I do have a flat screen for this room, the old crappy one is temporary so that will definitely help!

Thanks for the tips on paint but unfortunately I rent so I'm stuck with the white walls :(

les - yes it was my wedding present from my grandparents, gorgeous bedding! I havent picked the accent color yet but I was thinking maybe red since red, black and white were our wedding colors..but blue or purple work as well.

Thanks again to everyone
---
| | | |
| --- | --- | --- |
| RE: help decorating new/smallish bedroom | | |
I also like the bedding, but not in that room. The spread and sheets are making most of the room black, which makes the room appear smaller.

I like the idea of an iron headboard but I'd use lighter bedding. Congrats on the new baby!
---
| | | |
| --- | --- | --- |
| RE: help decorating new/smallish bedroom | | |
I think the biggest change you could make is adding drapery panels to the window. I would put up a set of grommot top panels. There are not a lot lot of choices when black is involved, but here is the idea. (And remember, you want the panels to go all the way to the floor, well, within a half inch of the floor.)
Here is a link that might be useful: Grommot top drapery panels
---
Post a Follow-Up
Please Note: Only registered members are able to post messages to this forum.
If you are a member, please log in.
If you aren't yet a member, join now!
---
Return to the Home Decorating & Design Forum
Information about Posting
You must be logged in to post a message. Once you are logged in, a posting window will appear at the bottom of the messages. If you are not a member, please register for an account.
Please review our Rules of Play before posting.
Posting is a two-step process. Once you have composed your message, you will be taken to the preview page. You will then have a chance to review your post, make changes and upload photos.
After posting your message, you may need to refresh the forum page in order to see it.
Before posting copyrighted material, please read about Copyright and Fair Use.
We have a strict no-advertising policy!
If you would like to practice posting or uploading photos, please visit our Test forum.
If you need assistance, please Contact Us and we will be happy to help.

Learn more about in-text links on this page here