Return to the Home Decorating & Design Forum
|
Post a Follow-Up
---
| | | |
| --- | --- | --- |
| Blank slate, small guest room | | |
Posted by
jane__ny
(
My Page
) on
Mon, Jul 14, 14 at 19:42
Our son finally found a place and we now have an empty bedroom. We moved into this house a year ago and it is so difficult to decorate.

I want to use it as a guest room and small office. I need somewhere to put my computer and files.
The room is small. White/grey porcelain tiles.
I purchased a day bed with trundle. Notice the long, narrow window in the middle of the wall. Goes to the floor. Then the short window on the long way.

Room measures 11x11

I love greys, pale blues, white. I wish there was a way to put a headboard on the day bed but there isn't.

There's not much room, but I'm hoping to find a way to make it feel comfortable and not cluttered.

Any suggestions would be really appreciated.

Jane

Looking into the room from hallway. The wall with the bed is 11ft

Wall between entry door and closet door. Measures 80"

Short wall. Measures 8ft to the door opening. The bed could fit against that wall?

Jane
---
Follow-Up Postings:
| | | |
| --- | --- | --- |
| RE: Blank slate, small guest room | | |
First thing I"d do is get bottom-up/top-down blinds for the tall window for privacy for guests. It they're also top-down, they guest can lower the blinds from the top to let light and air in but still have privacy.

I'd move the TV to the wall facing the bed, next to the closet, for easier viewing. This is very easy to do. Just get some white coaxial cable and run it along the inside of the wood trim, clipping it along the way with white clips, up over the door, etc. You also don't want a TV facing a window because of glare.

Slim dresser for the wall where the TV is now.

Paint the room in your gray or blue. Nice 8X10 rug.
---
| | | |
| --- | --- | --- |
| RE: Blank slate, small guest room | | |
Could you draw a measured floorplan?

I think if you are going to use this for an office the desk space is the primary concern and the bed position is secondary.
---
| | | |
| --- | --- | --- |
| RE: Blank slate, small guest room | | |
Oops, forgot the office/computer part. If you can put some kind of small dresser in the closet for guests, and put a desk with file drawers under the surface of the desk on the wall where the TV is now, and put up open shelving above the desk for work stuff.
---
| | | |
| --- | --- | --- |
| RE: Blank slate, small guest room | | |
If it were my future guest room, I'd look for a long set of wood shelves to put on that closet wall, using one of the shelves for the TV. Leave a few shelves empty for your guests' things. I love Tibbrix's idea of the bottom up/top down blinds for the windows. The guest rooms we stayed in last week had those and it was so incredibly convenient to have the privacy to change or rest while still keeping part of the view. Agree also about a nice rug. If nothing else, use the table the tv is on now for a nightstand. One on each end of the bed would be even better, if space allowed. Add a tall-enough-to-read-by lamp with a 3-way bulb socket. I'd buy a long, low dresser for the wall the tv is on presently, with a nice-sized mirror above it. I wouldn't put a bed on a wall that backs up to a hallway, in order to keep sounds to a minimum.
Lynn
---
| | | |
| --- | --- | --- |
| RE: Blank slate, small guest room | | |
Another floor plan:

Put the bed along the wall the TV is on now. This would be better as far as the wall with the high window would act as a headboard, which helps keep pillows on the bed when sleeping.

Get an articulating arm mount for the TV, and put it on the all to the right of the tall window. This should be very easy to do as it is an outside wall.

Dresser on the wall next to the closet.

And something like this for your office, in the corner between the wall with the tall window and the wall with the high window.
---
| | | |
| --- | --- | --- |
| RE: Blank slate, small guest room | | |
And Lynninnewmexico makes a really good point about having lighting for reading in bed.
---
| | | |
| --- | --- | --- |
| . . ooops, I forgot the desk, too! | | |
Sorry! Instead of a long, low dresser, how about a desk with a tall, narrow dresser next to it on that same wall? Use the lower drawers for office supplies, if needed, and the upper drawers for guests clothes. Or, add more storage in the closet for your supplies.
We stayed at my brother's home this past week and their guest room was fantastic and very comfortable, although we did wish that we had a couple of drawers to put things in. We hung up some of our clothes, but for PJ's, shorts, tees, etc. we had to lay a towel down on the bed, haul up a suitcase onto it (hard with my broken hand!) , find what we needed and then close it back up and put it against a wall on the floor. That got old very quickly and I was always worrying about dinging up the walls. I am NOT crazy about living out of my suitcase!
Lynn
---
| | | |
| --- | --- | --- |
| RE: Blank slate, small guest room | | |
I agree, Lynn about living out of a suitcase.

The cable for the tv is on the wall in the pic. Would I run it around the room to the tall window? I like the idea about the bed on the tv wall. I was thinking the same that the wall would keep the pillows from falling off. I need to be able to open the bed to sleep two people. So that would interfere with the long wall (short window).

I need to get a small desk (love the corner desk Tibbrex posted). Not sure whether I could pull the bed open.

I just had company for two weeks. They had to stay elsewhere because I didn't have the bed yet. Just bought it.

My son left his winter clothes (we live in Florida) in the closet. All of that will have to go. It will give space for guests to use. The closet has drawers and room for a clothes and possibly my office supplies.

I love the idea of a top down shade. That window faces West and gets blasted with Florida sun from 1pm till dark. The blinds on the window are wood blinds.

Maybe I could get a small dresser or cabinet to put some clothes in but i think I'll run into trouble opening the bed.

Closet, still full of sons 'stuff.'

I could possibly add more shelves.
Thanks so much!
Jane
---
| | | |
| --- | --- | --- |
| RE: Blank slate, small guest room | | |
Jane, I can't see any of your images so that I can comment.....
---
| | | |
| --- | --- | --- |
| RE: Blank slate, small guest room | | |
You should be able to just have a cable connection put in that wall, since it's an outside wall. That is probably the easiest route. Check with your cable company. Otherwise, you can wire a coaxial cable as far as you want. Just get enough cable. Ideally, you'd have a new connection put in, but there are alternatives.

From the pics, it LOOKED like you'd be able to pull the trundle out if needed, but, if you like that corner desk int hat spot, which I think would be nice because it would also allow you to look out the window while you're working, you can always pull the trundle out and turn it so that the beds make a T. It might even be smarter and allow both guests to more easily get out of the beds at night to use the bathroom, or whatever.
---
| | | |
| --- | --- | --- |
| RE: Blank slate, small guest room | | |
I can't believe all my pics disappeared! I use Photobucket and have a zillion photos. Last night I decided to try to organize them better and didn't realize it removed the photos.

Tibbrix, thanks for the recommendation. That might be a good idea about moving the beds. Hadn't thought of that. The trundle is on wheels.

I'm not sure about a large corner desk. The room is so small, I was thinking a small desk. Problem is I handle all the family finances and paperwork and I need files and room for a printer.

I do have a large lateral file cabinet which I could use against the wall between the closet and entry. I could put a TV on it. It is a dark cherry (was part of our office furniture when we worked), not sure how it would look. One drawer could be emptied for guests clothes.

The room measures 11x11.

I'll repost a couple of pics.

Thanks,
Jane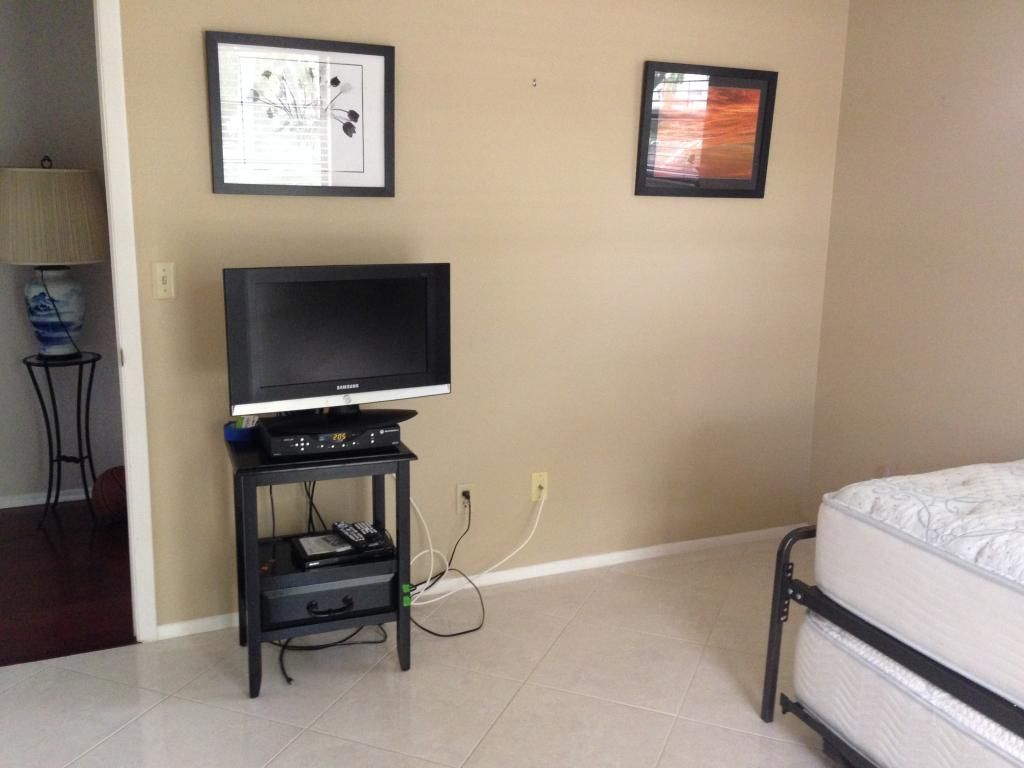 Wall on other side, between closet and entry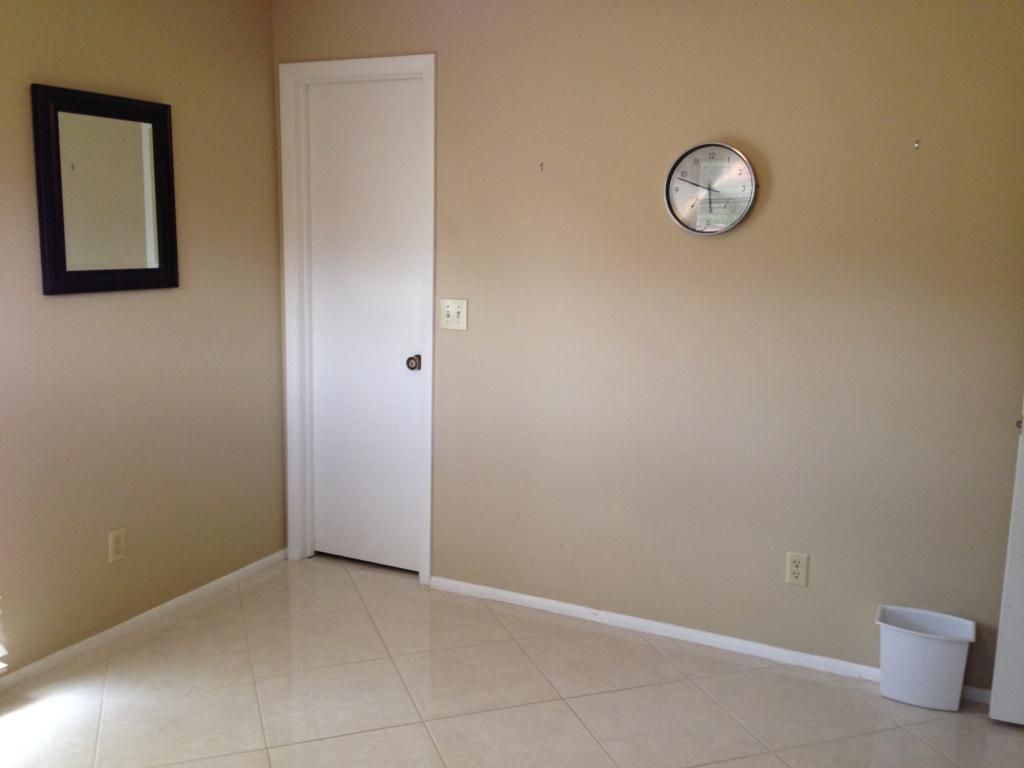 The long wall is 11 ft. Day bed does not have a headboard. The black thing is a tv.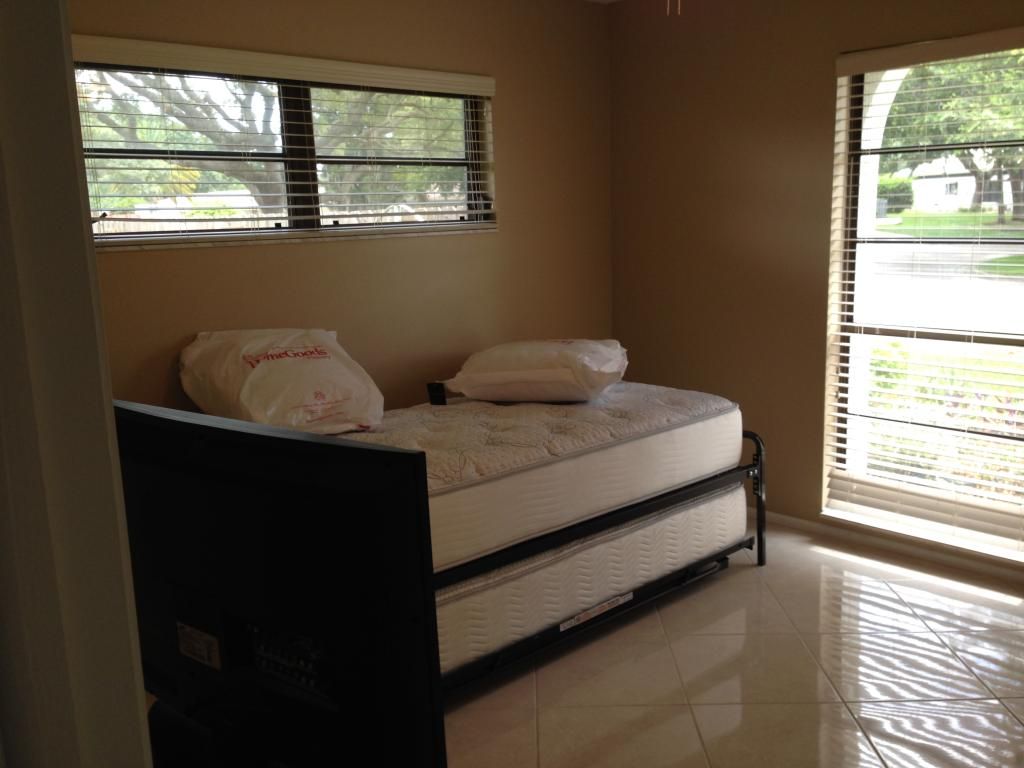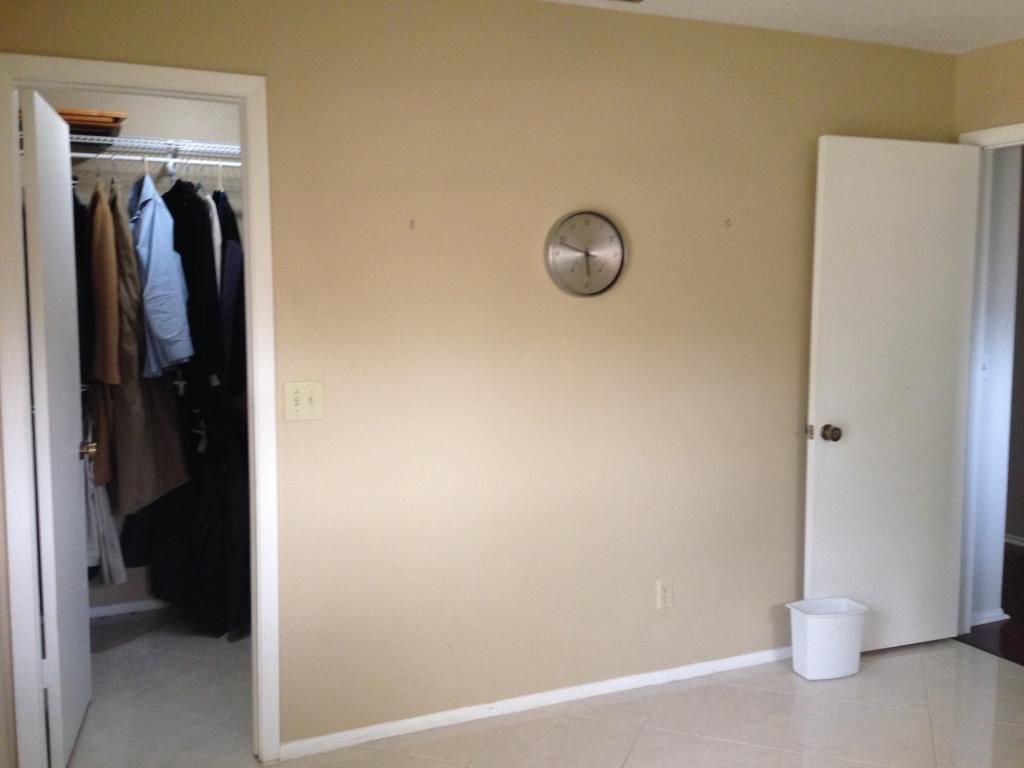 ---
| | | |
| --- | --- | --- |
| RE: Blank slate, small guest room | | |
I really like the idea of using that corner for a desk because it's a really good use of what would otherwise be unused space. It doesn't have to be a large corner desk like the one in the pic I posted. But you can install open shelving above it. Something like this, with maybe a lockable file cabinet to the left, or even to the right in front of the window. You do want to be able to pull the trundle out enough to turn the end of it then pull it straight out. And when you need both beds, it looks like the second could go against the wall between the entry door and the closet door, or even on the wall between the window and the closet, since the closet door opens inward, so long as there is some room to maneuver into the closet.
---
Post a Follow-Up
Please Note: Only registered members are able to post messages to this forum.
If you are a member, please log in.
If you aren't yet a member, join now!
---
Return to the Home Decorating & Design Forum
Information about Posting
You must be logged in to post a message. Once you are logged in, a posting window will appear at the bottom of the messages. If you are not a member, please register for an account.
Please review our Rules of Play before posting.
Posting is a two-step process. Once you have composed your message, you will be taken to the preview page. You will then have a chance to review your post, make changes and upload photos.
After posting your message, you may need to refresh the forum page in order to see it.
Before posting copyrighted material, please read about Copyright and Fair Use.
We have a strict no-advertising policy!
If you would like to practice posting or uploading photos, please visit our Test forum.
If you need assistance, please Contact Us and we will be happy to help.

Learn more about in-text links on this page here