Return to the Home Decorating Forum
|
Post a Follow-Up
---
| | | |
| --- | --- | --- |
| Where will I find a drapery rod that's 11 feet wide? | | |
Posted by
bac717
(
My Page
) on
Thu, Jul 8, 10 at 19:23
I found a great deal on CL for 6 lined silk panels ($20 each) to use in my LR, but now I need rods. The panels have a 2 3/4" rod pocket. Because one window is 72" wide and the other is a set of 3 windows that total 126" wide, I'd like to find something that's not too skinny. In order to accommodate the larger group of windows, the only rod at Bed, Bath and Beyond that adjusts from 88"-144" is only 1 1/8" in diameter. Will that look too skinny? Where else might I find a rod with a larger diameter that can adjust to a width of at least 132"? Thanks for your help.
---
Follow-Up Postings:
| | | |
| --- | --- | --- |
| RE: Where will I find a drapery rod that's 11 feet wide? | | |
This is why I am using a piece of PVC piping in my son's room-LOL I am not kidding, and it was cheap.
---
| | | |
| --- | --- | --- |
| RE: Where will I find a drapery rod that's 11 feet wide? | | |
I bought mine at target. I know Lowes carries them also
---
| | | |
| --- | --- | --- |
| RE: Where will I find a drapery rod that's 11 feet wide? | | |
JC Penney's has some Chris Madden rods of a nice quality and a thicker diameter in different finishes. I just did an over 19' run by putting rods together with the screw-in end connector (so you can connect two or more rods and make it all look like one long one, then you just use the finials on the end.) Not sure if they're still on sale, they were 40 or 50% off last month.
---
| | | |
| --- | --- | --- |
| RE: Where will I find a drapery rod that's 11 feet wide? | | |
I bought mine at Tuesday Morning. See below link.
Here is a link that might be useful: Curtain Rods
---
| | | |
| --- | --- | --- |
| RE: Where will I find a drapery rod that's 11 feet wide? | | |
I just dealt with this very same issue and searched everywhere. My rod needed to be about 144" and I too was concerned about the rod looking too skinny. I bought an adjustable rod from Bed, Bath and Beyond that went up to 144" and was 1 3/4 inches but it just looked too wimpy. I also found a 2" adjustable rod from Country Curtains. The diameter of this one worked but the rod is extended almost as far as it will go and it is bowing just slighty where the seams meet. (It is actually three pieces with 1 center bracket). I've decided to use a wooden rod with two 6 foot sections screwed together (and a center bracket) since it will look more solid and shouldn't bow at all. I found 2" diameter poles, connector screws and brackets at Lowes. My window has a window seat so using PVC piping or something similar wasn't an option since the panels only hang at the ends of the rod.
---
| | | |
| --- | --- | --- |
| RE: Where will I find a drapery rod that's 11 feet wide? | | |
I had wide windows in my last house (like you) and had custom drapes made and bought and used a wooden dowl that you use for a closet. And purchased wooden finals and just screwed them in on each side and they looked fabulous, I must say. You can paint them or just use them plain, but paint gives a nice finished more professional look
I paid a fortune for a drapes and practically nothing for the rods that were bought at a lumber yard.
---
| | | |
| --- | --- | --- |
| RE: Where will I find a drapery rod that's 11 feet wide? | | |
I've always used closet doweling which you can purchase from HD or Lowe's by the foot and also in the diameter of choice. I've stained it and have also painted it, depending on what room I was putting it in. I've used various things for finials by just adding a screw to the object. For brackets, you can buy wood ones in the drapery section, again, if you buy unfinished, can paint or stain. ;o)
---
| | | |
| --- | --- | --- |
| RE: Where will I find a drapery rod that's 11 feet wide? | | |
Here is a picture of something similar to what dana describes. These are two 6' wood rods, screwed together in the middle and with a bracket there so you can't even see the joint. My LR window is 110" wide so I went with the 144" worth of rod, and that lets me keep the curtains pushed away thus exposing all of the window/light to the room.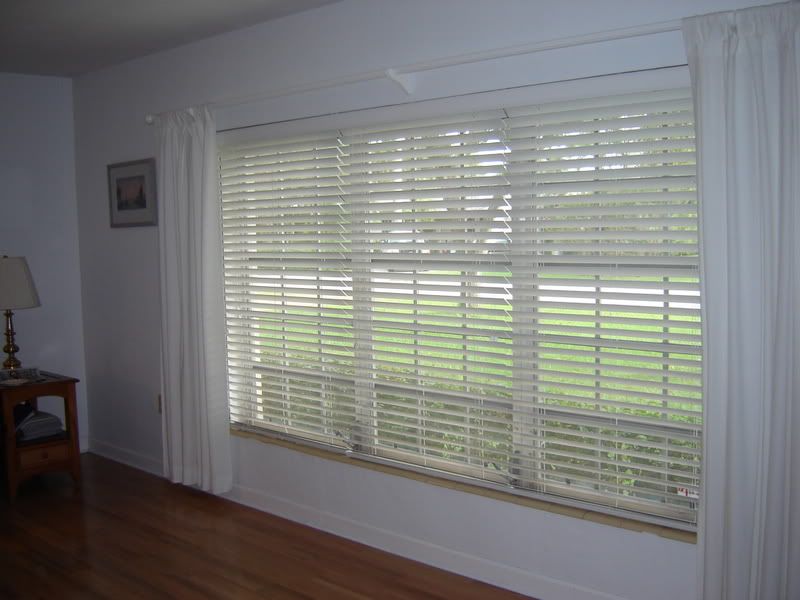 ---
| | | |
| --- | --- | --- |
| RE: Where will I find a drapery rod that's 11 feet wide? | | |
Thanks, EVERYONE, for all the suggestions! Great idea to use either closet rod or PVC. I also checked out the Chris Madden rods at Penney's, but they're not on sale now and they're only 1 1/4" in diameter. I forgot about looking at Country Curtains, so I went to their website and found something that might work. I called and they're holding 2 rods for me. I don't know if I'll get there today or tomorrow, but that's where I'm going to start on my quest for the rods! If that doesn't work, I'm going to look at closet rods. Any other suggestions will still be appreciated.
---
| | | |
| --- | --- | --- |
| RE: Where will I find a drapery rod that's 11 feet wide? | | |
I'd love to hear what you end up using. I just came back from Lowes with the pieces I found there and am going to be taking my Country Curtains rod (the Opus rod) down tomorrow. Looking at my Country Curtains rod now though, I am thinking I might be able to slide a smaller dowel inside for more rigidity so who knows how this will end up. I do like the style and diameter of the Opus rod. The closet dowels are a great idea too.
---
| | | |
| --- | --- | --- |
| RE: Where will I find a drapery rod that's 11 feet wide? | | |
I bought mine from Pottery Barn online. I got the double in bronze. They extend to 144 inches. My bedroom is 12 feet by 12 feet and I backed them off a little so I could put the caps on the ends. There is also a single rod available in the same diameters.

My front curtains are the big grommet size, and they fit on the rods nicely. I have the back sheers hung via the rod pockets. They are ceiling to floor, wall to wall on my two window walls. I will eventually add a third layer of roman shades against the window directly, to serve as insulation, but I have yet to make them.

I will link to it at the PB website.
And here is the way they look hanging in my bedroom. My DH installed very wide and plain crown molding so we could mount the rod at ceiling height. I have a new platform queen bed now, the one in the picture is gone.

Before all the panels arrived, I used the 90% shade cloth with clip rings on the back rod, and this photo shows the rod the best.

Here is a link that might be useful: PB Standard Oversized Double Rod
---
| | | |
| --- | --- | --- |
| RE: Where will I find a drapery rod that's 11 feet wide? | | |
I'm a total newbie here so I hope I'm not "hijacking" this thread as I've heard mentioned from time to time.

mocassinlanding-While I think the rod you've used looks great, on my window the diameter would be too small. My window has a window seat so there is a long expanse of wall above the window. I think the fact that you have a double rod and more than 1 layer of fabric makes the diameter less of an issue. For mine anything less than 1 3/4 just doesn't look right.

What are everyone's thoughts on the finish "blending" in with the wall as opposed to contrasting? My wall color is BM Wyndham Cream and right now the rod is a dark brown. I am wondering whether the contrast is the problem more so than the diameter.
---
| | | |
| --- | --- | --- |
| RE: Where will I find a drapery rod that's 11 feet wide? | | |
I'm hoping to find time today to drive to Country Curtains. It's almost 1 hour each way! I'm going to try the Opus rods because, so far, they're the largest diameter I've been able to find at 1 3/4". When I called the store to be sure they have what I need in stock, I asked the woman there about how many brackets are included with the rods. With the largest rod, there are only 3 brackets (one for each end and one for the center). She said they include only one for the center so that you can close the drapes. However, I'm planning to use only panels at each side, so I then asked about purchasing additional brackets. I'm hoping to use a total of 4, one at each end and then two spaced evenly across the middle. Maybe that's all you need to do, dana g.
---
| | | |
| --- | --- | --- |
| RE: Where will I find a drapery rod that's 11 feet wide? | | |
I am fortunate to be within about twenty minutes of a store. We just took the Opus rod down a little while ago and I think the bowing in retrospect was from the brackets not being installed at exactly the same height-they were a little off. So if they won't let you buy an extra bracket you might still be OK. (Unless 4 was just the look you were going for anyway.) Unfortunately, my husband, who NEVER has a decorating opinion, really didn't like the different diameters on each section of the rod. We tested out the Lowes rod (2 six foot sections, 1 3/4 diameter) and will be trying that after I patch all the holes we already made!
---
| | | |
| --- | --- | --- |
| RE: Where will I find a drapery rod that's 11 feet wide? | | |
Made the trip to Country Curtains today and have the rods now, but no time until Monday at the earliest to even begin to give them a try. I asked about the 4th bracket and they came up with an extra one for me -- at no charge. I sure hope these work, altho, I am concerned about the different diameters in the rod as it is extended. Time will tell. And hopefully, I have a report soon.

dana g -- keep us posted on your progress, too. Thanks. Oh, and I'm wondering, what do you plan to use for brackets and finials with the rods from Lowes?
---
| | | |
| --- | --- | --- |
| RE: Where will I find a drapery rod that's 11 feet wide? | | |
Well, the holes are patched and painted now so I'm ready to try the rod from Lowes. The Allen and Roth brand at Lowes has 6 and 8 foot sections (maybe even 4) that come in 1 3/4 in diameter. The poles come in smooth or fluted and in Walnut, Black, Mahogany and I think white finishes. They also have coordinated finials (different styles), rings, brackets, etc. They also have two inch diameter rods in a twisted design but the finials were a little too ornate for my taste. The finishes on the rods I bought don't thrill me but I went with walnut and might try to lighten it up a bit somehow. Did you have a chance to try the Opus rod from Country Curtains??
---
| | | |
| --- | --- | --- |
| RE: Where will I find a drapery rod that's 11 feet wide? | | |
Hi dana g, all I've done so far is take one of the rods out of the box! At first, I thought there was a problem with the rod because it extended only 24". I called the store and the woman I spoke with told me that BOTH ends extend. I felt so silly, but I think this will work in my favor to disguise the slight difference in the diameter of the rod as it is extended. The panels on either side will probably cover the extension, with only the center portion showing. We'll see. This is going to be a long, slow process for me. Tomorrow I hope to remove the existing window treatments and patch the holes left from them. After that, I can hang the poles. Then the panels will need some slight alterations.

I thought you were using actual closet rods, but instead Lowes has drapery rods in the larger diameter. And it's nice to have all the options with the finials, rings and brackets. Good luck with your project. If I fail with the Opus rods, I'll be looking at Lowes, too. Isn't amazing how what seems like such a simple project can be so complicated? Please post pictures of your window when it's complete.
---
| | | |
| --- | --- | --- |
| RE: Where will I find a drapery rod that's 11 feet wide? | | |
Here are a couple of others:
http://thecurtainrodshop.com/
http://www.elegantcurtainrods.com/store/home.asp
---
Post a Follow-Up
Please Note: Only registered members are able to post messages to this forum.
If you are a member, please log in.
If you aren't yet a member, join now!
---
Return to the Home Decorating Forum
Information about Posting
You must be logged in to post a message. Once you are logged in, a posting window will appear at the bottom of the messages. If you are not a member, please register for an account.
Please review our Rules of Play before posting.
Posting is a two-step process. Once you have composed your message, you will be taken to the preview page. You will then have a chance to review your post, make changes and upload photos.
After posting your message, you may need to refresh the forum page in order to see it.
Before posting copyrighted material, please read about Copyright and Fair Use.
We have a strict no-advertising policy!
If you would like to practice posting or uploading photos, please visit our Test forum.
If you need assistance, please Contact Us and we will be happy to help.

Learn more about in-text links on this page here