Return to the Home Decorating & Design Forum
|
Post a Follow-Up
---
| | | |
| --- | --- | --- |
| Is this artwork to small | | |
Posted by
dinobambino
(
My Page
) on
Tue, Jul 29, 14 at 18:50
Is this artwork to small for this wall. I have the same piece in 1 1/2 x the size. Should I use this one or hang the bigger one?
---
Follow-Up Postings:
| | | |
| --- | --- | --- |
| RE: Is this artwork to small | | |
Yes. Way too small. How about hanging that on the front-facing wall at the landing of the stairs? Or, move it to the left or right a bit and hang a couple of other pieces there, not centered.
---
| | | |
| --- | --- | --- |
| RE: Is this artwork to small | | |
Honestly, I think the table is too small for any art you center over it.
---
| | | |
| --- | --- | --- |
| RE: Is this artwork to small | | |
Oaktonmom took the words out of my mouth. If you had a longer console type table, you could offset the art a bit and use a vase or something high on the table. It isn't too small for the wall....
---
| | | |
| --- | --- | --- |
| RE: Is this artwork to small | | |
I agree with Tibbrix, hang a few accent pieces next to it and it will balance much better.
---
| | | |
| --- | --- | --- |
| RE: Is this artwork too small | | |
| | | |
| --- | --- | --- |
| RE: Is this artwork to small | | |
Ah, molto bene!

and yes, hang the other one on the wall of the stairs landing.
---
| | | |
| --- | --- | --- |
| RE: Is this artwork to small | | |
Do you think I should hang the same print in a smaller size on the landing or get something else that coordinates with it? would it look wrong to have the same art in 2 different areas?
---
| | | |
| --- | --- | --- |
| RE: Is this artwork to small | | |
They're not the same, but they compliment each other. It think it would look good.
---
| | | |
| --- | --- | --- |
| RE: Is this artwork to small | | |
Why, though, do I think the big one needs to be a tad lower?
---
| | | |
| --- | --- | --- |
| RE: Is this artwork to small | | |
Maybe the tiny table is affecting the perception of the height of the art?

Love your wall color, by the way.
---
| | | |
| --- | --- | --- |
| RE: Is this artwork to small | | |
tibbrix.. I think you're right. I will try the artwork on the landing. How much should I lower the bigger piece.

Unfortunately, I don't think I could use a bigger table in that space because of the door. I like having the extra seating there for meeting/ball games, etc. and also wanted to keep my chairs and use them somewhere.

Thanks Raee...Thanks for mentioning the paint color. It was just painted yesterday and I'm still getting use to it. It was gold for a lot of years.
This post was edited by dinobambino on Tue, Jul 29, 14 at 20:17
---
| | | |
| --- | --- | --- |
| 2nd piece hung | | |
Photo of the 2nd piece on landing.

It's getting dark now and there's a reflection in the glass from the light so I know it's not the best photo.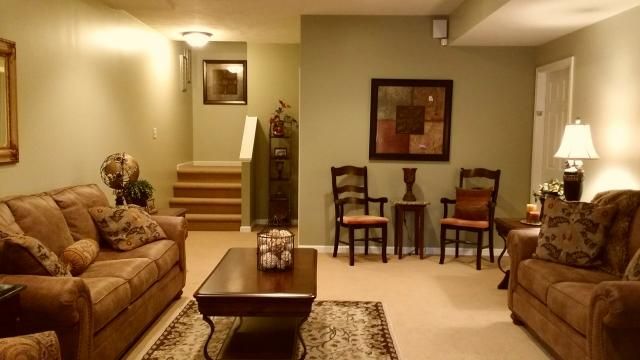 ---
| | | |
| --- | --- | --- |
| RE: Is this artwork to small | | |
Lower the large one about two inches and put that vase somewhere else. Go to HomeGoods and get a vase with fake flowers for that table that aren't as tall as that vase, like a round bouquet instead of tall.

Lower the painting on the stairs landing about 3 inches. they actually look really good, with the big one in front and its sister piece diagonally to the back.
---
| | | |
| --- | --- | --- |
| RE: Is this artwork to small | | |
Thank you Tibbrix. I really appreciate your help.
---
| | | |
| --- | --- | --- |
| RE: Is this artwork to small | | |
Yw. I love the way they look, one in front of the other! Lol. Kismet.
---
| | | |
| --- | --- | --- |
| RE: Is this artwork to small | | |
Since the table is very small and not round, I would push the chairs back to the wall instead of having them pulled together like that. A shorter vase( in a different color or glass) with flowers would look very nice there.
---
| | | |
| --- | --- | --- |
| RE: Is this artwork to small | | |
That looks like a lamp on the table not a vase. Perhaps try the flower arrangement that is on the near by side table to get a feel to see how that might work.
Do you need the little lamp on the table? Or an arrangement of candles.

I like the art work as you have it now too. Very pretty room. I also like the paint color.
---
| | | |
| --- | --- | --- |
| RE: Is this artwork to small | | |
The room is a little static in shape, texture, and color. I think most of it is that you are suffering from the twosies--I suffer from it too. I furnished my LR about 8 years ago and now when I look at it, I see two of everything--two matching chairs, two matching pillows on the sofa, two matching pillows on the chairs, two matching prints over the sofa, two matching lamps, two similar end tables. I sent my sister on the opposite coast a photo, which prompted her to ask if anyone lived there. hehe

Now that you're introducing art into the room, it's your opportunity to mix it up a bit. The large square print over the chair arrangement repeats the large square print over the loveseat repeats the square print in the stairwell. I see a square/rectangular print over the sofa too, and judging by the height of the frame and where the edge starts over the sofa, I'll bet it's a square too. Then the subject of those new prints repeats the square. So there's no surprises in the room and nowhere for my eye to linger. One of the things that interests me as an art piece is that globe--reminds me of going to the World's Fair in NY as a kid, but also brings in a different shape and texture with the open metalwork. So I would do a grouping over the chairs or the sofa/loveseat or a bolder art piece that doesn't look like it's been selected to color match the items in the room. And make a few other small changes.
This post was edited by may_flowers on Wed, Jul 30, 14 at 10:15
---
| | | |
| --- | --- | --- |
| RE: Is this artwork to small | | |
Thanks everyone. I'm loving all the advice and agree with most of what has been advised.

This room is a work in progress. I will slow down now and take my time finding the right pieces and artwork. My problem is I can't stand things unfinished. So I rush around looking for things to fit. It's a least livable to me now and I will continue to make changes as I find things I love.

The piece on the small table is a lamp. I love turning that lamp on at night. I think it looks very pretty but I do agree it may look better somewhere else. I have looked everywhere in my house and can not find a home for it yet. I'm thinking after we do the cabinets and counter top behind the bar, I may find it a new home.

I took advice from the board and tried a different piece on the table. Here's what we have:

photo of lamp: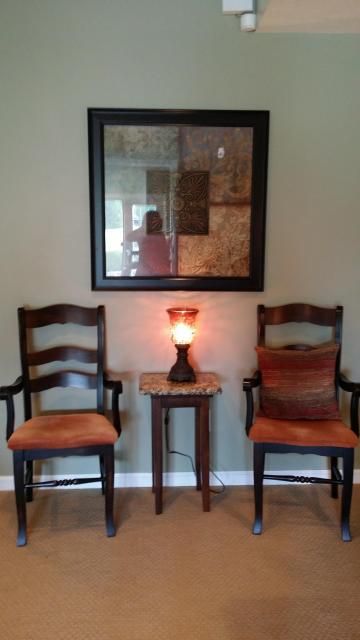 I think I do like the look of this new piece on the table but now not sure what to put on the end table that I took it from. I don't think I want more flower arrangements in the room. Any ideas???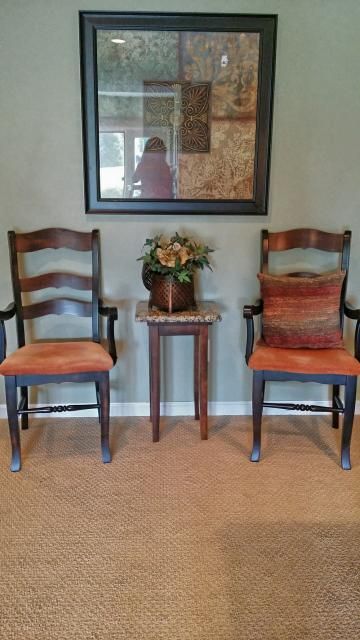 This is where I took the piece from and how it looked:
What should I do on this end table?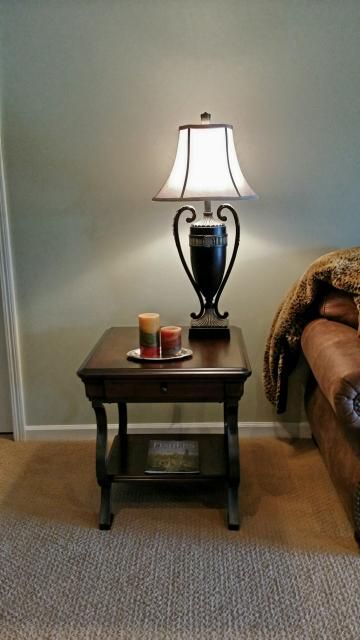 ---
| | | |
| --- | --- | --- |
| RE: Is this artwork to small | | |
I like the plant better on the end table.

For the little table, how about a glass bowl with decorative glass balls or something from Pier One sort of stuff in it? Or maybe a grass rather than flowers?
---
| | | |
| --- | --- | --- |
| RE: Is this artwork to small | | |
I moved the plant back to the end table. I will look and wait to find the perfect piece for the table.

Thanks so much Tibbrix. Love this board for advice!
---
| | | |
| --- | --- | --- |
| RE: Is this artwork to small | | |
What is the table's purpose, or does it have one? It is not large enough, it does not appear, to hold a game, a plate or a cup and saucer for one or two persons. If it has no purpose, abandon the table and just place the chairs there. If you need a lamp and art there, pull the chairs off to the side, and make it asymmetrical, or you can sort of place the chairs facing one another without the table, about a foot or so apart and keep the artwork in the center or get something huge. You obviously feel this does not work; otherwise, you would not have asked. Follow your heart. Follow your instincts and ignore anything I said heretofore.
This post was edited by patricia43 on Wed, Jul 30, 14 at 12:50
---
| | | |
| --- | --- | --- |
| RE: Is this artwork to small | | |
Yes, the table has a granite top on it and it's just big enough to sit a couple of glasses or tea cups while sitting in the chairs. The table is always used when someone sits in this spot.

It may not be perfect asthetically, but it really is a practical piece that gets used often.
---
| | | |
| --- | --- | --- |
| RE: Is this artwork to small | | |
tibbrix..

you're house is so peaceful and charming. I especially love how you've made it so serene with little distractions from too much stuff. I'm hoping to get there someday. I've started now. Constantly going through stuff and ony keeping the things I use now.
---
| | | |
| --- | --- | --- |
| RE: Is this artwork to small | | |
dino, I rent my house to vacationers/visitors, so I can't have all kinds of stuff around. I have to balance between making it my home and making it rentable and so tenants won't tear it to shreds.

Not too happy with my paint colors. Just repainted the master BR. Going back to BM. That is Sherwin Williams Languid, which looked gorgeous in pics an on my samples I had on the wall for a couple of weeks, but it came out so technicolor! Although, it's gorgeous at night.

Also changing the DR paint color this fall, and possibly the LR. DR is not as dark as it looks in the pic.
---
| | | |
| --- | --- | --- |
| RE: Is this artwork to small | | |
mayflowers..I like your idea of new art above the love seat. Will keep my eyes open for something that I love.

If anyone one has suggestions, I'd welcome the ideas.
---
| | | |
| --- | --- | --- |
| RE: Is this artwork to small | | |
tibbrex...Wow, can't believe that's your vacation home. Can't imagine what your home looks like. Great job! Where is your vacation home located? Looks like a lovely place to stay.
---
| | | |
| --- | --- | --- |
| RE: Is this artwork to small | | |
Dino, it's not my vacation home. It's my residence, one and only.

But it's on Cape Cod, so I rent it out. That's why I'm on here so much right now. It's occupied by vacationers, and I"m off Cape just twiddling my thumbs all summer (full occupancy). That place keeps me busy, esp. fall and spring. Winter,not so much! And I bring dogs down there in the off season, and they LOVE it there. We have a blast in the field and at the pond and in front of a fire in winter!

Lol.
---
| | | |
| --- | --- | --- |
| RE: Is this artwork to small | | |
If that table is used, then keep it. Another thought is that you might be able to pick up a larger piece of granite; therefore making it larger. Sometimes granite yards will have scraps for little of nothing, almost a giveaway. Then you would have a larger surface and you could get a taller lamp. I know granite is heavy but your table looks plenty sturdy.
---
| | | |
| --- | --- | --- |
| RE: Is this artwork to small | | |
patricia...Good idea. I could make it some bigger but not a lot. We're finishing our bar area in the same room soon and will be adding a granite counter top. So at that time I will look at using some remnants of our granite or something else I see at the time. Thanks for the suggestion.
---
| | | |
| --- | --- | --- |
| RE: Is this artwork to small | | |
Dino, your room is very pretty. I think it could use a few antique pieces to give it charm. I just think that a few antiques in a room makes it seem as though not everything came from a furniture store.

You could look for tables, chests, artwork, baskets, trays, china plates as wall art. Any of those items would really help to add warmth and charm. No need to overdo it though.

Good luck with your search, it will be fun. I am anxious to see it all come together.
---
| | | |
| --- | --- | --- |
| RE: Is this artwork to small | | |
Thanks Holly,

It is still a work in progress. We are in process of picking out cabinets and granite for the bar area and then we will build a cabinet for the bigger tv in the corner.

Also Tibbrex... If I ever make it to Cape Cod, I want to stay in your house. Beautiful!

Here's one more photo of the rest of the room before the cabinetry.
---
| | | |
| --- | --- | --- |
| RE: Is this artwork to small | | |
See, now that last photo gives the room an entirely different look and feel.

I know you didn't ask this, so bear with me while I put my two unsolicited cents in.

The only issue I see with your living room, which looks very inviting, btw, is with the sofas crammed up against the walls. Hellooooo, the Doctor Will See You Now!

I say go for the L!

Move the loveseat so that it forms an L with the sofa, with the loveseat facing your kitchen area.

Next, one of the best inventions: get an articulating TV mount and mount the TV on wall where the painting is now over the loveseat.

Put the single chair at an angle where the TV is now, but pulled forward a bit.

Keep the end table in the corner between the loveseat and sofa, where they meet.

Put floating shelving up under the TV, now mounted on the wall, to hold the various components.

I think you'll find it more conducive to gatherings, conversation, TV watching, etc.
---
| | | |
| --- | --- | --- |
| RE: Is this artwork to small | | |
tibbrex...I've tried the L shape and it doesn't work for us because of the traffic pattern from the down stairs. I also don't care seeing the back of the couch as I come down the stairs.

Thanks for the suggestion. I don't rule out anything and like to try different ideas.
---
| | | |
| --- | --- | --- |
| RE: Is this artwork to small | | |
Normally I'd go for 'bigger'. But that looks WONDERFUL!!! Just right!
---
| | | |
| --- | --- | --- |
| RE: Is this artwork to small | | |
Bummah!

Well, I think your room looks very comfortable and inviting.
---
Post a Follow-Up
Please Note: Only registered members are able to post messages to this forum.
If you are a member, please log in.
If you aren't yet a member, join now!
---
Return to the Home Decorating & Design Forum
Information about Posting
You must be logged in to post a message. Once you are logged in, a posting window will appear at the bottom of the messages. If you are not a member, please register for an account.
Please review our Rules of Play before posting.
Posting is a two-step process. Once you have composed your message, you will be taken to the preview page. You will then have a chance to review your post, make changes and upload photos.
After posting your message, you may need to refresh the forum page in order to see it.
Before posting copyrighted material, please read about Copyright and Fair Use.
We have a strict no-advertising policy!
If you would like to practice posting or uploading photos, please visit our Test forum.
If you need assistance, please Contact Us and we will be happy to help.

Learn more about in-text links on this page here