Return to the Home Decorating & Design Forum
|
Post a Follow-Up
---
| | | |
| --- | --- | --- |
| Basement colors | | |
Posted by
mom270
(
My Page
) on
Wed, Jul 23, 14 at 16:37
Anyone have any basement colors they love? I will be doing a gut renovation of my basement for a family rec room. The room has limited natural light and will have new recessed lights in the ceiling. I don't have to tie the color to anything as floors and furniture will be new. Thanks for any suggestions.
---
Follow-Up Postings:
| | | |
| --- | --- | --- |
| RE: Basement colors | | |
We have BM Blanched Almond in our basement with White Dove woodwork. I'd take a pic but it is currently a storage room until DD moves out in a couple of weeks.
---
| | | |
| --- | --- | --- |
| RE: Basement colors | | |
My exercise room is in Palladian blue.

I have this thing that, just because it's downstairs, doesn't mean it has to be brown (tan, beige, etc.)
---
| | | |
| --- | --- | --- |
| RE: Basement colors | | |
Thanks Annie. I am drawn to blues, grays and blue-grays but do wonder if these cold colors are not a good idea for a cold space.
---
| | | |
| --- | --- | --- |
| RE: Basement colors | | |
We have Hale Navy on almost all the walls in our basement, the exceptions being the exercise room, which is a nice deep old red, and the bathroom, which is a medium green. My husband really likes the navy. I like the color, but don't love it for the space. It works very well with our decor, but it's not a warm, cozy feeling like I now wish we had. Our ceilings are FB Old White and we have a medium brown walnut wood floor in most areas.
---
| | | |
| --- | --- | --- |
| RE: Basement colors | | |
Our basement has no natural light. We chose to embrace the darkness and painted the walls Sherwin Williams Expressive Plum. It's darker than it looks in this pic -- the flash makes it look kind of garish, but in reality, it's a deep purple that reminds me of the inside of an old movie theater. We actually left the ceiling open and spray painted it (along with the ducts/wires/pipes/etc) a very dark brown, almost black, and used that same dark brown for the trim. With enough can lights, it is plenty bright down there for kids to play, but when it's movie-watching time, we get that cozy theater vibe.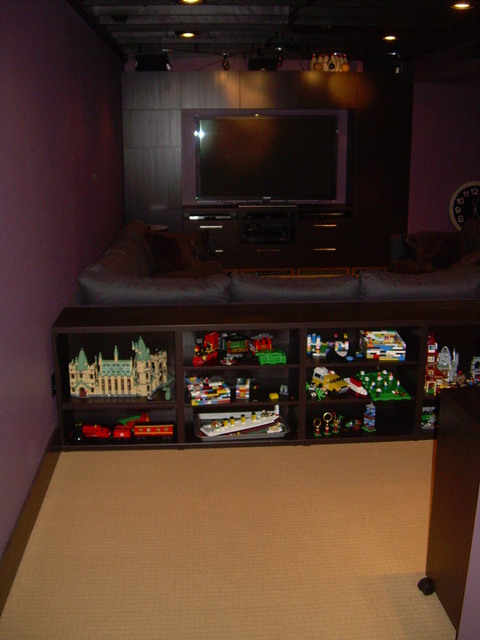 ---
| | | |
| --- | --- | --- |
| RE: Basement colors | | |
We too have a traditional basement with limited natural light. The solution to using color is to have ample lighting. In ours, we have many canisters in banks of 3 or 4 on a dimmer, sconces, pendants and table lamps. This lets us modify the light according to need.

The basic wall/ceiling color is white but dark accents define areas withing a great-room concept.

Don't be afraid to be bold. Good luck.
Here is a link that might be useful: Our Basement
---
| | | |
| --- | --- | --- |
| RE: Basement colors | | |
We have a basement with limited light that we just finished renovating. We used Benjamin Moores Albescience on the walls, a lovely luminous beige, and Sherwin Williams' Ivory Lace for the trim. Ivory Lace is as cementish grayish a white as we could go with the Albescience. The ceilings are "ceiling white" with 8 oz of albescience added per gallon.

The effect is light, but warm and cozy. We have used a lot of color in furnishings and accessories. Ivory Lace is on the crown molding in the picture below; there is a lot more of the trim color on the built-in fireplace wall and again on the exterior lap siding on one of the walls in the front room.
This post was edited by kswl on Sat, Jul 26, 14 at 7:02
---
Post a Follow-Up
Please Note: Only registered members are able to post messages to this forum.
If you are a member, please log in.
If you aren't yet a member, join now!
---
Return to the Home Decorating & Design Forum
Information about Posting
You must be logged in to post a message. Once you are logged in, a posting window will appear at the bottom of the messages. If you are not a member, please register for an account.
Please review our Rules of Play before posting.
Posting is a two-step process. Once you have composed your message, you will be taken to the preview page. You will then have a chance to review your post, make changes and upload photos.
After posting your message, you may need to refresh the forum page in order to see it.
Before posting copyrighted material, please read about Copyright and Fair Use.
We have a strict no-advertising policy!
If you would like to practice posting or uploading photos, please visit our Test forum.
If you need assistance, please Contact Us and we will be happy to help.

Learn more about in-text links on this page here