Return to the Home Decorating Forum
|
Post a Follow-Up
---
| | | |
| --- | --- | --- |
| Best metallic paints & colors for re-doing lamps? | | |
Posted by
dilettante
(
My Page
) on
Mon, Jul 19, 10 at 16:10
I posted this in the Paint forum last week and didn't attract any interest, so I decided to try here.

I have two metal floor lamps that I'm planning to re-paint with a metallic finish. Both are made of steel and have a small amount of rust. The lamps aren't valuable, but they have nice shapes. One is a vintage lamp, probably from the '40's, that has a fluted column and an ornate base, and the other is more modern. If it weren't for the rust, I'd leave them as is, but I really have to do something to make them presentable.

I thought I'd paint the older one a mid-tone bronze (not ORB) and the modern one a satin nickel. I was thinking of using a spray paint but I don't mind using a brush-on. Is there a preferred brand for metallic paint? The stores around here carry Krylon and Rust-oleum. Both companies have several lines of metallic paints, which I find very confusing. I called Rustoleum and the person I spoke to wasn't at all helpful in sorting them out.

Any recommendations for specific paint colors? The color choices are completely different in the various lines. Somehow I don't trust the accuracy of the colors on the plastic caps on the paint cans, and neither the Krylon nor the Rust-oleum site has real-life photos of their metallic paints.

For the vintage lamp, I was thinking of using one of the following:

* Rust-oleum American Accents "Classic Bronze"
* Rust-oleum Metallic "Burnished Brass"
* Krylon Premium "Gilded Brass"

and for the modern lamp:

* Rustoleum American Accents Designer Metallic "Satin Nickel"
* Rustoleum Stops Rust Metallic "Matte Nickel"
* Krylon Premium Metallic "Sterling Silver"
* Krylon Brushed Metallic "Satin Nickel"

Has anyone here used any of these colors? How did they turn out?

Finally, what primer should I use? I'm not really changing the orginal colors of the lamps, but I have to do something about the rust. Should I use a black or dark primer for the bronze lamp?

Thanks!
---
Follow-Up Postings:
| | | |
| --- | --- | --- |
| RE: Best metallic paints & colors for re-doing lamps? | | |
We used a 'Hammered Bronze' paint on some plastic flower pots and it was SO BEAUTIFUL! Really, really nice -- a gorgeous, semi-smooth (hammered-looking) metallic finish in a rich deep brownish-bronze color. I'd use it again in a heartbeat. I think it was Rustoleum, but might have been Krylon. According to Hubby, they're both good --
---
| | | |
| --- | --- | --- |
| RE: Best metallic paints & colors for re-doing lamps? | | |
There is a no-prep metallic spray, and I think it's Krylon.

If you go to Michael's (or a similar craft/art store) they sell the smaller cans of spray and carry the metallics you may be looking for. It's a little more creativity-inducing than a big-box store. They even sell the small tubes of no-prep metallic paint as another option.
And, you're right, do not trust the color of the cap! You will have to break down and buy a couple of samples.
As for the rust on the lamps, you may be able to just do a light sanding or a simple cleaning, if it is a raised surface. Or, just leave it and paint/spray right over it. Withou seeing it, can't say for sure.
---
| | | |
| --- | --- | --- |
| RE: Best metallic paints & colors for re-doing lamps? | | |
Rustoleum makes a primer for rusted metal, called "Rusty metal primer" or some other very obvious thing. I think it's black. I would still sand off as much as you can. I've used the Krylon satin nickel, and it turned out great. I've found that cap color is actually pretty accurate to what's in the can, but if you're really particular about an exact shade, I'd just buy a can of each so you can test them all.
---
| | | |
| --- | --- | --- |
| RE: Best metallic paints & colors for re-doing lamps? | | |
Another vote for Rustoleum hammered bronze. DD had metal shelves in her bathroom and of course they rusted from the moisture. Just wiped them down and used the hammered bronze. They are beautiful. Try it. You won't be sorry.
---
| | | |
| --- | --- | --- |
| RE: Best metallic paints & colors for re-doing lamps? | | |
Thanks for the suggestions. I will definitely sand off the rust. It's not too bad, but it's the main reason for painting, so I don't want it to ruin the job.

I never thought of going to a craft store to look for paint. Great idea, especially for the vintage lamp, since none of the colors I've seen so far seems exactly right. I'll also get a can of the Rustoleum "Hammered Bronze" to test because it got 2 recommendations here and has good reviews on Amazon. It may be a little too dark, though, so I'll probably test at least one other color.

There doesn't seem to be as much variation in the nickel shades, so I think I'll go with the Rust-oleum "Stops Rust" paint in Satin Nickel because (according to Rust-oleum), you don't need to prime and it's supposed to be corrosion-resistant. The directions also say that you can paint directly over rust, which means I won't have to be a perfectionist about removing it. I'll do this lamp first because it's a simpler project and I know where it will go (my office).

Thanks again!
---
| | | |
| --- | --- | --- |
| RE: Best metallic paints & colors for re-doing lamps? | | |
When I'm taking rust off something with a lot of indentations or details, I like to use one of those brass kitchen type brushes, a pot brush, and definitely not something heavy duty like the grill cleaning wire bristle brushes.

When I was repainting the metal wrought iron outdoor chairs, I then sprayed a commercial product called CHEMPRIME or OSPHO on the metal. Problem with that, as I discovered, I'm allergic to the acids in them, and my hands swole up like boiled weiners. So be careful if you use any strong chemicals.

I've used the hammered bronze before, and it is very attractive. And it is very durable too.

Be sure to post your results with the nickle paints, haven't seen objects painted with that. Should be nice.
---
| | | |
| --- | --- | --- |
| RE: Best metallic paints & colors for re-doing lamps? | | |
A little OT, but I've never found a silver metallic spray that auctually looked like silver - most looked just gray. A silver leaf process over the paint worked well on my clawfoot tub feet but I don't remember the brand. I'll be interested to see the results of the nickle paint.
---
| | | |
| --- | --- | --- |
| RE: Best metallic paints & colors for re-doing lamps? | | |
Since the lamp is indoors, priming is not necessary, like you said, just a quick cleaning (careful not to do more damage), the no prime paint will be sufficient. Also, you can certainly buy a silver leaf if the silver sprays are not shiny enough. You can even buy a silver paint and brush that on. None of the hammered finishes are particularly shiny, but they are forgiving if you don't spray perfectly...
If you do get the silver leaf, make sure you have all the materials (leaf, size, brush & varnish), it may come as a kit, not sure.
The craft store may open up a whole new world for ya!
---
| | | |
| --- | --- | --- |
| RE: Best metallic paints & colors for re-doing lamps? | | |
I used Hammered Bronze on two chandeliers and really liked it. I actually think it almost has a dark pewter look more than a brownish look. To me, it's one of those colors that is hard to describe. Makes it interesting!
---
| | | |
| --- | --- | --- |
| RE: Best metallic paints & colors for re-doing lamps? | | |
I did 2 floor lamps that sound like yours. To clean them use PAM and steel wool. I learned this from a friend that was in the Coast Guard. They use a WD40 product and steel wool and I had the bright idea of using the PAM instead. It works like a charm and removes all rust and leaves a lovely finish w/o ruining the patina. Clean with a little soap and water and paper towels.

At Michaels they have Sophisticated Finishes. It gives a much more realistic finish than any of the spray paints will. You can feather it on and leave the lovely finish of the metal in the places where you have it intact. I have seen the lamps that are spray painted and they always look fake since the coverage is so even and complete. Oh also the SF has a wonderful silver finish that looks and is real metal. That is the other advantage of SF , it is real metal in solution, Good Luch. I can post pics of mine if you want. c
---
| | | |
| --- | --- | --- |
| RE: Best metallic paints & colors for re-doing lamps? | | |
Thanks for the tips. I don't think I want silver leaf, but I don't want just plain gray paint either. I'll have to check out the Sophisticated Finishes at Michael's. BTW, Krylon claims that their Premium Metallic paints resemble metal plating, but the colors don't look right for either of my projects.

Trailrunner, I'd love to see photos of your floor lamps. Ditto for Antiquesilver's clawfoot tub feet and any of the Hammered Bronze projects. I don't think I'd want to use Hammered Bronze alone, but it could be a good base coat under a metallic finish.

I'll try to post pictures of my lamps, but it'll probably be a few weeks before I get to them. I have a couple of other projects in the works. Priorities have a way of changing.
---
| | | |
| --- | --- | --- |
| RE: Best metallic paints & colors for re-doing lamps? | | |
Hey. It is 3 lamps ...I forgot how many we did. I didn't want to cover up the "good" metal finish. That is why I cleaned them really well first and then simply added to the beauty of the metal by feathering on the finish. I am really happy with the way it came out. The SF has a clear primer that you apply and then the metals. They are not expensive. You have way more control than with spray paint. You just use a tiny amount and a little brush. Here is a link...scroll down in my photobucket acct and you will see the lamps. If you need more details or more pics let me know I would be glad to take them . Here is one for a sample :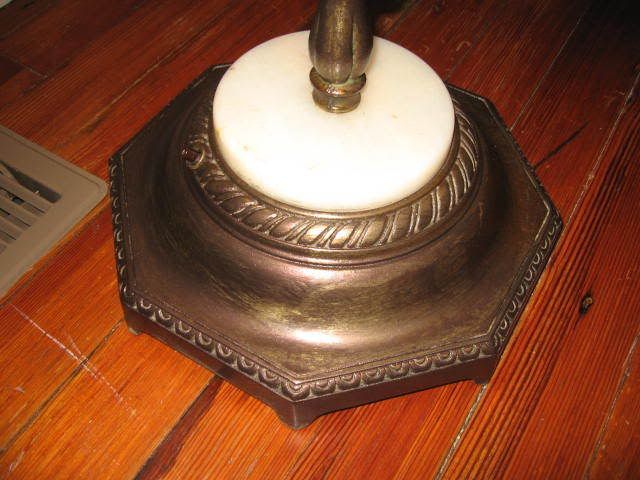 Here is a link that might be useful: pics of floor lamps
---
| | | |
| --- | --- | --- |
| RE: Best metallic paints & colors for re-doing lamps? | | |
Trailrunner, your lamp came out great! That's EXACTLY the kind of look I'd like for my antique lamp. Could you give me step-by-step instructions? Is the SF primer a spray or paint-on? How long did you wait before applying the metallic finish? (The SF site says that you have to wait 24-48 hours after using a solvent-based primer, but it doesn't say if you have to wait after using the SF acrylic primer.) What kind of brush do you use for the metallic finish? Did you apply any kind of sealer over the finish?
---
| | | |
| --- | --- | --- |
| RE: Best metallic paints & colors for re-doing lamps? | | |
Clawfoot - slightly over exposed from the flash (the travertine is really a warm pink) - spray painted with a flat gray (I think) & silver leafed with a kit from Michaels. I don't remember the brand because it was done 7-8 years ago but I didn't need to prime because the feet had been professionally painted when the tub was re-surfaced.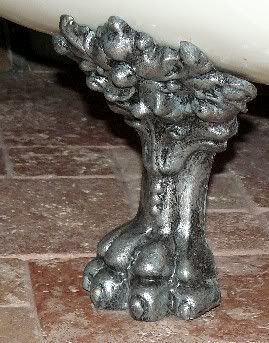 ---
| | | |
| --- | --- | --- |
| RE: Best metallic paints & colors for re-doing lamps? | | |
Antiquesilver, that's absolutely beautiful! I've never seen so much detail on a clawfoot! You did an amazing job! It looks like it's held up really well, too, if you did that 7-8 years ago. Did you use any kind of protective coating? Do you have to use any special cleaning products?
---
| | | |
| --- | --- | --- |
| RE: Best metallic paints & colors for re-doing lamps? | | |
I used SF on this old floor lamp:


Then later went back and spray painted it:


Here's what it looks like today:

---
| | | |
| --- | --- | --- |
| RE: Best metallic paints & colors for re-doing lamps? | | |
Hey just checking back. I didn't have to do anything really time consuming or special on any of the 3 lamps. I took them outside and sprayed on PAM. I then put on gloves to protect my nails and scrubbed the metal with PAM saturated steel wool...used very fine. I next used paper towels to get off the rust and oil residue. I used a spray grease cutter to get off the PAM after that. The finish was so pretty at that point so all I did was put in the milky looking primer...it dries clear and you can then coat it with the SF. I didn't wait at all. It dries very fast. I used a tiny brush like from a kid's watercolor set. The SF dries very fast also. I didn't seal it. You can use as much or as little as you want and feather the edges. Use less and then look at it and see if you want more coverage. The original metal will probably be so pretty that you might not use much so clean 1st. Good Luck. c
---
| | | |
| --- | --- | --- |
| RE: Best metallic paints & colors for re-doing lamps? | | |
Dilettante,
The kit may have included a clear spray for the top coat - franky I don't remember. To clean, I dust them with a dry paint brush & wipe down with a damp sponge but they set far enough under the tub that they don't get very dirty.
---
| | | |
| --- | --- | --- |
| Another comment | | |
I hit enter before I finished!

Nicole, I love that lamp, although, to me, it's much prettier as a torche with all the Egyptian motif exposed. I'm assuming the glass shade is original because it looks to be perfectly matched to the lamp design. But then, I'm a sucker for a torche!
---
| | | |
| --- | --- | --- |
| I can't spell today | | |
Spelling correction. Torchiere
---
| | | |
| --- | --- | --- |
| RE: Best metallic paints & colors for re-doing lamps? | | |
Great lamp, Nicole! I agree with AntiqueSilver that I'd want to show off the original diffuser -- it's so unusual and is so perfectly matched to the lamp (even though using a lamp shade is more historically correct with that kind of lamp). Your pictures reminded me that I have similar lamp (but nowhere near as nice) that's been in my attic since it got accidentally knocked over and broken. I need to figure out how to fix it (but that's would be another thread -- I'll post it in Metalworking).

Thanks for tips, TrailRunner & AntiqueSilver.
---
| | | |
| --- | --- | --- |
| RE: Best metallic paints & colors for re-doing lamps? | | |
antiquesilver & dilettante....I'm glad you like it! It started it's life as a FREE CL lamp, not a torchier. The top was a huge clunky normal light base with no harp. Sooooooooo......I took a fruit bowl, also free...probably from hobby lobby...inverted the base, which is made from red clay, put the glass bowl on top, rewired it, then attempted to get a color I could live with. :0) I'm into the drum shades at the moment and need a light I can read by....so this works right now. :0)
---
| | | |
| --- | --- | --- |
| RE: Best metallic paints & colors for re-doing lamps? | | |
Well aren't you the clever one??? It fooled me - big time!
---
| | | |
| --- | --- | --- |
| RE: Best metallic paints & colors for re-doing lamps? | | |
You're kidding!!! You have an amazing eye!
---
| | | |
| --- | --- | --- |
| RE: Best metallic paints & colors for re-doing lamps? | | |
nicole, I love both renditions. Fruit bowl? Wouldn't have thought of that.
Diane
---
| | | |
| --- | --- | --- |
| RE: Best metallic paints & colors for re-doing lamps? | | |
antiquesilver, dilettante, powermuffin.....even my DH is fooled. :0) He found the fruit bowl in a site dumpster(he works construction) and swears it's an antique light fixture.....but I saw the exact fruit bowl in Hobby Lobby painted rust, on sale for $6!!! Made in China!!! lol It was something the secretaries were throwing out....
---
Post a Follow-Up
Please Note: Only registered members are able to post messages to this forum.
If you are a member, please log in.
If you aren't yet a member, join now!
---
Return to the Home Decorating Forum
Information about Posting
You must be logged in to post a message. Once you are logged in, a posting window will appear at the bottom of the messages. If you are not a member, please register for an account.
Please review our Rules of Play before posting.
Posting is a two-step process. Once you have composed your message, you will be taken to the preview page. You will then have a chance to review your post, make changes and upload photos.
After posting your message, you may need to refresh the forum page in order to see it.
Before posting copyrighted material, please read about Copyright and Fair Use.
We have a strict no-advertising policy!
If you would like to practice posting or uploading photos, please visit our Test forum.
If you need assistance, please Contact Us and we will be happy to help.

Learn more about in-text links on this page here