Return to the Home Decorating & Design Forum
|
Post a Follow-Up
---
| | | |
| --- | --- | --- |
| Pal Strikes Again | | |
Posted by
crazybusytoo
(
My Page
) on
Tue, Jul 15, 14 at 16:04
I find that almost everything Pal posts is either very thought provoking and/or instructive. His perspective is so interesting.

The latest is the "Behind a charming exterior" thread. Somehow I find that particular interior so compelling, and I keep going back to look again. So much love, pride, and presumably enjoyment. Now it's a houseful of furniture that no one wants, and is subject to derision.

Maybe what is striking is the "commitment" that Pal noted. 50 years ago everything was custom, and every purchase a thoughtful one. In this instance, the entire home was a unified effort. Later, it wasn't as though she could just drop (for lack of a better example) a Pottery Barn sofa into the living room.

Is it inevitable (if you are lucky enough) to end up with a house full of furniture that even goodwill doesn't want?

Is it better to start liquidating to make it easier for others, or stay surrounded by that which you love?

Will ready-made and mass production dictate a sort of prevailing school of thought to which all good interior design should adhere? Or has it always been that way?

And ultimately, who is the arbiter of good taste?
Here is a link that might be useful: Behind a charming exterior...
---
Follow-Up Postings:
| | | |
| --- | --- | --- |
| RE: Pal Strikes Again | | |
Speaking of commitment, I came across this article recently. Fast forward a few decades, and here's how they'll revise 2014:

"Fear of commitment pushed neutral sofas to the forefront, while big dollars were spent at HomeGoods to change out pillows and throws every season."
Here is a link that might be useful: Sofas through the decades
---
| | | |
| --- | --- | --- |
| RE: Pal Strikes Again | | |
I'll put something in this thread that I was considering food for thought in the other thread.

I generally try to post houses that I find interesting regardless of how it coincides with my own tastes. While the house in the "charming façade" thread is sensory overload for me, I still like a lot of things about it, and realize we are looking at it in a decayed state. I think as far as over-the-top high-baroque-rococo-regency interiors go, this one was probably well-done in its day. (sort of like the Ver-Sigh house I posted a few years ago).

My least favorite thing to look at is non-committal, safe, neutral, I-was-afraid-I-would-get-tired-of-something-an-actual-color fickleness. I really think there is something wrong with a society that is afraid they are bored with something when they haven't even Done it Yet. Okay, off the social-commentary soapbox.

Here is the original food for thought. How different in Intent are the rooms in that house compared to the work of the current generation of colorists?

Kelly Wearstler:

Jamie Drake

Miles Redd

Diamond Baratta

---
| | | |
| --- | --- | --- |
| RE: Pal Strikes Again | | |
I think the lack of datedness, if that's a word, is one reason that eclectic interiors are so appealing. Eclecticism lends itself to melding together items from multiple periods and styles making the exact era of the decor less apparent.

I'm a firm believer that you should decorate your house for your own taste and lifestyle, but any time you take the road less traveled, you have to be prepared to receive a range of reactions related to your choices.
---
| | | |
| --- | --- | --- |
| RE: Pal Strikes Again | | |
Pal,I want to thank you for all the fascinating posts. You expose us to many homes and interiors that we wouldn't see otherwise.

I know that my children will find most of our furniture dated while I think of it as classic. I do think that many interiors are so lacking in personality that they leave me cold. We surely can't say that about the home you posted. It may not be our taste but it certainly has personality!
---
| | | |
| --- | --- | --- |
| RE: Pal Strikes Again | | |
A neutral palette doesn't necessarily point to a fear of color or lack of commitment. Some people simply don't like color.

But the current generation of colorists focuses more on accessories, because that's what the masses are more willing to spend money on (and marketing exposure plays a big role in this, too). A neutral foundation, and changing color in accessories. This is the type of commitment that's en vogue right now because most are indeed afraid of making "mistakes" with bigger choices like a purple DR rug or cranberry sofa. Accessorizing allows us to feel like stylists but less committed to our choices when the fear of passe or garishness starts to creep in.
---
| | | |
| --- | --- | --- |
| RE: Pal Strikes Again | | |
I agree. But a truly neutral palette, especially one that is well correlated, is just as much of a commitment as a colorful palette, and often harder to pull off.

I think there is a difference between a neutral palette and a non-committal one.
---
| | | |
| --- | --- | --- |
| RE: Pal Strikes Again | | |
Perhaps a lot of people are wary of committing to anything colorful and permanent that might affect the "resale value" of their home. As another thread pointed out, HGTV has been around for a while now, and that point is brought up constantly.
---
| | | |
| --- | --- | --- |
| RE: Pal Strikes Again | | |
The wealthy and ultra wealthy, those who are usually the clients of published designers, only have to live with a cranberry sofa or a purple rug for their choice of duration which allows their designers the freedom to create designs that excite and inspire magazine editors and entertain and perhaps inspire magazine readers.

On the other hand, the rest of us usually have to live with our choices for a very long time. As a result, many of us feel more comfortable with noncommittal design for the high ticket items and allow ourselves more creativity with accessories.

Personally, I don't want to commit to one look forever or even for 40 years like the owner of the twin Palimpsest showed us. I don't want to change my decor to tie to every fad, but I do want to change it as my personal tastes change.
---
| | | |
| --- | --- | --- |
| RE: Pal Strikes Again | | |
I am sure that is a *lot* of it. But how many people in the big scheme of things have jobs that require frequent transfer? Maybe a lot, I don't know.

From my own experience, I sold two places that were extremely non-neutral. The first had a living room with pale yellow walls, a grey frieze and a pink ceiling.

The second had a pale blue kitchen (cabinets included) a black room, a very strong mix of 19th c. and minimalism, and a lot of creepy art.

We asked agents and shoppers alike about whether neutralization and depersonalization would make the second more appealing and One realtor and One shopper said "yes", and pretty much everyone else loved it.

Neither buyer changed anything about strong wall colors or anything like that. The first one sold *again* with the same pink ceiling and wall colors.
---
| | | |
| --- | --- | --- |
| RE: Pal Strikes Again | | |
I think it would be wonderful if our choices would last 40 years. For things that might, say a dining room table, I think neutral does make sense. A couch on the other hand, even for those of us who do value quality but cannot afford it, are not as likely to find one worth reulphostering when the time comes. That is why I find playing it safe interesting, far too many things are not designed to last so if that is the case, a little risk once in a while could be fun, or at least, not too painful.
---
| | | |
| --- | --- | --- |
| RE: Pal Strikes Again | | |
"The wealthy and ultra wealthy, those who are usually the clients of published designers, only have to live with a cranberry sofa or a purple rug for their choice of duration"

I agree.

But I am often amazed by how long the "choice of duration" is for many of these clients. Often it's decades. A few years back there was a William Haines designed room that came to light that was unchanged since 1960. (And it still looked great, actually). I have also seen some recently published rooms that were "refreshes" of rooms done about 30 years ago by Michael Taylor.

I don't think it's all that correlated with having lots of money. People who have lots of money sometimes like to hang onto it, and if they spent $100,000 with a designer doing a room, they are probably going to keep it longer than the seven year life cycle. I've probably seen more time capsules belonging to the "wealthy" than to any other group.
---
| | | |
| --- | --- | --- |
| RE: Pal Strikes Again | | |
I/we have bought and sold 7 homes. Every one had real color on all walls. None of the homes were staged at sale time...all were presented exactly as we lived in them. The longest time on market for any of these 7 was 10 days...and that included in 2009.

Following trends allows the big box decorating stores to flourish. There is clearly a market for those places.

And then there are salvage stores and bold paint colors for folks like us....as I sit here in a room with deep terra cotta walls, 80 yr old furniture and 35 yr old rugs.
---
| | | |
| --- | --- | --- |
| RE: Pal Strikes Again | | |
I do not completely understand what one means by noncommittal design. Like a half-finished room or no flow to the rest of the house or cheap throw away furniture or not completely traditional or completely modern?

Can I have a visual of a noncommittal?
---
| | | |
| --- | --- | --- |
| RE: Pal Strikes Again | | |
| | | |
| --- | --- | --- |
| and some more | | |
div>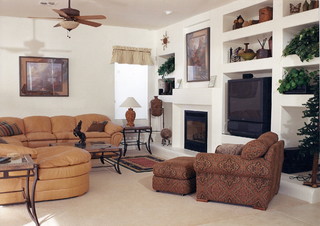 ---
| | | |
| --- | --- | --- |
| RE: Pal Strikes Again | | |
If you can afford a $20,000 sofa it will last much longer than a $2,000 sofa, double so if a high end designer put it all together for you. The pottery barn, et al, sofas are not long term decorating, nor is most furniture for the middle class these days. On the other hand, I have my late husband's grandmother's Louis the 15th sofa and chair in my living room. She was a lovely, gracious lady whom I admired. And when we moved from Minnesota to Florida (1986) in planning to buy all new furniture, I went shopping and found Formica everything (they called it Mica-didn't fool me). The only traditional style was Thomasville, and I could not afford to furnish the entire house from their store. I had Grandma's furniture recovered to match new house, and never looked back. Built like a tank. Recovered again for 5th house. No one wants this set today, but I don't care. It fits my style and holds fond memories from the first time I sat on it in ?1968?. No one wants my mother's Ethan Allen hard rock maple either, though for them it was good quality and is still pristine. Today eclectic or transitional, to me means I can't commit. So even if I like an unexpected piece, I don't like nondescript. In the pictures above I find either noncommittal design or juxtaposition that does not work for me.
---
| | | |
| --- | --- | --- |
| RE: Pal Strikes Again | | |
I also really enjoy Pal's posts. I love learning about new materials, etc.

On the "taste specific" furnishings: I find it so interesting that the building world (and by extension, the decor world) often has such a huge emphasis on being "green"... yet it seems that no one wants to be truly green and reuse something regardless of its looks. Isn't it more earth-friendly to keep and reuse grandma's unstylish couch than it is to purchase some supposed "green" furniture that had to be built (factory, workers driving to factory); shipped (fuel, packaging); and perhaps displayed in a store (lights, etc.)?

I say the interior of that house is earth-friendly, because all that stuff has not been replaced by something else; it's been used for a good long time. That doesn't mean I like it, but I respect the lack of landfill.
---
| | | |
| --- | --- | --- |
| RE: Pal Strikes Again | | |
Sure, there is nothing greener than a time capsule interior.
---
| | | |
| --- | --- | --- |
| RE: Pal Strikes Again | | |
The "bland" rooms could belong to several of my contemporary friends and neighbors. The garish rooms of Pal's former post could have belonged to a few of my elderly relatives.

It seems that when we have so many resources today for design inspiration, the fearful and weary tend toward the middle of the pendulum. Too many choices.
---
| | | |
| --- | --- | --- |
| RE: Pal Strikes Again | | |
When I was a girl, I was full of energy and experiment. I repainted my bedroom several times, re-arranged the room many more times. I had everything from turquoise walls with sheer swags and white french provincial furniture to bright yellow walls with matching curtains, green shag rug, mattress on the floor and neon flower power poster.

Then when we married we bought a 50s ranch that had paneling in every room including the bathroom and the bedrooms. DH's rule was we couldn't start the next room until we completed the last one. So very slowly, the plaster walls came back, the paneling disappeared and the house became ours. Each of those rooms got a couple of redos over the years, but as my taste evolved, I found myself liking what I did more and more and less wanting to redo it again.

Now that I'm in our new home where I had a hand in everything from the ground up, I can't imagine changing anything. I mean I've tweaked a few things here and there that wasn't quite right, but for the most part, I'm completely enjoying what it is. If anything wears out, I can see myself replacing it with something similar, but never doing a complete overhaul of a room like I used to. I'm sure this place will become a time warp, and when DH and I are dead and buried and they go to sell it, some real estate agent will be wandering around saying, "dated....dated...dated".

So, I wonder if some of these places that Pal has posted are aged-into commitment rather than a distinct decorating choice...as our style becomes more entrenched, our decorative vision becomes ossified, our energy (and perhaps our budget) wanes, we grow to say, "I like it, I put so much effort into it...why would I change it?"
---
| | | |
| --- | --- | --- |
| RE: Pal Strikes Again | | |
Hi Pal! Oh I see what you mean. What a difference a rug a throw pillow, wall ART and an interesting chair would make. Mostly though, I'm seeing a void in interesting wall art for a window to the owner's soul. Generic was added only because it "matched" and with no other thought. The hair was done but no makeup added.
---
| | | |
| --- | --- | --- |
| RE: Pal Strikes Again | | |
Palimpsest, I didn't mean that the wealthy always change things often. I only meant that they have the means to do so which gives them more freedom to make mistakes.

AnnieDeighnaugh, you may be right that some of the time capsule interiors exist because the owners "like it and put so much effort into it that they don't see any reason to change it."

My parents' house, built in 1988, has changed very little. When my mother reupholstered the breakfast room chairs, she used the exact fabric that she used before because she still liked it. As we've said before, trends revive themselves. Back in 1988, Mother chose to use grey walls, medium dark hardwood floors and Carrera marble. I laugh because she's back in style again! The only things that really dates her house are the pickled cabinets in the kitchen and the height of the bathroom counters.
This post was edited by Fun2BHere on Wed, Jul 16, 14 at 12:39
---
| | | |
| --- | --- | --- |
| RE: Pal Strikes Again | | |
I think the best of the bland rooms are perfectly fine. But they aren't particularly engaging, and I think these sorts of things become a self-fulfilling prophesy. You get bored with your sofa or your LR because, well, it's boring.

I think the worst of the bland rooms have neutrals that don't even work that well together but people *think they do because "all neutrals work together", and really--they don't.

I think there is a certain amount of aged-into commitment, but I think that that really shows itself when things that really need to be replaced don't get replaced.

Even if the homeowner who decorated the baroque-regency house was 90, she would have been in her 40s when the house was essentially completed, and that's not so old, is it :) She did it her way and then it was done.

The true aged-into interiors I think of are these:

My mother had a friend who redid her late 1950s rambler in high mid-70s style when she turned about 50.(Not kitschy 70s, but monochromatic heavy upholstery fabrics and silks and low deep sofas and oversized low tables) Most of the house was unchanged at her death. But I remember when something happened to her bedspread from the high-70s redo maybe in the 1990s and she redid her drapes and bedspread, and she just ordered a matching set of curtains and bedding coordinates from Sears. It wasn't bad, but it wasn't what she would've done when she was younger--it just wasn't something she wanted to put effort into (I was kind of surprised because she made major shopping expeditions to Saks and Neiman's for her clothes right up to the end).

The other "grown into" thing has happened at my parents own house. The lampshades have been deteriorating for years, and we have gone from replacing with an interior designer in the 1990s, to trying some from Restoration Hardware a bit later, to trying some from Walmart in the 2000s, to turning them around so the rip is in the back in the 2010s.
---
| | | |
| --- | --- | --- |
| RE: Pal Strikes Again | | |
I love commitment, color, and personality-filled interiors. I dunno about you guys but up here Lynda Reeves has had a beige stranglehold on middle class Canadian decor for what seems like forever. Thanks but no thanks House and Home. Style at Home is not much better, just replace beige with white or light grey.
---
| | | |
| --- | --- | --- |
| RE: Pal Strikes Again | | |
...we have gone from replacing with an interior designer in the 1990s, to trying some from Restoration Hardware a bit later, to trying some from Walmart in the 2000s, to turning them around so the rip is in the back in the 2010s.
Yep, yep, yep. LOL!
---
| | | |
| --- | --- | --- |
| RE: Pal Strikes Again | | |
robotropolis, I think the majority of Canadians have misinterpreted Lynda's style. Yes, she loves the white on white on white with a little beige thrown in for character. But she puts a whole lot of time and money into getting beautiful spaces that are still unique. If you just kept doing everything the same, you wouldn't sell many magazines. When you transfer that to Target budgets and builder basic options, it becomes generic.

Then again, I don't know how many of my friends who aren't into design could even tell you who Lynda Reeves is. Most people's idea of trendy and current comes from builder showhomes and realtor staging. Both of which are specifically intended to be inoffensive to the most number of people.
---
| | | |
| --- | --- | --- |
| RE: Pal Strikes Again | | |
"Timely" topic -- I am currently in the afraid-to-commit stage with some items because I want a look that will be "timeless" but not "colorless," and I'm not an expert with design. I want to remain in love with the items that I have and not be tired of them in 5-10 years. I think I'm on the right track with my sofa, but having a difficult time deciding on my living room rug. And, I find myself drawn to the same colors for everything, so I could end up in a monochrome room -- ACKK..

The living room furniture I picked 16 years ago now looks very dated. At the time, it was a fair amount of my savings/income spent. And my tastes have changed over time. So, yes, I felt a little paralyzed and commitment-phobic as I was out shopping today. Afraid to make an expensive mistake.
---
| | | |
| --- | --- | --- |
| RE: Pal Strikes Again | | |
Kees-lover, As Christopher Lowell used to say, where there's fear, there's no creativity. If you put too much pressure on yourself you won't be able to commit. Instead, relax and approach it from your core creative energy. Look to houzz.com or magazines or other places for inspiration.

One thing we always did was go through magazines and tear out every room you love. Then when you review them, you will find you've selected the same room time and again...it's the style you are naturally drawn to coming out. Let that guide you.
---
| | | |
| --- | --- | --- |
| RE: Pal Strikes Again | | |
I was remiss in failing to extend my thanks to Pal in my original post. Know that I appreciate your posts, photos, and insights that go along with them.

I have gotten into the (perhaps bad) habit of judging/examining every design I see. I lingered over the "food for thought" designs which have so much personality, yet still feel very serene. The bland designs actually have less of a tranquil feel.

What I love about this forum is the exposure to different styles and new designers to google. I'm sure I would not have loved the idea of Jamie Drake's design had it only been described to me, but I love the scale, the artwork, the boldness. It's so cool. But honestly, I think it would take a brave person to sign up for that. Maybe it's easier if you have a good rapport with a decorator whose work you know and trust.

Like Annie, I had to laugh at the evolution from working with an interior designer to turning the rip in the shade to the back. Maybe as we get older and wiser we are not so hard on ourselves, and don't have to strive for perfection in everything we do.

I'm not quite there though. And I'm glad to have everyone here who pays a lot of attention to detail…like Pal, who accepted the challenge and cleaned the blue carpet…
---
Post a Follow-Up
Please Note: Only registered members are able to post messages to this forum.
If you are a member, please log in.
If you aren't yet a member, join now!
---
Return to the Home Decorating & Design Forum
Information about Posting
You must be logged in to post a message. Once you are logged in, a posting window will appear at the bottom of the messages. If you are not a member, please register for an account.
Please review our Rules of Play before posting.
Posting is a two-step process. Once you have composed your message, you will be taken to the preview page. You will then have a chance to review your post, make changes and upload photos.
After posting your message, you may need to refresh the forum page in order to see it.
Before posting copyrighted material, please read about Copyright and Fair Use.
We have a strict no-advertising policy!
If you would like to practice posting or uploading photos, please visit our Test forum.
If you need assistance, please Contact Us and we will be happy to help.

Learn more about in-text links on this page here