Return to the Home Decorating Forum
|
Post a Follow-Up
---
| | | |
| --- | --- | --- |
| Siding color with old red brick? | | |
Posted by
angie43
(
My Page
) on
Tue, Jul 7, 09 at 14:07
We are replacing the siding, gutters, and trim/overhangs/fashia. The white trim around the windows with not be replaced. The siding company suggest changing to a sand or sierra color. Will this look best or should I stick with the white for all? Thanks for your help!
---
Follow-Up Postings:
| | | |
| --- | --- | --- |
| RE: Siding color with old red brick? | | |
I think the sand would look fantastic. I've always found white to be too harsh against brick. Maybe some one could Photoshop the tan for you so you could decide. I think painting the window trim sand too would make it look so much prettier. Let's see what others think.
---
| | | |
| --- | --- | --- |
| RE: Siding color with old red brick? | | |
| | | |
| --- | --- | --- |
| RE: Siding color with old red brick? | | |
Thanks so much! The color sample that I have on hand is a beige/taupe color sand which is the same color as the mortar between the bricks. The photoshop picture shows a yellowish sand color.
---
| | | |
| --- | --- | --- |
| RE: Siding color with old red brick? | | |
The sand color is softer than the white for sure. Do they have any colors that pick up some of the flecks pieces in red brick? Sometimes there are blues and browns in the bricks.
---
| | | |
| --- | --- | --- |
| RE: Siding color with old red brick? | | |
I have red brick with sand colored siding and white trim so obviously that's my vote. I think it's a softer look. I just ran out and took a pic for you. The siding looks very light with the sun shining on it in this picture but it is a fairly light color. Just enough contrast with the white. Maybe this will help you picture the combination. I love your deck!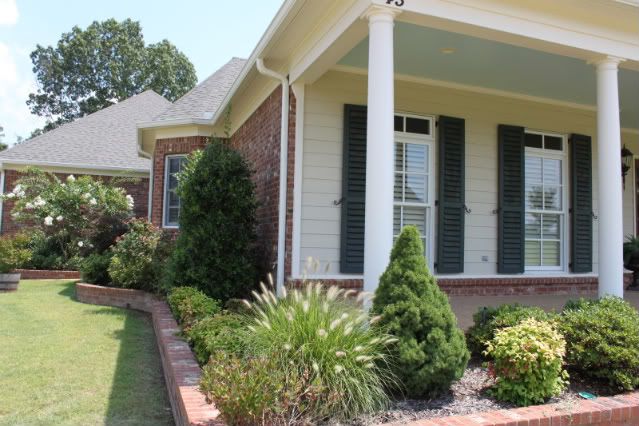 ---
| | | |
| --- | --- | --- |
| Thanks!! | | |
Wow! Thanks so much for going out and taking a pic of your house! I have to make a decision tonight and call it in and you guys are the best!! The taupe color sand sample that I have matches the mortar and is in the brick. Thanks for you comment mimi. The best part about the deck is the pool it leads to.
---
| | | |
| --- | --- | --- |
| RE: Siding color with old red brick? | | |
A suggestion: my neighbor installed siding that was very yellow. Too yellow. When I had our house resided, I was afraid that the color I picked from a small sample would turn out to be that same yellow when it was applied to the house, so my contractor brought over a whole long strip of siding. Thankfully, it looked ok, not bright yellow. If you can do so, get a complete strip of the siding, or at least the address of a house in your area with that color siding, before you make your final selection.

BTW, I took the siding color from the Norandex/Reynolds web site. The siding in the mockup is Cedar Reflections
NX/RY Cedar Reflections XL D4.5 DL, Sand

I guessed that you were using Norandex/Reynolds because they have two siding colors called sand and sierra.
---
| | | |
| --- | --- | --- |
| Scary | | |
See this is scary...cause the sample I have doesn't look like it has any yellow in it at all. It is the Norandex Woodsman Select siding sample. Thanks and I will call the contractor for a big sample.
---
| | | |
| --- | --- | --- |
| RE: Siding color with old red brick? | | |
We are in the process of painting our brick house with 2 sided additions. It is a 140 yr old house, so we decided to go with historical colors. We also built a garage/carriage house this spring. As we have started the painting on the garage first, I can't show you any pictures of the house with the colors on it, but will post a picture of the garage. We just recently started painting, so you'll notice that not all is painted. The first color,the siding, is a soft green, the trim is a SW color called downing straw (we had the color customized by muting it a little) and the 3rd color is a rust color to bring in the color of the bricks from the main body of the house.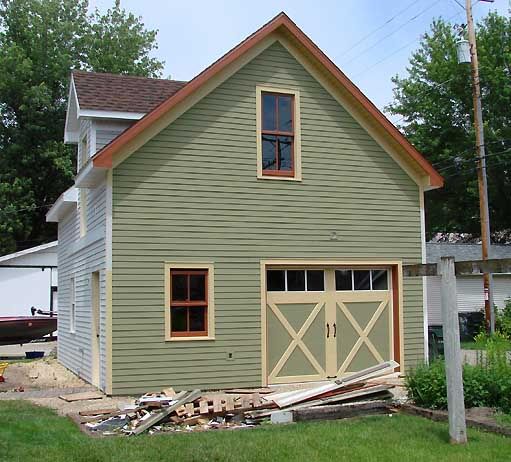 ---
| | | |
| --- | --- | --- |
| RE: Siding color with old red brick? | | |
Post a Follow-Up
Please Note: Only registered members are able to post messages to this forum.
If you are a member, please log in.
If you aren't yet a member, join now!
---
Return to the Home Decorating Forum
Information about Posting
You must be logged in to post a message. Once you are logged in, a posting window will appear at the bottom of the messages. If you are not a member, please register for an account.
Please review our Rules of Play before posting.
Posting is a two-step process. Once you have composed your message, you will be taken to the preview page. You will then have a chance to review your post, make changes and upload photos.
After posting your message, you may need to refresh the forum page in order to see it.
Before posting copyrighted material, please read about Copyright and Fair Use.
We have a strict no-advertising policy!
If you would like to practice posting or uploading photos, please visit our Test forum.
If you need assistance, please Contact Us and we will be happy to help.

Learn more about in-text links on this page here