Return to the Home Decorating Forum
|
Post a Follow-Up
---
| | | |
| --- | --- | --- |
| Please show me pictures of your wood stove, hearth & surround | | |
Posted by
zone_8grandma
(
My Page
) on
Sun, Jul 27, 08 at 14:04
We are planning to install a wood burning stove in one corner of our TV room. We already have the chimney and air intake, but are stymied on materials for the hearth and surround.

I like tile, but DH says "it always cracks". Is that true?
I suggeseted cultured stone (the kind that looks like river rock, but he says "how do you get the stove to be level?"

He's very visual, so it would help a lot if I could show him photos.
TIA
---
Follow-Up Postings:
| | | |
| --- | --- | --- |
| RE: Please show me pictures of your wood stove, hearth & surroun | | |
I have a natural gas wood stove sitting on tile and they've never cracked. Been there over 6 years now. How the tile is installed, and the type of tile, will determine whether it cracks or not.

What about brick, or paver stone? I've included some images from a google search.
Here is a link that might be useful: pics
---
| | | |
| --- | --- | --- |
| RE: Please show me pictures of your wood stove, hearth & surroun | | |
Shoot, I didn't think you even had to heat in zone 8!

I'm a chilly zone 4 (northern NY) and our only sources of heat are a woodstove and a pellet stove, so I have a little (LOL) experience with stoves.

Before you get to decoration, though, you have to consider protection of combustible surfaces. You woodstove's manual will give you the minumum clearances between the back of the stove and the nearest adjacent walls. It's particularly important in the case of corner installations since the heat can get trapped in the angle. Please don't fudge these requirements. Some people think that if they apply a non-combustible surfacing to the wall then these distances don't matter. That's wrong, they still do because the noncombustible material will just transfer the heat to the (now) hidden combustible material behind. And then you've got Trouble.

There are ways to reduce these distances (in some cases, see your manual for details) be using shield plates behind (and sometimes below) the stove and all the way up the back of the stovepipe to the thimble. To further reduce the distance, with some stoves, you can apply additional protection to the combustible surface by mounting a sheild about 1" off the wall, open on the top and bottom. We use a piece of cement board held off the wall with porcelain electric fence insulators centered on long screws. If you do a good job of countersinking the screws you can easily tile over the cement board, though this makes it impossible to remove it without destroying it. You can also paint it.

Underneath the stove, you need to protect any combustible flooring and most wood stoves have a minimum size pad of non-cumbustible material to catch sparks and other debris. The simplest floor is a just a big, flat, rock slab like bluestone, granite, slate, or soapstone. My woodstove "hearth", really just a pad is made of (from the top surface): common bricks on edge over insulation board, laid over a bed of play sand contained in heavy plastic, then the wood floor. All surrounded by a an ogee-shaped moulding. The reason for the sand is that the hearth crosses the sill where two different buildings adjoin and the finish floor slopes more than two inches. Such are the joys of living in a very old house: floors you could ski down.

If you're thinking of a wooden mantle, you may need a curved heat shield underneath it to protect the bottom surface - depends on how high it is off the top of the stove. That's why I prefer stone or rock mantles - they can't scorth!

HTH,

Molly~
---
| | | |
| --- | --- | --- |
| RE: Please show me pictures of your wood stove, hearth & surroun | | |
This wood stove is in a finished room above the garage: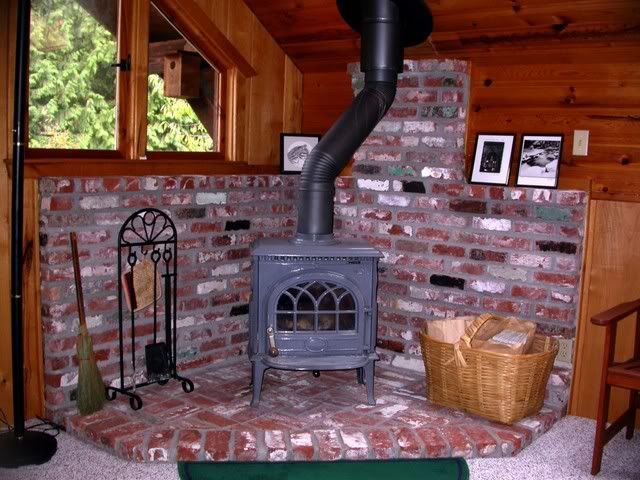 This one is in the great room: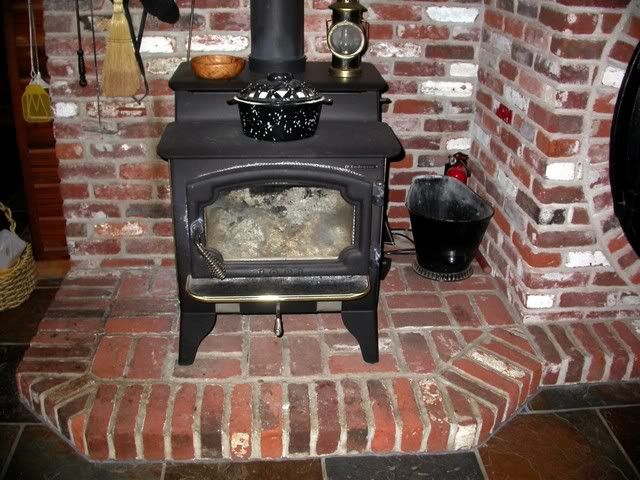 This wood cook stove was in the kitchen. We moved it to the basement when we remodeled the kitchen in 2004, and we removed the brick hearth but left the bricks on the wall.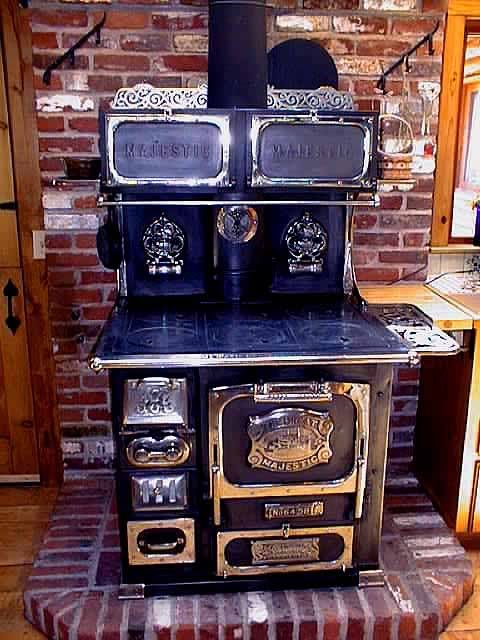 ---
Post a Follow-Up
Please Note: Only registered members are able to post messages to this forum.
If you are a member, please log in.
If you aren't yet a member, join now!
---
Return to the Home Decorating Forum
Information about Posting
You must be logged in to post a message. Once you are logged in, a posting window will appear at the bottom of the messages. If you are not a member, please register for an account.
Please review our Rules of Play before posting.
Posting is a two-step process. Once you have composed your message, you will be taken to the preview page. You will then have a chance to review your post, make changes and upload photos.
After posting your message, you may need to refresh the forum page in order to see it.
Before posting copyrighted material, please read about Copyright and Fair Use.
We have a strict no-advertising policy!
If you would like to practice posting or uploading photos, please visit our Test forum.
If you need assistance, please Contact Us and we will be happy to help.

Learn more about in-text links on this page here