Return to the Home Decorating & Design Forum
|
Post a Follow-Up
---
| | | |
| --- | --- | --- |
| Making progress. Egads the fireplace! | | |
Posted by
Totally.Clueless
(
My Page
) on
Mon, Jul 21, 14 at 12:04
I don't know if anyone will remember me since it's been a while. I asked some floor questions. We went with the vinyl plank floor and are DIY. It's halfway done. I wanted to post pics of the progress I've made in the living room and get some suggestions on how to tackle the mantel.

My look is Eclectic Kid-Friendly. Yep, I just made that look up. I see so many beautifully decorated homes but there is never any kid stuff in the photos so that doesn't help me much.

Since I last posted we got a new floor and the rug is "new to me". I also added that weird looking basket of wooden blocks and games. The basket is from Goodwill. I like it. For $100 the rug was a steal. My budget is on par with Ikea because of the kids and dogs and I love a good thrift find. That awesome silver poof? $35. Bam! It's awesome, right?

I plan to put a small kid's tent in one corner or some sheepskin rugs to make a cozy reading place. We use our living room for family play time. We do not own a TV.

I need ideas on what to do with the mantel and the big blank wall. What kind of art do you see up there?

Here is the currently blank corner that could become the kid's area.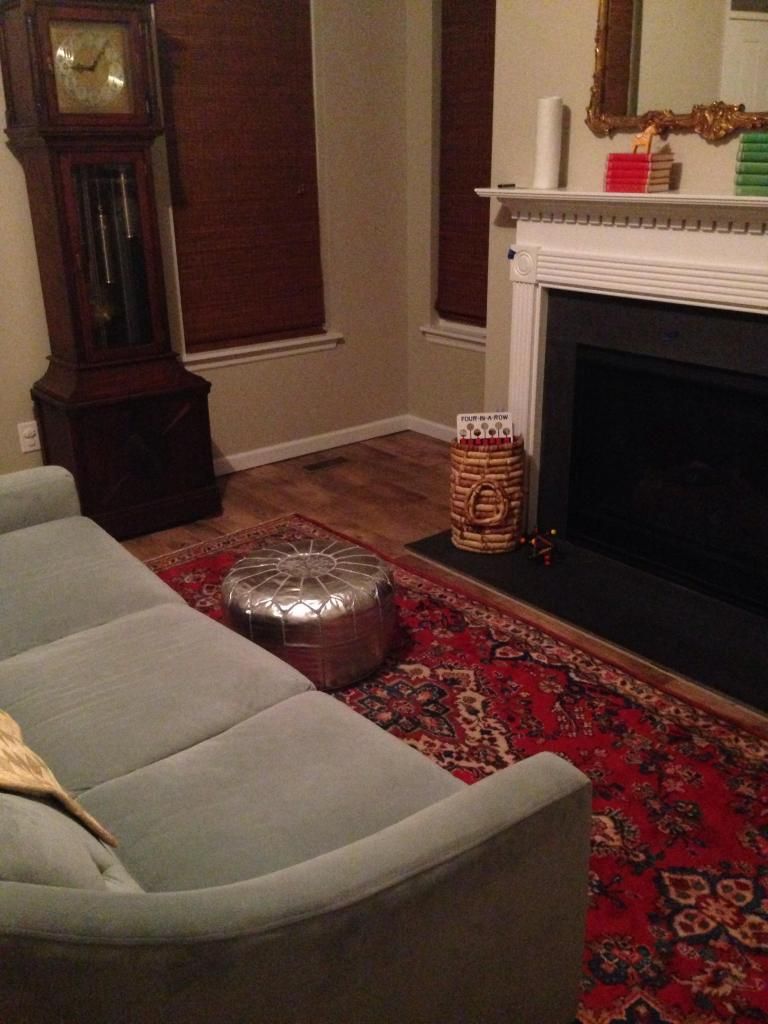 I could move this chair to the blank corner and make this corner the kid corner. Here is the fireplace that needs help. I want something more modern than the mirror. I have lots of those red and green books which are often used in decorating. Hooray for hubby being an academic who said I could use some of his books to decorate. :)
I can also move the side table to the bedroom. We won't use a coffee table for now as we have a cruiser in the house!
Here is a gigantic blank wall that needs help.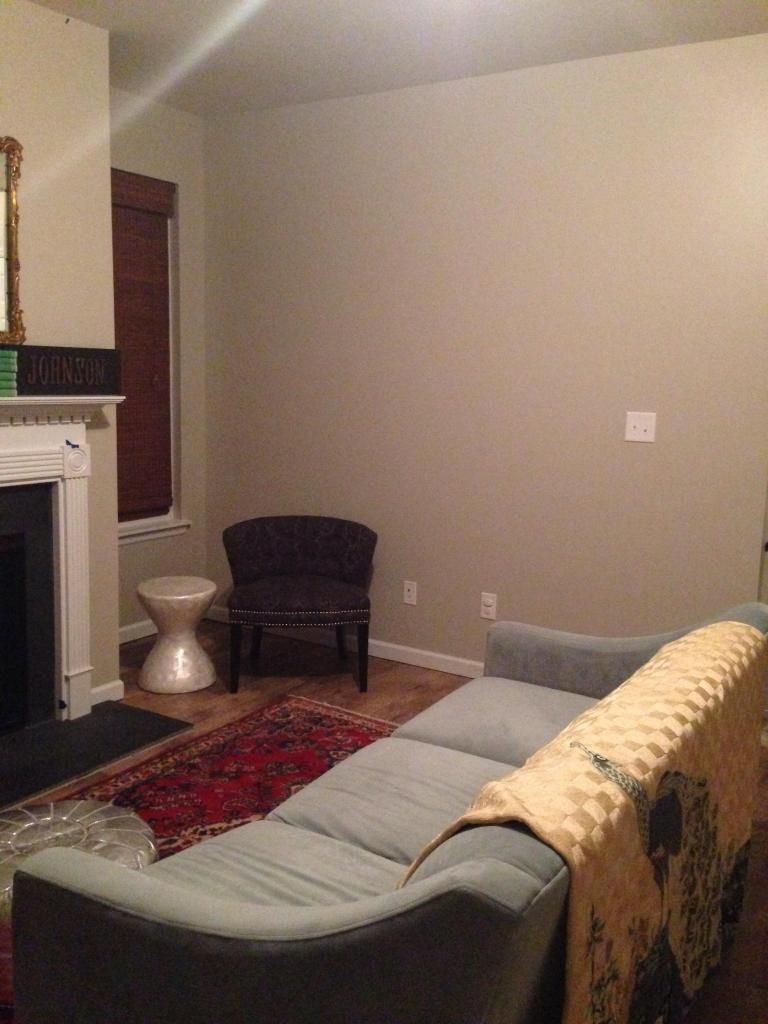 Would these look ok in this room or do they need to live elsewhere?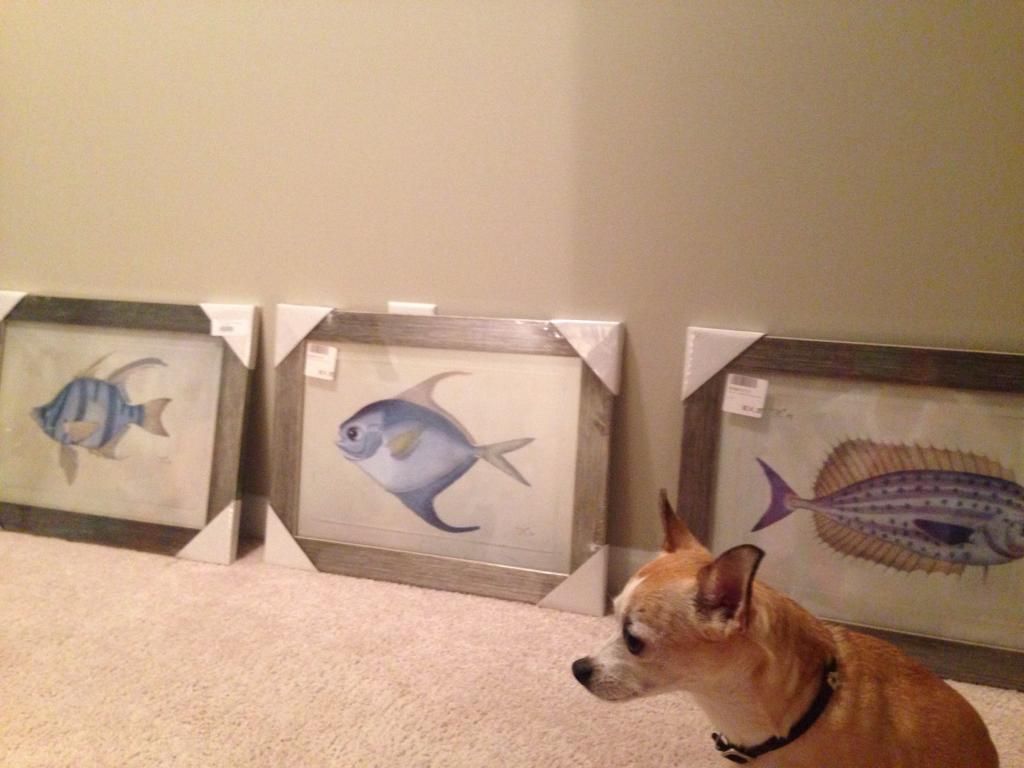 ---
Follow-Up Postings:
| | | |
| --- | --- | --- |
| RE: Making progress. Egads the fireplace! | | |
Hard to tell, but the fish look small in scale.

My suggestions, take 'em or leave 'em, would be to move the clock to the other side to help fill the blank wall, then work artwork in around it. Also would be good to get the clock away from the kids' corner for various reasons...I think the kids would prefer the corner with the extra window too.

The sofa seems a little close to the fp. Can it be slid back some? I'd like to see the side chair pulled forward and closer to the fp so it becomes more into the conversational cluster and not backed into the corner.

Perhaps a sofa table behind the sofa with some lamps on it would be nice. It's always nice to have lamp lighting in the room.

Finally, you have a lot of space over the fireplace, so either a large print or a grouping would work.

I had a large area by my woodstove to fill, so I printed up a bunch of vacation shots in B&W, framed them (frames with mats from walmart for cheap) and managed to fill a large space for very little money.

---
| | | |
| --- | --- | --- |
| RE: Making progress. Egads the fireplace! | | |
Yes, I can scoot the sofa back.

I had contemplated moving the clock to the opposite wall. DH will just love me when I tell him I want to move it but I agree with you. The clock is hand-carved by my great uncle and is very sentimental to me.

I don't think I will have room behind the sofa for a table. It's floating in the middle of the room. The wall behind the sofa will be floor to ceiling books. (We have a lot of books in this house!) We play to DIY some plumbing pipe bookshelves to be able to support the weight of the books. I had toyed with the idea of putting a "gap" in the bookcase for some lamps and decorating objects but we desperately need the book storage.

Any suggestions for pillows? I can also move the bamboo shades to other rooms in the house. We moved in and had a baby all at once and I just put things places. I was thinking something lighter might work better.
---
| | | |
| --- | --- | --- |
| RE: Making progress. Egads the fireplace! | | |
A picture taken from farther back so we get more of a full effect of the room would be helpful. I love the wall of family photos idea..especially in a room that celebrates your family already. My home had much kid stuff in the living room for the few years my kids were that little, and we too did not bother with a coffee table during that period. Having said that and while your poof is awesome, one of those soft, upholstered ottomans with storage inside would be perfect to hide/hold a lot of toys if you have the space. I don't know what to say about the fish..I tend to decorate with things that have meaning to us vs "match" the space. Do you have a fish tank? Live by the sea? I would want a 4th if I were going to place them on either side of the clock.
---
| | | |
| --- | --- | --- |
| RE: Making progress. Egads the fireplace! | | |
I love the teepees and tents from Land of Nod. I think they could be easily duplicated with cute sheets from Target.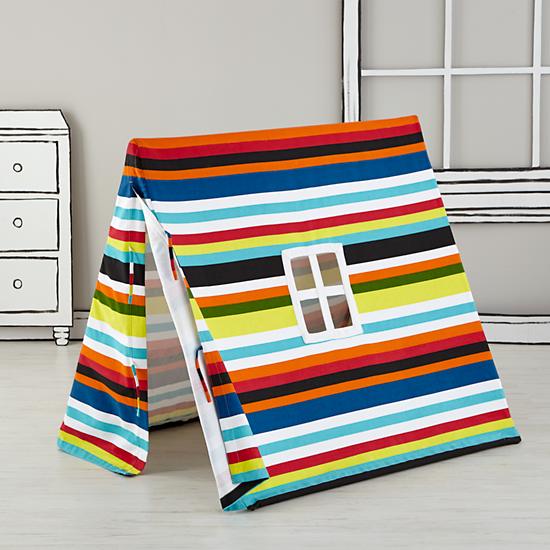 As for the fish art, it's okay, but I think you can pick something that's more fun and meaningful to your family. How about a large map of the world or a series of portraits that you've manipulated to look Impressionistic with one of the photo apps?
---
| | | |
| --- | --- | --- |
| RE: Making progress. Egads the fireplace! | | |
I'm not in love with the fish art. I bought it for my SS's room because he loves fish and he said he wanted a fish room then I decided to go in a different direction. Now I've got this fish art hanging around.
---
| | | |
| --- | --- | --- |
| RE: Making progress. Egads the fireplace! | | |
| | | |
| --- | --- | --- |
| RE: Making progress. Egads the fireplace! | | |
I love your awesome rug, love the sofa, and that mirror is gorgeous but what I like best of all is your emphasis on your family! WTG.

I remember the days of my children being young and we didn't have the money, time, or inclination to "decorate". We did have fun with our kiddos and that's what counts.

We are now at the age that we can afford to decorate both monetarily and time wise but nothing can compare to the days our kiddos were young or the times we share with our precious grandsons. It sure sounds like you've got your priorities right!
---
| | | |
| --- | --- | --- |
| RE: Making progress. Egads the fireplace! | | |
I scroll through Houzz a lot and marvel at everything my kids would destroy! lol

The floor is my most favorite thing. Looks like wood, yet virtually indestructible. You can pee on it, spill a drink on it, and throw a wet towel on it. You can also barf on it.

It may be a tad too rustic for the house but I like it so I don't care. :) The other option for Adura didn't look as nice IMO so I went with what looked the most realistic to me.
---
| | | |
| --- | --- | --- |
| RE: Making progress. Egads the fireplace! | | |
Your floors are fab! What brand and finish are they? Very nice space.

I would look for some taller items for your mantel. Maybe some skinny silver candle holders with tall white candles?
---
| | | |
| --- | --- | --- |
| RE: Making progress. Egads the fireplace! | | |
Floor is so nice. Could you move your sofa back about a foot? Looks a little close to the fireplace....that will give you more room for "play". If you could move your clock to the back wall (under the heat register), then you could get a storage bench that goes under both windows....with a cushion on top for sitting/lounging, baskets for toys underneath. Leave the chair and table in the other corner with maybe a floor lamp for reading. Looks like a comfy room. As for the fireplace, Maybe get some cute bookends for the books for one end and a couple of taller candlesticks for the other end. The wall (nearest the chair) could use a big colorful piece of art.
---
| | | |
| --- | --- | --- |
| RE: Making progress. Egads the fireplace! | | |
The floors are Mannington Adura. Honestly I have no idea what the finish is though. I love the way they look. They also hide the dog dirt well! :)
---
Post a Follow-Up
Please Note: Only registered members are able to post messages to this forum.
If you are a member, please log in.
If you aren't yet a member, join now!
---
Return to the Home Decorating & Design Forum
Information about Posting
You must be logged in to post a message. Once you are logged in, a posting window will appear at the bottom of the messages. If you are not a member, please register for an account.
Please review our Rules of Play before posting.
Posting is a two-step process. Once you have composed your message, you will be taken to the preview page. You will then have a chance to review your post, make changes and upload photos.
After posting your message, you may need to refresh the forum page in order to see it.
Before posting copyrighted material, please read about Copyright and Fair Use.
We have a strict no-advertising policy!
If you would like to practice posting or uploading photos, please visit our Test forum.
If you need assistance, please Contact Us and we will be happy to help.

Learn more about in-text links on this page here