Return to the Home Decorating Forum
|
Post a Follow-Up
---
| | | |
| --- | --- | --- |
| Wainscoting height for my bathroom (x-post with Bathrooms) | | |
Posted by
amysrq
(
My Page
) on
Sun, Jul 27, 08 at 11:52
In our master bath, we will have a 4' knee wall in the shower which will be tiled inside and out in a basic white ceramic. Our ceilings are 8', so the knee wall is at half the height.

I was planning to run white tile around the inside of the shower at the same height (4'), as well as along the "wet wall" outside the shower at the same height as the four-foot knee wall for horizontal continuity.

Outside the shower, the wall above will be painted pale blue-green. Inside the shower, above the wainscoting will be 1x1 mosaic glass that is similar in value to the paint, again for visual continuity.

The wainscoting will only be on the "wet wall" and in the shower. Other two walls will be all paint. (Is all this clear, or do I need to try to sketch this up and scan it in?)

It had seemed logical to key the wainscoting off the height of the knee wall, but now I am second-guessing myself, remembering that maybe a 50/50 ratio for wainscoting is a no-no. Should I go a bit higher with the wainscoting for a 33/66 ratio, ignoring the knee wall? Or should I ignore my second-guessing and just stop worrying about every little freaking thing? (sigh)
---
Follow-Up Postings:
| | | |
| --- | --- | --- |
| RE: Wainscoting height for my bathroom (x-post with Bathrooms) | | |
I have an old house, so it may not be applicable, but I tiled up to a 42" height. I used 42 because that was the ht. of an old chair rail or towel bar rail that once existed in the bathroom. It turned out that it was just the right height for the medicine cabinet I picked out; any taller and I would have needed to turn the tile or stop the chair rail @ the cabinet. My ceilings are 7'9".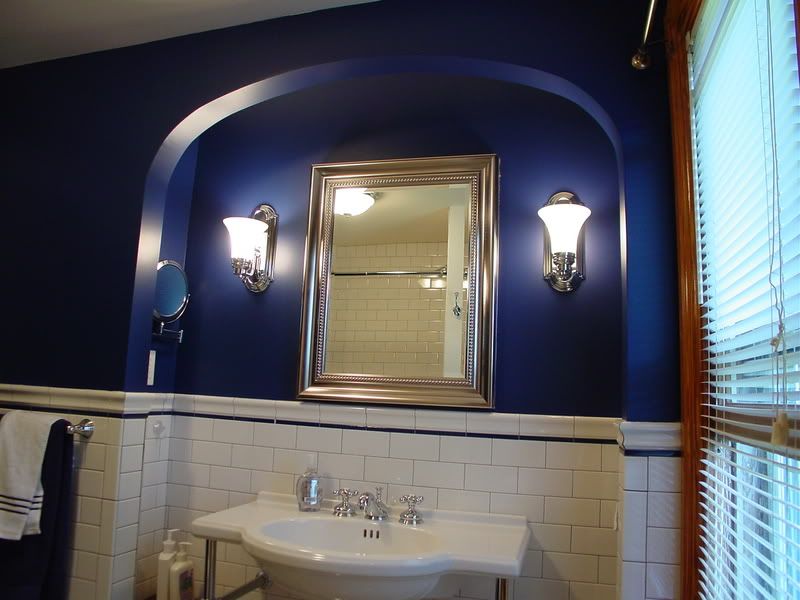 Casey
---
| | | |
| --- | --- | --- |
| RE: Wainscoting height for my bathroom (x-post with Bathrooms) | | |
Well now if you stop worrying about every little freaking thing, what happens to us??? We're unemployed ;-)

I'm trying to picture your layout but honestly it isn't clear to me. Generally I like to see something other than a 50/50 split but there are other things that come into play - how does that 50/50 or 33/66 relate to the finished height of your vanity counters, to the windows (if any) either at sill or apron height. I like continuity, too and like to see some relation to other horizontal lines in a space - expecially a space like a bathroom. But that doesn't mean everything has to end at the same height, just that you need to put those other lines into the thought process so you don't end up with staggered and unrelated horizontal lines all through the space. Clear as mud?
---
| | | |
| --- | --- | --- |
| RE: Wainscoting height for my bathroom (x-post with Bathrooms) | | |
Ours is 4 ft. in the bath because 5 ft. would have interfered with fixtures, etc. It's a personal thing and well as an architectural choice. I love wainscoting and all heights look good to me!! Only thing to remember is you don't want to go too high in a very small room or it will close the room in, unless of course you're going for that cacoon feeling.

Som's looks perfect because it comes right up to the bottom of the mirror and allows the perfect placement for the towel bar.
---
| | | |
| --- | --- | --- |
| RE: Wainscoting height for my bathroom (x-post with Bathrooms) | | |
Re: going too high with wainscoting in a small room. You would think that it would make a room look more closed in, but in my tiny 4' x 6' windowless half bath, the wainscoting is about 2/3's of the way up the wall (ceilings are only 7' 6" tall), and I think it makes the room look bigger. I think it's because the wainscoting is white, and the smaller portion of the wall is dark. If the colors were reversed, then, yes, I think it would make it look smaller.
---
| | | |
| --- | --- | --- |
| RE: Wainscoting height for my bathroom (x-post with Bathrooms) | | |
Thanks everyone. Looks like there is a reasonable argument for the 50/50 split if it makes sense in the context of other horizontal lines. I think I should go and see where the window sill will be. There won't be any wainscoting on that wall, but if it's at four feet, then bob's your uncle.

As I write, I am thinking that I should install the towel bars at four feet, just to further justify that height. The tile guy said the upper four with the mosaic might "look heavy" but I also have some art from the last version of this color scheme which will help some, I believe.

Beautiful rooms Pam and Sombreuil!!
---
Post a Follow-Up
Please Note: Only registered members are able to post messages to this forum.
If you are a member, please log in.
If you aren't yet a member, join now!
---
Return to the Home Decorating Forum
Information about Posting
You must be logged in to post a message. Once you are logged in, a posting window will appear at the bottom of the messages. If you are not a member, please register for an account.
Please review our Rules of Play before posting.
Posting is a two-step process. Once you have composed your message, you will be taken to the preview page. You will then have a chance to review your post, make changes and upload photos.
After posting your message, you may need to refresh the forum page in order to see it.
Before posting copyrighted material, please read about Copyright and Fair Use.
We have a strict no-advertising policy!
If you would like to practice posting or uploading photos, please visit our Test forum.
If you need assistance, please Contact Us and we will be happy to help.

Learn more about in-text links on this page here