Return to the Home Decorating & Design Forum
|
Post a Follow-Up
---
| | | |
| --- | --- | --- |
| No fun at all: Window hardware math | | |
Posted by
mtnrdredux
(
My Page
) on
Sun, Jul 13, 14 at 11:52
I had held off ordering WT because I wanted to see the wallpaper up to decide between two shades of white.

I now realize I also have to figure out rod sizes.

The purpose of these WT is one thing only; to soften the look of the room and make it lighter (ie covering dark wood with off white linen). So, the fabric will be stacked outside of the window at all times!

Here are pre-wallpaper photos (the wallpaper is bright white and blue ikat).

The triple window is 108" wide, with 28 " to the left and 18" to the right. What size rod? 138?

The smaller single windows flanking the fpl are 45" wide, with 29" to the left and 32" to the right. Would you do 65" rods?
TIA!
---
Follow-Up Postings:
| | | |
| --- | --- | --- |
| RE: No fun at all: Window hardware math | | |
Have you chosen the style of the rods you like? There's a standard rule of width to cover outside the window, but I don't recall. ;>P Six inches? I would get expandable rods, even though I hate the change of diameter showing. I have used the wooden poles so that they can be joined or trimmed. You will have so many interesting fabrics, wall coverings, and furniture the drapery rods won't be a feature to worry about. Hope someone else chimes in about set back on drapery. If you hang drapes too far out it looks strange, especially on the smaller windows, IMO. (Which isn't worth much).
---
| | | |
| --- | --- | --- |
| RE: No fun at all: Window hardware math | | |
These are the rods, they aren't extendable but custom size.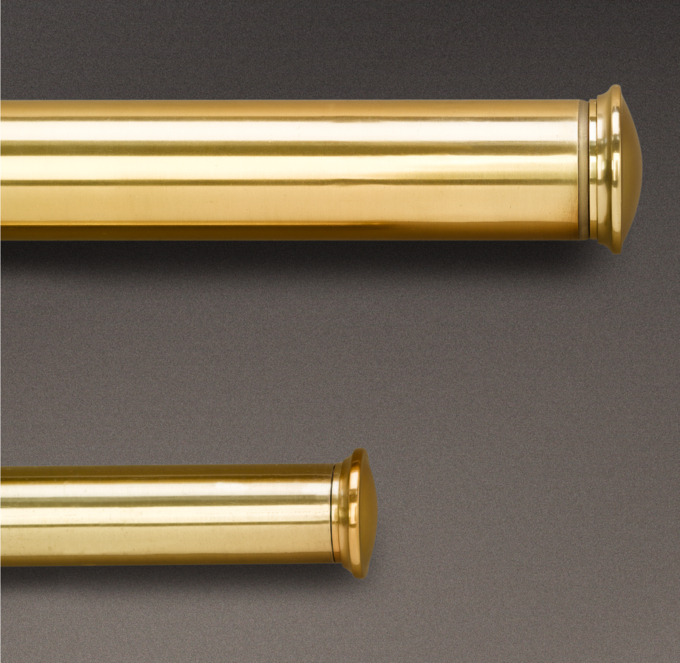 ---
| | | |
| --- | --- | --- |
| RE: No fun at all: Window hardware math | | |
Belgian linen in this style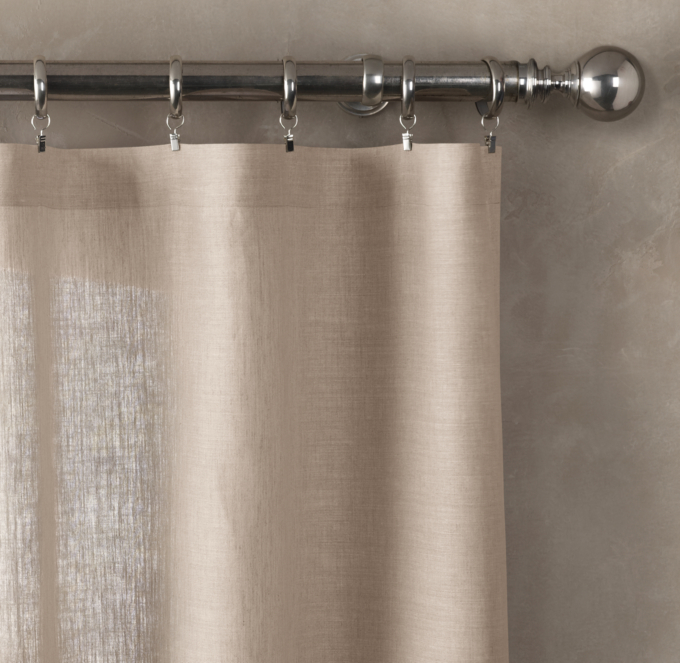 ---
| | | |
| --- | --- | --- |
| RE: No fun at all: Window hardware math | | |
Scroll down a few questions on the attached link....she lists a few ways of looking at stack back....it depends on the thickness of the fabric...lined or unlined...and how the drape is created. For example, grommets will stack back much flatter than pinched pleats....
Here is a link that might be useful: ask an expert
---
| | | |
| --- | --- | --- |
| RE: No fun at all: Window hardware math | | |
| | | |
| --- | --- | --- |
| RE: No fun at all: Window hardware math | | |
If you have enough room on either side, just multiply the window by 1.3
---
| | | |
| --- | --- | --- |
| RE: No fun at all: Window hardware math | | |
mtn, glad someone else gave you some formulas. With each formula (multiply by 1.3 and divide by two---or add 12, divide by 6 & add to each side) you end up with double the stack back on the large window compared to the smaller window. This makes sense if you were to close the panels. If these are stationary panels you could choose your stack back per your preference. Is a workroom making the drapery for you, or are you buying ready made panels. Will your unlined linen show your dark window trim and wallpaper or walls?
---
| | | |
| --- | --- | --- |
| RE: No fun at all: Window hardware math | | |
Voila,

Answer - yes. In fact, i think the unlined panels look kinda cheap. I just ordered lined ones ....
---
Post a Follow-Up
Please Note: Only registered members are able to post messages to this forum.
If you are a member, please log in.
If you aren't yet a member, join now!
---
Return to the Home Decorating & Design Forum
Information about Posting
You must be logged in to post a message. Once you are logged in, a posting window will appear at the bottom of the messages. If you are not a member, please register for an account.
Please review our Rules of Play before posting.
Posting is a two-step process. Once you have composed your message, you will be taken to the preview page. You will then have a chance to review your post, make changes and upload photos.
After posting your message, you may need to refresh the forum page in order to see it.
Before posting copyrighted material, please read about Copyright and Fair Use.
We have a strict no-advertising policy!
If you would like to practice posting or uploading photos, please visit our Test forum.
If you need assistance, please Contact Us and we will be happy to help.

Learn more about in-text links on this page here